The best Christmas films of all time, according to THE FACE editors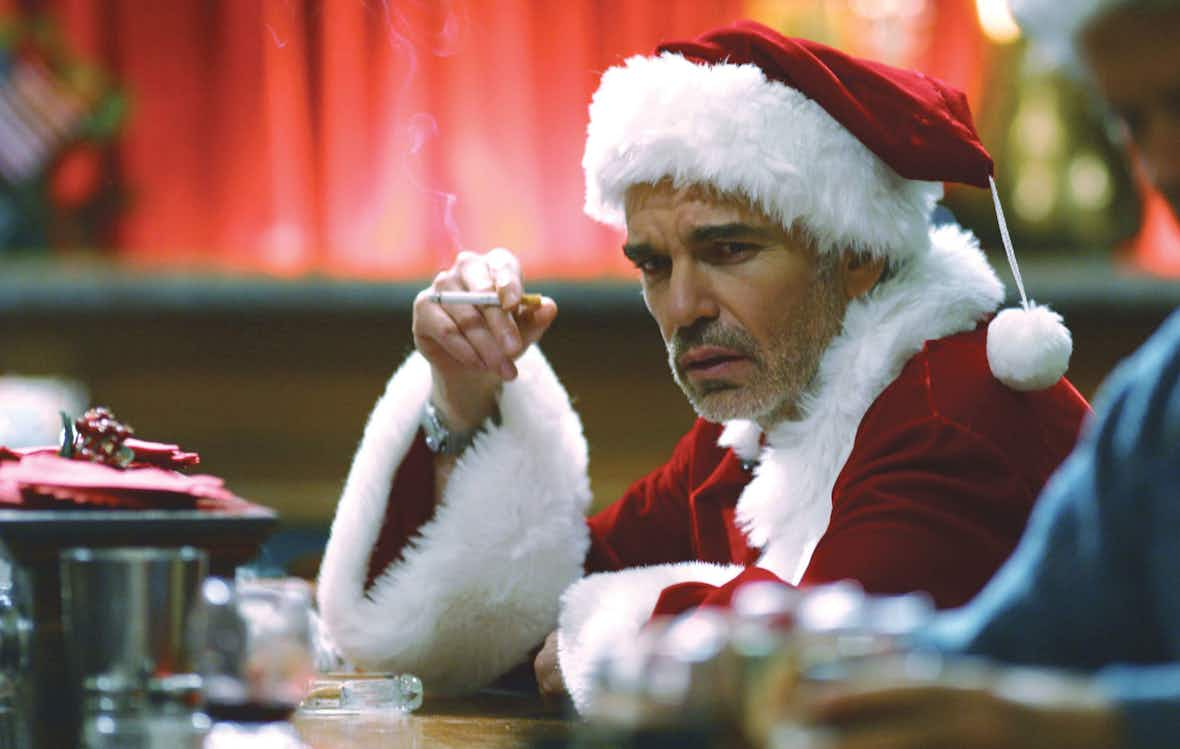 No, Die Hard doesn't count.
It's December, which means you are now obligated to spend the whole month scoffing mince pies and exchanging various iterations of ​"this year's flown by" with all of your acquaintances.

And with Christmas parties put in jeopardy by that pesky Omicron variant, it also means that you're going to have to find other ways to get festive, beyond necking pints with colleagues wearing flashing Rudolph jumpers. The obvious solution? Compiling a mega watch list of Christmas films.
But let's be honest, with Hallmark and Netflix churning out more romcoms than post-Friends Jennifer Aniston each year, it's getting increasingly hard to filter out the Crimbo crap. That's why THE FACE team have rounded up our favourite festive flicks, to give you a head start when deciding what to watch this advent.
Jessica Morgan, Deputy Editor
Call me basic, but there is not a single Christmas film I love cosying up on the sofa with more than The Holiday. There's the juxtaposition of sunny LA and freezing, wintry London, the unrealistic snow-covered Surrey cottage (hello, global warming?), the even more unrealistic The Daily Telegraph newsroom, where Iris falls in love with her deadbeat, cheating ass ex, Jasper Bloom. But if there's two people who steal the show for me, it's none other than Jack Black and the late Eli Wallach, who plays Arthur Abbott, the sweet, elderly neighbour of Amanda (Cameron Diaz). Amanda, of course, is the successful businesswoman who producers movie trailers for a living, who helps Kate Winslet's Iris become the ​"leading lady of her own life" through home swapping, after she not once, not twice, but three times buckles to her exes demands. Thankfully, though, she picks herself up, realises she is That Bitch and falls in love with Amanda's friend Miles (Jack Black) following a meet cute in Blockbuster. And they all live happily ever after… Did I mention that Kate Winslet's on-screen brother, Graham (Jude Law), is quintessentially British, hot and also falls in love with Amanda? There are so many elements of this film that make you feel warm and fuzzy inside, and I never get bored of it. Ever.
Craig McLean, Consultant Editor
My favourite Christmas film is ​"bah humbug" with knobs on – and, if Billy Bob Thornton's lascivious titular anti-hero gets his way, knobs in. In the hilarious 2003 black comedy Bad Santa, Thornton's Willie T. Soke is the spirit of Christmas past-it, where the spirit is the stuff this career criminal swigs from the half-bottle forever secreted about his Father Christmas costume. His shopping mall Santa Claus brings un-festive cheer to the alcoholiday season, treating his kiddie customers with contempt from behind a vomit-flecked fake beard. The Santa act is a cover for he and his dwarf sidekick's annual scam wherein they rob the malls by night. But make no mistake, with Bad Santa we're in nothing like a bleak midwinter. The incorrigible Willie can't resist helping a lonely, bullied, overweight kid, a Christmas gift of redemption that even the baddest Santa can't mess up… or can he? Eighteen years on from its release, the film is as choking-on-your-sprouts funny as ever. In the full-on, family-unfriendly Bad Santa, you know that when Willie meets a woman with a Santa sexual fetish, this is a Christmas film in which nobody is going to be coming but once a year.
Olive Pometsey, Feature Editor
I need to get something off my chest: 2018's animated remake of The Grinch is better than Jim Carey's original live action version. There, I said it. Admittedly, I may be biased thanks to the nightmares Carey's furry green suit gave me as a kid, but when you do a side-by-side comparison, my assertion holds up. The first and most obvious difference that makes 2018's film better is the fact that it's animated (by minions creators Illumination Entertainment, no less), a medium that's infinitely more ripe for bringing Dr Seuss' Whoville to life on screen. The wonky buildings can skew in any direction without threatening to squash cast members; Cindy Lou's gravity-defying pigtails can actually move in the wind, as opposed to being painstakingly stuffed with wire and stuck in one place, as is the case in 2000's film. Still not convinced? The film's star power should bring you round – and I'm not talking about Cumberbatch. 2018's The Grinch is narrated by Pharrell Williams and soundtracked by Tyler, The Creator, an undeniably genius choice. After one listen, his grumpy I Am The Grinch rap will be on your festive playlist for life.
The Lord of the Rings trilogy
Jade Wickes, Staff Writer
OK, hear me out. I know these aren't proper Christmas films per se, but just as writer Amelia Tait made a case in favour of The Muppet Lord of the Rings for THE FACE a few weeks ago, I'd argue that The Lord of the Rings also deserves a spot in the greatest Christmas movies hall of fame. Firstly, you can always count on the trilogy to air constantly throughout December on ITV, so once you've gone home to your parents (and their TV licence) LOTR is pretty inescapable and, by proxy, festive. It's also worth noting that The Fellowship of the Ring (2001), The Two Towers (2002) and The Return of the King (2003) all had mid-to-late December release dates when they came out in cinemas. Do with that what you will. Finally, all nine hours of LOTR are jam packed with elves, loads of snow, a thrilling odyssey, romance, heartwarming friendships and redemption arcs aplenty – all the markers of a bonafide, family-friendly Christmas film. Hell, maybe you can even treat yourself to the extended version this year.
Mona Tehrani, Junior Social Media Editor

Is Love Actually the best Christmas movie ever made? Probably not. But to me, it is perfect.
Why, you ask? Well, it's ridiculously relatable (Martine McCutcheon hoping she doesn't ​"fuck up on her first day" and Hugh Grant doing the awkward two-hand air-grab wave when he sees her, anyone?), a little bit naughty and it gave us Hugh Grant dancing to the Pointer Sisters. And who could forget the A* soundtrack, including Bill Nighy (aka Billy Mack)'s ​"festering turd of a record", Christmas Is All Around. And while Thomas Brodie-Sangster may have long graduated from the school band to Game of Thrones, there's no denying his and Olivia Olson's performance of All I Want For Christmas Is You is at least part of the reason why we defrost Mariah Carey for December every year. And, believe it or not, Love Actually is, actually, pretty educational, too. Was there really more than one lobster present at the birth of Jesus? Duh.

More like this