Here are the best music biopics to watch after Elvis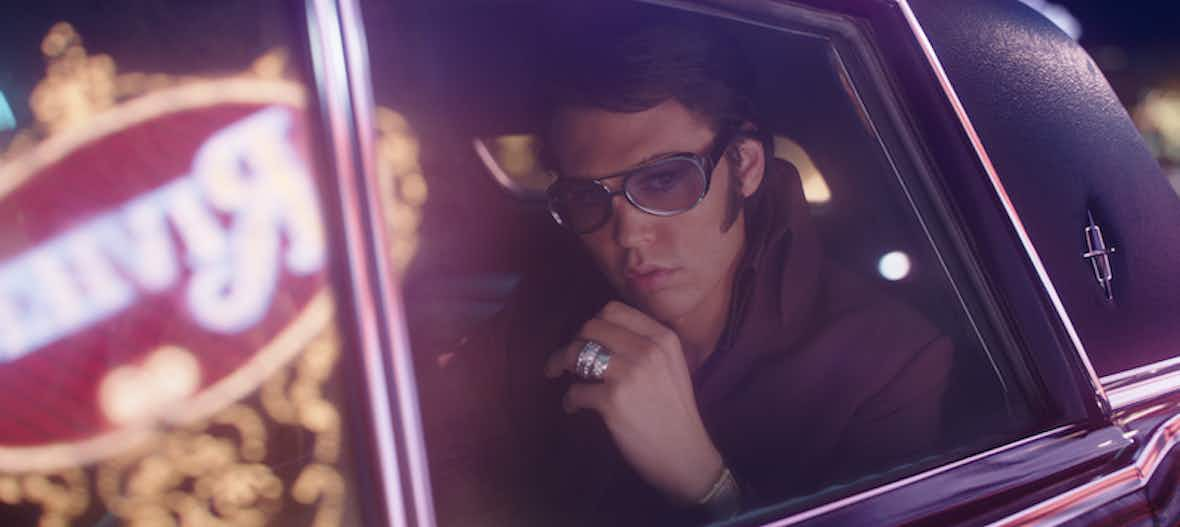 Want more icons on your screen? Here are the best films that zone in on the thrill of taking centre stage.

Music biopics have been having a moment recently. From the 2018 box office smash Bohemian Rhapsody about Freddie Mercury's life, to 2019's Elton John flick Rocketman, films about musicians are introducing younger generations to established icons. Most recently, Baz Luhrmann's Elvis has both dazzled and puzzled audiences with its chaotic depiction of Elvis Presley's life, told from the perspective of his manager Tom Parker (played by Tom Hanks, who wears a less than convincing fat suit and speaks in a strange accent throughout).
There's something uniquely thrilling about this movie genre, though. As with any biopic, the question of whether the actor playing a real life, beloved person is convincing in their role hangs over the film, which also puts pressure on the make-up artists and costume designers replicating their iconic looks. Music biopics have the added thrill of an actor singing or rapping, often to varying degrees of success. Below, we've listed the biopics that get everything right when presenting the tragedy and/​or drama-filled lives of some of the most legendary music icons out there.

Joaquin Phoenix pulls no punches in his portrayal of country legend Johnny Cash in 2005's Walk The Line, which largely centres on his early life and pursuit of June Carter-Cash, played by Reese Witherspoon. This is also a gritty look at Cash's drug addiction, and features painful scenes depicting some of the musician's most vulnerable moments both in public and private. The film is intercut with a portrayal of Cash's legendary performance in San Quentin jail, which captures the prevalent theme of the underdog perfectly.

Charting the life of Notorious B.I.G, Notorious is an intricate look at how the rapper went from near-poverty in Brooklyn to becoming one of the most popular artists of all time. Although Jamal Woolard plays an almost uncanny Biggie (especially given his distinctive voice), the standouts in Notorious are Naturi Naughton as Lil' Kim and Antonique Smith as Faith Evans, who play incredibly controlled roles as their titan real life counterparts. It also features a young Anthony Mackie as Tupac, as well as Biggie and Faith Evans' son Christopher Jordan Wallace playing his young father.

Definitely not one to watch if you're feeling a little emotionally delicate, La Vie en Rose follows the life of French singer Édith Piaf. Piaf's life was filled with tragedy, including a murder accusation, the Nazi invasion of France, major health concerns and the death of one of her most beloved partners. Marion Cotillard puts her entire soul into the performance, capturing Piaf's haunting glamour perfectly. Headed up by Jan Archibald, the film had a team of 19 make-up and prosthetic artists, including Chris Lyons, who solely worked on teeth.

Who'd have thought Tom Hiddleston could sing? And not only that – he can sing in a decent deep southern accent. I Saw The Light tells the story of country musician Hank Williams and joins Walk The Line in the micro film genre of ​'oh my god please stop cheating on your ethereally beautiful and long-suffering wife, male country singer!' In a departure from her at-the-time developing Avengers role, Elizabeth Olsen plays said long-suffering wife, and provides some of the most emotional moments of a great look at Williams' life and career.

Most things that Jennifer Hudson touches turn to gold, and Respect is no exception; Hudson brings the gravitas needed for a movie based on the life of titan Aretha Franklin. Not only are her performance and voice entirely suited to the role, Respect is also a visually stunning film. Clint Ramos' costume design is genius, bringing to life the various decades we see Franklin living through – not only via stunning performance wear, but everyday outfits, too (including night dresses and bonnets).

Adapted from the Broadway and West End play End of the Rainbow by Peter Quilter, Judy is primarily set in the last year of Judy Garland's life. It focuses on her relocation to Britain in an attempt to revive her stage career, with cleverly-cut interludes of her time filming The Wizard of Oz. Tragically, substance abuse, anxiety and health problems plagued Garland's time on and off stage. Renée Zellweger went on to win Best Actress at the Oscars for her portrayal of the actress, having played the role with compassion and force.


More like this