Inside the making of Champion, Candice Carty-Williams' first TV show

Bringing Black British music culture to screen in a rollercoaster eight-part BBC/Netflix drama – with a little help from Ghetts and Ray BLK.

In a bedroom studio in a flat on the 22nd floor of a tower block in Birmingham, a rapper and a producer are trying to cut a track. Trying and failing.
Bosco, mic in hand, is being told by Rusty, spliff in hand, that his flow is all wrong. Yes, the South Londoner was a grime star, big enough to sell out venues with the scale and feel of 5000-capacity Brixton Academy. But he's not the guy he was before he spent two years in the can, so he can't be ​"spitting the same shit". Rusty should know – he was in prison with Bosco. Now that he's out, Rusty is a new man, a new rapper, a new kind of artist.
"But what if I don't like the person I am now?" says Bosco, exasperated. ​"You got to learn to like him!" Rusty shoots back. ​"Because you're stuck with him."
Cut, reset, go again, another take. The actors playing Bosco and Rusty, Malcolm Kamulete and Keiren Hamilton-Amos, re-run their rhymes and lines, tweaking here and there, but always mindful of how these takes will ultimately be edited together. As their showrunner explains: ​"It's so tricky doing live recording, which we're doing for all the rapping. You have to be always in exactly the same time. Because if we're going to edit it, if you're out of time for one take, it's not going to sync up."
It's September 2022 and this is scene 1101 in the 16th week of the five-month shoot of Champion. That showrunner, with a forensic eye and ear across every single detail, is Candice Carty-Williams, and her dedication is both typical and understandable: this is the first TV project from the Queenie author and occasional FACE cover-star interviewer.
Her eight-part BBC/​Netflix drama centres on a Jamaican family from Lewisham, the Champions, and the rival musical talents and aspirations of brother and sister Bosco and Vita (Déja J. Bowens). As Bosco's star fades, his put-upon sister has her chance to shine – with the help of Bosco's main rival, fast-rising drill artist Bulla (Corey Weekes). As the press materials put it, this is ​"a love letter to Black British music… a celebration of a sound that has long been the beating heart of our culture. Sibling rivalry never sounded so epic."
To be clear: Champion is not Glee goes grime. It's also nothing like Nicôle Lecky's brilliant, BAFTA-winning Mood. Actors aren't suddenly bursting into song in the kitchen, nor breaking the fourth wall to sing to viewers. Any performances – gigs, pop videos, recording sessions, even a ​"Grammys-level" awards ceremony – work as narrative elements driving the drama. And with two to three music-based scenes in each episode, that ​"epic" sound quality had to be done right.
Those bars that Bosco is trying to deliver in Birmingham? Written by Ghetts, the series' Music Executive. More original music has been created to order by Shola Ama, M1llionz, Toddla T, MNEK and Ray BLK, the latter of whom also joins Ghetts in the role of Music Executive.
And this drama school graduate who ​"started doing acting before music" also has an onscreen role. Ray BLK plays Honey, Vita's bestie and fellow aspiring artist. As the singer explains: ​"The music in Champion is integral to the characters because it reflects their personalities, it reflects what they are going through. It's at the crux of the storyline, the music and the music business. I really loved that in the writing."
Bowens – a first-time TV actor whose incredible singing voice will surely cause an A&R scramble as soon as Champion airs – echoes that view. ​"We had a conversation about how in other series the music can be a bit cheesy. But in Champion, just as much effort behind the camera has been put into the production and the music," she says. ​"What makes it so amazing [is] that there are real life artists behind this. The music is just as good as the drama."
The series opens with a recreation of a BBC 1Xtra live show. Onstage, Bulla is whipping up the crowd. Backstage, Bosco is having a panic attack in his dressing room. Vita, who functions as his PA and (secretly) his co-writer, encourages her brother to breathe deep, calm down, step up. But as Kamulete explains to me onset, after two years away, Bosco has a lot of catching up to do.
"My character was going through a bit of a turmoil situation, so he needed to find his momentum again and his inner voice," says Kamulete (who previously starred in the first series of Top Boy, as Ra'Nell) as we talk over lunch in the former car showroom that is Champion​'s production base. The entire series is being shot in Birmingham, the UK's second city standing in for South London, partly the result of the BBC's regional diversity remit, partly because it offers more and fresher location options for the producers.
Plot-wise, too, it's a perfect fit. As Champion​'s rollercoaster episodes rattle onwards over a period covering seven or so months, Bosco ends up hiding out in Birmingham. ​"A situation occurs, which causes him to [leave London]," continues the East Londoner, mindful of spoilers. ​"So as he's out there – as you can see, I've got that homeless beard right now! – forced to be in Birmingham for a couple of months. And as a result, he stifles musically."
Cue the wise words of former jail-mate Rusty, a thoughtful, encouraging presence. ​"Rusty [presents] a wider view of an urban young man," says Birmingham-born Hamilton-Amos. ​"There's loads of stereotypes in terms of when you see a Black boy in a hoodie and a chain. But there's an intellect behind him. He's gone through things. He may have a bad side or a good side, like every person does. But there's a wideness to his character, a depth that we really get to see in the relationships he forms with people."
Those relationships are underpinned by script writing that is both water-tight and porous, overseen by the woman with her name at the top. Carty-Williams has been onset almost every single day. Just back from a book tour in the US, she arrived in the UK at 1am today. ​"I slept for three hours and then it's get onto set! I had therapy this morning, otherwise I would have been there at eight o'clock."
Another constant presence is the 33-year-old's laptop, on which she's daily tweaking scripts (inclusive from the ground up, Isis Davis, Emma Dennis-Edwards, Ameir Brown and Edem Wornoo all wrote on Champion, too).
"[Writing] novels is all great. But once it's out, it's out. With this, I have the chance to see something and if it doesn't sound right, [I can change it]. It's leaning into how people actually speak," she says. ​"I'm not 25, but Malcolm is, so I'm gonna listen to how he talks. And if I've written something that doesn't sound like it fits with him, I'm gonna ask him what he wants to say, so that we know we're all doing the right thing. This world is everything, and that's really important to me."


Champion began life as a pilot script from production company Balloon Entertainment. Originally called Star, it was about, as Carty-Williams puts it, ​"a young Black woman navigating the music industry". But the pilot's writer Bryan Elsley, Balloon's MD and the co-creator (with his son) of Skins, didn't think that he, as a 62-year-old Scotsman, was the best person to write the new show.
"So I read the pilot, and I was like: ​'Great, but I want to change everything!'" says Carty-Williams. ​"And Bryan was very gracious. He was like: ​'Yeah, absolutely, of course, do what you need to do.'" Early on, she drilled into the series' musical foundations. ​"My first love in terms of music is grime, so it made sense that I would try and incorporate that.
"Then I was like: what if it isn't just a woman? What if it's a brother and a sister? I'm so interested in family dynamics, and in particular Caribbean ones, because that's where I'm from. I was interested in the idea of this golden boy in those families. Genuinely, it took me less than a minute to carve out this family and to carve out this world."
She had, too, the music industry in her sights. From the outset, Carty-Williams had a very clear idea of ​"what I want to say about how it treats people. How it treats women who are lighter, darker, thinner, bigger… How it treats men… Then: what are the mental health implications of being so famous? What does it mean when your family is leaning on you as not just the star, but also as a financial provider? What does that do to your mental health?"
Those exchanges between Rusty and Bosco are there to point to the lack of avenues, she says, for Black men to talk about their feelings. But Vita, too, is voiceless. ​"What does it feel like to be behind-the-scenes in such a way that you put yourself there because you believe that you should be there? But actually, you're better than you ever thought you could be?"
Through Vita's journey, then, Carty-Williams is not only illustrating the limitations that are often placed on Black women, but also what it looks like to break from that mould.
"The messaging for Black women in life generally is that you need to just be strong, and do what you need to do. But actually, there's very little in terms of what do you want to do? How can you be who you want to be?" she says. ​"Even from my experience, all the stuff that happened with Queenie, with everything [else] that I've done, it's always me pushing myself and telling myself that I can do it. Because no one has ever encouraged me to do that. It felt important to say all of these things – and with this backdrop of black British culture within music."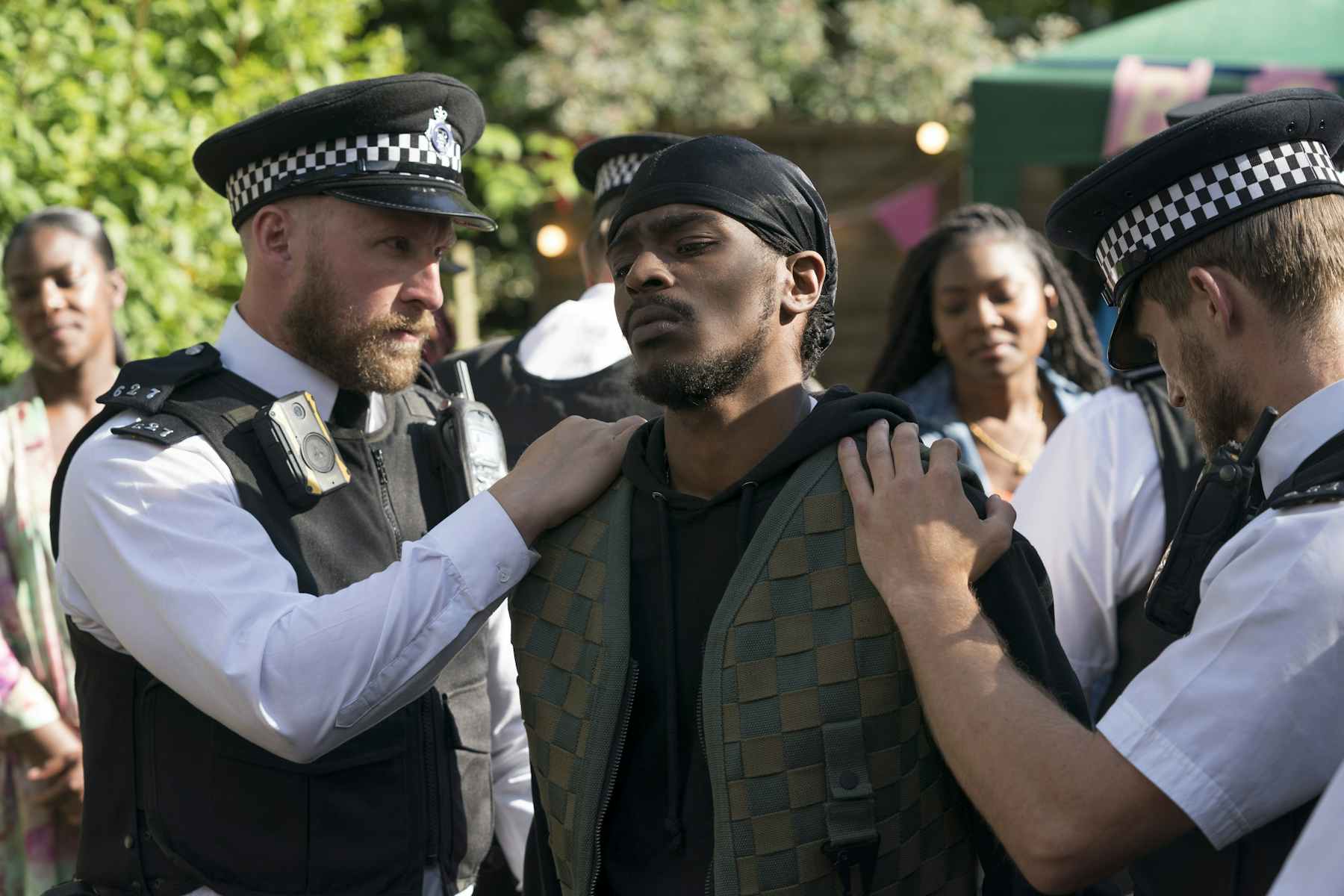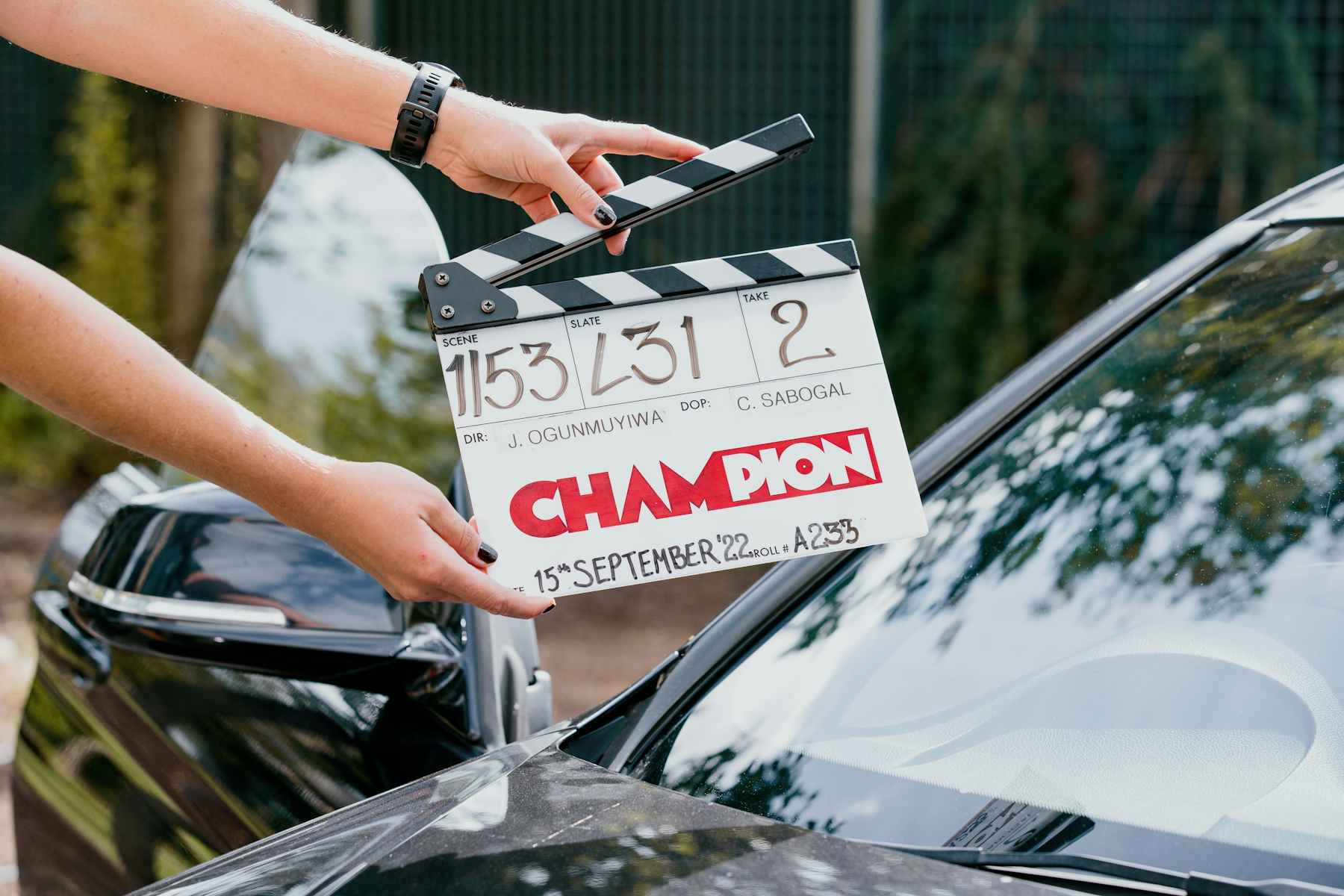 Equally, as we might expect from a former music journalist and passionate fan, Champion​'s representation of the reality of artists' lives had to be on point, too.
"We had a writers' room and we invited in a number of journalists and music specialists, archivists, singers, rappers. We spoke to everyone. It's all very well reading about stuff on the internet. But we wanted to know [first-hand] what happened with your career? Why did it go sideways? Who was looking after you? Who was in charge of that? Who was looking after your money?"
The latter, says Carty-Williams, was a particularly trenchant and revealing question. ​"I won't name who we spoke to, because they told us some very personal things and delicate things. But it was just as horrifying as we'd expected," she says. Experts were also consulted to support other themes in the show, particularly when it came to depicting Bosco's life post prison. ​"We spoke to mental health professionals, because of the journey that he goes on. We did a lot of research to make sure the story we were telling was true, that all the bits we'd seen in the news were grounded in reality."
Validation that she and her team were on the right track came when she reached out to artists.
"When we first approached Ghetts to write [music] for Bosco, the first thing he said was: ​'I can see myself in this character. I know this character. You've done really well.' Because I've been listening to Ghetts since I can remember, that was a huge thing to have a co-sign to work with him. But also for Ghetts to be like: ​'I'm working on it because it's real.'"
That realness, both on-the-screen and behind-the-scenes, is simultaneously granular and big-picture, ensuring that Champion projects accuracy, representation and opportunity in equal measure. Edem Wornoo was plucked, as a 24-year-old filmmaker, to be a writers' room assistant and shadow director on the last block of filming. He impressed the producers so much that he ended up writing the entirety of episode four.
"Whenever I tell people about that pathway I had into this, they're very shocked," the South Londoner tells me in Birmingham, ​"because a lot of people spend a lot of time trying to get [their first] TV credit. And for them to have taken that chance on me – I didn't even comprehend at that time how much of a chance that was. But I guess it does pay off, because we're here now and we've shot episode four."

Onscreen, Production Designer Gini Goodwin was equally diligent, whether in terms of the show's ambient feel or its set-pieces. Any art featured on the show is by young Black British artists. The gigs had to look real and not like they normally do in TV dramas: half-empty, overlit, too quiet by half. She even had to design a ​'90s music video, in keeping with one of the characters' backstories. ​"Our reference was the Honeyz's End of the Line video. Which was so fucking good! I'm the same age as Candice so her musical references, I'm like, sick, I've got this."
Domestically, too, the feel is real. ​"Aria's got a watermelon kitchen in the family home, because she deserves one," Goodwin says of Vita and Bosco's mum (played by Nadine Marshall). ​"The hallway is a sunshine yellow, because it was a time of happiness and brightness. Then the front room is this terracotta, textured feeling, which goes back to when the Windrush generation came over. I wanted to pay homage to that, but also [convey that] these are people in London – Aria is cool, a modern Black woman."
How diligent is Goodwin? Diligent enough to mock up not one but two FACE covers, for Vita and Bosco. ​"It's such an iconic magazine," she says, entirely of her own free will. ​"If you're on the cover of THE FACE, you are someone in the industry that is successful – and actually cool. So by the time it comes to [later episodes], Vita's now the pop star. And obviously big pop stars are on the cover of the FACE magazine." We couldn't possibly comment.
Matching Goodwin beat for beat, step for step is Royston (no second name required). He's Champion's Artistic Director, Choreographer and Movement Coach. His input is there from that very first opening scene at the 1Xtra gig.
"It's the first time the audience sees them as artists. And we had to make sure the actors knew how to handle that: how they hold their mic, interact with the crowd, look at the crowd, feel the music, deliver the music," he explains. ​"It's so different from being in the recording studio, which is very controlled. Obviously they recorded the music first, so now it's about that persona onstage and taking it to another level."
To better create his fictitious musical artists, the East Londoner created his own moodboards. For Boscoe, he took inspiration from one of the greats. ​"I always look at Nas. He's got such amazing lyrical content, his persona isn't so flashy, he's not bling-bling. He's more cultured, and he's about his family," he says. ​"Vita for me was Brandy – very chill, but she gets down, she likes a little heel from time to time."
With Ray BLK's Honey, the challenge was a little different: remove the star to create a new one. ​"It was nice to strip her away from being the artist she so successfully is. I wanted to take away every Ray BLK-ism! So there'd be no comparison for her fans, or her new fans," says Royston. ​"We've got her doing some things that Ray BLK would never do onstage. We had got her crawling on the floor and twerking in a long dress. She really embraced it, and she nailed it."

Ray BLK, it seems, was never going to not nail it. Champion is a show very close to home for the 28-year-old Anglo-Nigerian from Lewisham. A drama she's been waiting for half her life. ​"I wish this show was out when I was 13," she says, ​"desperate to be an artist and desperate to see people who look like me on TV."
Royston seconds that emotion. ​"This [show] is super-important for the culture. When I first started dancing, in my teens, there was nothing like this on TV. So not only is this inspiring for actors, it's inspiring for musicians, writers, directors, dancers to see that representation on TV." Not only that, but it's also ​"way overdue. This is super, super, super, super needed. I don't care where you come from or what colour your skin is, but stories are important. And stories should be told for everybody."
The final word from the woman responsible for that story? In Birmingham, I ask sleep-deprived Candice Carty-Williams, as she stares down the last few weeks of filming on her TV passion project, about what lies ahead. The most daunting scene, the most exciting section, anything? She's quick to reply that there's no fear, of course. But there is anticipation.
"The thing I'm looking forward to most is going to Jamaica, because we film an episode there. Did I write an episode in Jamaica because I wanted to go there? Yes, obviously!" she says, laughing. ​"I didn't think we'd pull it off." But, she says, the BBC, Netflix and the producers trusted her vision, saying: ​"OK, that makes sense!" Everyone on the hard-working cast and crew, she adds, can't wait. They'll be working, naturally, but it will also be a chance for them to get away, experience the island together and reflect. ​"It's just gonna be really beautiful."
Let the championship begin.
Champion begins 1st July at 9:15pm on BBC One, with all episodes available immediately on iPlayer


More like this