My Media Diet: Chloe Cherry, the actress pumping fresh blood into Euphoria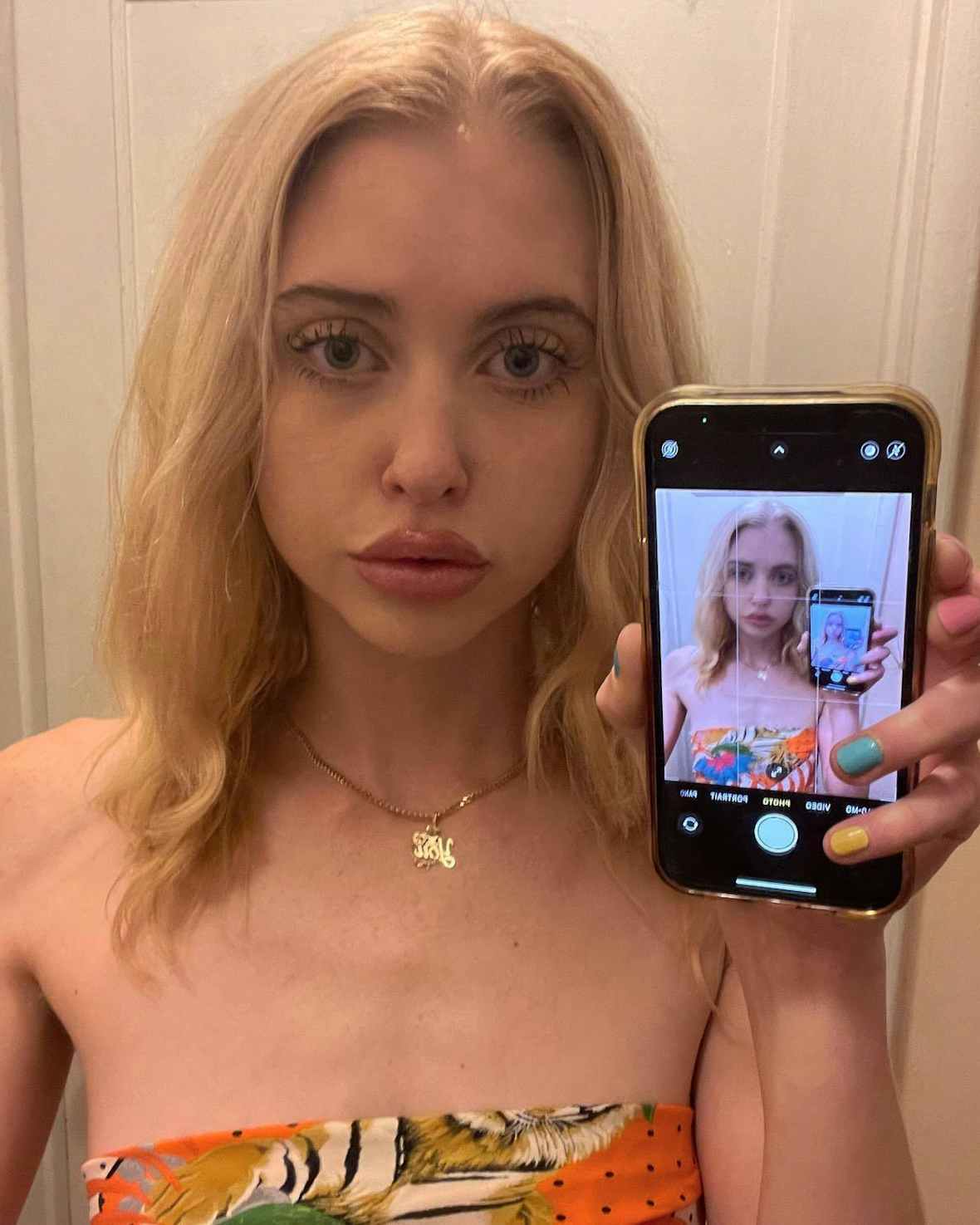 She used to be big in the porn industry. Now she plays Faye, a hilarious junkie in one of TV's hottest dramas. Here's a breakdown of Chloe Cherry's favourite internet habits.

In just four episodes of Euphoria, Chloe Cherry, one of the latest additions to the show's merry cast of degenerate pseudo-teens, has turned the supporting role of Faye into a season two main attraction. She's winning over the internet by the minute, her teeny-tiny skirts, hyper-cropped camis, confused one-liners and a drug-addicted Barbie-doll charm all part of the appeal.
Cherry, 24, was cast in the show after creator Sam Levinson stumbled across her on Instagram. Back then, around 2019, Cherry was a big deal in the porn industry. She'd starred in over 200 adult films and had a hefty 120 million views on PornHub under her belt – one of them a seductive parody porno of Euphoria​'s Rue and Jules. Talk about manifesting. Now on a hiatus (bar the odd OnlyFans update), Cherry's breakout performance, like much of the show, is equal parts laugh-out-loud and toe-curling.
The darkness of Faye's substance abuse is offset by gags like pushing a motel manager off a roof, squeezing her whole body into an air-vent and having her head smacked into a wall by a violent drug dealer. It's a balancing act that has led to her striking up a (sort of) wholesome friendship with Fez (Angus Cloud) and Ashtray (Javon Walton). With dozy one-liners like, ​"Do you and your son like… fuck people together?" doing the rounds on Twitter, she's a character who's sure to go down in small-screen history.
Suffice to say, we're big fans at THE FACE. So we gave Cherry the Media Diet treatment. Fayeheads, unite and get to know Cherry's internet habits below.

The last podcast I spent hours listening to was…
You're Wrong About. It's a podcast about things in news, culture and life that we, as a society, have gotten wrong.
The last picture I liked on Instagram was…
One of @veryharryhill​'s ​"very juicy posts". He's my favourite influencer.
The last TikTok I sent to a friend was…
This one where a guy's talking about how one time, a farmer said to him: ​"You're lucky you don't wear glasses." He responds: ​"I have contacts." And the farmer says: ​"I don't care who you know, you're lucky you don't wear glasses."
The last series I binged (or watched a lot of) was…

Curb Your Enthusiasm. Can't get enough of that Larry David lately.
The last Reddit thread I got sucked into was…
An AskReddit called ​"What is the most underrated pleasure according to you?"
The last book I stayed awake reading was…
Cherry by Nico Walker. It's a gritty, addictive read about a drug addict couple.

The last new word I learned was…
"Pulchritudinous". It means beautiful.
The last meme that made me laugh aloud was…
A picture of a dolphin with text that says: ​"Eye contact does not feel intense and weird."

More like this