Queen & Slim: lovers on the run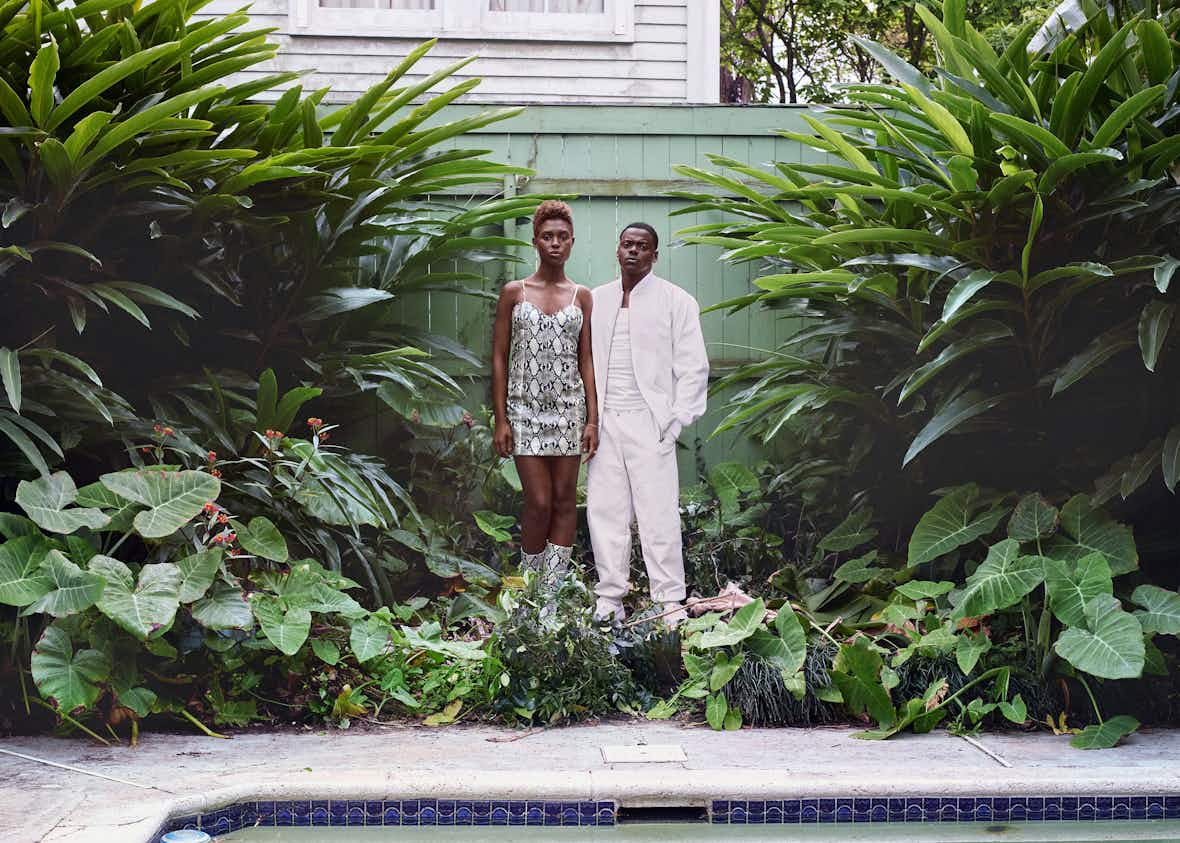 Daniel Kaluuya and Jodie Turner-Smith, the film's British stars, interviewed together on filming together – and hitting Mardis Gras.
It's a chilly January afternoon and, in a suite in a hotel in Soho, central London, the Queen & Slim press junket is in full swing. All day Daniel Kaluuya and Jodie Turner-Smith, the film​'s two stars, have been pulled into different rooms for separate press engagements. But now they're here next to each other, sitting down for a joint interview.
It feels both narratively and personally apt to talk to them together. Throughout the lovers-on-the-lam drama from director Melina Matsoukas, their characters are joined at the hip, if not always in outlook, as they hit the road for Florida, fleeing an accidentally fatal encounter with a racist cop in Ohio. And IRL both, as it happens, are British.
Turner-Smith, 33 and from Peterborough, is wearing a hot pink Gucci dress adorned with gold buttons. Kaluuya, 30, from Camden, north London is wearing a soft woollen grey overcoat and tailored black slacks by AMI. Offscreen, then, both are distinctly more high-fashion than their Queen & Slim characters, who spend the majority of the film in (her) a skin-tight leopard print dress and (him) a velour tracksuit.
Queen & Slim is the debut feature from Matsoukas, a multi-award-winning music video director, most notably of Beyoncé's Formation. The film was written by Lena Waithe, who won an Emmy for ​"Thanksgiving", the Master of None episode which she co-wrote (and starred in) with Aziz Ansari – an ep directed by Matsoukas.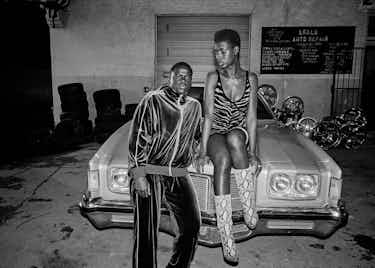 Queen & Slim​'s examination of police brutality, racism, alienation, freedom and hope was always going to be provocative. As it should be.
"We were very conscious of it coming out [and] that it wasn't going to be quiet because of the subject matter," begins Kaluuya. ​"We had long conversations onset because I'd had certain experiences and seen certain things."
In his twenties the actor was pulled off a bus in London by police and subjected to a humiliating and cruel search. He has previously spoken at length about his personal experience of violence at the hands of the law, and the case eventually led him to sue the police.
But this movie isn't just a hot-button political drama. The onscreen chemistry between the characters is a joy to watch as their slow-burning romance sets in.
"The characters are balanced so it was a mutual love story," adds Kaluuya. ​"It wasn't like a seduction narrative – the seduction was that they got closer together spiritually. I think that's why it was a really attractive [script] to me. That's how a lot of relationships work. You have to work at it and it just clicks. I really liked that element of it."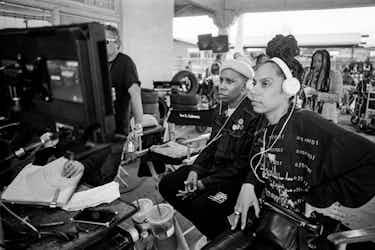 Clearly the Brits clicked on and offset, despite the considerable differences in their professional backgrounds. Kaluuya started early, aged 13, at an afterschool improv class, and the star of Get Out, Widows and Black Panther is now one of our most versatile and in-demand actors. Turner-Smith studied finance at university, and describes her days as a banker as ​"soul-sucking." A move to modelling didn't work out so she took a chance and relocated to Los Angeles to pursue an acting career.
Still, they bounce off each other like old friends, continually breaking into peals of laughter as they remember their time onset. Two weeks before filming they hit New Orleans to soak up the culture and attend Mardi Gras.
"That was a vibe!" Kaluuya beams, singling out the tunes they heard blasting through the French Quarter. ​"I'll never forget the fact that they put a bounce beat under every single song. They did it under Keyshia Cole's Love and this grandma was just twerking! I was like: ​'Yo, are you twerking to Keyshia Cole? This is insane!'
"For me, it was amazing because me and my boys, we go carnivals all over the world," he continues. ​"You can see the parallels between New Orleans and Trinidad. It's a different kind of beat, but basically what I inferred and interpreted from it is [that] it's the heartbeat of the culture."
It was prep time well-spent. Queen & Slim is a powerful, urgent, vital story – all the more so, thinks ​"Queen", because of the talent behind the cameras.
"In the small experience I've had as an actor," says Jodie Turner-Smith, ​"the roles that I get are generally characters who are serving a larger plot. Or sometimes I'm just there as set decoration. The fact that this woman was so interesting, dynamic and three-dimensional, I was like, yeah, whoah! When a woman writes it, they write a real woman."

More like this