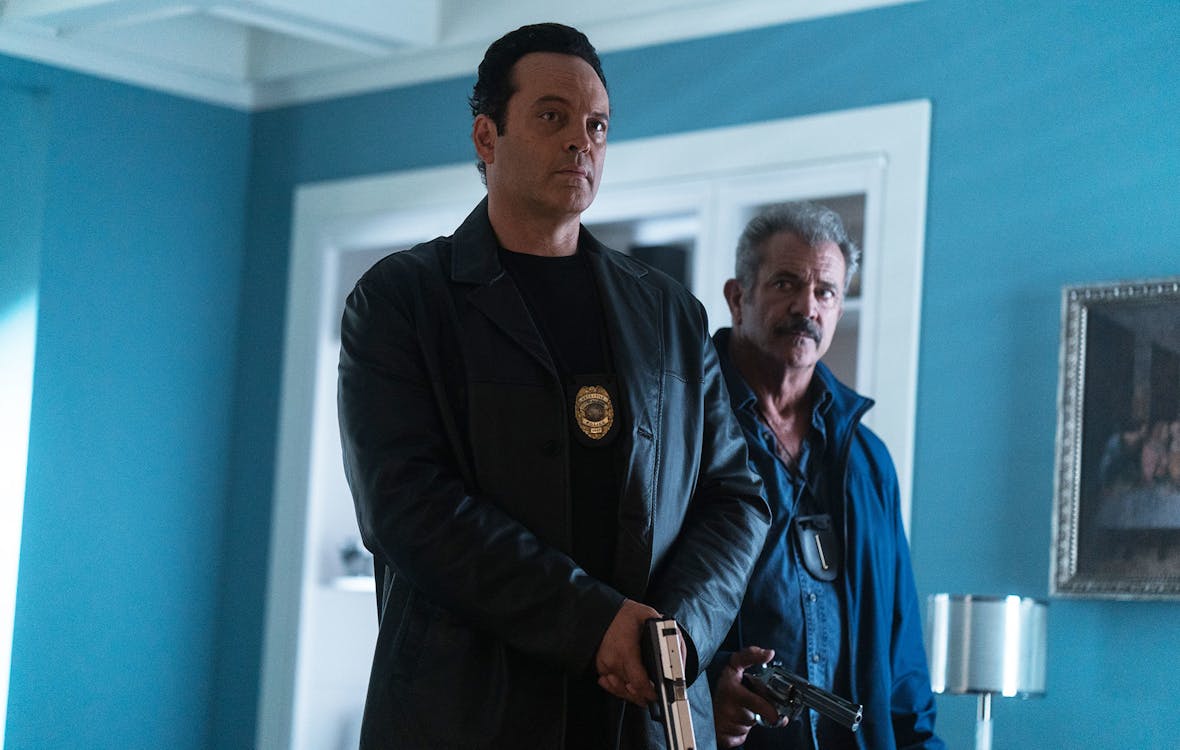 Dragged Across Con­crete and the Post-Blue Lives Mat­ter cop drama
"I didn't think I was a racist," dead­pans a retired female cop in S. Craig Zahler's lat­est film Dragged Across Con­crete; although, after mov­ing to a large­ly black, work­ing-class neigh­bor­hood, she realis­es she is one.
When her (white) teenage daugh­ter is vio­lent­ly bul­lied by a group of local black boys, she notes to her hus­band that it's only a mat­ter of time before the bul­ly­ing esca­lates into some­thing sex­u­al. It's just one of the many more unsavoury moments of a movie that, it could well be argued, belongs to a new sub-genre of police movie: the Post-Blue Lives Mat­ter cop drama.
Set in the fic­tion­al US city of Bul­wark, Dragged Across Con­crete tells the sto­ry of two tra­di­tion­al­ist white police­men – Brett Ridge­man (Mel Gib­son) and his younger part­ner Antho­ny Luraset­ti (Vince Vaughn) – and their sus­pen­sion fol­low­ing the use of exces­sive force against an His­pan­ic crim­i­nal. Feel­ing they've been cut a raw deal, and des­per­ate for mon­ey to sup­ple­ment their low incomes, the two men hatch a plan to inter­cept a rob­bery and steal the boun­ty for themselves.

Zahler does not shy away from Brett and Anthony's bor­der-fascis­tic world­view – notably the pair's ear­ly treat­ment of two His­pan­ic sus­pects, as well as their provoca­tive jibes about black and gay peo­ple – but nor does he com­plete­ly mar­ry his per­spec­tive to theirs. Zahler par­al­lels the pair's rela­tion­ship with a sim­i­lar­ly close one between two young black friends, and the plot zips off in var­i­ous direc­tions, fol­low­ing the seem­ing­ly unre­lat­ed sto­ry of a young work­ing moth­er, before being brought back togeth­er in a bloody smash-and-grab heist. In this world, near­ly all women are hap­less­ly degrad­ed, and it's hard not to see why Zahler has been brand­ed a con­ser­v­a­tive film­mak­er (a label he round­ly denies).

Over the past thir­ty years, Amer­i­can cop dra­mas haven't been inclined to rock the boat. Most of the titles that come to mind are bud­dy come­dies along the lines of Bev­er­ly Hills Cop or Lethal Weapon (also star­ring Mel Gib­son), where ide­alised racial rec­on­cil­i­a­tion is the name of the game. Even ​'bad' cops such as Den­zel Wash­ing­ton in Train­ing Day or Har­vey Kei­t­el in Bad Lieu­tenant, tend to skirt around the issue of race. Giv­en the ever-present threat of police bias and bru­tal­i­ty in the US, genre films have been avoidant.
There is the notable excep­tion of Three Bill­boards Out­side Ebbing, Mis­souri – a tokenis­tic and obnox­ious rep­re­sen­ta­tion of race rela­tions and small-town polic­ing. That effort was, if pos­si­ble, more offen­sive­ly car­toon­ish and con­de­scend­ing for its seem­ing­ly lib­er­al intent. In truth, Dragged Across Con­crete has more in com­mon with ​'70s vig­i­lante movies than any oth­er cop film. With its para­noid sense of con­stant threat from non-white sources and besieged mind­set, it feels more like a spir­i­tu­al inher­i­tor of Michael Winner's Death Wish than 22 Jump Street.
That said, Dragged Across Con­crete is mar­gin­al­ly less vio­lent than Zahler's pre­vi­ous two fea­tures, both of which were osten­si­ble action genre movies that diverged into gore-fest grind­house ter­ri­to­ry. His direc­to­r­i­al debut, Bone Tom­a­hawk (2015) is a west­ern turned ter­ri­fy­ing run in with a can­ni­bal tribe, excused on the fair­ly pal­try basis that these rare ​'troglodytes' have no actu­al rela­tion to prop­er Native Amer­i­cans. Its fol­low-up, Brawl on Cell Block 99 (2017), is a venge­ful prison movie with some fan­tas­ti­cal­ly chore­o­graphed fight scenes, but a car­toon­ish vil­lain that pro­voked ques­tions around the director's por­tray­al of race yet again. Still, both of these fea­tures are thrilling and bone-crush­ing in all the ways Dragged Across Con­crete is not. It's a curi­ous­ly atten­u­at­ed movie, prone to longueurs that can some­times seem to move at a crawl.

Zahler is a tal­ent­ed film crafts­man, with com­po­si­tion­al flare, a ten­den­cy for grad­ual pac­ing, and a well-timed sluice of glut and gore to rat­tle audi­ences out of com­pla­cen­cy. It's most cer­tain­ly not for every­one, but he has style and per­spec­tive. He often seems too self-aware and too know­ing­ly para­dox­i­cal to be a real dyed-in-the-wool con­ser­v­a­tive, plac­ing his hyper-vio­lent genre aes­thet­ics in a throw­back sev­en­ties mode. But it must be said: at this moment in time, it's fair­ly auda­cious to make a movie in which your pro­tag­o­nists are a pair of racist cops. To then cast two notable Hol­ly­wood con­ser­v­a­tives, one of which is Mel Gib­son (a man with a his­to­ry of anti-semit­ic and racist slurs), and place words in their mouths that imply a vague­ly MAGA lean­ing, is some­thing else entirely.
"Being brand­ed a racist in today's pub­lic forum is like being accused of being a com­mu­nist in the 50s," says Lt. Calvert (Mia­mi Vice​'s Don John­son) to his sus­pend­ed men ear­ly on in the film. ​"The enter­tain­ment indus­try, for­mer­ly known as the news, needs vil­lains." Giv­en Gibson's per­son­al his­to­ry, this can't help but seem like an obvi­ous attempt to bait the audi­ence. In inter­views, Zahler often claims he isn't polit­i­cal, but this can be dif­fi­cult to believe.
The main issue with Dragged Across Con­crete is that it nev­er com­mits to its ideas – even its most woe­ful­ly right-wing ones – as ful­ly as it does to the real­ism of its char­ac­ters. Gib­son and Vaughn bale­ful­ly chew sand­wich­es on bor­ing stake­outs, bick­er, con­fide in one anoth­er; but this gran­u­lar detail is under­mined by the ide­o­log­i­cal mud­dle. Zahler's cops, and in turn their actions, are often viewed at arm's length, in a way that does not sug­gest the film­mak­ers' com­plic­i­ty. Yet they still have the most per­son­al­i­ty and back­sto­ry of all Dragged Across Concrete's char­ac­ters, which imme­di­ate­ly priv­i­leges their human­i­ty over others.
If one thing is clear, it's that for all it's pri­ori­tis­ing of the ​"thin blue line" – and its inher­ent sense of sol­i­dar­i­ty – Dragged Into Con­crete falls into the ter­ri­to­ry of #Blue­Lives­Mat­ter more than almost any recent cop dra­ma. Even the movie's final act odd-cou­ple pair­ing seems more like a mean joke than any kind of attempt at racial rec­on­cil­i­a­tion. It's almost as though Zahler is ask­ing us what's bet­ter: that he gives this audi­ence a well-intend­ed lib­er­al end­ing that no one believes, or one that inevitably and cyn­i­cal­ly con­cludes in vio­lence because of the essen­tial mis­trust of a white cop towards a black get­away dri­ver? That doesn't seem entire­ly con­ser­v­a­tive to me, but then, noth­ing about this movie is easy to summarise.
Dragged Across Con­crete is out now.

---