These are the East Asian films vying to be the Parasite of 2021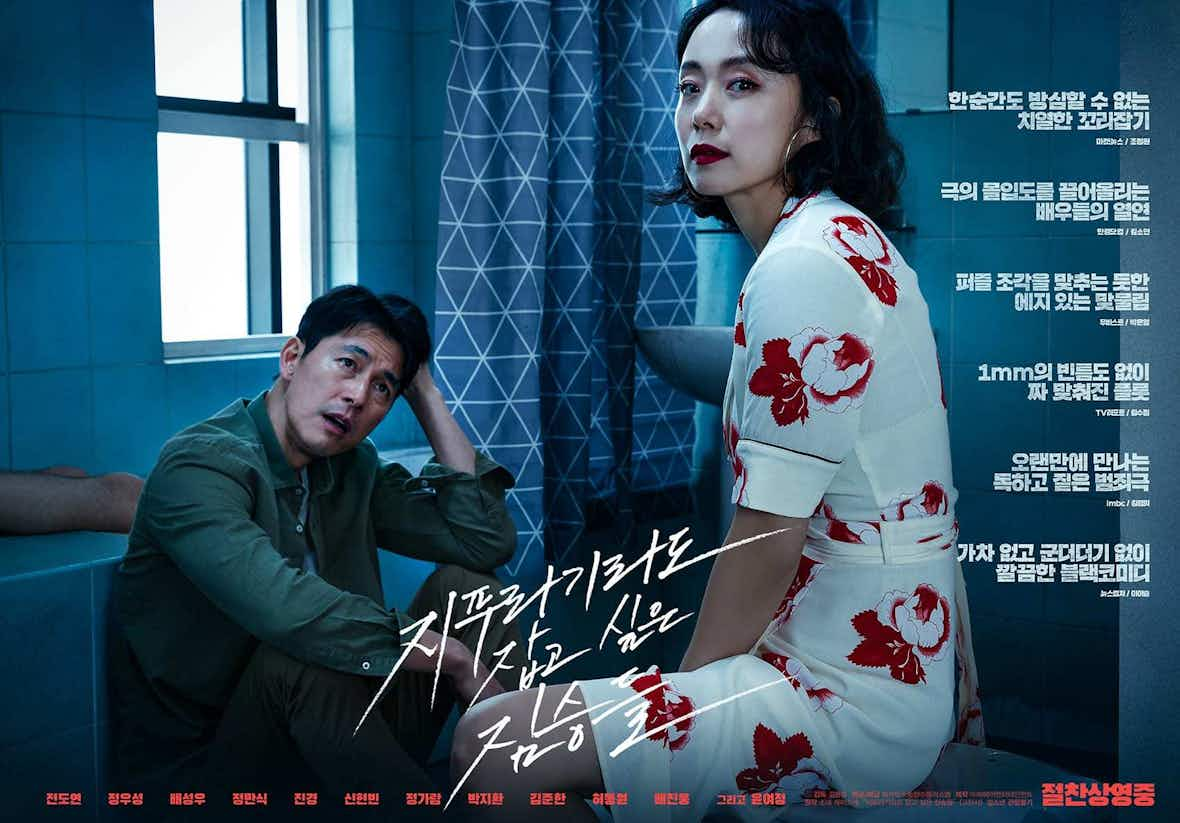 From Indonesia to Hong Kong, Taiwan to Japan, writer James Balmont takes a look at the non-English language films contending for Best International Feature at this year's Oscars.
Last year's Academy Awards ceremony was a watershed moment – not only for Bong Joon-ho and South Korean cinema, but for international filmmaking as a whole.
The director famously declared that night, as Parasite became the first non-English language film in history to win the Oscar for Best Picture, ​"once you overcome the one-inch-tall barrier of subtitles, you will be introduced to so many more amazing films." Following a year where we've been confined to our TV screens more than ever before, he's been proven right.
Take a look at the ​"big three" film festivals of Europe – Venice, Berlin and Cannes. Filmmakers from South Korea, Japan, Taiwan, China and Hong Kong were a mainstay at each and every competition. At the former, where Chinese director Chloé Zhao took home the Golden Lion for the American production Nomadland, Japanese veteran Kiyoshi Kurosawa bagged the Silver Lion for Best Director for his drama Wife of a Spy. And in Berlin a few months before, South Korean filmmaker Hong Sang-soo picked up the Silver Bear for The Woman Who Ran.
It was only three years ago, after all, that two other landmark East Asian pictures laid down the groundwork for Parasite​'s 2020 successes. Hirokazu Kore-eda won the Cannes Palme d'Or for his thematically adjacent Japanese drama Shoplifters in 2018 – a nominee for Best Foreign Language Film at that year's Oscars ceremony. One of its competitors was Lee Chang-dong's psychological thriller Burning, which made history as the first South Korean to make the final nine-film shortlist.
While the final shortlist for the newly-renamed Best International Feature Film award has not yet been announced, the passing of the final deadline of submissions for 2021's Oscars raises the question – which East Asian film will be our next Parasite?
THE FACE took a close look at the overseas candidates most likely to make a splash in time for awards season.

Beasts Clawing At Straws (dir. Kim Yong-hoon, South Korea)
While Bong Joon-ho's career-defining hit made all the headlines abroad last year, South Korean productions continued to dominate the box office at home.
The country's zombie movie supremacy accounted for two number one films at home this summer, in #Alive and Peninsula (the sequel to global smash hit Train To Busan). Leading actor Lee Byung-hun – who played the T‑1000 in Terminator: Genisys in 2015 – also enjoyed a healthy share of the spoils back in January, starring in megabucks blockbusters Ashfall and The Man Standing Next.
The latter is the highest-grossing South Korean film of 2020, and the county's official submission for Oscars 2021. And while its deadly serious political espionage tale makes for impressively taut filmmaking, the film's historical basis in the decline of South Korea's ​'70s military government might be a little heavy for non-native viewers.
Kim Yong-hoon's directorial debut Beasts Clawing at Straws, on the other hand, is much more accessible. Presented as the Opening Gala at this year's London East Asian Film Festival, this tightly-wound and gruesome crime thriller finds the lives of an ensemble of characters – a hotel janitor, an escort, a loan shark and his possibly cannibalistic henchman, among them – fatefully intertwined when a large bag of cash is found in a gym locker. All the while, news reports reveal that human body parts have been found at a nearby lakeside, as a deadly cat-and-mouse game unfolds.
Imagine the predatory capers of No Country For Old Men mixed with a touch of Pulp Fiction, and transport them to the neon- and rain-soaked port city of Pyeongtaek. Only then can you begin to picture the kind of epic pay-offs that define the highly entertaining Beasts Clawing At Straws.

A Sun (dir. Chung Mong-hong, Taiwan)
A Sun opens with one of the most shocking depictions of violence you'll see this year – a restaurant machete attack that leaves nothing to the imagination. But the film immediately belies expectations thereafter, spending the remaining 150-minutes (!) pondering the deeper impact of such a crime on the accomplice and his family.
Sympathetic hoodlum A‑ho is tormented by bullies at a juvenile detention centre; his estranged father, a jaded driving instructor, disowns him for his role in the crime. His depressed mother and withdrawn brother, meanwhile, do their best to come to terms with the fallout, as the criminal's unexpected first child is born outside prison walls.
Don't be put off by the runtime – this rich and reflective drama is engaging from start to finish. It boasts stunning cinematography around the city of Taipei (keep your eye out for some spectacular aerial shots), a moving soundtrack of gentle guitar music, and a commanding cast of nuanced characters. Structured as a meditative epic, this story of tragedy, opportunity, redemption and fate hits every beat, and your attention is rewarded constantly.
The film received 11 nominations at the Golden Horse Awards (Taiwan's Academy Awards), winning Best Picture and Best Director, among four others. It has since been submitted as Taiwan's official entry for the Best International Feature Film Award at the 2021 Oscars. Watch it on Netflix now.

True Mothers (dir. Naomi Kawase, Japan)
Naomi Kawase is no stranger to international recognition. Like Shoplifters director Hirokazu Kore-eda, she's been a mainstay of the ​"big three" film festivals ever since the ​'90s, notably winning the Cannes Camera d'Or in 1997 for Suzaku, and the Grand Prix in 2007 for The Mourning Forest. Her latest feature has now been selected as Japan's submission to the Oscars for 2021, and if she should make the final shortlist for Best International Feature Film, it would make her the first female director from her home country to be officially nominated.
True Mothers, then, would be a fitting film to mark that distinction. This deeply resonant story focuses on the emotional grief shared by the two dubious ​"mothers" of an adopted child: a teenager forced to give up her baby due to parental pressure, and the adoptive mother unable to conceive herself.
Just as water plays a symbolic role for fertility throughout, the film does, too, move along at a gentle pace as these two delicate female stories are explored with touching sentimentality.
Better Days (dir. Derek Tsang, Hong Kong)
Once upon a time, Hong Kong used to be all about action – see the martial arts hits of Jackie Chan and Bruce Lee, the ​"gun fu" works of John Woo, or the gangster films of Johnnie To for evidence. But today, the country's cinema retains its striking aesthetic without the need to comply with simple genre boundaries, as shown in this profound drama by Derek Tsang.
Like True Mothers, Better Days explores the theme of societal pressures experienced by school-aged girls – only instead of teen pregnancies, it's bullying that takes centre stage. As the days count down towards Hong Kong's notoriously tough ​"Gaokao" university entrance exams, the film focuses on the struggles of a young student exposed to an overwhelming degree of harassment after her classmate commits suicide by throwing herself from a balcony.
For much of its opening act, Better Days almost feels like a prison movie. Inmate scrubs are swapped for school uniforms, holding cells are mirrored by the school's barred windows, and brawls in the showers are substituted for cruel classroom pranks. But the world, as the innocent Chen Nian experiences it, is every bit as intimidating – defined by unflinchingly brutal violence and intimidation. Only when a thuggish stranger steps in to help does it begin to feel like there might be a way out for the film's suffering protagonist.
Better Days appeared alongside both True Mothers and Beasts Clawing at Straws in the Official Competition at the London East Asian Film Festival last December, but its international success already precedes it. With a 100 per cent Rotten Tomatoes rating and a global box office return of nearly $250m, it would win Best Director, Best Picture and Best Actress at the Hong Kong Film Awards in May, before being given the nod for Oscars submission in December.

Impetigore (Joko Anwar, Indonesia)
Gareth Evans' 2011 tower-block-action-rollercoaster The Raid remains one of Indonesia's most critically-acclaimed exports, but director Joko Anwar is fast proving himself the country's newest one-to-watch. Having been nominated for Venice Film Festival's Horizons award in 2015 for A Copy of My Mind, he scored Indonesia's highest-grossing domestic film of 2017 for horror remake Satan's Slaves – which took home over 100 times its $150,000 budget after releasing in 42 different countries.
Impetigore is his latest hit, and while its genre framing keeps narrative expectations in check, the film is much more than just a rainforest Wicker Man. Opening with a tense roadside confrontation between a toll attendant and a blade-wielding stalker, the movie soon transports to the lush green Javanese jungle, where stunning widescreen cinematography builds an unnerving atmosphere at the site of a remote Indonesian village. Add a score of mournful choir song, a steady building of tension, and smatterings of traditional Javan folk culture, and you've got a twisted, supernatural drama of a strikingly eerie tone.
Having premiered at the Sundance Film Festival in January 2020, Impetigore has now been selected as Indonesia's submission to the Oscars for 2021. And while horror movies don't traditionally get too far in the Academy Awards, this film is definitely worth a look as an example of a director on the cusp of an international breakthrough.

More like this