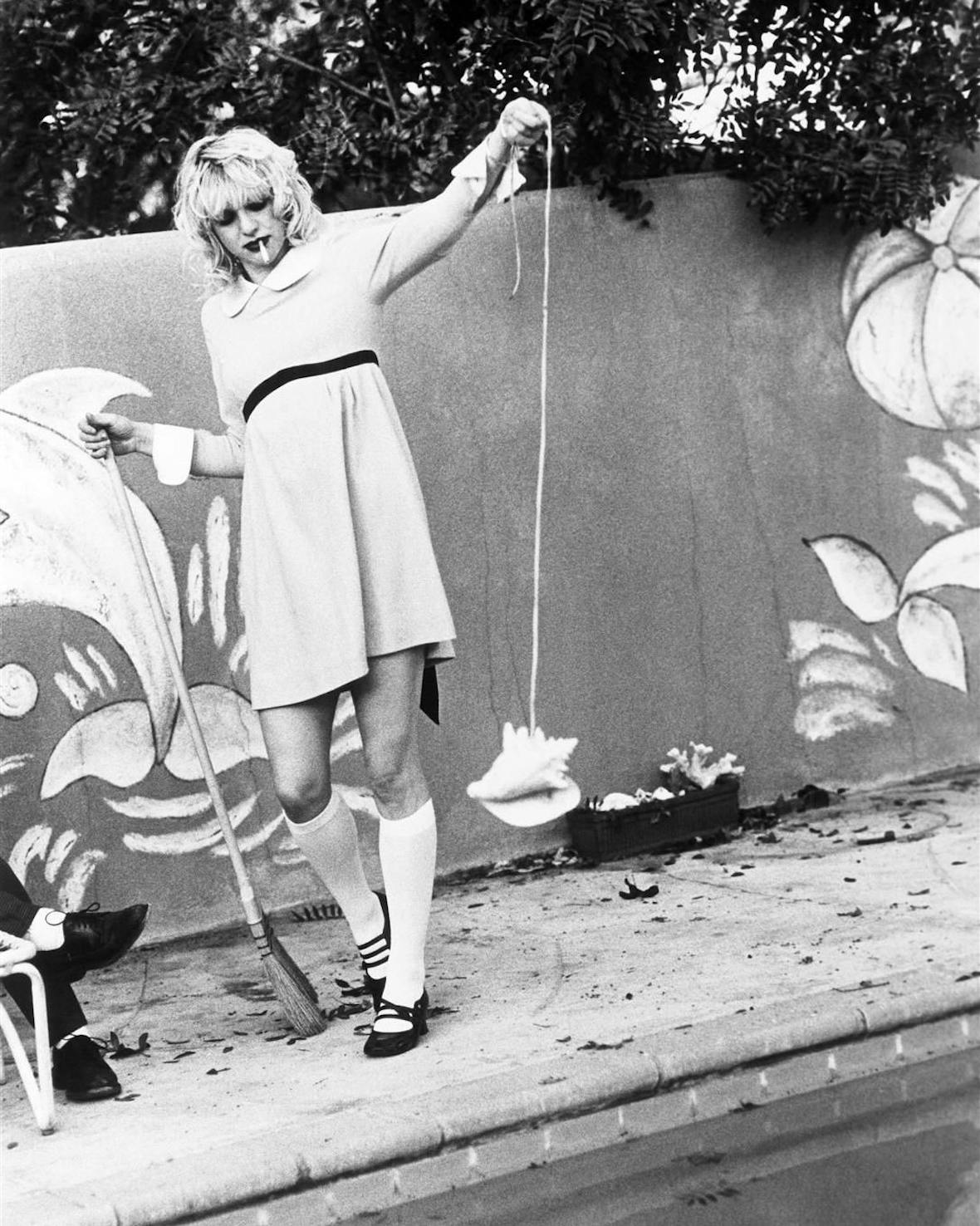 Ellen von Unwerth:

30

years of pho­tograph­ing women
18th Octo­ber marks the New York open­ing of the world's largest insti­tu­tions for pho­tog­ra­phy, Fotografiska. The muse­um was found­ed in Stock­holm and in its life­time has housed ret­ro­spec­tive exhi­bi­tions for Canon pho­tog­ra­phers, includ­ing David LaChapelle, Hel­mut New­ton and Sal­ly Mann.

Fotografiska has built its New York home in the his­toric 281 Park Avenue South build­ing, which at one point was set to house a pet-project ​"visu­al" arts cen­tre' head­ed up by noto­ri­ous New York fash­ion world scam-artist Anna Delvey. The muse­um will mark its open­ing with an inau­gur­al exhi­bi­tion look­ing back on the thir­ty year career of one of fashion's most pro­lif­ic pho­tog­ra­phers, Ellen von Unwerth.
Few artists alive today have left as big of a dent on the sur­face of pop cul­ture. Devo­tion! 30 Years of Pho­tograph­ing Women cel­e­brates the Ger­man photographer's acclaimed career spent cap­tur­ing some of the world's most talked about women in music, fash­ion and enter­tain­ment, often at cor­ner­stone moments in their pro­fes­sion­al and per­son­al lives. Through the lense, von Unwerth has con­sis­tent­ly man­aged to show the world a dif­fer­ent side to her dis­tin­guished sub­jects, be it a pre­vi­ous­ly-unseen vul­ner­a­bil­i­ty or a child­like play­ful­ness that nobody would ever expect.

Ahead of Devo­tion!'s open­ing next month, we caught up with von Unwerth to dis­cuss her most icon­ic images and the women who fea­ture in them.
Anna Win­tour (Inter­view Mag­a­zine, 1993)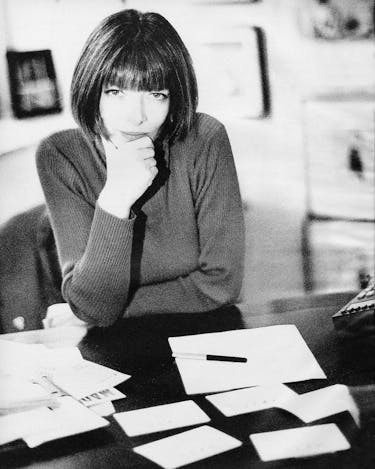 "This was shot for Inter­view Mag­a­zine and Anna had actu­al­ly specif­i­cal­ly asked for me to do it. We shot it in her office and, of course, I was very ner­vous because she is such an impres­sive per­son, but she was actu­al­ly super cool and fun to work with.
I real­ly love this shot because for once you get to see her eyes which is quite rare as she's usu­al­ly wear­ing sun­glass­es. I think it shows a sort of vul­ner­a­bil­i­ty in her, though she still looks very powerful.
Some­times when you have some­body in front of the cam­era you catch anoth­er side to them and you can real­ly see the human being. There was an unspo­ken com­mu­ni­ca­tion between us in this pho­to and I've always real­ly appre­ci­at­ed that moment which is why I includ­ed this shot in the ​'Pow­er' sec­tion of the exhibition."

Azealia Banks (Play­boy, 2014)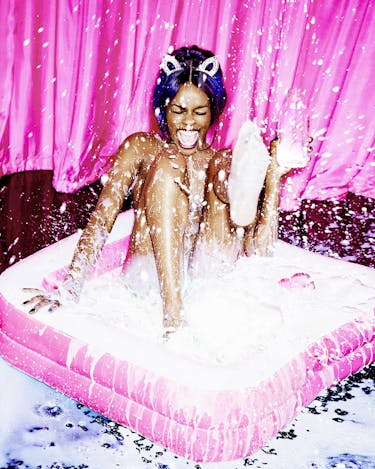 "I was a huge fan of Azealia, so I was real­ly excit­ed to be work­ing with her on this one. In terms of what I knew of her before, well, 212 is one of the best rap songs ever! I love the video with her against the brick wall in pig­tails and a Mick­ey Mouse sweater. There's no pro­duc­tion val­ue but it's just amazing.
I was a bit ner­vous about how she would feel about shoot­ing for Play­boy and the nudi­ty but she was a total nat­ur­al, run­ning around the stu­dio naked and play­ing with these two amaz­ing cats we had for the shoot. She was very fun and so love­ly to work with, no diva attitude.
This was one of the last shoots Play­boy did before they announced there would be no more nudi­ty, but for me Play­boy with­out nudi­ty is like: ​'What's the point?' If you see nudi­ty in every fash­ion mag­a­zine you pick up, you should be able to see it in Playboy."

Brit­ney Spears (Black­out album cov­er shoot, 2007)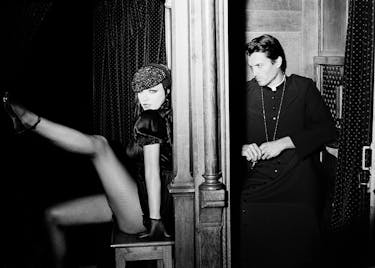 "This was at a point when every­one thought she was going a bit cuck­oo. She had changed her hair and she just want­ed to change her life and her image so I was very intrigued when she asked me to shoot her album.
I got a call say­ing that Brit­ney want­ed to shoot at 3am and I thought: ​'Hmm… I love Brit­ney but I don't think that's going to hap­pen.' We tried to set up a meet­ing the day before and her team were telling me: ​'Britney's going to be in Hol­ly­wood', then: ​'Britney's going to be in Mal­ibu' and even­tu­al­ly I just told them to fig­ure out a final des­ti­na­tion and let me know. So I was just killing time in the Chateau Mar­mont and sud­den­ly my assis­tant looks across the room and says: ​'There's Brit­ney!' Nobody had recog­nised her.
Peo­ple were talk­ing a lot about her at the time but she was very, very sweet and she knew exact­ly what she want­ed. The styl­ist Pat­ti Wil­son had so many great looks and we had a mil­lion dif­fer­ent set ups but the one that Brit­ney was insis­tent on was the con­fes­sion­al booth. It was a real­ly unfor­get­table shoot, you always remem­ber the weird ones most."

Christi­na Aguil­era (Back To Basics album shoot, 2006)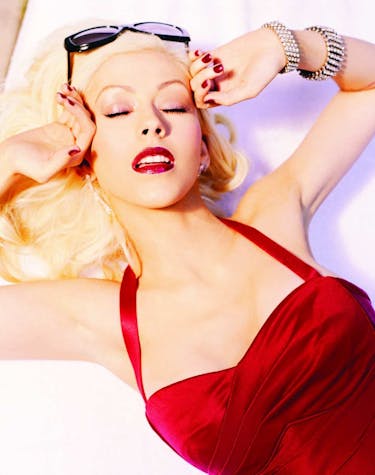 "I worked on this shoot around the same time as I worked with Brit­ney which was fun­ny because they were like, the two big icons at that time but they are very, very dif­fer­ent. Christi­na is much more of a diva, that's her whole image. She's like an actress, very play­ful and she loves to change her look with hair and make-up. She's very fun to pho­to­graph!

This was for her album Back To Basics which had a bit of a retro vibe, but she was still rock ​'n' roll. I actu­al­ly worked with Christi­na again not long ago, for the Galore 2019 Icons issue, and we did a sim­i­lar sort of look because that's how I love her – that old Hol­ly­wood glam­our look real­ly suits her and it's what makes her so icon­ic. It was real­ly nice to see her again."
Court­ney Love (Live Through This album shoot, 1994)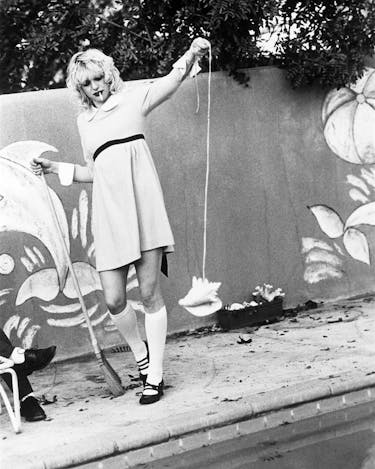 "We shot this for Hole's Live Through This album inlay. She nev­er want­ed to be pho­tographed alone, she always want­ed to be with the band and this was one of the few shots I man­aged to get of her by her­self. So many peo­ple tell me the record is their favourite album so I feel real­ly lucky to have been a part of it.
We shot it in the gar­den of a lit­tle sub­ur­ban house in LA. It had lots of ran­dom dec­o­ra­tions like the shell she's play­ing with in the pho­to. There was a ceram­ic frog at the bot­tom of the pool and Court­ney dived in ful­ly dressed to grab it so we could get a shot of her kiss­ing the frog, which was very brave of her because the water was freezing.
I total­ly loved her look at that time, with her baby­doll dress­es and lip­stick smeared over her face, I was fas­ci­nat­ed by her. It was dur­ing a rough time in her life so I wasn't sure what to expect but she was super intel­li­gent and chat­ty, we talked forever."

Kate Moss and Nao­mi Camp­bell (Amer­i­can Vogue, 1996)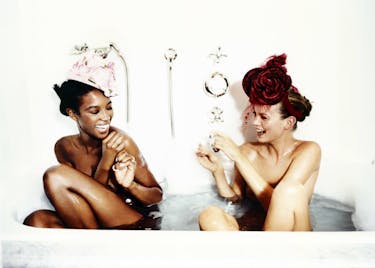 "This was a shoot for Amer­i­can Vogue and we shot it in Paris. It was dur­ing an amaz­ing moment in time when Nao­mi was already a huge star, Kate was blow­ing up and they were hav­ing a lot of fun, par­ty­ing nonstop.
We had a tonne of looks to get through but I shoot very fast so we end­ed up run­ning out of clothes. So I said: ​'Just put these hats on!' and we shot them play­ing around in the bath­tub, sip­ping cham­pagne. The whole shoot was real­ly just a party.
I think this pho­to is so cute because it real­ly cap­tures the friend­ship between them and that cheeky naugh­ti­ness they share. I love it for that."

Nao­mi Camp­bell (The Face, 1994)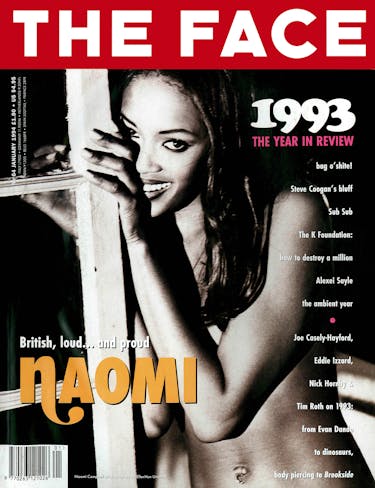 "We were were shoot­ing on the streets of New Orleans when I met a friend who lived there who told me they had this amaz­ing 1900s bor­del­lo-style house that I had to shoot in. Nao­mi was total­ly into it so we went there and shot her in not very much, most shots she was just in a lit­tle t-shirt and sneak­ers.

I worked with her a lot around then so we had a very inti­mate rela­tion­ship and I think that comes across in this image. She almost looks a lit­tle bit shy, but still play­ful which is true to her per­son­al­i­ty. I was real­ly pleased when I saw The Face chose it for the cover."
Paris Hilton (Guess, 2003)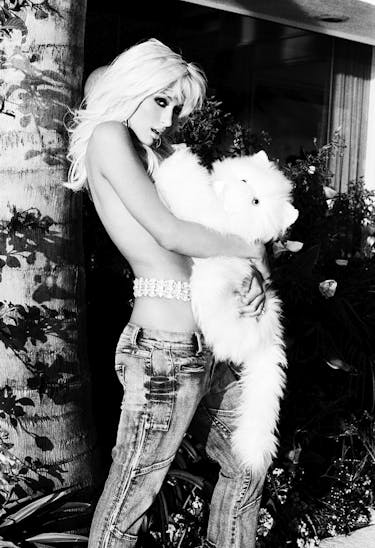 "When I look at this image I always remem­ber the cat she's hold­ing because it was this dis­gust­ing, dirty stuffed cat from a rental shop and when I saw it I said: ​'We can't use that!' but we end­ed up falling in love with it and it using the shot for the campaign.
It was inter­est­ing to shoot her because we had pre­vi­ous­ly only ever used pro­fes­sion­al mod­els for Guess but Paul Mar­ciano always had a great nose for the right peo­ple to put in his campaigns.
I had met her a cou­ple of times before, and you know she had a bit of an idea of her­self but she was still cute and charm­ing. She real­ly played up to the per­sona back then of: ​'I'm Paris Hilton and every­one fan­ta­sis­es about me and where I come from.'

She had just become a big star and usu­al­ly when that hap­pens peo­ple change a lit­tle bit, espe­cial­ly when there's a lot of par­ty­ing involved and they're going through that phase. At that time every­one want­ed ​'Paris Hilton' but she was still only grow­ing up. I see her from time to time now and she is dif­fer­ent, a lot more chatty.
We shot a cou­ple more cam­paigns for Guess with her after this, one of them we did in Las Vegas with this huge snake. I remem­ber Paris was a lit­tle hun­gover and I asked her if she was okay, she said: ​'I mean this fuck­ing snake is stran­gling me, but whatever.'"

Rihan­na, (Rat­ed R album shoot, 2009)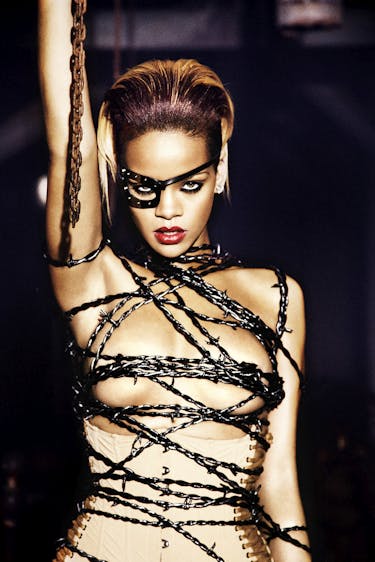 "Rihan­na called me and was like: ​'Ellen where are you?' I told her I was in Berlin, she said, ​'Okay, I'm com­ing!', and she just showed up.
We shot so many dif­fer­ent set ups with man­nequins and Bar­bie dolls, in this huge fac­to­ry-style loft. She had an incred­i­ble styl­ist who had this barbed wire out­fit which even­tu­al­ly became one of the most icon­ic images from that era. What I love about her is that she's always try­ing to be provoca­tive and push bound­aries, espe­cial­ly in her out­fits she always choos­es the most edgy looks. She's super fun to work with and, my god, what a beauty."

Vic­to­ria Beck­ham (i-D Mag­a­zine, 2004)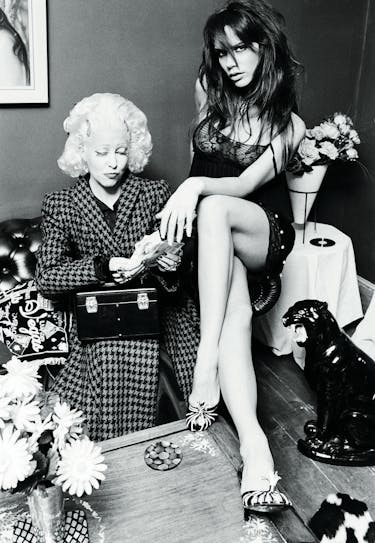 "I first shot with Vic­to­ria when she was with the Spice Girls and I also did the pho­tog­ra­phy for her book, I've always loved work­ing with her because she is so cre­ative.

This shot was inspired by the film Belle de Jour, the idea was that Vic­to­ria was play­ing a bour­geois woman who was bored in her life so starts to work as an escort, and the old­er woman is sup­posed to be her madame pay­ing her. Although when you look at this pho­to it sort of looks like she's get­ting her nails done!"
Devo­tion! 30 Years of Pho­tograph­ing Women will be on view at Fotografiska NY from 18th Octo­ber to 26th Jan­u­ary 2019.
---