Emmanuel Adjei on working with FKA twigs for the Don't Judge Me video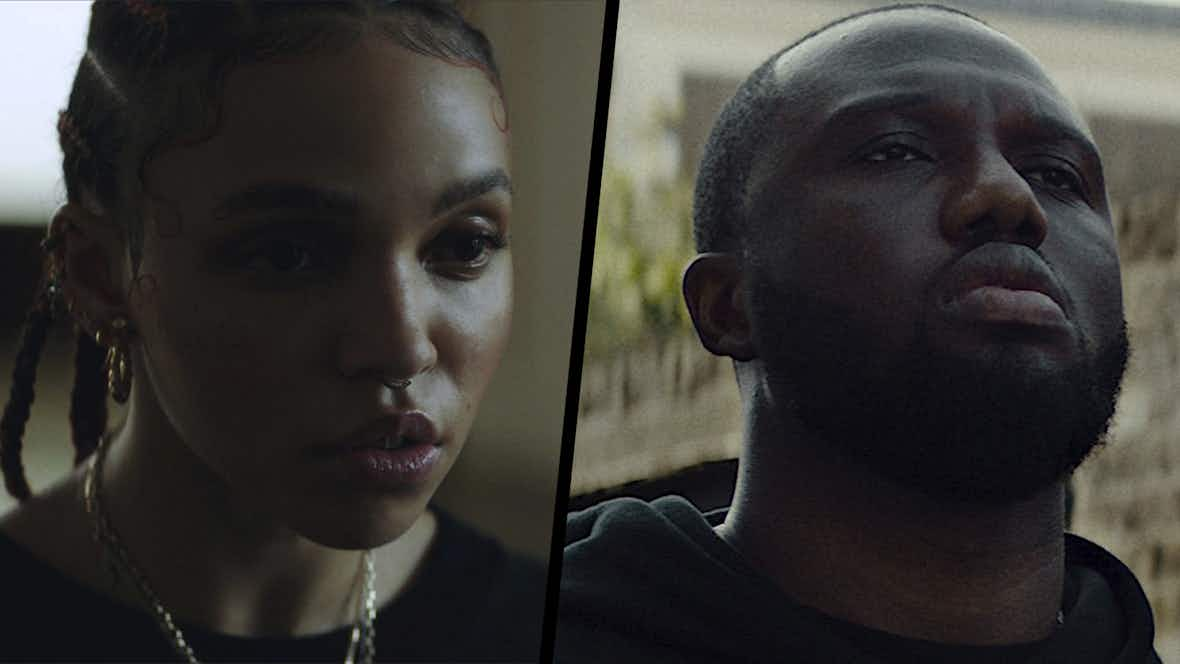 Following the phenomenal success of Beyoncé's Black Is King last July, the Dutch director has joined forces with twigs, Headie One and Fred Again.. creating a poignant short for their latest track.
Last night marked the merging of artistic worlds with the release of Don't Judge Me. The song – a newly expanded version of a track from Headie One and Fred again..​'s 2020 mixtape GANG – comes with a politically potent verse from Headie and new vocals from twigs, alongside visuals which everyone is talking about right now.
Directed by twigs and Dutch-Ghanian talent, Emmanuel Adjei, (known for directing music vids for Madonna, Sevdaliza and most recently Beyoncé's visual album Black is King) the six-minute short captures killer choreography, mind-bending stunts and outstanding fashion from Black designers such as Martine Rose and Off-White. Author Reni Eddo-Lodge, activist and model Munroe Bergdorf, and broadcaster Clara Amfo are just some of the Black British talent to make cameos.
Shot late last year, the extensive cast flocked to London's Tate Modern to capture the Victorian-inspired fountain Fons Americanus by visual artist Kara Walker. ​"Depicting the historical, sorrowful story of slavery and colonisation – as our setting, and particularly as the spirit of the film, this important monument creates another layer of depth and meaning to an invisible yet shared history," says Adjei .
We caught some time with the 32-year-old co-director, to discuss symbolism, lockdown limitations and how it felt to get involved in such a powerful project.

How have the last six months been for you, following the release of Black Is King in July?
Sharing Black is King with the world, at the moment we did, was a truly unique and unrepeatable experience. The time that followed was in many ways a combination of deep-dive reflections and future-facing realisations. The aftermaths of the release just enforced my belief in the importance of sharing complex stories despite people's lust for easily digestible content. In a world focused on brief moments, diving into the webs of history, culture and shared experiences is something I'll continue to strive for through my work.
When were you first approached to work on this project with FKA twigs and Headie?
In September, a few months after the release of Black Is King.

Why did the song make you feel inspired to get involved?
The first thing that caught my attention, was the immense power of the song's title. Those three words – ​"don't judge me" – in that specific combination. It spoke to me at so many levels, almost triggered something, and I just knew that the visuals that would accompany the track would tap into that initial feeling ​"provoked" by those words. The aesthetics of the film and its visual is an audio-visual document of our fight against the invisible oppressor. It often remains an invisible force until their abuse against others is explicitly revealed.
What was the symbolism behind including Kara Walker's Fons Americanus fountain?
To me a fountain is a place where people naturally gather. So using it as the starting point and breeding ground to connect the shared experiences for all involved. felt like the perfect arena to start this conversation. The Fons Americanus ties it all together, both in symbolism and as a visual vehicle.
We see cameos from the Black British figures such as Clara Amfo, Reni Eddo-Lodge and Benjamin Zephaniah. What was the importance of including them in this film?
It was at the essence, having them all participate and come together at the Tate Modern made the concept land. Their contribution symbolises and brings to life the shared history, shared experiences. To me, these individuals, who deserve all the accolades in their own right, are all examples of ​"Black excellence". The fact that we call it ​"Black excellence" is bittersweet, because it highlights how many from the BIPOC community have to be exceedingly excellent to have a voice and to be seen. Including them in the visual adds another level to the discourse, and with the film's specific message the balance and combination of these particular individuals portrays it in a layered way. Tying it all to Kara Walker's work, it felt like the circle was complete.
What limitations did you face filming in lockdown?
twigs and I had the luxury of time, which allowed us to fully immerse ourselves in the experience and story we wanted to share. We used this time to tap into each other's lives, and beliefs, which allowed me to show a side to twigs that people haven't really seen before. In hindsight the process was almost therapeutic – which I think is visible in the final result.
Can you recall a highlight moment from your time on set?
The first time I was framing a shot with all the talent and all the dancers, twigs stood next to me and we just nodded to each other. We both immediately knew it was a moment to be cherished. I'm so grateful and happy that we were able to document Kara's work in a respectable way.
How do you hope your work will spark a dialogue surrounding the topics of race and discrimination?
As mentioned earlier, the work is a manifestation of the invisible oppressor. I hope the dialogue it will evoke will be triggered by feelings. Did it make you cry? Did it make you angry? Did it make you feel empowered? To me, the feelings the work triggers and the conversations around that is the most rewarding, at a personal level.

More like this