Encounter director Michael Pearce on working with ​

"

magnetic" Riz Ahmed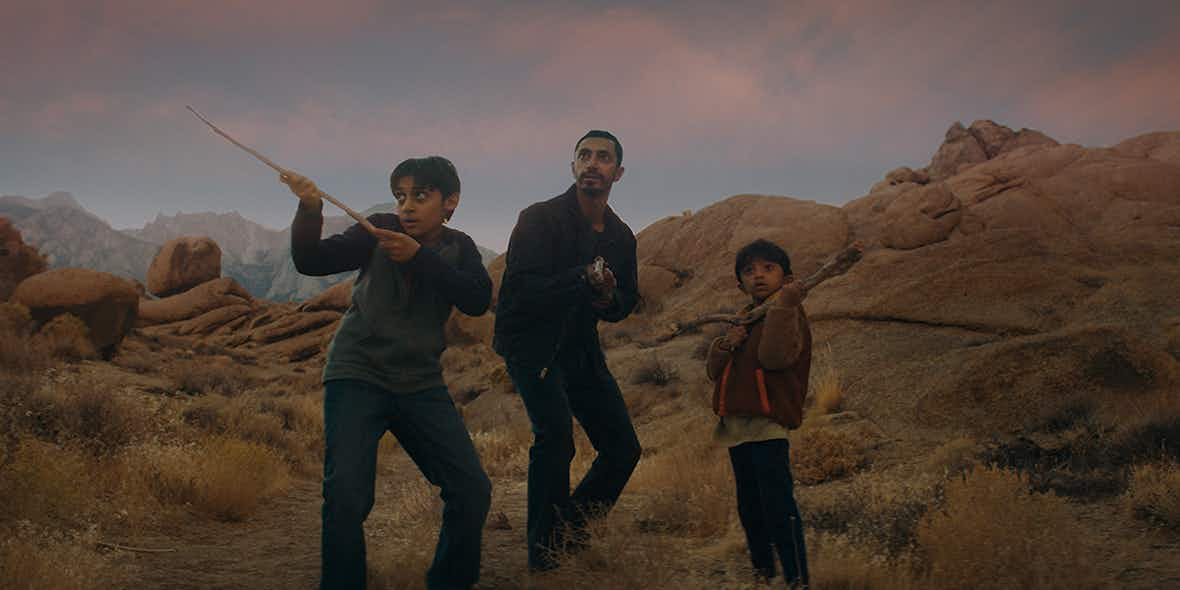 In his new film, Riz Ahmed is brilliant as an ex-Marine fighting aliens that only he can see. Encounter director Michael Pearce explains how his leading man led from the front.

Malik Khan is a man on a mission. The former US Marine seems to be waging a one-man war on an alien invasion – not little green men but ​"non-terrestrial micro-organisms". That is: bugs.
As Khan sees it, these tiny ETs are biting and burrowing into humans, a subcutaneous takeover that's resulting in madness and violence in the hosts. Holed up in ratty hotels with his weaponry and kit, watching news footage of inner-city riots, dousing himself in clouds of insect repellent, Khan knows the world needs saving. But first he needs to save his sons.
This is the premise of the new thriller Encounter, which stars Riz Ahmed as Khan. Directed by British filmmaker Michael Pearce from an original script by Joe Barton (Giri/​Haji), it makes for a hat-trick of gripping, emotionally powerful indies in a year for the actor, following Mogul Mowgli and Sound of Metal. That Richard Harris Award at last weekend's British Independent Film Awards – which annually ​"honours an actor or actress who has contributed significantly to British films throughout their career" – was well earned.

Equally, with Pearce at the helm, Encounter was never going to be a straight-up sci-fi. In his first feature, 2017's Beast, set on the Channel Island of Jersey, Johnny Flynn (The Dig, Emma.) was mesmerising as the charismatic loner who just might be a psychopathic killer, while Jessie Buckley (Beast, The Lost Daughter) was equally compelling as the troubled local who can't help but be drawn to him. Nothing is ever wholly as it seems.
So it is with Encounter, a road movie that plays out in the baking heat of the American West. Is Khan a hero, a loving father who'll do anything for his kids? Or is he infected with something, too – paranoia, say?
Zooming in from Los Angeles (where he had just premiered the film with Ahmed and the rest of the cast), Pearce, 40, explains how he worked on new drafts of Barton's script, drawing in part from he and his younger brother's own experiences with their army climbing instructor dad, when they were the same age as Khan's kids.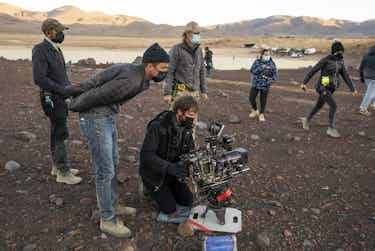 Even though you didn't write this alone, as you did Beast, is Encounter the more personal of the two films for you?
Yes, because it's to some degree about my own family dynamic. Joe [Barton] had written a great script with great characters. So I was building on top of material that I had a huge amount of love and respect for. I felt like he'd done the hard work. That's what took me so long on Beast, which took seven years to write – finding the characters that had the complexity I was looking for, and the story structure. When I read Joe's script I thought I could do a three or six-month rewrite and just imbue it with some of the nuances from my own personal upbringing. But inevitably I decided to get in the weeds in practically every scene.
Joe wrote the script 10 years ago, and at one point another director was attached. Why did it take so long to come to screen?
A lot of people in the UK had read different versions of that script, and it had a lot of love in the UK. But it's just so hard to get a film to come together – you need so many stars to align. It just needed the alchemic combination of [material and] the right director who had a particular take on it.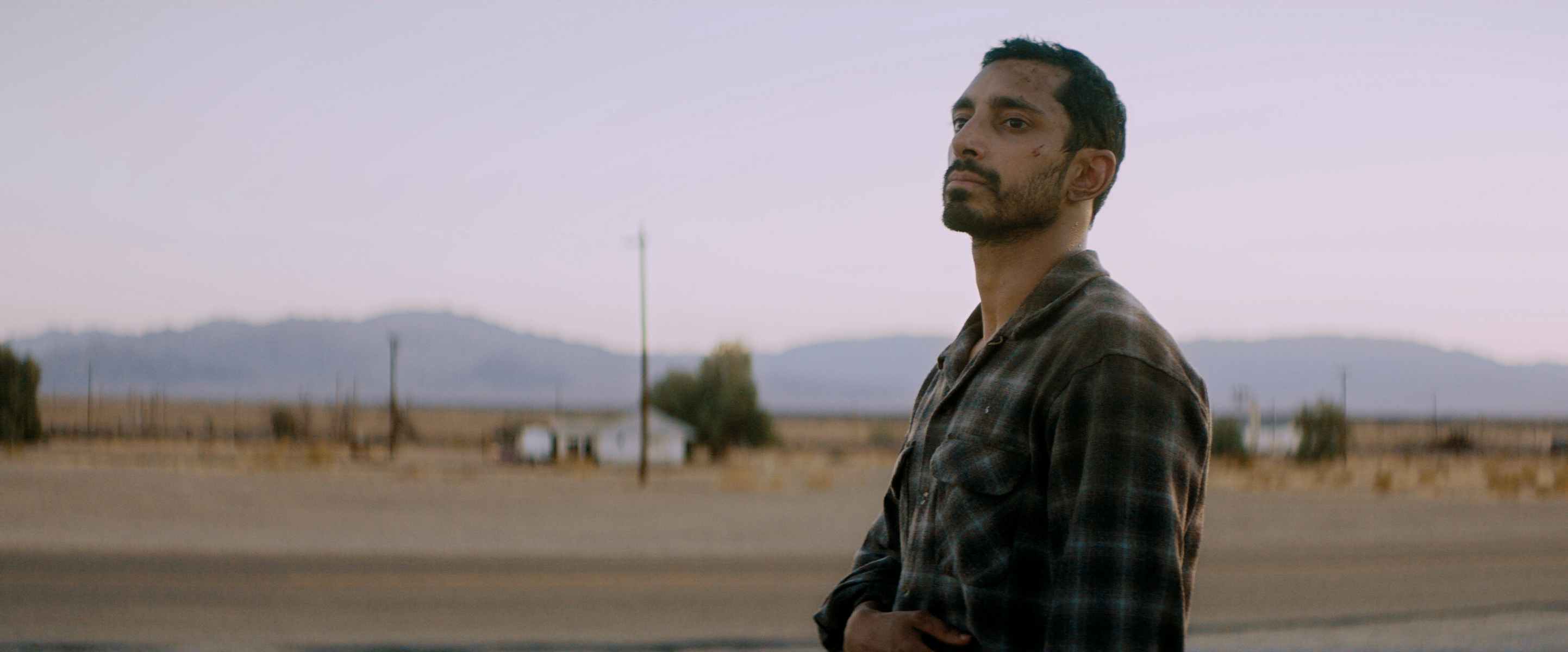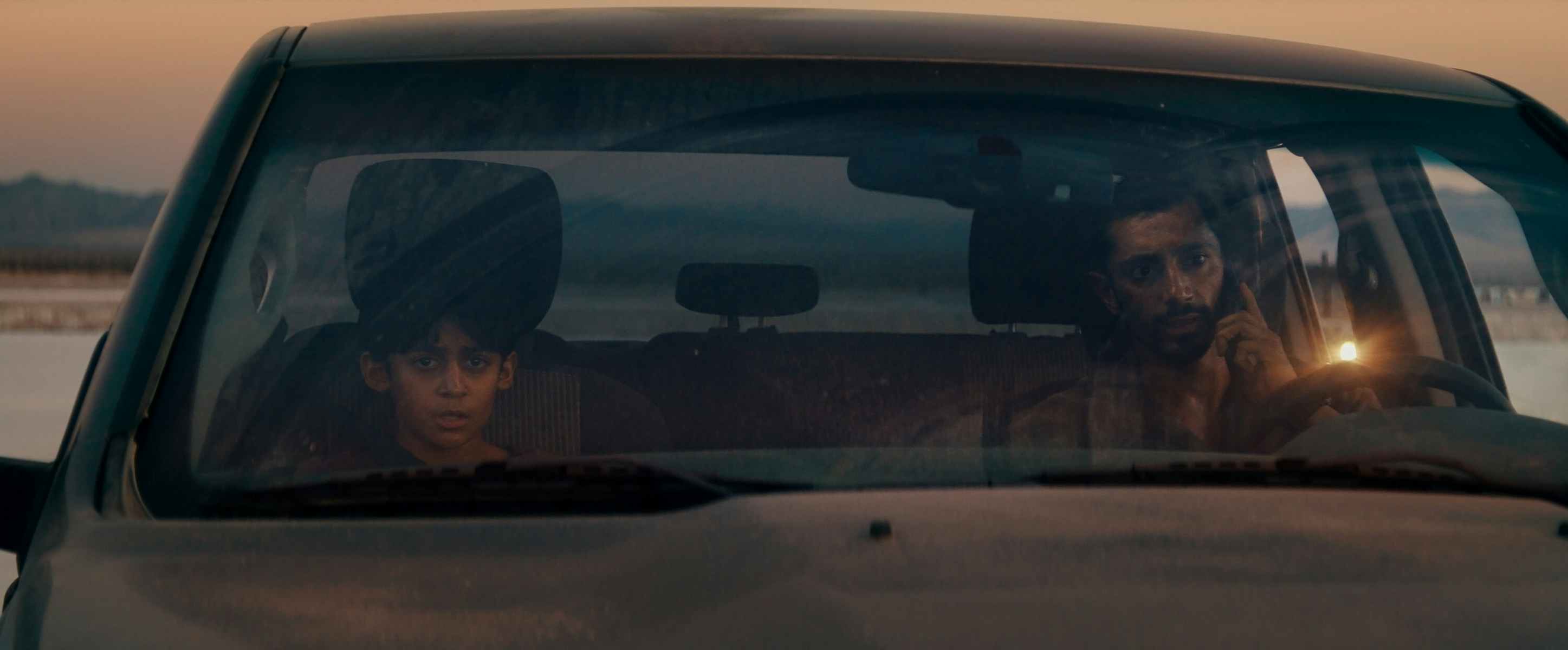 Along the script's journey, was it ever set in the UK?
It was always set in the States. There are so many quintessentially American elements about the material: it's a road movie; it's set in these otherworldly landscapes that evoke Westerns and sci-fi terrain; there's a commentary on the prevalence of gun culture; how heavily militarised police response units are. And it talks about race in a way that's more organic to the US experience. And it has nods to films like Close Encounters of the Third Kind, Paris, Texas and the Clint Eastwood film A Perfect World – that was a big reference to Joe.
You mentioned race. In earlier drafts of the script, the lead character was what you described last week as the ​"default white anti-hero type". But Khan is Asian-American. Yet while that's certainly not incidental to the plot, it's never belaboured or even foregrounded.
I have to give a lot of credit to Riz with that. He's a great collaborator for a director. He looks at a script from a storyteller's point of view, not just from the subjective view of his character or his performance. And he's always got a very nuanced and thoughtful read on material. Once I'd cast him, we'd read through the script together, sometimes in quite a detailed way – we'd do a whole session on just three pages. I wanted to hear what he had to say, not just about his character but about how the story was unfolding.
Initially, when I cast him, we thought we wouldn't have to change anything in the script – we even kept the character's original name, Marcus. But it felt false in this movie for the character's ethnicity to not play a part. So we changed the names, and [the detail of] some of the encounters he has. But we didn't feel like we needed a blunt racist remark from a character for a smart audience to know that race or racism was playing a part in the scene. But also, the character's ethnicity isn't their defining feature. It's an aspect of who they are, but this is also a universal story about a father and a son.

Why did Riz want to make this film?
He's always looking for new challenges. Riz has the presence and magnetism of a leading man, but really he has the interests of a character actor. He really doesn't want to make it easy on himself. When he read this part, he'd be playing a father for the first time, he'd be playing a military veteran, he'd be playing a character who elicits very conflicting feelings from an audience. One moment you're totally charmed by him and ready to be saved by him. In other moments you're concerned for him, or scared of him. So for Riz, it felt like a challenge on many fronts. Each time he makes a film, he likes to step out of his comfort zone.
One of Khan's encounters is with a gun-happy family who is, going by the insignia they wear, part of a militia group. Who are they?
They're The Three Percenters. They're a militia group that started in the Eastern states but now they're one of the bigger right-wing militias. The meaning comes from how about that was [reputedly] the original percentage of Americans who were fighting the British in the 18th century. They're distinct from the Proud Boys.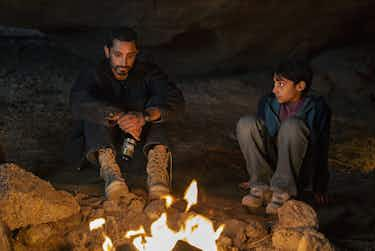 Was that a purposeful nod to the increasingly fractiously divided state of American culture, race and politics?
Yeah. We liked the idea that as much as this was an intimate portrait of this family trio, it was also going to be a portrait of America as we saw it in late 2020 [when we were filming]. It was during the presidential election, there was civil unrest and there was a rampant increase in conspiracy theories… It felt like we were on the brink of the apocalypse!
How was it filming in the midst of all that?
We had to have extra security details. We couldn't shoot some scenes because so many of the police escorts that you need when you're doing road scenes had to go to other towns and cities where there was civil unrest. The sky was burnt orange from forest fires. There were record-breaking heatwaves. And the most obvious resonance with the story was this invisible virus affecting the population. Behind the camera, we were all wearing PPE gear and masks and biohazard suits. So it felt as much like a sci-fi film behind the lens as it did in front of it.
All of which only adds to the very timely, raw and down-to-earth resonance of a film that begins with what looks like an alien invasion.
Right. Riz spoke about it the other night. He said: ​"This film isn't sci-fi. It's now-fi."
Encounter is on Amazon Prime from today

More like this