Looking for cool stuff at Frieze London? Check this out
The ICA's brand-new, multi-sensory exhibition, Damien Hirst's NFTs, food at Rita's and loads more. THE FACE has got you covered.

After taking a well-deserved nap last year (pandemic, etc.), Frieze London is back this week with a whole host of events and arty stuff to have you feeling truly cultured. There's NFTs, good food, exhibitions and fashion bits – and that's before getting into the breadth of global artists taking over Regent's Park for the event itself. So get involved, learn something new and surprise your mates at the pub with all your newfound knowledge, smarty pants.

Institute of Contemporary Arts (ICA), Nine Nights: Channel B
Having opened on 12th October, the ICA's latest exhibition is a high-octane, audio-visual exploration of Black futurism by the Black-owned creative initiative, Nine Nights, which works across art and music. Established in May 2020, it emerged as a way to counter systemic racial inequalities within the music industry, exploring new methods of artistic empowerment. With one sole purpose, to support Black culture, the exhibition features sound and video installations by the initiative's founding artists Gaika, GLOR1A and Shannen SP. A live event series, New Syntax, will also see each installation act as staging to host performances by global Black artists.

Open until January 2022. Book tickets here.
After gawping at art, engaging in small-talk, pretending you're smarter than you are, you're going to need a break at some point. Head down to THE FACE's friends Missy Flynn and Gabriel Pryce's Soho restaurant, Rita's. Not being biased or anything, but it is truly some of the best food we've eaten in the city in some time. A modern American menu, expect grilled bavette with radicchio, devilled eggs, buttermilk panna cotta, baked plums and drinks – lots of them – namely rare tequilas, mezcals and natural wines.
49 Lexington St, Carnaby, London W1F 9AP.

Taking a break from his rap affiliations, Damien Hirst is back with a new exhibition exclusively at Frieze, in a partnership with LG. He'll be presenting major works from his past Kaleidoscope series to self-lit digital remasters. And if you thought the case for NFTs had disappeared, think again. Hirst will be showing his very own on OLED TV products in a series titled The Currency, a collection of 10,000 NFTs that correspond to 10,000 unique physical artworks by the artist. It's the future. And, also, probably one of the first opportunities for people to see an NFT IRL for the first time. Get in line.
LG X Damien Hirst: A History of Painting will exhibit at the LG room of Frieze London until 17th October.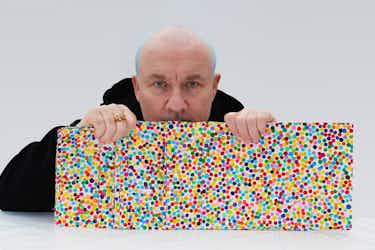 Zilver, the design and fashion brand headed by Pedro Lourenco, has partnered with curator Mehdi Dakhli for Do Disrupt, an exhibition featuring artists like Tino Seubert, Marc Aurele Debut, Andreas Greiner, Armin Keplinger and Giuseppe Lo Schiavo. Aligning with the brand's ethos of questioning and (clue's in the title) disrupting the status quo, the works will explore new media, artificial intelligence, virtual reality and upcycling. It will also feature Zilver's latest collection, Leo Part II, which is based on the Leo star sign traits (bossy, jealous, possessive – kidding!) and presented through modern pieces using recycled and organic materials.
Do Disrupt opens on 15th October at 7 Walker's Court, W1F 0BZ. Free admission.

Don't miss out on seeing the almighty Serpentine Pavilion, designed by South African practice Counterspace and directed by Sumayya Vally, as well as the brilliant James Barnor exhibition before Frieze finishes later this month. Then check out the Pavilion Fragment at Frieze Sculpture Park, the brand-spanking-new exhibition by Hervé Télémaque at the Serpentine South Gallery and Sophia Al-Maria's Serpentine x Modern Forms Sculpture Commission. Wheeeew.
The Serpentine Pavillion closes 17th October, James Barnor closes 24th October, Hervé Télémaque closes 30th January.

MATCHESFASHION continues its partnership with Frieze this year via a series of conversations, installations and masterclasses, starting with a conversation between designer Simone Rocha and artist Sophie Barber discussing their work-life relationships. MATCHESFASHION is also shining a spotlight on the work of London-based artist Christabel MacGreevy, who's created a bespoke map to mark the occasion and can be found on display at the fair (it shows how to get to 5 Carlos Place to collect one of 1000+ prizes). And when you're done with all that, pop in to the 5 Carlos Place café for a cuppa or a splash of champers. This art business is thirsty work.

5 Carlos Place, London W1K 3AP


More like this