Who's who in the juggernaut teen cast of Genera+ion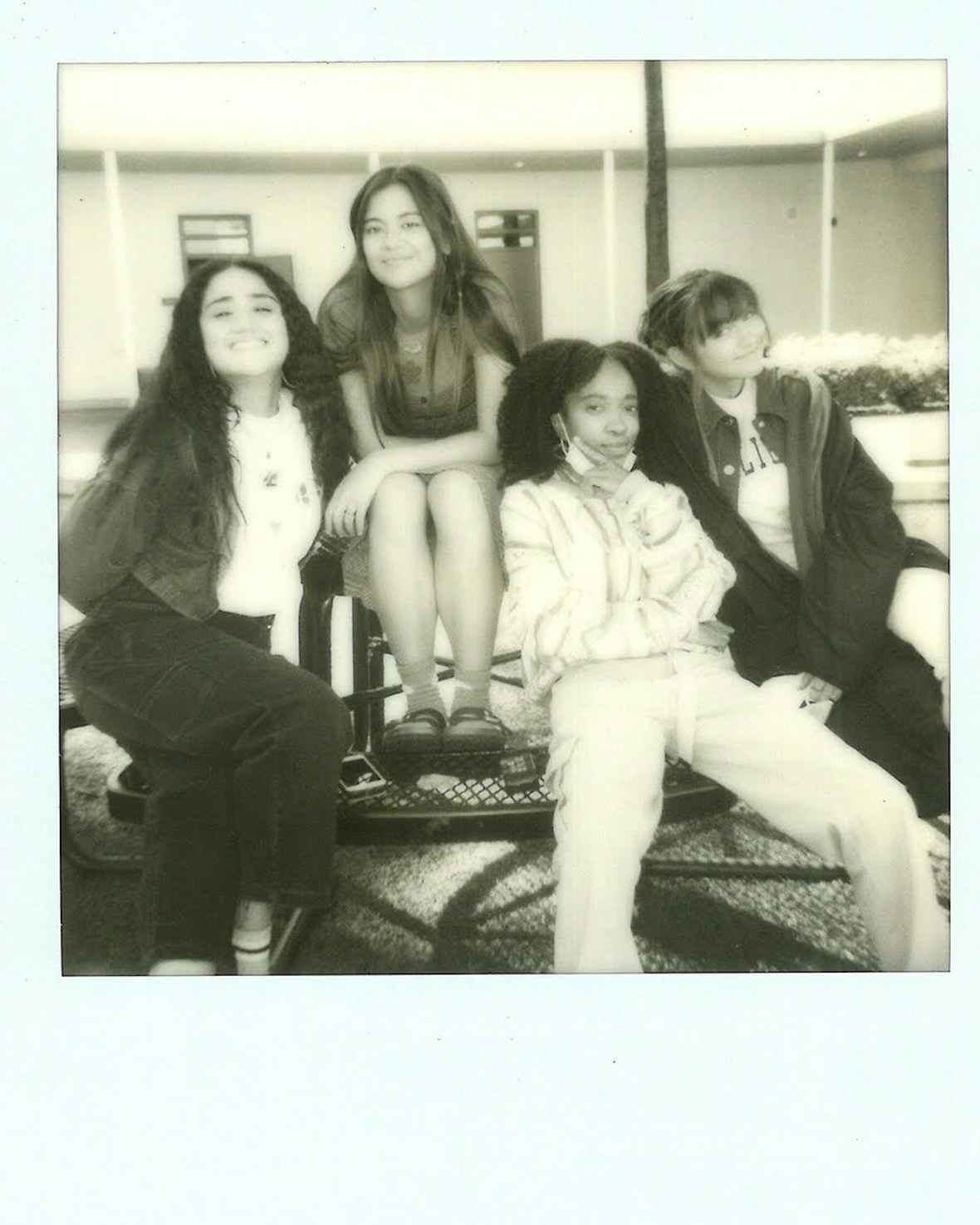 The HBO Max series was created by a teenage girl and her father, produced by Lena Dunham, and explores all the hype and glory of a post-everything generation.
Every high school has a Chester. A brash, queer Zelig of the lunch cafeteria who wears his ego like a Telfar bag and blows kisses at his haters. He talks back to authority and possesses the minimum cool required to dart between social groups without belonging to any one in particular.
Even five years ago, a character like Chester would have been ostracised on TV. That Chester, played by Justice Smith, is a central figure in the knockout HBO Max series Genera+ion and should not be overlooked. In the first episode, he gets busted for breaking the school dress code (candy striped overall crop top, tiny Hadid sister sunglasses, a Dolls Kill PVC choker). Forced to change, Chester uses the school's outdoor courtyard as his changing room, announcing to his peers that they're in for a ​"Magic Mike stage show" before peeling off his teensy-weensy top in front of 25 to 50 judgmental, insecure, sad, horny teenage eyes.
"I remember being like, ​'Don't breathe, tense every muscle you have in your body'," Smith describes over a recent Zoom call. Is this what happens in high school now? Does it all make more sense upon discovering that Lena Dunham, purveyor of body acceptance and removing layers of clothing unprovoked, is the show's executive producer?

However, this isn't about Dunham. In fact, she is taking a back seat to let the cast of this series bask in its unique Gen Z blend, trying on new identities like Depop purchases. And the story behind the creation of Genera+ion has its own tantalising yarn. Its co-creator, Zelda Barnz, came out as queer to her two fathers via a letter sent from her summer camp four years ago. At the time, the 17-year-old had the idea to write a book and devised the notion that kids her age would use her school's Rainbow Alliance meetings like Tinder. She imagined her book would eventually become a TV show. As director of the Jennifer Aniston vehicle Cake, Daniel Barnz (the show's other co-creator) suggested Zelda skip a step and write a pilot script. It would be a father-daughter project, he imagined.
Together, they came up with a show that feels relevant. The woke lingo that poisons other promising adolescent-centred series, reducing them to slogans, is used here as irony. Funnier and lighter than Euphoria, more diverse than Gossip Girl, easier on the stomach than Skins, Genera+ion refuses to be hemmed in by all the complexities of discovering who you are as a teen. Instead, this series exposes that idiosyncratic brand of weird and achieves what most can only attempt: to be real.
Star water polo player Chester admits he's ​"a lot" and unabashedly flirts with his guidance counsellor. Twins Naomi and Nathan share every secret, until they start concealing from each other their problematic crush on the same guy. Greta is a shy, first-gen Latinx girl who hides her crush on her friend Riley, the outspoken rebel. Delilah will ride or die for any social cause, and Arianna shields her desire to be liked with offensive jokes about her two gay dads.
In partnership with Polaroid, the seven main cast members of Genera+ion photographed themselves on set using the OneStep+, which can easily connect to the Polaroid app via Bluetooth to customise any shots. Here, the cast explains why this series is about to, as the kids say, reset the culture.

Age: 25
Originally from: Anaheim, California, ​"which is actually where the show takes place."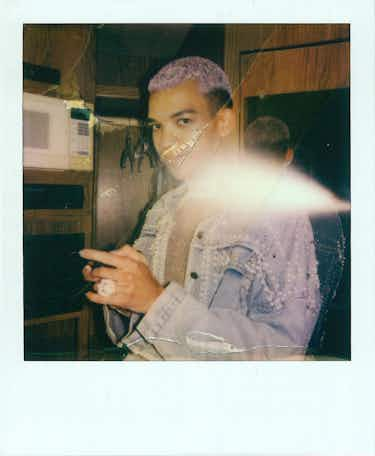 Describe your character: He is an effervescent, bold, brash personality. Very authentically provocative, and lets himself be known wherever he is. A truthseeker. Underneath all of that is this soul that is desperate to be loved and fall in love.
My character is based on: I'm playing an amalgamation of my sister and my little brother, and one of my sister's good friends. I've also met so many people like Chester. I've met this guy 10 times over. When I auditioned for the show, I didn't audition for Chester – I auditioned for the guidance counsellor who was written as younger. I thought, they're gonna find that guy and get him. But they didn't find that guy. When I didn't get the guidance counsellor I thought, maybe I should go in for this part. Then I got it and I was like, I know exactly who this is.
About those skimpy outfits: All my clothes are very revealing. Now, I've gotten to a place where I'm super comfortable with it. I have to look hot in a way that's Chester's idea of hot, not my traditional one. A lot of studying went into that – how to position my body, all this kind of stuff. The assumption is that someone who dresses that loudly is trying to ​'hide' or put an arm out against others, which I don't think is always true.

What the show is meant to make us think about: I think it's meant to bridge a generational gap between Gen Z and millennials, even Gen X. I hope this statistic isn't wrong, but Zelda [Barnz] told me that one in six Gen Z [adults] identify as LGBTQ, which is beautiful, that there's all these queer kids because of the progress our ancestors laid the groundwork for. Kids are still struggling with their sexuality and they're exploring it, but to see their problems manifest in different ways than queer people of other generations is really interesting.
Age: 20
Originally from: San Clemente, California
Describe your character: I play Naomi. She grew up in perfect Orange County where everything is white marbled and she has the perfect family, the perfect life – or so it appears. She's twins with Nathan and she's a free spirit. She's very loud and raunchy, she doesn't really know who she is or where she fits in, she just wants everyone else's approval and to be liked. She likes hot dogs on a stick. She just wants to have a good time. She likes her Brandy Melville, her Anastasia Brow Wiz, all things TikTok. Nothing wrong with that, it's her identity.
Why this is different from other teen shows: It doesn't feel like older men writing for younger kids. It feels like our voices, because it is. Zelda [Barnz] created these characters when she was still in high school.
The scene I'm most nervous for my parents to see: I have a moment where I almost give [someone] a blowjob. So I'm kinda nervous about that. That's what is most attractive to our characters, they do things that we don't ever do or could experience in real life. I was a very good kid growing up. I really didn't party or drink. I played imagination station on the playground! I was a total nerd and so weird.
Are you prepared to become famous: I'm so used to losing followers, so if I gain any at this point it'll be pretty cool. Then again, I don't really care how many followers I have – I just wanna stay in my kitchen, cook and watch movies. I feel like such an introvert sometimes. I don't think getting big would change my life at all, I'd be the same person and do the same things.

Age: 24
Originally from: Providence, Rhode Island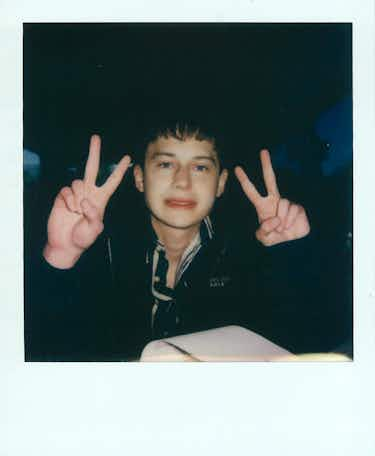 Describe your character: I play Nathan Stewart, Naomi's twin brother. He's very dry and sarcastic and can be a little rude sometimes, but it's a defence mechanism. He's very much struggling to find his own true identity. He comes from this family with all these expectations and pressures to be perfect. Especially growing up as a twin, you're automatically grouped in as a single unit. He's really trying to find out who Nathan is outside of that.
What excited you about Genera+ion: I was excited to see a bisexual character that was represented so beautifully and truthfully. Their sexuality wasn't treated as a trope or stereotype; it was told as it was. I myself am bisexual, which drew me to the character in the first place. Nathan struggles with it more than I did, because my family was so accepting and liberal.

The scene I'm most nervous for my parents to see: The cut from another scene to Nathan, and it's just me jerking off furiously. We finished shooting that scene and I was like, I have to warn everyone in my family that this is basically the first shot of me in the show, me naked on the bed, whackin' it.
Age: 19
Originally from: I was born in Jakarta, Indonesia and I grew up all over the place, but mostly between Bali, Massachusetts and Utah.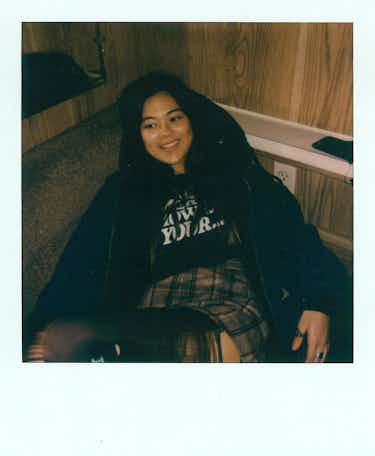 Describe your character: Delilah is your classic Gen Z SJW, so unapologetic, really independent, won't take no for an answer if she can't get what she wants. She's that Gen Z activist – questions authority while keeping straight A's in school, being everyone's best friend and worst enemy at the same time because everyone thinks she's so annoying.
The scene I'm most nervous for my parents to see: The scene at the top of [episode] three in the bathroom where I'm holding my boobs and crying or whatever… There are so many jokes that I don't think my parents will get, but I hope at the end of the day that they'll be proud of me.

Why this is different from other teen shows: You can see this Gen Z world through all of these different lenses and perspectives, different minds. They're all going to the same high school, living in the same world but they're being perceived so differently in their coming of age. They're so layered, they break stereotypes. You know them in real life.
Age: 24
Originally from: Brooklyn, New York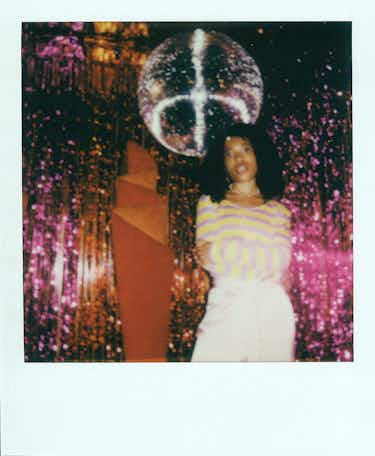 Describe your character: Arianna, she's always on 100. This character is a lot at all times. She has two gay dads whom she loves very dearly. She feels like just because she has two dads, she can make the offhand jokes that she makes all the time. But underneath all the jokes and hard exterior there's a really sweet, vulnerable person.
Getting into character: Since I'm nothing like Arianna, I really had to create this character. I wrote a journal, a backstory with all the details that I thought would give me a lot to work with. [I made] playlists for each scene, because music is a part of my everyday life. I was able to create a playlist which helped me, whether it was an emotional [scene], me running around the mall with my girlfriends… Goodbye Yellow Brick Road by Elton John, that song was connected to all the heartbreak scenes. I have a specific heartbreak playlist.

What the show is meant to make us think about: To embrace all parts of your life. The weird, the uncomfortable, the fun. Just to be yourself, stand your ground, stand for what you believe in and make sure your voice is heard.
Age: 24
Originally from: The central coast of California

Describe your character: Greta is definitely a bit more of a meek character. She's very to herself. People see that as a normal thing in her life. There's this fear that's blanketing her life. And she's attempting to get the courage to really show who she is. That's a powerful thing to see, and it's something that I had to go through in my own life.
Why this is different from other teen shows: The fact that not only was this written by somebody who was literally 17, but also the fact that this was a family project. The Barnz family got together and made this really wonderful and beautiful thing. Being able to be a part of a project where Zelda was in a position to show everything that it was to be in high school and be authentic with her parents.
What your parents will think of the sex scenes: I would sometimes talk about these things with my parents, like, ​'Oh, this is what's going to happen in this scene' or ​'These are some of the things that are involved just in general.' And my mom is like, ​'Yeah, just give it 100 per cent, just go for it.' I'm like, ​'Mom! Really?'
Are you prepared to become famous: I'm going through life and we'll see what happens, like ​'send it' kind of attitude.

Age: 24
Originally from: suburbs of Detroit, Michigan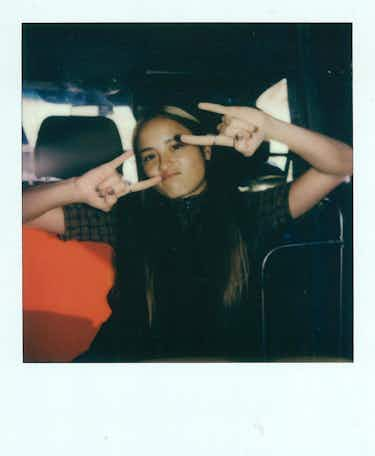 Describe your character: Riley is an angsty lady. She is an artist, she's going through troubles at home between her parents and she feels a very strong sense of youthful isolation, but doesn't necessarily present that side to her friends and those who are closest to her.
She's really loud and she's really fun and crazy to her friends – especially Nathan and Chester. And obviously, Greta's character actually does allow her to put out this kind of quieter, more muted side of herself, which she really, really loves.
Why it's different from other teen shows: The exploration of sexuality in an honest way is so strong and apparent and subtle, it's not didactic or on the nose.
The scene I'm most nervous for my parents to see: The intimacy scenes, that can be weird. That's one aspect of the lockdown that I might be grateful for: I'm not going to be in the same room when this comes out to really experience that with them.
Have you seen the Norwegian teen series SKAM: So good, I love SKAM. That was actually on the list as one of Daniel [Barnz's] references.
Are you prepared to become famous: I'm tweaking. I feel like that's crazy, but it's also rare from what I've gathered to have a show come out while you're still filming. I'm trying to ground myself as much as possible in getting this job done because it's going to be distracting when the show comes out. But I really want to live in this character till the very end, so tunnel vision, tunnel vision.


More like this