My Media Diet: Ghetto Gastro's Jon Gray and Pierre Serrao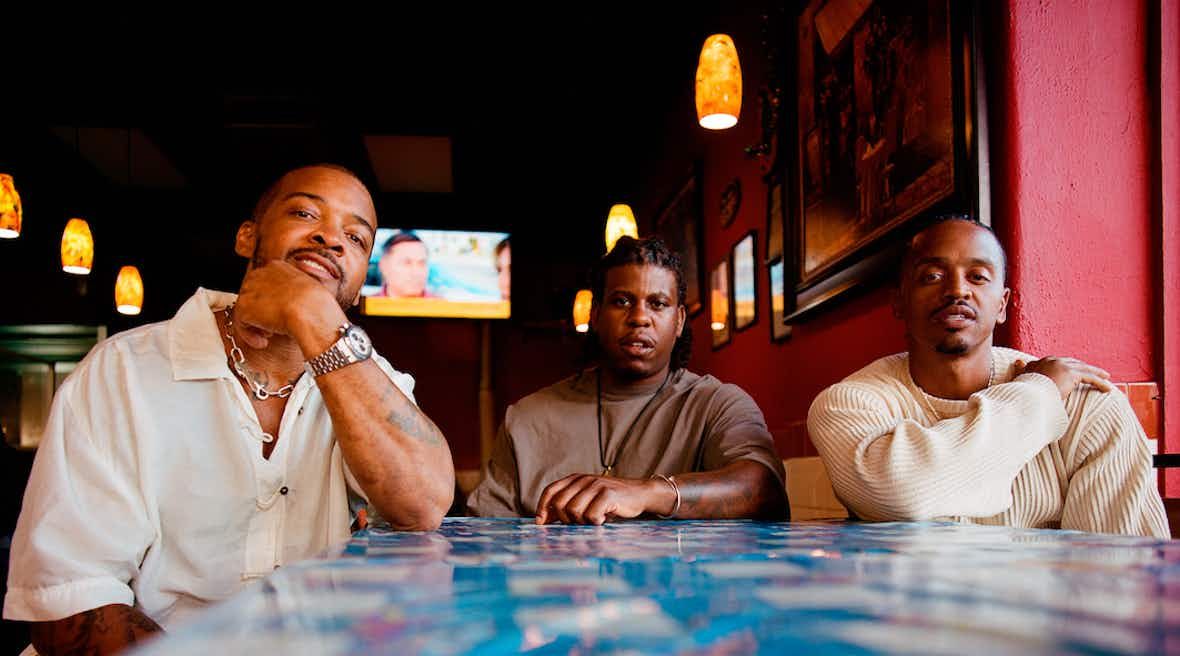 The pair, together with co-founder Lester Walker, have just released their extensive recipe book, Black Power Kitchen, celebrating the richness of cuisine from West Africa and the Bronx. Here's what they get up to beyond the kitchen…

Jon Gray is tucking into one of the best salmon and cream cheese bagels he's ever had, Zooming in from Los Angeles for our interview. ​"The salmon was extra smoky and not too salty," he explains. ​"I love it. It's from Courage Bagels."

​"I need that!" Pierre Serrao chimes in from Brooklyn, New York – he's on his way to Ali's, a Trinbagonian spot that specialises in roti. Together, Serrao, Gray and their friend Lester Walker are the minds behind Ghetto Gastro: a New York-based collective of chefs and foodies founded in 2012, which aims to uplift local cuisine, especially from the Bronx.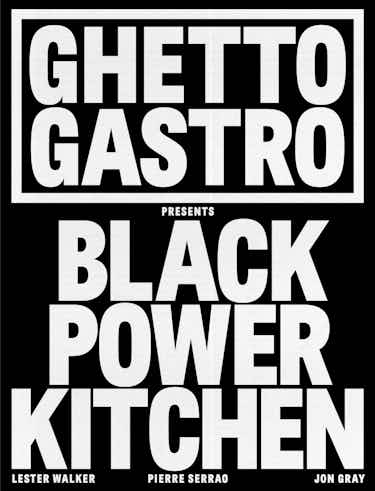 Over the past decade, the trio have connected the dots between food, race and class while uplifting the communities around them. Today marks the release of their debut book, Black Power Kitchen. Half cookbook, half manifesto, Gray describes it as an ​"almanac of knowledge", featuring 75 mainly plant-based recipes celebrating Black food and culture.
"[Pierre, Lester and I] grew up together and have always been into entrepreneurship," Gray continues. ​"Being from outside the scene, I saw an interesting opportunity to use food as a medium to storytell. Most of our contemporaries are in the art, fashion or music worlds. Going to restaurants, you'd hear hip-hop playing, but with no Black or brown people in the kitchen, except maybe the dishwashers or porters."
Gray, Serrao and Walker harnessed their frustration to create a new, inclusive language around Black food, focusing on its power to heal rather than further divide. ​"We like to say food is a weapon, and it can be used in different ways," Serrao says. ​"In our community, you see years and years of people having cardiac issues and diabetes, things like that. Food is power, and we can reclaim that by controlling what we're consuming."

Hence the release of Black Power Kitchen, which has been in the works for two and a half years, though Gray prefers to say it's been cooking since the trio were born. ​"We don't want to be remembered just as guys who made really great food, but as people who made something out of nothing, much like hip-hop was in the Bronx.
"We hope this book makes people feel full, and like something they can keep rediscovering," he continues. Below, we caught up with Gray and Serrao about recipes for success and how food can fuel the future.

The last article I found myself thinking about was…
Pierre: An article about the water crisis in Flint and Mississippi. For our country to have all the resources to send to other countries, but for us not to take care of our people on home soil… Having drinking water is a basic human right.

The last new artist I discovered on Spotify was…
Jon: I recently started getting into Pharoah Sanders. And some of our friends are some of the dopest musicians out there – Kelsey Lu, she's got heat. Tems.
P: Honestly, I'm going to echo Jon. Steve Lacy, too. We've got to shout out the Bronx, too, with Ice Spice. She's got the streets right now.

The last podcast I spent hours listening to was…
P: First We Feast with Adam Richman.
J: In the Sauce by Alison Cayne. That was like an MBA course for me.

The last picture I liked on Instagram was…
J: Definitely a picture of us on The Daily Show with Trevor Noah. Go check it out. You gotta give it a like, a save and a share. Make that algorithm work.
P: A comment and a follow, too. Come on.

The last TV show I binge-watched was…
J: Atlanta.
P: I've been catching up on Atlanta as well, and House of the Dragon. But I haven't really binge-watched anything lately.
P: We don't got the time! I just watch stuff on the plane.
The last new word I learned was…
J: Munch, thanks to Ice Spice. It's not a new word, but it's a new meaning of a word. I didn't know ​"munch" could be used that way.
P: ​"Na nga def" – a greeting in Wolof, a Senegalese dialect.
The last delicious thing I ate was…
J: A Courage bagel!
P: The last delicious meal I had was last night at Clover Hill in Brooklyn. Chef Charlie Mitchell, a young brother from Detroit, just earned a Michelin star. He's the first Black male-identifying person to win one. It was excellent.


More like this