Tems has already conquered the global charts with Wizkid and Drake, found fans in the highest possible places (hello, President Obama) and carved out a new space in Afrobeats. Next up: a debut album that will see Nigerian music's biggest new star go supermassive.

Taken from the new print issue of THE FACE. Get your copy here.

​"Say I wanna leave you in the mornin'…" oozes out of Tems' mouth, syrupy, self-assured and seeping into every soul in London's O2 Arena. In the crowd, phones are thrust into the air with urgency, lest the audience misses the opportunity to capture this soon-to-be-historic moment on Instagram Stories. ​"BUT I NEED YOU NOW!" they boom back, finishing her line and providing a 20,000-person chorus to accompany her a cappella verse from Essence – or, as the show's headliner, Wizkid, put it, ​"The number one song in the world."
That statement wasn't just ​"I've sold out three dates at the O2" bravado from the Nigerian superstar. Essence, Tems and Wizkid's Grammy-nominated collab ("they were robbed of the win," laments Twitter) was genuinely one of the biggest songs of 2021.
On Spotify, it currently sits at 100 million streams, give or take. Taken from Wizkid's 2020 album Made In Lagos, the song's shimmering yet languid combination of Afrobeats and seductive vocals was inescapable after it was released as a single in post-lockdown April 2021, floating out of car windows when the sun came out, heating up newly reopened bars and nightclubs when it rained. It shot up charts worldwide, topping the UK Afrobeats Chart and becoming the first Nigerian song in history to chart on the US Billboard Hot 100.
The song of the summer had been anointed. Everyone else could stop trying.
Essence's other achievement: introducing Tems, Wizkid's 26-year-old Nigerian compatriot, to the world. She might just be the new face of Afropop.
But back to the O2 and, more specifically, Tems' first arena performance in the UK.
It's early December, with seasonal frost prompting Londoners to dig out their heavy-duty puffers for the commute combat, but within the arena exists a parallel universe. The venue has lit up the place in green, the colour of the Nigerian flag, and the UK's African diaspora is out in full force, singing every word of Tems' Essence verse.


The beat kicks in and she saunters on stage with the confidence of a seasoned performer. She looks the part, too, wearing a printed mesh top designed to emulate the texture of okra (from London-based Loudbrandstudios), with a leather trench falling off her shoulders and jewels upon jewels hanging from her neck.

If she's nervous, it doesn't show. If she's taken aback by the applause, the screams, the singing, that doesn't show either. The only thing that's obvious is that Tems is exactly where she's supposed to be.
"I just feel so grateful to be growing," says the Lagos native four months later. As she steals 20 minutes for lunch on her cover shoot for THE FACE in an East London studio, she's reflecting on her ascent up the music industry's ranks over the past year. Because it's not just the success of Essence that's cause for gratitude.
Last year, she was also tapped by Drake for a feature on Certified Lover Boy cut Fountains, another low-simmering, sunset cruise-ready Afrobeats track (the pair also collaborated on Future's 2022 track Wait for U). Soon after, she released her second EP, If Orange Was a Place, led by single Crazy Tings, an ​"over it" anti-love song with an infectious groove, which crept its way up to number three on the UK Afrobeats Chart.
Then there's the co-sign from Rihanna. She emphatically told Tems ​"enough of that humble shit, you better own it" when they met at the Savage X Fenty fashion show in New York in September. Oh, and Adele, who went for dinner with Tems in Los Angeles and proceeded to sing her 2019 single Try Me back to her.
Anything else? Just a bit.
Barack Obama put Essence on his annual list of favourite songs in December 2020, nbd, and Justin Bieber hopped on a remix in August 2021. Tems, then, is the fan favourites' favourite; the ​"leading vibe" (as she put it on her 2018 debut single Mr Rebel) behind the world's cultural leaders. How does that feel? She half stifles a sheepish laugh, her jumbo braids cascading down her shoulders.
"Yeah, I mean… it's crazy."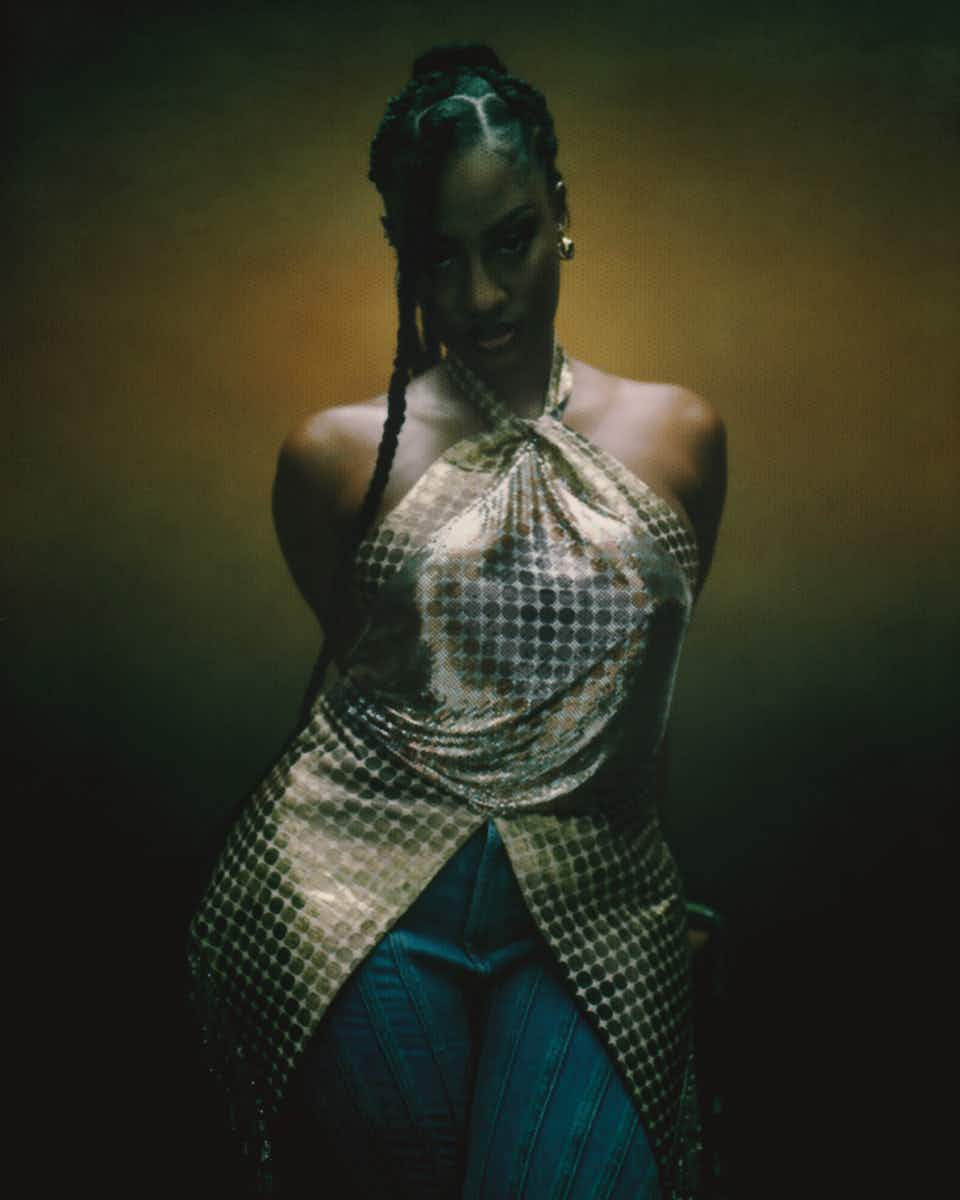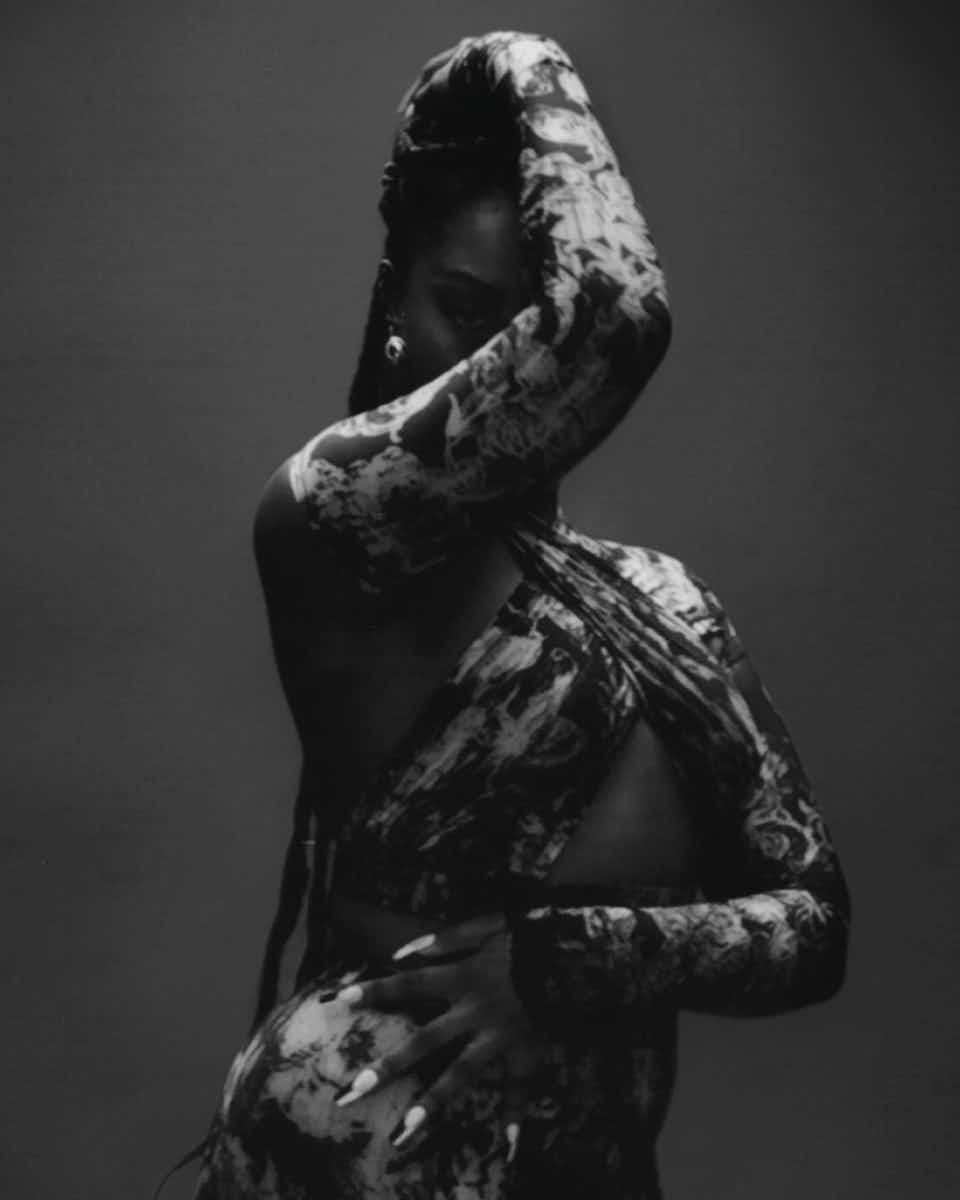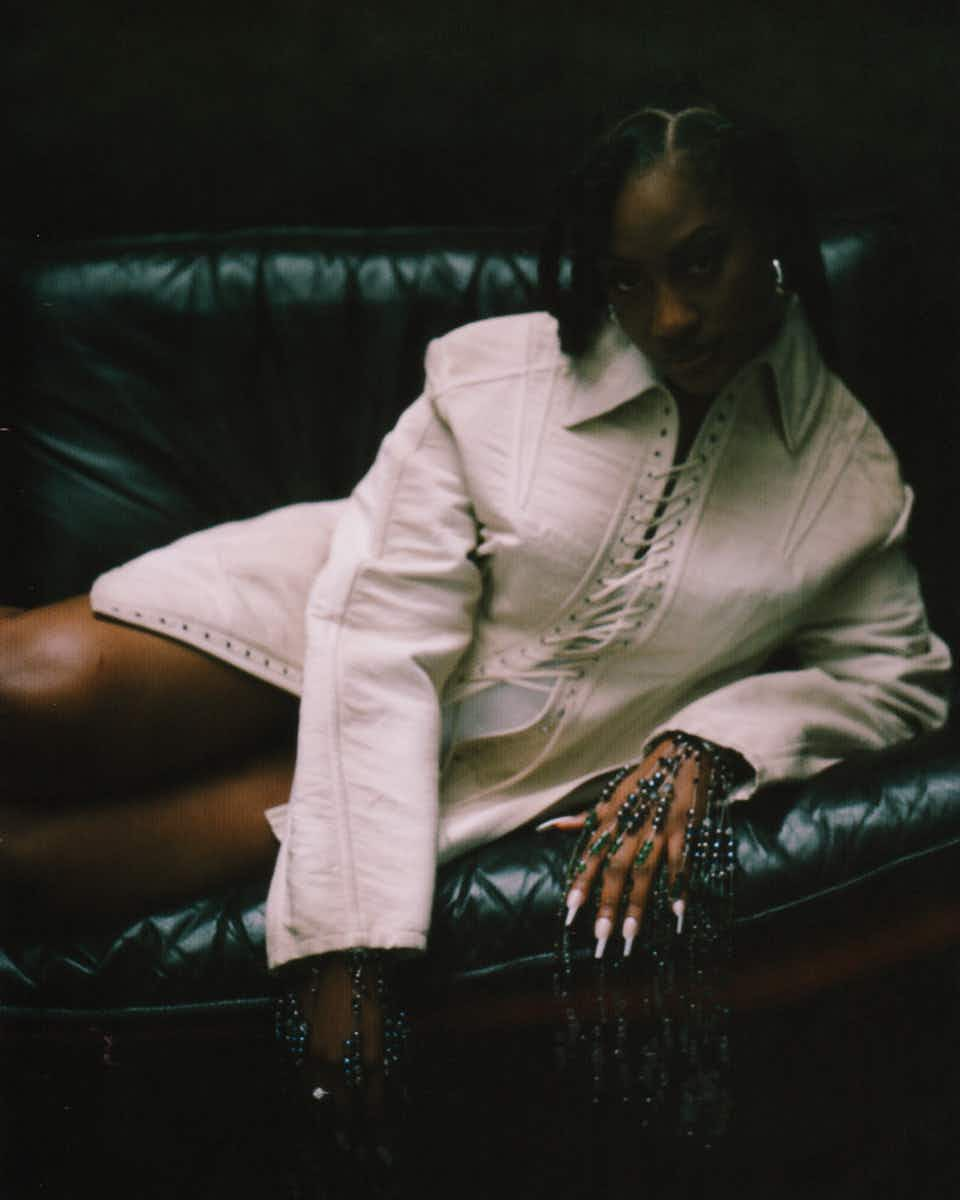 Born Témìládè Openiyi in Lagos, her success almost seems divinely preordained when you know the Yoruba meaning of her first name: ​"mine is the crown".
That argument is even more convincing when you learn that her mum insisted on naming her, going against the Nigerian tradition of grandparents choosing newborns' first names.
"I just kept telling them that God told me this is a girl and her name is Témìládè," says her mum on Tems' first EP, 2020's For Broken Ears, on the track Témìládè Interlude.
Yet the Tems that feels at home on stage at one of the UK's biggest indoor arenas was once something of a wallflower. Her family relocated to King's Cross in London not long after Tems' birth, then boomeranged back to their hometown after her parents divorced when she was four. Those moves would be unsettling for anyone. She wouldn't describe herself as an introverted child – ​"I think I was only shy to people that I wasn't comfortable around" – but she wasn't exactly a social butterfly either.
Living with her mother and her older brother, Tunji Paul, while the other kids on her estate in Lekki (southeast of Lagos) would always come over to play with her brother, Tems spent most of her time indoors with her head buried in a book. She read all the children's classics, such as Heidi, The Wizard of Oz and The Jungle Book, then graduated on to sci-fi as she got older.
"That helped me learn how to focus, how to have self-awareness and increase my knowledge," she says. And whether she realised it or not, Tems' literary grounding also nurtured the poetic flair that now sets her apart from her peers in Afrobeats.
Life was her very own musical – less Good Morning Baltimore and jazz hands, more the diaristic, confessional lyricism that's become a mainstay in hip hop and R&B over the last decade.
"I would just sing songs about whatever I was doing, whether I was making breakfast or had been hurt by my friends," she says, laughing. People around Tems would tell her to shut up, but she couldn't. ​"It's like asking someone not to breathe. You can't do that."
"I'm not good at communicating," she continues, visibly thinking her way through each sentence. ​"My way of communicating is through music. I'd much rather offload my emotions through singing than talk about them."
Tems didn't much care for school; the only thing that made it worth attending was music lessons. But once again, home was where she truly found her voice. Like most people growing up in the digital age, her influences were varied; she used her brother's computer as a gateway to artists such as Lil Wayne, Lauryn Hill, Aaliyah, Paramore and Green Day.
Tunji and Tems would spend their free time jamming in his bedroom, writing songs and performing for no one but themselves. Then, when Tems hit her mid-teens, she decided it was time to stop being influenced by external forces and find her own sound, practising a sort of cultural celibacy in the name of self-discovery. That is, for a period of time, the only music she listened to was her own.
"I always had my own thing, to be honest, but I really wanted to find myself, within myself, for myself. I realised I have a mind of my own, I don't care what people think, I don't have to do things just because everybody's doing it. I just kind of detached myself from society, I just stopped trying. I found happiness, I found peace within myself. And I've been calm ever since."
Was the teenage Tems' ferocious self-discipline towards her music born out of a determination to fulfil the prophecy of her birth name? Not quite. By the time she left school, she was confident in herself and had clearly made peace with her identity. What was missing was the belief that she could truly make it as a professional musician. And besides, her mother had other plans, enrolling then-21-year-old Tems to study economics at Monash South Africa university in Johannesburg in 2016.

It was during her time there that Tems discovered amapiano, the South African house genre that exploded into nightclubs worldwide in 2021 but has been filling local dance floors with suspenseful synths and percussion since 2012.
"I loooove South African house!" exclaims Tems, flinging her head back as she elongates her vowels with excitement, closing her eyes to reveal a flash of gold eyeshadow. ​"That's when I got into producing. I don't really copy the sound, because I'm not South African, [so] why would I? It's more the technique, the structure of the songs. That's what I took and put into my own music."
The influence of amapiano is particularly apparent in Tems' earlier releases. Listen closely to her track Try Me – written while she was at university and released as a single in 2019 – and you'll hear subtle shades of the genre in its production. Sure, there's no rattling percussion or thumping, rhythmic bassline to get bodies moving. But those airy synths that tease listeners as they swell towards the chorus, plus the gradual introduction of new atmospheric elements as Tems reaches her lyrical zenith, point to her studied approach to crafting a unique sound.
In a climate where artists have approximately five seconds to catch listeners' attention before they press skip on Spotify, Tems' slow-burn approach stands out. Most of her contemporaries introduce their hook, be it a lyric or a riff, within the first few bars of a song. But Tems? She'll make you wait.
Her reluctance to stick to the beaten path isn't only evident through her production. One of the most prominent voices in West Africa's alté scene – a somewhat amorphous term, which can be translated as ​"alternative"and is used to describe a movement that's defined more by the nature of artistic expression than a particular sound – her thoughtful and introspective lyrics contrast the themes that often colour the Nigerian music that finds a mainstream global audience. The Afrobeats tracks of Burna Boy and Wizkid that go global, for instance, are typically jubilant, often offering an uplifting message or a call-to-arms when tackling heavier subjects such as political resistance.
Tems, on the other hand, isn't afraid to wear her heart on her sleeve as the new face of Nigerian music – even when it hurts. ​"And behind my mind it runs/​All these thoughts have troubled me/​Fighting to give up my pain/​Fighting to be on my lane," she belts on her 2020 track Free Mind, opening up wounds and healing them through song.
What inspires Tems to be so vulnerable in her music? ​"To be honest, I didn't know that people just wrote songs they didn't mean," she says. ​"I thought everybody was going through what they were singing about. I was very naive. I didn't know that people lie, I didn't know that people didn't write their own songs. Music has always been my expression of how I felt. It's always been my life." Unlike her approach to cultivating a distinct sound, Tems' lyricism stands out by accident. ​"I wasn't trying to go against anything, because I didn't know there was anything to go against."

It's perhaps this cool indifference to cultural and sonic boundaries that makes Tems – who's currently based in Lagos as she works on her debut album – a particularly appealing prospect to UK listeners. West African music has always soundtracked the lives of first and second generation immigrants in the UK, as songs from home blared out in kitchens, at weddings and community gatherings. But since around 2015, the ties between West African and UK culture have been bound tighter than ever before, as British artists like Stormzy flock to Lagos and Accra, Ghana, to collaborate with their native artists and vice versa. Even Ed Sheeran (of course) is in on the action, his reworked version of Nigerian artist Fireboy DML​'s Peru peaking at number two on the UK Singles Chart in January.
No matter how opportunistic these collabs may sometimes seem, they represent something important: the merging of two worlds and a now-seamless unification of the UK diaspora's dual identities. Afrobeats is now just as much of a part of wider British music culture as it is a cornerstone of West African immigrants' heritage: in 2020, the UK launched its first Official Afrobeats Chart, while dedicated UK-based festivals such as AfroNation see second-generation immigrants flock to Portugal and Ghana to show off their legwork moves on the beach.
With two EPs behind her, Tems is yet to release her debut album, but the appetite for new sounds from the continent is so strong that it doesn't matter. Within the diaspora and beyond, the UK audience has already crowned her the new it-girl of African music. That's why the cheers at The O2 were so loud. That's why, less than a week later, when she was invited to perform at the MOBOs in Coventry, at which she was nominated for Best African Act, Little Simz could be seen singing along in the audience. And that's why Tems was all anyone could talk about after both events, despite the fact she didn't win that MOBO in the end, nor was she the O2's headliner.

When Tems left university, she headed back to Lagos to enter the corporate world in a digital marketing role. But the new graduate quickly realised that office life wasn't for her – it was too monotonous, to say the very least.
"I'd go to work, have lunch, go back home, watch a movie, maybe talk to a friend. The next day: work, lunch, finish work… literally the same thing every day," she says, detailing a familiar routine that most would rather conform to than take a risk. And, of course, it wasn't feeding her true passion. So, after feeling ​"uneasy" about the role for about six months, in 2018 she resigned. At the time, she didn't imagine she was quit- ting to become a Grammy-nominated star. If she could make enough money to simply survive from making music, then that was good enough for her.
"I wasn't trying to break into the industry. I was just trying to release a song," she says, shrugging. ​"What is ​'the industry'? Like, I didn't know about this. I just literally put ​'How to put a song onto Apple Music' into Google."
With no money, she used the self- taught production skills she'd picked up on YouTube during uni and spent time in an acquaintance's studio to record her first official single, Mr Rebel. It's a song that, in what would become typical Tems fashion, begins with lovelorn yearning and later arrives at a message of self-love: ​"I'm the sound on the ground /​I'm the winning sound /​I'm the crown /​I'm the vibe /​I'm the leading vibe."
Listeners immediately believed her. Soon, that industry she knew nothing about was clamouring to work with her: radio stations and producers began calling, and she met her first manager. The Rebel Gang, as her fans are now known, began to assemble.
"I like to take risks. I hate doing what people expect me to do, you know? I just love the journey. It's an adventure, finding new things about yourself, meeting new people." But that kind of mentality is at odds with the traditions of Nigerian culture. In a developing country where, as Tems puts it, ​"everybody's trying to survive", breaking away from societal norms is no easy feat, particularly as a woman. Yet, as with most things, she takes the challenges in her stride.
"There's just levels between worlds. I wouldn't need to go far to explain the expectations of women in Nigeria – it's basically more or less the same anywhere in the world," she explains. ​"You just need to look at history [in developed countries] to under- stand what women are expected to be in a third world country."
There's no denying the fact that African music is dominated by men, especially on the global stage. The whole world knows who Burna Boy is, for instance, while Nigeria's leading female artists, such as Tiwa Savage, are only afforded a fraction of the limelight. Thankfully, Tems believes she's already witnessing progress towards gender equality in Nigeria's music industry, as next-gen artists such as herself, Ayra Starr and Teni climb the charts.

"Things are changing for sure," she says, nodding confidently. ​"I think more women are believing in themselves, I think more women are coming out and realising that they can do it." And, the way she sees it, progress doesn't only impact the women of Nigeria, but the country as a whole. ​"When things like that happen, the economy opens up. Conversations open up and there's more spotlight on the whole country. Because it's not just about the men. There's now something new, something fresh, something different."


Speaking of newness, Tems' red-hotly-anticipated debut album is due this summer, which means listeners will finally be able to tuck into her rich sound beyond the 12-track sample menu offered by her first two EPs. Can she tell us anything about it?
A knowing, mischievous smile creeps across Tems' face as she prepares to categorically not give the people what they want. ​"It's coming."
Anything else?
"It's a continuation of my journey." OK, time to try a different tactic. When speaking about her previous projects, Tems had described her first EP For Broken Ears as ​"a battle of my mind", which she then overcame and reached a place of rest. ​"And my rest is in a place called Orange," she told Elle last year, hence the title of 2021's follow-up, If Orange Was a Place. So, if her debut album is a continuation of her journey, how would she describe its overarching theme?
Tems pauses and looks across the room, deep in thought. Something's brewing behind the artist's feline eyes, cogs turning as she decides how much to reveal. Finally, she settles on an answer: ​"Moving".
As coy as she is, you can trust that the new music is coming. It always is, as Tems' mind concocts melodies and lyrics on the fly that are immediately recorded as voice notes or punched into her notes app. She was even writing music when she went to the Ghanaian mountains for some much needed R&R at the start of the year, unable to silence the inner virtuoso who has soundtracked her entire journey.
But why would she want to? Like she said, singing is akin to breathing for Tems. ​"I just make sure I'm vibing every day," she says. Every day? ​"Every single day."
Music is her life source, the vibe that leads her to lead others. That alone is enough to keep her happy. The accolades, the co-signs, the glamorous photoshoots and glitzy parties, those are just bonuses of the trade.
"I just live like I'm dying," she concludes while analysing her black and white-tipped, Cruella de Vil nails. She lifts her head to look me straight in the eye. ​"And if I died today, I'd be completely content with the way that my life has gone."

Hair Shamara Roper at Future Rep Make-up Mata Marielle at CLM Set designer Studio Augmenta, Harriet Ellis- Coward and Stephanie Kevers Talent Tems c/​o James Cunningham, Muyiwa and Wale On-set production Toby Ramskill Light technician Darren Karl Smith, Tailor Gillian Ford Styling's assistants Brigette Kovats and Roz Moxon Runner Joelle Ikwa

More like this