"

I want everything I touch to be meaningful": Little Simz photographs the women of Top Boy
To celebrate the much anticipated new series of Top Boy, actor and musician Little Simz steps behind the camera to photograph her fellow female costars for International Women's Day – and gives her first in-depth interview since that Brit Awards triumph.

"Man, it's like they can't sleep ​'til our spirit is crushed
How much fighting must we do? We've been fearless enough
All we see is broken homes here and poverty
Corrupt government officials, lies and atrocities
How they talking on what's threatening the economy
Knocking down communities to re-up on properties"

Introvert, the grandiose opening track on Little Simz​'s fourth and finest album, last year's Sometimes I Might Be An Introvert, stirs the soul for a myriad reasons.

There's the sumptuous orchestral and choral arrangements, strings, horns and vocals swelling to cinematic climaxes, before releasing just in time to let Simz's introspection pull focus. And there's Emma Corrin​'s clipped Princess Diana-esque tongue, resurrected from her role in the fourth series of The Crown to deliver a closing monologue directed at, seemingly, both the listener's and the artist's psyches: ​"The top of the mountain is nothing without the climb, only the strong will survive."

But it's the rallying cry of Simz's lyricism, the supercharged passion behind her pen, that sinks deep and stays with you. Home truths are delivered, personal struggles are revealed, the state of contemporary society is eviscerated.
"My speech ain't involuntary /​project with intention straight from my lungs," she raps, shortly after her damning assessment of inequality in the UK. ​"I'm a Black woman and I'm a proud one /​we walk in blind faith not knowing the outcome /​but as long as we're unified, then we've already won."
On 8th February 2022, the North Londoner won her first Brit Award for Best New Artist (yes, six-and-a-half years after the release of her debut album), a gong that can stand tall next to her Ivor Novello award for Best Album (for 2019's Grey Area). But her performance at London's O2 Arena of Introvert, swiftly followed by the album's second single Woman, also stands out to her as a highlight of the evening. That, and the fact that she was able to bring her mum along for the ride.

"The fact that I got to own the stage with incredible dancers and my band and stuff, that was also a win for me, as well as actually winning," she says almost a month later, snug in a Carhartt scarf and her ​"home clothes" of black joggers and a blue hoodie. ​"It was a really emotional night, having my family, my friends there and whatnot. And how much that meant to everyone, not just how much it meant to me. I think it was a real moment for us and the culture and where music's going."

It's tempting to linger on the topic of Simz's Brits victory and SIMBI (the album title backronym, which niftily spells her nickname, an abbreviation of her birth-name Simbiatu Ajikawo). But that's not why we're here, in a studio in North London, not far from where she grew up in Islington.

Today, the 28-year-old is pursuing her alternative creative outlet of photography. The project is in celebration of yet another achievement: the upcoming release of blistering drama Top Boy​'s fourth series, in which Simz returns as Shelley, a single mother who owns a nail salon.

After months of being in front of the camera as an actor (a role this prodigiously talented woman has fitted in, somehow, between writing, recording, promoting and touring SIMBI), she's decided to flip the switch and focus her lens on the other women in the cast. Simz's idea: a photo-essay built round a stripped-back shoot spotlighting the formidable talents of her costars in the Netflix drama. Step forward returning cast members Jasmine Jobson (Jaq), Saffron Hocking (Lauryn), Lisa Dwan (Lizzie) Jolade Obasola (Amma) and NoLay (Mandy), as well as Top Boy newbies Erin Kellyman (Pebbles), Ava Brennan (Vee) and Joséphine de La Baume (Delphine). (Adwoa Aboah, who also joins the cast of this series, was unavailable for the shoot.)

She shrugs at the suggestion of taking a self-portrait to join the photo series. ​"My face hasn't got to be in everything, you know what I mean?"
Set in the fictional Summerhouse estate in Hackney, East London, Top Boy offers an unflinching portrayal of working-class life in the city, where poverty creates fertile ground for gang crime. As detailed in an in-depth feature on the revered show in THE FACE Volume 4 Issue 001, So Solid Crew alum Ashely Walters stars as the titular top boy, Dushane, joined by Kane Robinson (AKA Kano) as Sully and Micheal Ward as Jamie.

By definition, most of Top Boy​'s action centres around men, particularly in the first two series, which aired on Channel 4 in 2011 and 2013. But ever since the show was revived for Netflix in 2019 (a resurrection spearheaded by Top Boy superfan Drake), female perspectives have become increasingly important to the narrative.

"It doesn't feel forced to me. It feels nice to be heading in the right direction," reflects Simz. ​"You see all these boys who do whatever they're doing. But they've got girlfriends, they've got sisters, they've got mums or aunties, they have women in their life. It's nice to shed light on their stories and how the men's decisions affect these women."

Having joined the cast for Top Boy​'s Netflix re-up, both the role and the show itself are special to Simz. She had acted before, in CBBC's Spirit Warriors (2010) and E4's Youngers (2013). But once she began dedicating herself to music, she knew that her return to acting would only come when the right project came along.

Top Boy​'s revival was the perfect opportunity – not for its critical acclaim, its slick production, or its now global audience, but for how it mirrors the world in which she grew up.

Based on the De Beauvoir estate in Hackney, East London, if Top Boy​'s fictional setting were reality, it would be a 20-minute bus journey from Simz's secondary school in Islington. When the show first aired in 2011, she was still studying there.

"I just remember being super gassed that these characters would talk like me, walk like me. They would do regular things like me, going market with your mum, carrying shopping bags, thinking: ​'I don't wanna fucking hold these shopping bags.' They're just very real-life scenarios that I could relate to," she says of teenage Simbi's response to Top Boy.

"I saw myself in these characters. I saw my friends in these characters. I saw my siblings in these characters, my older cousins in these characters."

Simz takes time to ensure her words are precise throughout our conversation, but right now, it almost sounds as though she's about to break into a freestyle. ​"Whether or not I've had the exact same experiences as these characters, it still feels like I know them. I am them."

The same can be said for her own character, Shelley, a decade later. Simz was raised by a single mother, which naturally influenced how she approached the role, but pieces of other women in her life also contributed to her portrayal.

"I actually know people who have lived Shelly's life, whether they do hair and nails, or if they're single parents and trying to do better for their kid," she says. So in preparation, she sat down and talked to them, listening and learning about their journeys and struggles. ​"I want it to be honest, I want it to be true and natural. When you hear Shelley react like [she reacts in the show], I believe she would do that. I believe she would make those decisions."

As with her music, compassion, truth and authenticity root Simz's approach to Top Boy. And that ethos is also informing her concept for this photoshoot.

"I know all the women, especially after this series, are gonna fly. They're gonna do all the campaigns, all the editorials. They're gonna be dressed in all these sick garms and have their hair and makeup done to the tee. I just thought this was an opportunity to catch them in a more raw form."

Hence Simz and her creative team's styling choices for today: jeans and a white T‑shirt for everyone, to represent the fact that ​"we're all one, we're all unified, but so individual."

On the photography set, the cast's love for one another is palpable as they greet each other with warm embraces.

"Our Top Boy baby!" gasps Jobson when Dwan arrives with her blue-eyed daughter, Luna, with whom she was pregnant while filming. Incense and scented candles fill the air with notes of rose, oud, amber and patchouli – ​"for a feminine touch", as Simz puts it with a smile – while Erykah Badu, Bilal and D'Angelo boom out of speakers. At times, it feels more like a family reunion than a busy photoshoot, everyone gathering round to feast on Jamaican patties and Nando's when it's time to hit pause for lunch. (But the music doesn't pause, of course. It only gets louder.)

When it's time to resume the shoot, Simz springs back into action, standing on stools and crouching on the floor to best frame her castmates. Her interest in photography began as a teen, when she started taking pictures of her friends at social events.

So far, so Facebook circa 2011. But when she began travelling for work, she learned how to peer through the viewfinder with more purpose, taking time to get the best shot of New York's skyline or Paris' Eiffel Tower. By 2019, this multi talented artist felt ready to show the world her work, exhibiting photographs she'd taken as artwork for the singles on the Grey Area at London's Somerset House.

"It's just another form of storytelling, which is probably what drew me to it," she explains of the latest string to her bow. ​"Like: ​'Oh, this is cool. As much as I can write our stories down, I can capture them in one image? Hard.'"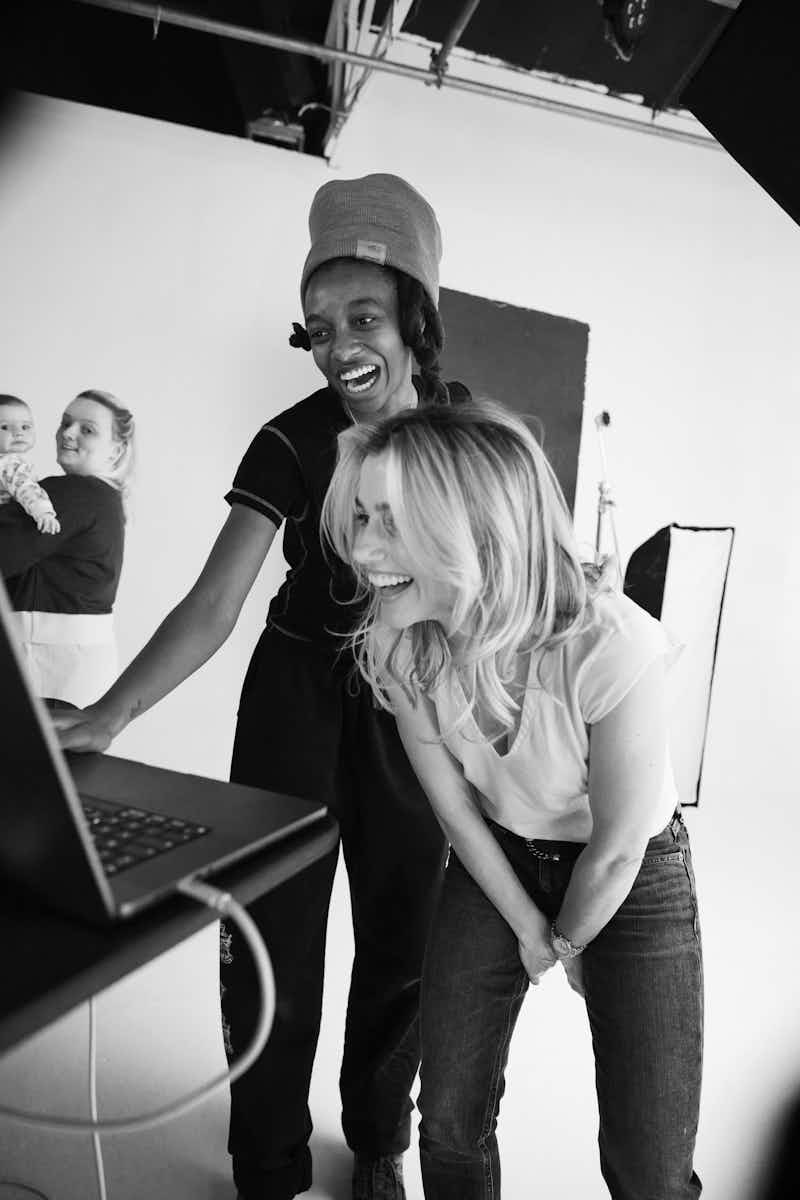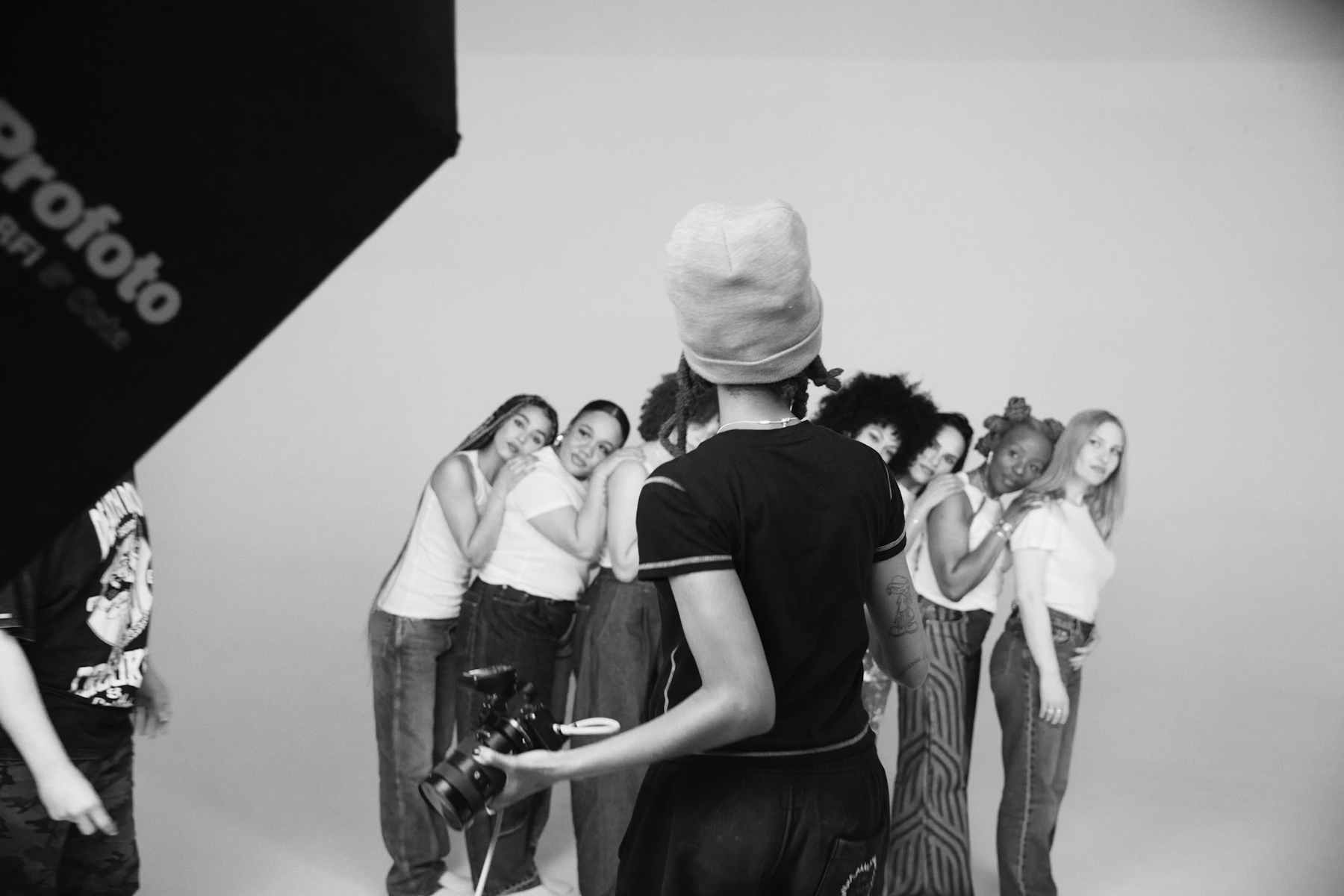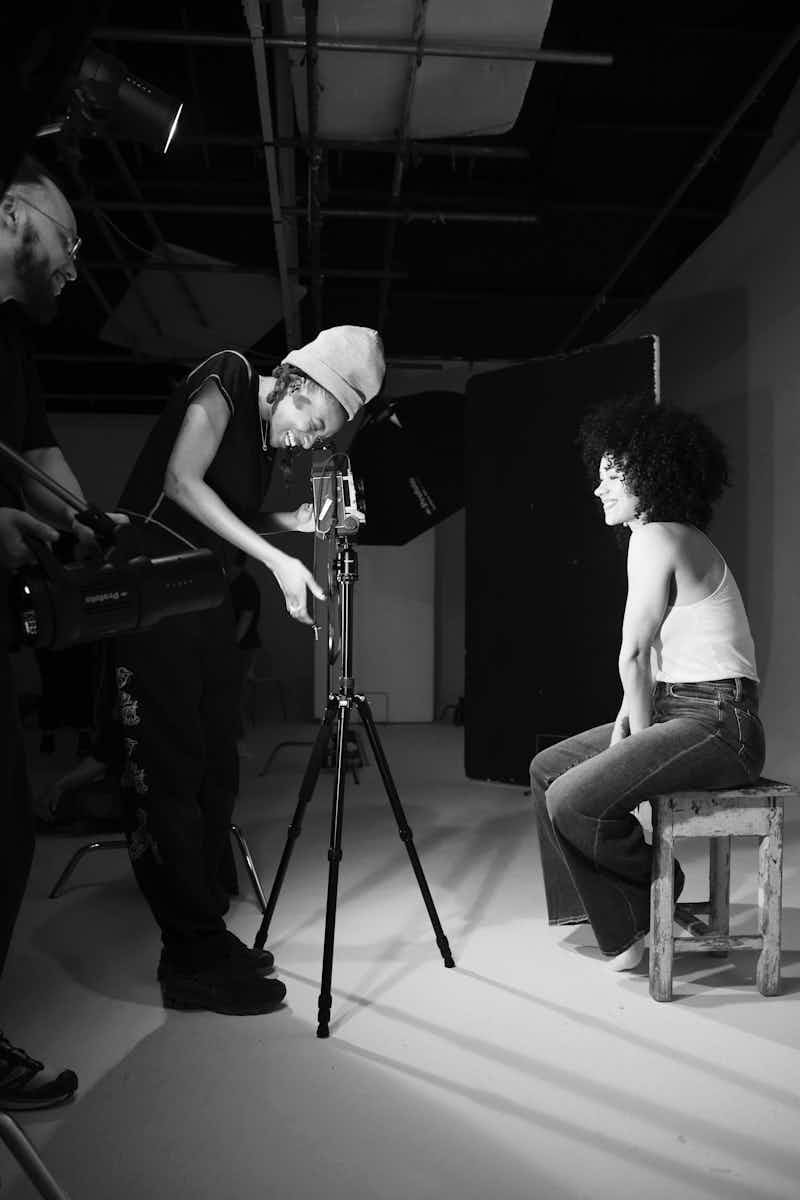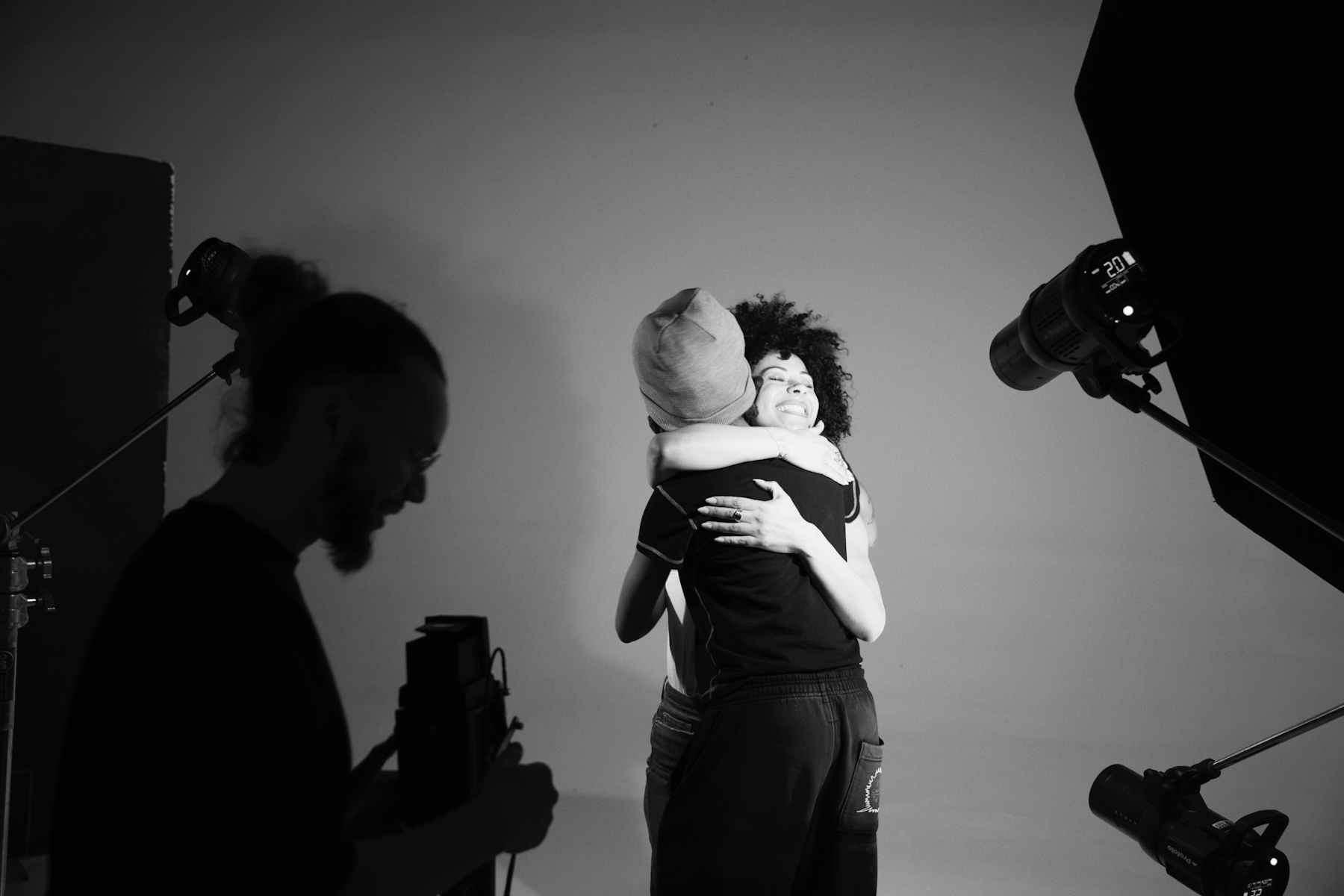 Simz's relationship with the photoshoot's overarching theme of female empowerment is a little more complex.

Thanks to songs like Woman and 2019's Venom – which surged in popularity last year after the line ​"It's a woman's world, so to speak /​pussy, you sour /​never givin' credit where it's due ​'cause you don't like pussy in power" went viral on TikTok – her music is often associated with feminism.

"But I'm not Captain Feminist," she insists. ​"I know that when I make a song about women, people are always going to link it to that. I understand it's a talking point. But I'm not trying to necessarily be a spokesperson for that. I'm still doing my own learning. I'm still figuring out who I am. I hear it all and I support it, but I'm not trying to lead anything."

Instead, Simz is motivated to champion women through her art, once again, as a way to represent and uplift the community that made her.

"Everything is based on my own experience," she continues. ​"My mum raised me and I want to make a song to celebrate her. It's not that deep for me. I want to make something to make her feel good, make my sisters feel good and make my friends feel good."

There are still more girl power moments to come, though. The next few months will see Simz hit the road again for festival season, during which she'll grace stages at Glastonbury, Latitude, and Reading and Leeds Festival. She'll return to the screen, too, appearing in Amazon Prime's upcoming series, The Power. An adaptation of Naomi Alderman's novel of the same name, the British thriller's plot imagines a world where all teenage girls are suddenly able to electrocute people at will.

The decision to join the project was a ​"no brainer" for Simz, enticed by the fact Reed Morano, the Emmy-winning director behind the first three episodes of The Handmaid's Tale, was working on the series.
"I was excited to be working with her and it's just a wicked story. I want everything I touch to be meaningful and to be purposeful. I want to do things with the right intention, whether that's photography, directing, acting, whatever."

Throw Top Boy​'s imminent launch into the mix and it's shaping up to be another non-stop year for Little Simz. After taking some time out towards the end of last year to stay in London and hang out with her family, she's ready to attack it all with passion.

"I'm actually charged. I'm ready to go," she concludes with a grin. Her voice is soft – because sometimes she might be an introvert, you know? – but excitement lights up her face. ​"Let's go. Let's get it."

But first, Little Simz turns her attention to the women she's here to celebrate. It's time for her to lift up again.
Introducing the women of Top Boy series four…
Jasmine Jobson, 26, plays Jaq, a high-ranking member of Dushane's gang

"Jaq is that annoying little sister that everybody wants. Her character's important because it shows that women can do anything, we're powerful in our own right, even in a male dominated scenario.

I pride myself on being a tough cookie, so showing Jaq's vulnerable side this season was very difficult. I really had to strip myself down. There were days when I would take five minutes in a corner and cry, and that would be how I would have to walk into the scene. But getting into that mindset is the easy part. Getting into Jaq is difficult, but coming away from her is even harder.

I hope Top Boy will help people understand how and why people end up in these predicaments. But in the same breath, ask: ​'Was it worth it?' To me, no it isn't."

Saffron Hocking, 28, plays Lauryn, Jaq's pregnant sister, who's trapped in a psychologically abusive relationship with Curtis

"To prepare for this series, I reached out to women's domestic abuse charity Refuge and spoke to them about doing some work with them, as well as to amazing women who gave me advice. Because my storyline is so horrific, I wanted to do it justice without glorifying it in any way or dramatising it to the point of it being unrealistic, and I didn't want anyone to watch it and be triggered. I just wanted to play the truth of it.

The most important thing for me was to highlight that domestic abuse doesn't have to be physical. If I could get anything out of this, it would be for people, whether they're a man or a woman, to watch [Saffron's story] and say: this is abuse. It doesn't need to be a slap across the face. The majority of domestic abuse is emotional. It's coercive control. It's controlling people's money. It's controlling who they see and stalking, things like that.

Women in Top Boy, I feel, are the heart of the story. It's important to show that we have voices, we want to use them, whether that's to snitch or whatever, we still have our voices. All the women in the series fight so hard for what they believe in. What Top Boy does so amazingly well is that every single person's actions, whether they're morally right or wrong, all stem from a place where they truly believe they're doing the right thing. I want the audience to humanise everyone."

Jolade Obasola plays Amma, the single mother of 12-year-old Ats

"There were times when I found it really difficult to play the parts that involved danger to my [on screen] son, Ats, because I have a son in real life. It did make me think about the real world impact. It is real life. Top Boy is very much so about real life and what's actually going on out there.

That's partly why I said yes to the role, because I feel like there needs to be more awareness. I want viewers to have a better understanding of the fact that life on the streets and crime affects so many more people than you would expect. It touches so many lives."

NoLay, 35, plays Mandy, who has recently been released from prison

"This series was a bit daunting, because if you look back to Top Boy: Summerhouse, I was in that, but only for, like, five minutes. There was a lot more to learn this time with regards to the script. It was also a bit daunting to be working with Kane [Kano], mostly because I'm a fan of his music and we're kind of from the same scene, we came up in the same circles. I had to make sure I went into it seeing him as Sully and not as the musician I listened to.

I'm a musician, a rapper, but [the performance aspect of acting] is very different. But at the same time, it's kind of similar, because you always have that anxious moment, whether it's before you go on stage or before you start filming. It's a natural human response.

Particularly in my field of rap, if you look back at some of my cyphers and stuff, I'm literally the only woman. Everyone around me was guys. I'm not saying that there's anything wrong with that. But at the same time, I don't think that women are represented within the industry as a whole. It's refreshing to now see the females more up in the front. In Top Boy, they really want to push the female narratives, which is quite empowering. Because when you think about London, there's loads of women that come from that way of life. It's important to represent that authentically."

Erin Kellyman, 23, plays Pebbles, Sully's niece who drags him back into trouble

"Oh, Pebbles is trouble. She's feisty, cheeky. I don't think she realises the seriousness of the situation she gets herself into. She kind of accidentally gets wrapped up in it all and then, when she asks Sully for help, it dawns on her how much trouble she's in. She doesn't mean for any of it to happen. She just wants to be famous – she wants to go to LA or New York – and so she's just in her own world all of the time. Honestly, when I was younger, I think I was kind of similar. I had a bit of a mouth on me [laughs].

The stories in Top Boy are real. These people exist. I think young women will be able to see themselves in these roles and it's so important to see yourself on screen, to feel represented. People are going to be blown away by the new series. There's so many twists and turns. When I read the script, my jaw dropped every five minutes!"

Ava Brennan, 35, plays Vee, Curtis' sister

"The breakdown of the character Vee, I feel like it was me on paper – a little bit. We're the same age, we're scousers, we're a bit sarcastic and a bit aggressive. She's very protective of her brother, he's the only family she's got. She sees Lauryn as someone who's potentially going to ruin that bond, so I had to run with that and apply that to her character. She's very protective and she definitely fights for what she believes in. She's not to be messed with when it comes to family.

I think women do so much and we don't let it phase us. There are strong male characters, but there's always strong women behind them, so it's great to highlight that. It was amazing working with everyone else on set. Everyone's so talented and it just doesn't feel like work at all. In our private lives, we meet up and have a drink. It's really nice to have that on a project."

Lisa Dwan, 44, plays Lizzie, a middle-class drug dealer at the top of Summerhouse's supply chain

"Due to becoming pregnant whilst filming, we had to make certain changes to Lizzie's role whilst trying to stay faithful to her story arc. She continues to be fiercely strong in the face of many obstacles and, at a certain point, when feeling quite disempowered and threatened, she decides to do something very risky to attempt to guarantee her future security. To begin filming a storyline at the peak of my fitness and finish eight months pregnant, whilst playing a character over a few weeks, was quite an interesting journey.

There would be no drug industry unless there was money to buy them. But I don't think Lizzie is your stereotypical middle-class girl. As she points out, she comes from the crime and drug world of Dublin.

What I love most about Top Boy is how collaborative it is. It really does feel like an ensemble piece. Because of the style in which Top Boy is shot, there's nowhere to hide false or sloppy acting. Some of the best talent I've ever worked with are on this show and they bring with them, day in and day out, extremely truthful and extraordinary performances."

Joséphine de La Baume, 37, plays Delphine, Sully's new neighbour

"My character has had to separate from her previous life. I can relate to that confusion and loss, when you build something safe and then, suddenly, you're just drowning. She's going through grief [over the loss of her child] – mine was a different type of grief, but it was still part of it.

I really liked Top Boy when it first came out. It's one of the shows that I liked and respected the most. It's so great on so many levels. In France, we say sometimes that programmes have a ​'soft belly', which means that they go flat at points and you lose interest. But Top Boy never has that. You're always waiting to see what happens next. I'm so excited to be part of it, especially as a French person, since it's such a British show."

The new series of Top Boy launches on Netflix on 18th March.

More like this