How amapiano hit the UK's post-lockdown party scene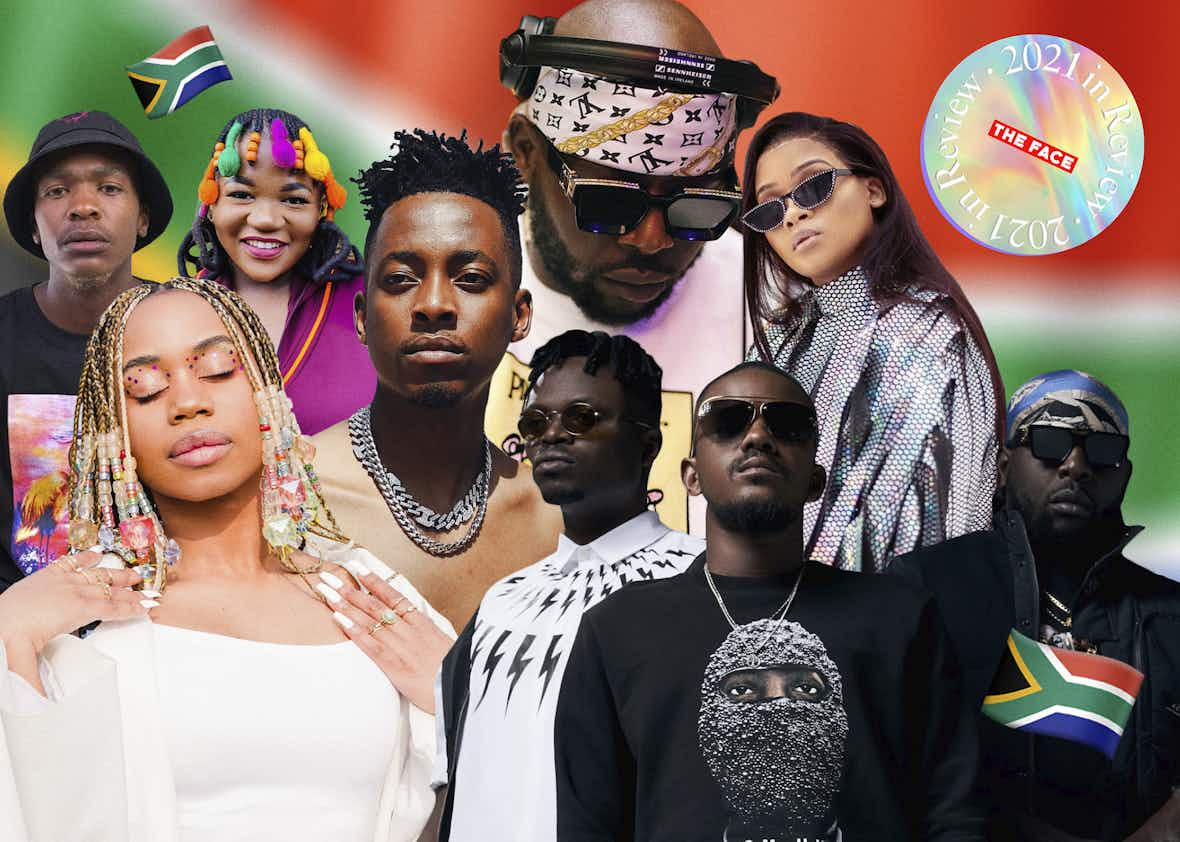 2021 in review: After surging in global popularity last year, the suspenseful South African genre became the go-to sound for Hennessy-sipping London ravers.
I remember my first encounter with amapiano like it was yesterday. There I was, last year, at home watching yet another Instagram Live, along with 338-and-counting others from the mundane comfort of our respective quarantine bubbles. The IG Live was hosted by UK rapper Kojey Radical, and at the heart of the impromptu live set was British-Ghanaian DJ and producer Juls, playing music unlike anything I'd heard before.
A far cry from the light, lilting vibes of Afrobeats – a genre that I'd grown accustomed to in my teenage years – Juls' set signalled the arrival of something deeper, darker, moodier: a rowdy sound with an infinitely more rebellious edge. There were suspenseful, slow-burning intros that had you waiting in anticipation for anywhere between thirty to sixty seconds before the tiniest semblance of a key change. Jumping drum beats which ranged from dancey to down-right guttural. Soul-stirring piano keys paired with vocal melodies that made you feel like levitating.
This was proverbial baptism-by-fire into the world of amapiano. Having surged in global popularity in the spring last year, the genre – which developed in the townships of Gauteng in the early-to-mid-2010s – became 2021's hottest sound of London's post-lockdown nightlife.

As Covid restrictions eased in late summer, UK nightlife pounced back into action. Venues like Brixton Jamm, Boxpark Shoreditch and Hackney's Colour Factory started amapiano parties, while Days Like This teamed up with legendary twin brother-duo Major League DJz for a night of deep excavation into the Afro-house sound. ​"I don't remember going out in London this summer and hearing music that wasn't ​'piano," says Koek Sista, a singer based between Johannesburg and London. ​"I could probably go to places in Johannesburg and hear less. For me as a South African, that was like ​'wow'. It's fully arrived."
"There is something about South African music that we just get," says Richie Brave, broadcaster of BBC 1XtraTalks and Afro-house enthusiast, of amapiano's UK explosion. ​"Black communities here have a strong and established electronic music scene and catalogue. What we are seeing is a long-standing relationship growing."
As well as the sound of the genre, part of the appeal of the amapiano movement is the wider Black creative culture that surrounds it – from the fashion, the dancing and the communities it brings together. ​"It's like a jigsaw, and everyone plays their part," says John Junior, event organiser and one third of the AMA FEST collective, who hosted the UK's first-ever amapiano festival in the heart of the Sussex countryside this year.
In terms of the amapiano raver look, think Afropunk meets the edge of Urban Outfitters. ​"It's a hybrid of influences and experiences," says DJ Charisse C, who performs as a duo with Koek Sista. ​"Yes, it's African, but it's also very influenced by the world. It's quite futuristic in that way."
Kamo Mphela is a Soweto-born dancer-turned-internet-sensation-turned-singer, and she's arguably one of the genre's most formidable stars. "[She] has a very big influence on young Black girls, especially ones who dance," says Sista. ​"Kasi" girls, as Sista explains, are trend-setting tastemakers and influencers from the townships who ​"have access to all the brands and styles popular in hip-hop." They wear colourful lace fronts, braids and branded streetwear. ​"It's ghetto fabulous, fun and sexy – that's literally what amapiano style is."

Dance is a key part of the amapiano lifestyle too, and nowhere does this ring truer than when you're stood in a sweaty South London dance studio under the steady, inscrutable gaze of Kamo Mphela's backing dancer duo Tlhogi Molefi and Kabelo. The crew's high-intensity South African dance workshops sold out within minutes while they were touring with her in the UK. The hypewoman mantras of Molefi – lead choreographer and the movement mastermind behind Netflix's South African dance series Jiva! – reverberate in my head rent free to this day: ​"You have to get out of your head and into your body. The steps are nothing. The feeling is everything. If you lose the feeling, you lose it all".
And Hennessy is the elixir of choice. ​"That's something quite specific to the scene," Sista explains. ​"Where there's people that love ​'piano, you'll find Hennessy. Each person generally has their own way of drinking it. I specifically like it straight, but usual mixers can be anything from ginger ale, Appletiser, to even Red Bull. There's something about cognac: it's very much a part of what the artists make when they drink it, and what we drink when we're listening to it."
Locked down with nowhere to go and nothing to do, this music came to Londoners last year in a fever dream of viral sounds and vibes, where scenes of dancing South Africans inundated our feeds, halted many a lockdown doom scroll, and captured the hearts and minds of a people. ​"It just moved on social media and word of mouth before even coming into the real world. I think it has been the biggest thing. It's a phenomenon," says Charisse C.
"As soon as the lockdown hit, people started waking up." Brave explains. ​"More people had time on their hands, and were in front of their screens. Amapiano shout[ed] so loud that people in the void of lockdown had no choice but to sit up and listen."
Rising to the challenge of an increasingly voracious appetite for the sound, new tracks were piling out of the continent's southern pocket almost every other day, with the genre becoming progressively more sophisticated in style and energy. ​"South African DJs and artists were like, ​'OK, this is our time,'" Brave continues. Notable mentions include Scorpion Kings' deeply hypnotic eMcimbini; Kabza De Small's euphoric anthem Sponono; and MFR Souls' Amanikiniki. The latter had Instagram and TikTok in a steady chokehold, due in part to its riotous feel, punchy vocals and spate of viral dances inspired by the song's star feature, Kamo Mphela.
In Nigeria, Afro-pop heavyweights and breakout-out stars alike were experimenting heavily with the infectious sound, evident in Rema's Woman and Zinoleesky's Kilofeshe. And this year, a suite of releases from the likes of Burna Boy, Davido and Naira Marley had joined the fray of Afropop-amapiano hybrid hits.

"Growing up in the UK, dance music always had very specific spaces, party scenes and communities," Charisse C remembers. ​"Amapiano somehow has managed to infiltrate all the spaces. Everywhere across the whole of London, so many new parties popped up this year. Amapianoandchill is my fave one; every month it's a new group of people and faces. But even events that have been around are incorporating the sound, from your everyday lounge parties in Old Kent Road to events like RECESS – where the vibe is more RnB, hip-hop, dancehall – people are asking to hear ​'piano."
The UK's embrace of South African amapiano artists hasn't been plain sailing, and the fallout of Covid-19 created big obstacles for amapiano's international growth. An increasing amount of red tape around travel from South Africa to the UK meant that some artists were travelling for periods of up to three weeks – via buffer zone countries like Ghana – before ever making it to the UK.
"We struggled to get immigration consultants to work with us because of the travel ban and South Africa being on the red list," Junior says. "[AMA FEST] has easily been one of the hardest events we've put on, but also the most rewarding."
There are both hopes and fears for what happens to amapiano as it gets bigger. For Koek Sista ​"the sound has solidified itself as an international force. As insular and small as this country is, it's a big deal. It was a thing we were doing, and now it's everyone​'s thing."

There are also expectations for artists in other genres to incorporate elements of amapiano, and for more mainstream stars to start hopping on the sound. ​"Amapiano has shifted electronic music in a huge way," Charisse C says. ​"It's like… a vehicle and a vessel. All these genres can find home within it."
Back in August, Jorja Smith initially attracted criticism from the likes of DJ Maphorisa and South African rapper Cassper Nyovest when she released the amapiano-style song All of This, which was produced by Ghanian producer Guilty Beatz. Since then, Smith has released an All of This remix EP, featuring contributions from a host South African artists including Maphorisa himself.
"I think there's scope for [amapiano] to grow, challenge other genres like Afrobeats, dancehall, hip-hop and get the same respect," Junior argues. ​"Amapiano DJs like Major Leaguez are playing gigs at Brixton's O2 Academy to their own fan base now, like David Guetta does. In terms of longevity, it's unstoppable."
"I hope that this is the beginning of a beautiful, emerging journey," Brave continues. ​"My dream is that amapiano and South African music more widely is given the flowers it deserves worldwide."


More like this