What we learnt at Justin Bieber's ​

"

intimate" London show
With only a matter of days before Changes drops, fans got a glimpse of Bieber up-close, unplugged and moustachioed.
With his fifth album, Changes dropping on Valentine's Day, Justin Bieber is on the promo grind. Fresh from an appearance on Saturday Night Live, the 25-year-old superstar dropped down in London town to surprise fans with a Q&A, a short acoustic set and his new moustache.
Across a tight hour at the Indigo O2 (a 2350 capacity venue, billed as an ​"intimate" show for this arena-packing artist), Biebs answered a bunch of fan questions and managed to perform a string of songs, including two singles and the title track from the new album. Most of the questions that fans asked were fairly bog-standard, and of course prefaced and concluded with declaration of undying love, but a couple of people in the audience took the opportunity to ask their idol some very specific questions. One fan, who had travelled all the way from Argentina, where Biebs was banned from performing, wanted to let him know that he was welcome back in the country now, while another asked him to describe one of his songs but as a piece of art (Justin said that his tour backdrops were the visual representations of his songs).
The Face was there to catch it all. For all the Beliebers reading, here are the highlights from our notes.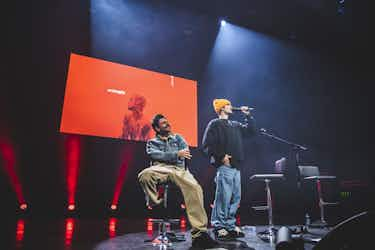 Yummy sounds great acoustic
Considering the slick, rap-inspired production of Yummy, it's surprising that Bieb's comeback single really comes to life when it's stripped-back. Given more space musically, Justin was able to spice things up by playing around with vocal melodies, and he showed off the power of his voice with the repetitive, TikTok-friendly hook.
He really loves being married
Although Mrs Hailey Bieber wasn't in attendance, it was clear that she was on her husband's mind. During the Q&A the singer repeatedly declared that marriage had changed him. ​"Marriage is awesome," he said, ​"but don't get it twisted – it's hard work." Some of that hard work is clearly sexual. When asked by a fan what he and his wife get up to in their down time, Biebs said with a smirk, ​"You guys can guess what we do all day," adding that things can ​"get a bit crazy" in the bedroom. Quite.
He might need a couple more rehearsals before the Changes tour
Despite it being one of his biggest hits, Justin Bieber doesn't know the lyrics to his 2015 single Love Yourself. As the song started, Bieber headed off stage to go and grab his phone. When he returned and launched into the Ed Sheeran-penned song, he checked the words on his screen as he went. Luckily, the crowd were able to help with most of the chorus. Still plenty of time to practice before his massive US tour kicks off in May.
R&Bieber reigns supreme
Justin spoke about how his new album Changes was a record that went ​"back to his roots". And by ​"his roots" he meant R&B. And by R&B, he really means the the vibe of his 2013 album-but-not-an-album Journals. In fact, the Biebs closed his five-song set with All That Matters from that collection, a stripped back slow jam that proved to be the highlight of the short set, with Bieber seeming genuinely excited to perform the tune. Sonically, it's obviously the space where he feels most comfortable. And with Changes said to continue the story of R&Bieber, one can hope that enthusiasm and energy continues.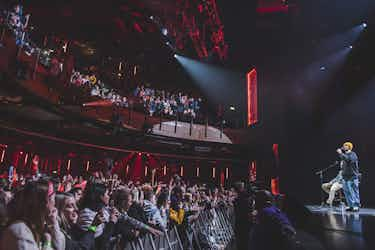 1. Yummy
2. Intentions
3. Changes
4. Love Yourself
5. All That Matters


More like this