The making of Grimes' digital avatar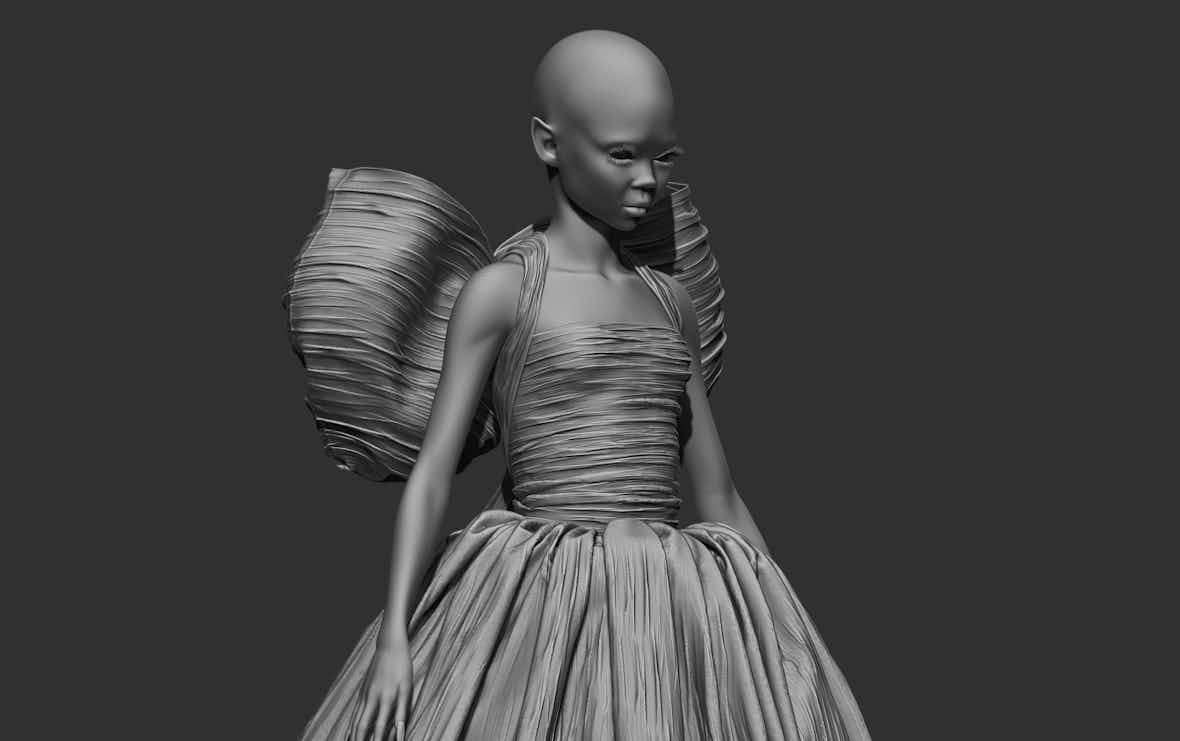 Salut Dylan Kowalski, the young French 3D character artist behind WarNymph's first cover story.
In her cover story for print issue #3 of The Face, Grimes unveiled WarNymph in all her Balenciaga-clad glory. A bald, demon-eyed alter-ego with a taste for the Paris-based luxury fashion house and tasked with helping promote new album Miss Anthropocene, the avatar was invented so the Canadian musician, producer and artist could separate her digital life from her offline self.
"I want to untether my two lives from each other for mental-health purposes," explained the artist born Claire Elise Boucher of WarNymph's creation. ​"And also for fun."
The 31-year-old introduced WarNymph in January when she tagged the private Instagram account (@WarNymph) on her socials. Having announced she was pregnant several days earlier with a topless photo which proudly displayed a baby bump, many wrongly assumed WarNymph was Grimes' unborn baby with boyfriend Elon Musk. However, in WarNymph's first interview Grimes firmly set the record straight.
"WarNymph is my digital avatar, aka my digital self… The avatar allows us to play to the strengths of digital existence rather than be a human trying to navigate a world that isn't made for us."
Conceptualised by Grimes and her creative partner (and brother) Mac Boucher, the siblings then tapped Dylan Kowalski, a 24-year-old 3D character artist, to render WarNymph for her first cover shoot.
"I decline almost all freelance offers [so that I can] find a project that I will love," explains Kowalski, who's based in the small town of Apt near the Côte d'Azur in southern France. ​"Then I put 100 per cent of my energy into it."
Luckily for him, this commission-phobic approach paid off with Grimes personally selecting the unknown smalltown French artist after stumbling across his work on Instagram.
Largely self-taught, Kowalski started working with 3D software six years ago while at high school. Apart from a brief two-month stint studying fine art, the creative has been immersing himself in advanced programmes such as Maya, Zbrush, Arnold and Marvelous Designer from the comfort of his bedroom, learning the complex ins and outs of making extraordinarily detailed 3D characters for video games on his home desktop.
"3D character work comes naturally to me. I always liked what defines a character and how to reproduce a feeling and an expression through a pose."
Drawn to iconic video game characters like Lara Croft, Kowalski first started sketching the Tomb Raider heroine when he was eight, moving onto more complex 3D modelling in his teens.
"When you first start 3D it's like an impossible challenge. I worked for four years in general 3D before I could make a character in a serious way."
The hard work paid off. Six years later this pretty much wholly unknown artist has been entrusted with helping Grimes birth WarNymph through his own lens.
Despite only having two weeks to create the six images featured in our cover story, the creative wasn't fazed by the near-impossible deadline. ​"The project was so exciting," he shrugs. ​"The Grimes universe is huge and I love her work so I got really into it."
And, with Grimes stating that this iteration of WarNymph is only ​"Version beta 1.0", that universe will only get bigger. Sounds like Dylan Kowalksi will have to keep saying non to everyone else for a bit longer.




More like this