All revved up: Grown-ish star Marcus Scribner is a secret car connoisseur
My Media Diet: The new leading man on the Black-ish spin-off gives us a peep behind his black mirror, memes and all.
Marcus Scribner has been busy finding himself – you know, ​"as all young twentysomethings do". For the 23-year-old, that primarily meant a three-month stint away from his home in Los Angeles to dive headfirst into life in New York.
"That was fun, but I'm back in my hometown now which feels pretty nice," he says over Zoom. ​"The weather is definitely a lot nicer in LA!"

But Scribner hasn't only been living it up under Manhattan's bright lights over the past few months. The actor has come into his own on-screen, too, as the new lead in Grown-ish, taking the reins from his fictional big sis Yara Shahidi. A spin-off of hit Disney+ series Black-ish, Scribner's been a part of the Ish universe since he was a wee nipper, first auditioning for the role of Junior when he was 13. You could say that the levelling-up of the part he's played for a decade brings things full circle, as his character packs his bags and heads to uni.

"What actor doesn't want to lead their own show?" he says, laughing. ​"I learned from the best, watching Anthony [Anderson] all those years on Black-ish, and then speaking further to Yara on Grown-ish. Junior stepping up as a leading man has been a dream come true."

And it just keeps getting better. The second half of Scribner's first series as Grown-ish​'s star dropped this week, but not before it was renewed for a sixth outing. Needless to say, he's buzzing.
"It's wild! It seems like people really responded well to the show," he says, a combination of excitement and relief colouring his cadence. ​"I feel like we've laid all the groundwork for Junior and his new crew. Now we're going to get to explore some crazy stories."

Scribner will soon be making waves on the big screen, too, starring alongside Sasha Layne (American Honey, Loki) and Lukas Cage (The White Lotus) in an adaptation of the non-fiction book on climate activism, How to Blow Up a Pipeline. After premiering on the festival circuit last year, it currently has a juicy 100 per cent critics' rating on Rotten Tomatoes. Not too shabby, eh?

But enough about Scribner's antics on the screen. We're here to talk about what he gets up to when looking at one. From the TV show he's bingeing to the TikToks he's been sending to his girlfriend, this is how Scribner spends his screen time.

The last article I found myself thinking about was…
I'm really into cars and there was an article about this rallycross driver-slash-professional-drifter named Ken Block, who just passed away. It's sad how there are so many motor sports athletes who die so tragically – the sport is very dangerous. But the article was really insightful [about] his life and all his accomplishments.

The last new artist I discovered on Spotify was…
This artist named Cuco. His music is kind of like Tame Impala, but more lyrical. It's just really cool, relaxing music. He sings about his love life a lot – I mean, who doesn't these days? But it really gets me in my feelings. I enjoy being a sad emo boy.

The last podcast I spent hours listening to was…
Oh my God, I have two podcasts that are my vices – like, I've literally listened to every episode and it's my goal to get on one of them. On SmartLess with Jason Bateman, Will Arnett and Sean Hayes, they have on a bunch of people from different industries and interview them – actors, people in science and government. But they've got great chemistry and when they have actors on, they break down the craft. It makes you feel not so alone as an actor. The other one is Donut Media, where they tell historic car stories from the past. It sounds really boring but they make it hilarious.

The last picture I liked on Instagram was…
It was my birthday a couple of days ago and my boy [Black-ish creator] Kenya Barris posted a picture of me and him, a throwback to when I was 15 in an oversized suit at an awards show.

The last TikTok I sent to a friend was…
I sent it to my girlfriend. It says: ​"Why are men so useless without information? My boyfriend literally caught himself on fire at work yesterday and didn't think to tell me until 8pm last night." I thought that was funny because I always forget to tell her stuff throughout the day. Then she's like: ​"Why don't you remember that? Why aren't there details to the story?"

The last series I binged (or watched a lot of) was…
The Boys. It's one of my favourite shows on TV at the moment – it might be one of my favourite shows of all time. I watched it from the beginning, because my homie Karen Fukuhara is on the show. I fell in love instantly. Antony Starr's performance as Homelander is chilling.

The last book I stayed awake reading was…
OK, there's two. I really love high fantasy – there's something about the world building that's always intrigued me – and I always try to read nonfiction books, because I feel like smart people read nonfiction. One of my favourite authors, Brandon Sanderson, has this series called Mistborn and I stayed up all night reading the second book, The Well of Ascension, for multiple days in a row. The second book is Iceberg Slim's Pimp: The Story of My Life. It's the first nonfiction book I've gotten into in a while because it's so wild and inappropriate. He tells the story of how vile and horrible of a person he was, how he regrets it, and then talks about being addicted to heroin. It's a crazy book.

The last new word I learned was…
Autofellatio, like self-suction, apparently. I learned it from a movie I just watched, Bad Words with Jason Bateman.

The last meme that made me laugh aloud was…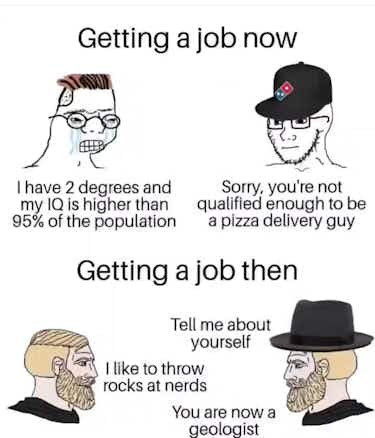 Grown-ish is streaming on Disney+

More like this