How Blackness became integral to Love Island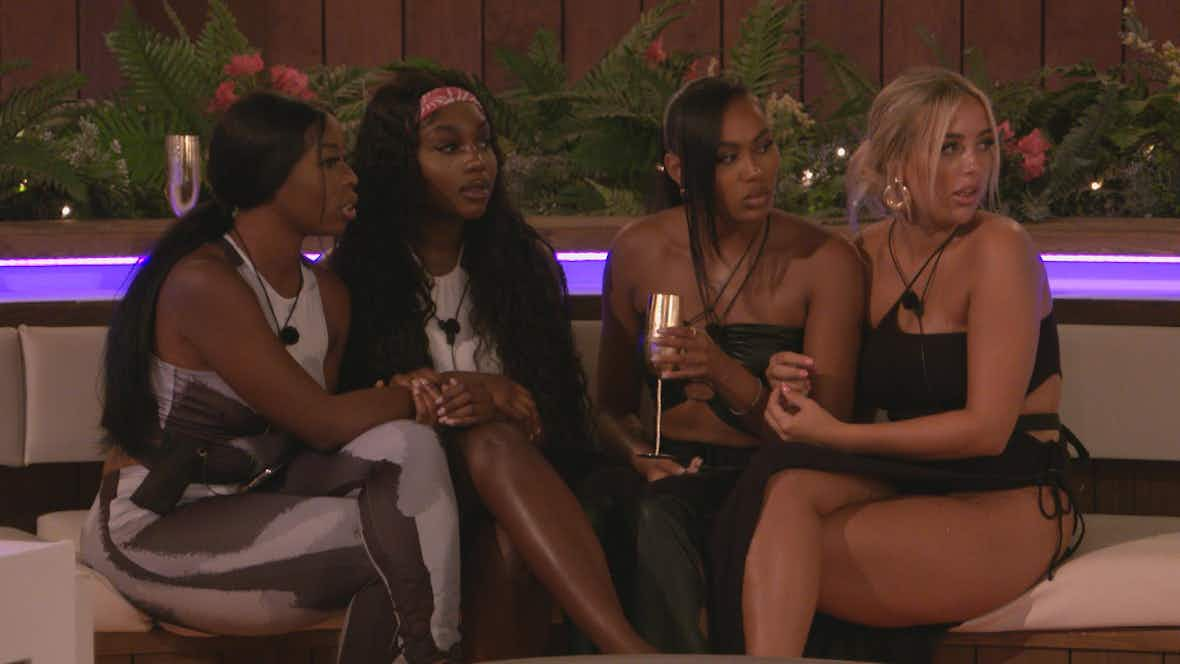 Black Twitter has long propped up the reality show with real-time commentary and hot takes. Now, we're finally seeing that same energy on screen.
We're four weeks into this summer's series of Love Island, and it's fair to say that – after an early feeling that the show was fatally fatigued – it's having somewhat of a renaissance.

Why? Well, it could be down to the fact that the villa's populated with a new group of truly unhinged individuals, complete with problematic storylines and pathologically deficient men. But that's just textbook reality TV. What's really heating up the villa this year is the show's embrace of Black British culture.

For a long time, the language and culture reflected on Love Island felt distinctly white. Shady situations were ​"muggy". Pathetic partners were branded a ​"melt". If you were rejected, you were ​"pied". And while Black Twitter has long provided unbeatable live commentary, ensuring the community spends at least half of the show screaming at our phones, Black contestants on the show have been rarer than errant body-hair.

For those few Black contestants and contestants of colour, it's not like their Love Island experiences have been particularly pleasant, either. Previous Black Islanders have faced microaggressions and relentless struggle as it became evident that they're rarely anyone's ​"type on paper". Who can forget Samira in series four, who was patronisingly cheered on anytime someone showed the most fleeting bit of interest in her? To fit in, many conformed to the show's prevailing whiter-than-white norms, rather than bringing other cultures into the mix.

But this year, Black contestants seem more comfortable being authentically themselves. It probably helps that there's a greater number of them: so far we've had six Black Islanders out of a total of 18.

There's business owner Andre, who playfully called estate agent Catherine a ​"Yoruba demon", something I never expected to hear on primetime British television. Meanwhile, budding entrepreneur Whitney has delivered multiple one-liners that are surely destined for the Love Island history books, from quipping that Jess is a ​"bitcoin gal" due to her sudden popularity with male Islanders, to bluntly shooting back at Mehdi's preference for brunettes with: ​"Well this is a wig, so I dunno what you're looking for."

Even seeing more contestants wear durags, bonnets and wig bands on screen has made this show feel more reflective of its audience. Finally – it's only taken 10 seasons.
The shift is noticeable outside the villa, too. Love Island​'s new-ish host Maya Jama became the face of the franchise earlier this year, while ex-Islander Indiyah Polack landed gigs as the official podcast's cohost and a regular panellist on Aftersun. Joining guests such as AJ Odudu or YouTuber Chunkz, an increased Black presence on the weekly debrief show has made its analysis feel sharper.
Finally the spin-off series is addressing contestants' ridiculous euphemisms that have gone unquestioned on previous series. What does it really mean when a guy says he prefers blondes or brunettes? Who exactly fits the brief of ​"tall, dark and handsome"? (Spoiler: it's almost never tall, dark-skinned men.) Last series, guest Jordan Stephens even shaded Islander Lana by calling her a ​"Fiat 500 Twitter" favourite – a radical act by Love Island standards.

Unsurprisingly, not everyone has been happy with these displays of Blackness. Variations of Black British vernacular – ​"bruv", ​"G", ​"fam" – have contributed to some of this series' funniest moments. But during its first week, there was a viral stream of social media comments from what appeared to be middle-aged white women complaining about language. ​"Feel like I'm watching an American ghetto programme, the slang is doing my head in," wrote one. ​"I had to turn it off, I feel like I'm watching a scene from Straight Outta Compton," wrote another on Facebook.

And of course, the inclusion of more Black culture has not automatically eliminated racism inside the villa. It definitely wasn't a coincidence that Mehdi accused Whitney of causing ​"unnecessary drama" with next-to-no evidence, while Sammy's disbelief that Whitney and Catherine's non-Black partners were genuinely attracted to them was very suspect. Even the show's narrator Iain Stirling made an uncomfortable ​"Nigerian Prince" joke last week. Both onscreen and off, the show continues to be a microcosm of the racism Black Brits experience on a day-to-day basis.

Perhaps that's to be expected, though. The drama on Love Island is, of course, engineered, but let's not forger this is reality TV. Reality is what it is, and what it is, is racist.

Still, it's been joyous to watch Black Brits unapologetically be themselves and showcase the diversity of our culture on mainstream TV. The show simply wouldn't be as enjoyable without it, whether you're laughing at Black Twitter's hot takes or rooting for the contestants in the villa. Those loyal viewers who feared that Love Island had run its course? You can thank us later.


More like this