How Cailee Spaeny transformed into Priscilla

One Tom Ford eyeliner, five daily wig changes, clouds of hairspray and 120 outfits: the costume, hair and makeup teams behind Sofia Coppola's biopic tell us how they brought Priscilla Presley's legendary '60s style to the screen.
The fluttering lashes. The razor-sharp winged eyeliner. The jet-black hair, backcombed and hairsprayed to reach the high heavens. The classic ​'60s fashion. The Icon.

Ever since being catapulted into the public eye in 1960, when she was first photographed with Elvis as he left the West German army base where they'd met, Priscilla Presely's style defined the decade. When you think of ​'60s glamour, you picture her in that pearl-encrusted shift bridal gown, slicing through a six-tier cake with her new husband. When someone says the word ​"bouffant", you picture her being wheeled out of a hospital cradling her first child, with hair that adds an extra foot onto her head.

But, as showcased in Sofia Coppola's new biopic Priscilla, screening next week at the London Film Festival, those looks were Elvis's particular vision of what she should be – the idealised result of a status dynamic that reflected the chasm in their lived experiences.

The pair first met when Priscilla was 14 and Elvis was 24. She was a schoolgirl, he was the most famous rock'n'll star in the world. When she eventually left her parents' home in Germany to live with him on his Graceland estate in Memphis, that power imbalance became even more apparent. As portrayed in Coppola's empathetic biopic by Cailee Spaeny (Mare of Easttown) and Jacob Elordi (Euphoria, Saltburn), we see Elvis dictate what clothes Priscilla could wear, the colour of her hair and the type of makeup she should meticulously apply each morning.

Which means that those iconic looks that have become so ingrained in public consciousness are only one half of Priscilla's style story.

The task set for the hair, makeup and costume departments working on Priscilla, then, was to also paint an image of her when her world wasn't entirely consumed by the man she married. With a narrative that covers just over a decade of her life, we see Priscilla transition from teenager to mother to woman on the brink of divorce, with Spaeny's styling evolving through each phase.

"We started Priscilla with a simple, fresh-faced, almost no makeup look until she meets Elvis," says Jo-Ann MacNeil, the film's makeup department head. ​"During the courting process she starts to add a little makeup – mascara, lipstick, rouge. When she moves to Graceland, Elvis takes her for a makeover, which she embraces, and starts to wear more and more makeup at his request, which we carried through the ​'60s. In the early ​'70s, as the relationship breaks down, so does her makeup. She stripped it back and became more natural looking, finding her independence through her look."

Priscilla's styling had a practical purpose, too. ​"Sofia wanted to show time passing through the hair, makeup and costume, so we had to decide on looks that would represent each segment of the film," says Cliona Furey, the hair department head on Priscilla. ​"We had many, many meetings, with a lot of collaboration between teams."

Eventually, they nailed down six key looks which, amongst other things, helped Spaeny age down – at 26, she's the age Priscilla was when she separated from the entertainer known as The King. There's ​"young Germany", the clean face and sweet ponytail that introduces the audience (and Elvis) to 14-year-old Priscilla. ​"Natural glam", best seen when she first visits Elvis in the US – a look that dissolves when she subsequently flies back to meet her horrified parents back in Germany, with bedraggled bouffant hair and mascara running down her face. ​"Baby glam", when she's completing her final year of school while living with Elvis, where the eyeliner gets thicker and the hair turns black.

Then there's ​"Memphis glam", with longer hair a softer shade of almost-black brown during peak Priscilla and Elvis. After that, the ​"family portrait look" of 1969, as the makeup becomes softer, the hair is lifted with a burgundy tone and the backcombing brush is used with a little more restraint. And, finally, ​"the ​'70s look", towards the end of the couple's marriage, when Priscilla gets an LA tan, chops her hair to shoulder length and goes back to a shade closer to her natural colour.
These nicknames became insider lingo onset, helping the entire crew keep track of which era they were filming – handy when you're shooting one day scenes set in multiple eras.
"We had a very tight schedule of 30 days and a lot of the scenes were daylight dependent," says Furey. ​"Sometimes Cailee was in five different wigs, five different makeup looks and more than five different costumes each day."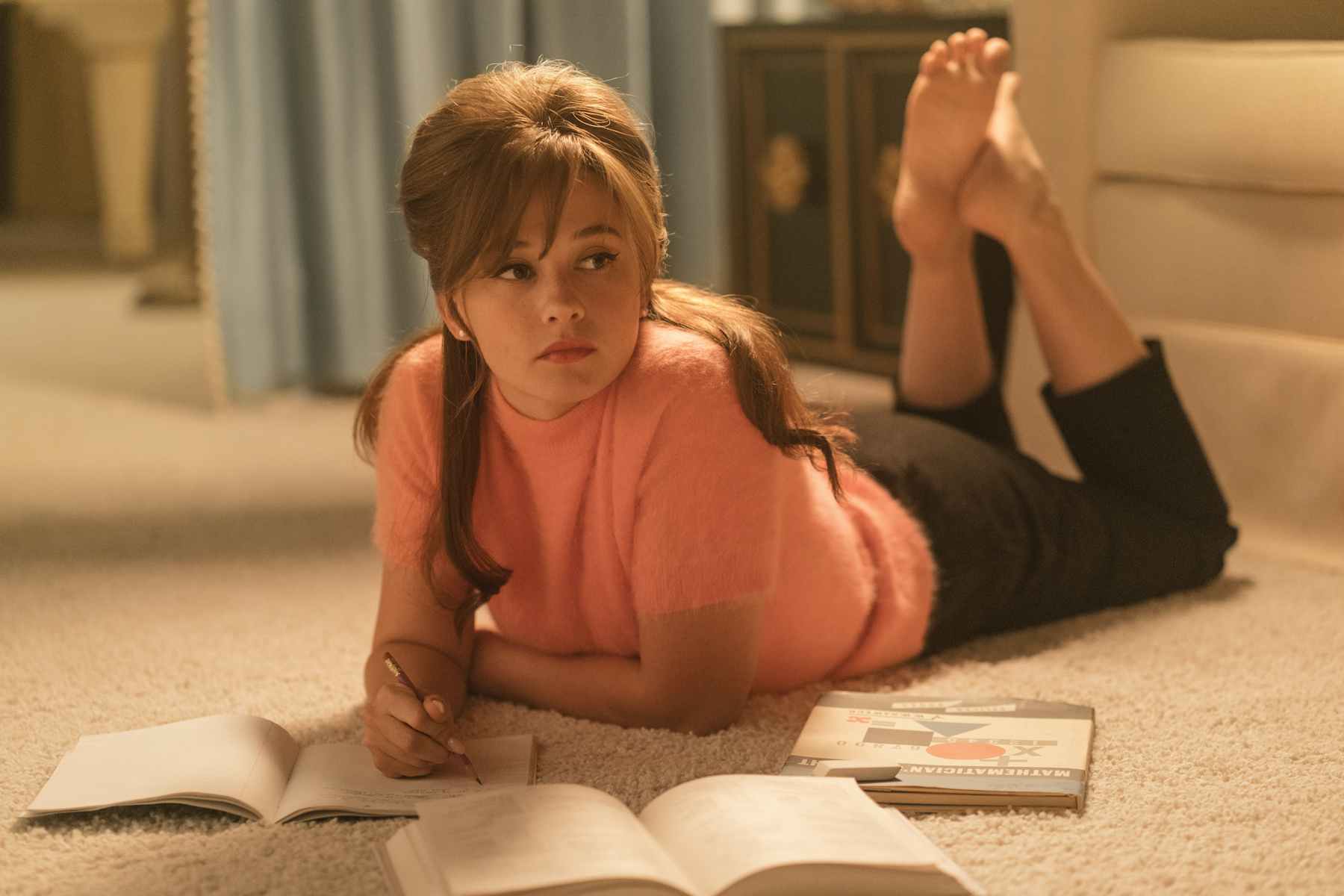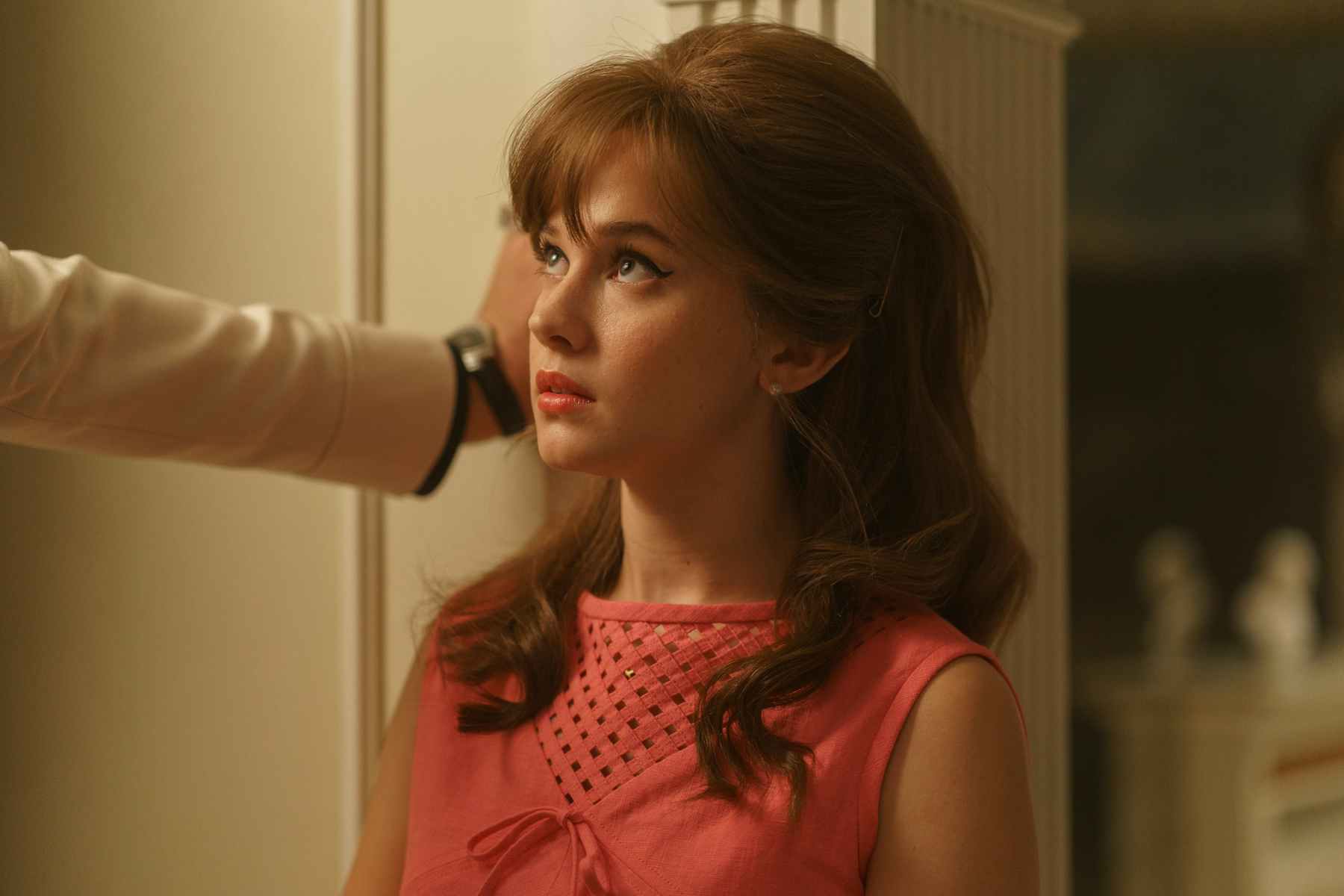 Exactly how many costumes did Speany wear throughout the production?

"I think we put together about 120 outfits for Priscilla," says costume designer Stacey Battat, who also worked with Coppola on The Beguiled (2017) and The Bling Ring (2013). ​"We had a certain colour palette, which is something we often do in Sofia's movies, that helps create the mood."

That meant custom pieces needed to be made – including a wedding dress by Chanel – which captured Priscilla's essence while blending in with the director's desired aesthetic. "[Sofia explained] that Germany was kind of drab, and then we go to Memphis and the sun comes out. So in Germany, it was like you'd just dropped a few drops of grey into the colours – browns and peaches that were kind of dusty. Then later we're into brighter hues."

And of course, the styling also had to reflect what Priscilla was going through during each era.

"As she's getting more defiant, Priscilla starts wearing prints, even though Elvis tells her at some point that they don't look good on her," says Battat. ​"And when she was feeling insecure about [actress] Ann-Margret [who Elvis had an affair with], Cailee and I imagined that she would maybe dress a little bit more like the starlets he was involved with, trying to mould herself to his ideal."

Naturally, the costume, hair and makeup departments analysed practically every single available picture of Priscilla to bring her to life on screen. But the hardest part was imagining what she might have looked like away from the public eye. To help, the teams watched Priscilla and Elvis's Super 8‑shot home movies. And they were also able to get some secondhand intel from Sofia and Cailee's conversations with Priscilla herself, feeding the pair specific questions to put to the 78-year-old, to make sure they got the finer details right.

"I remember very distinctly that we asked her when she stopped wearing stockings, because it was important to know when she transitioned out of them," says Battat. ​"They also told us that Elvis never left his bedroom without being fully dressed – he was very elegant. They were people that, even if they weren't going anywhere that day, still got dressed."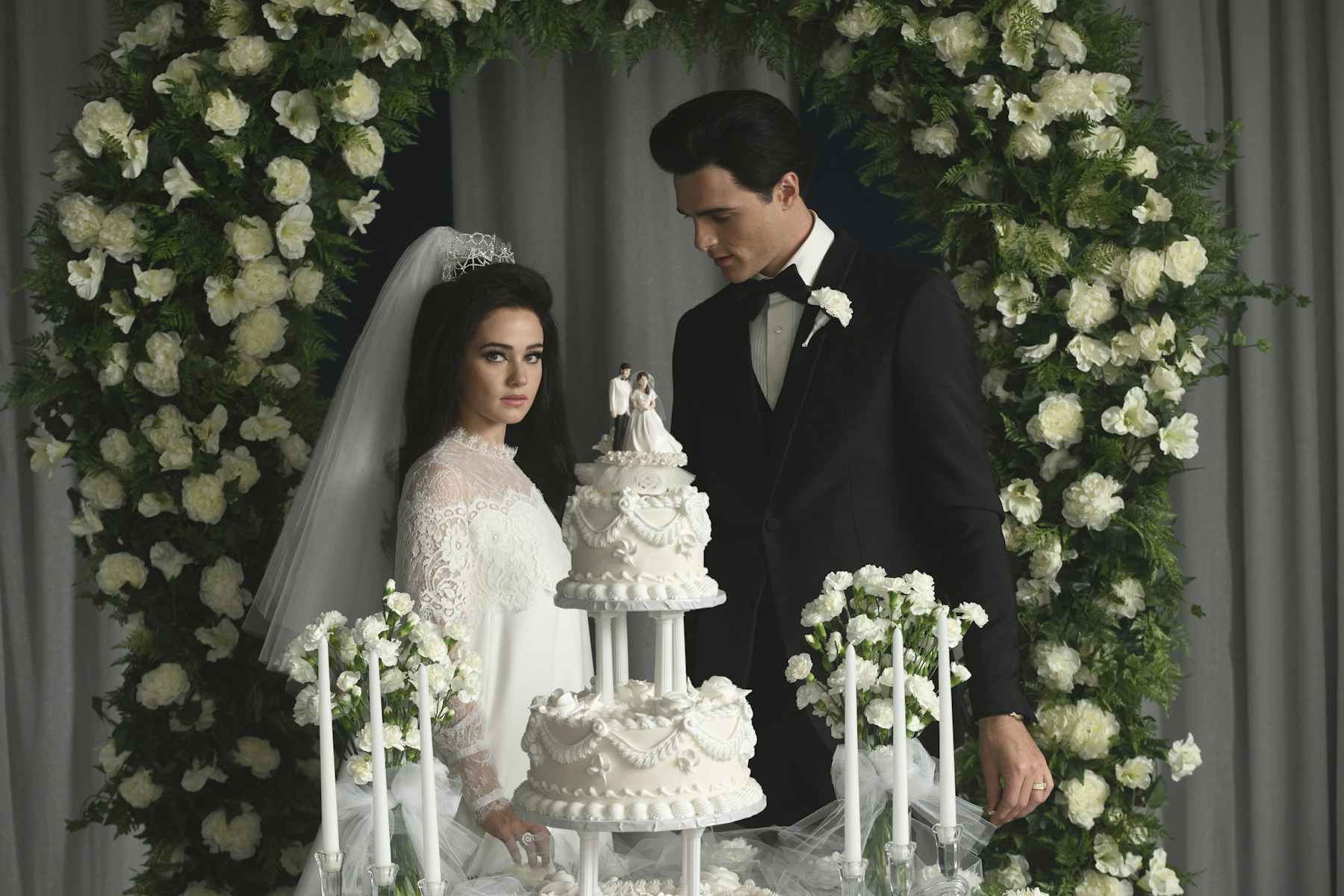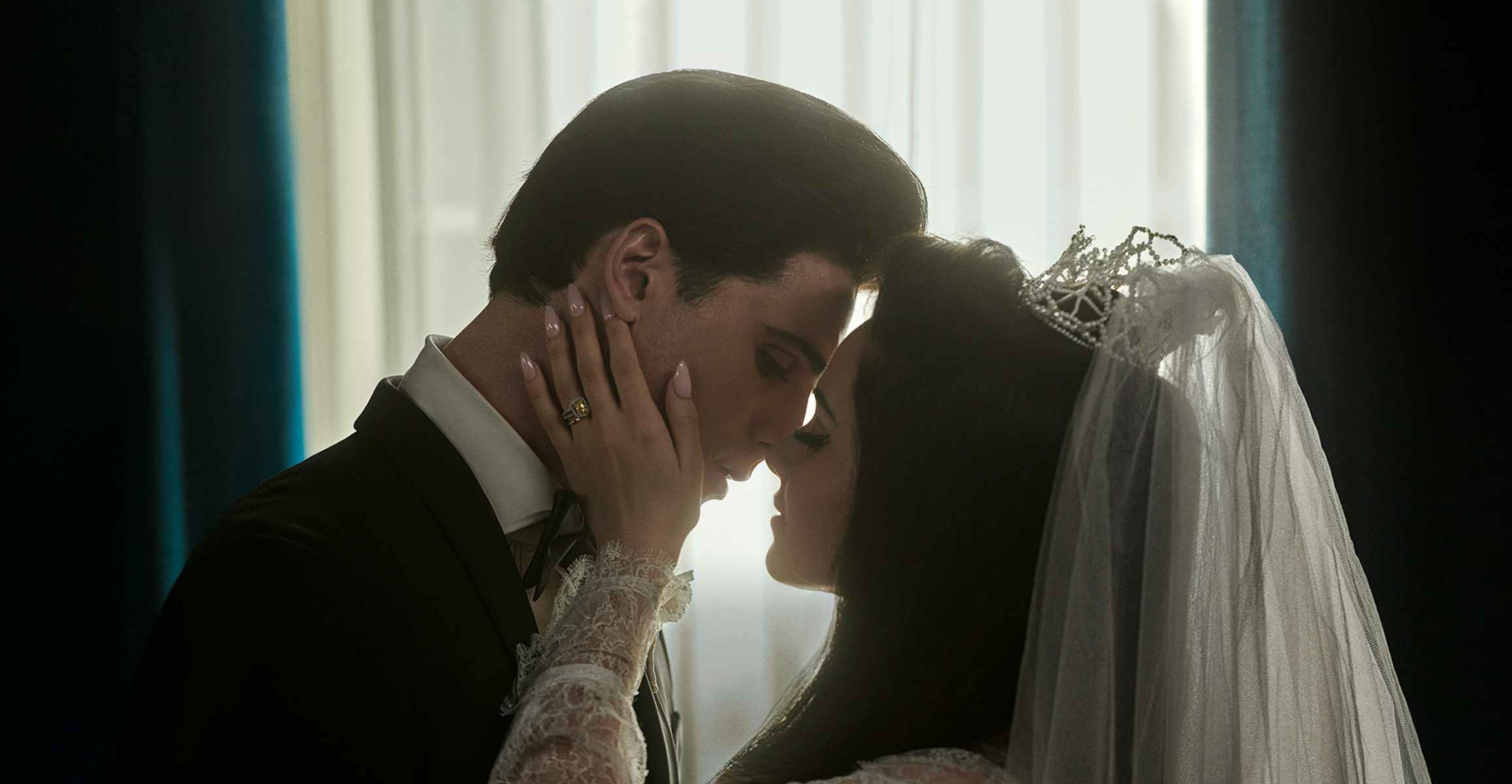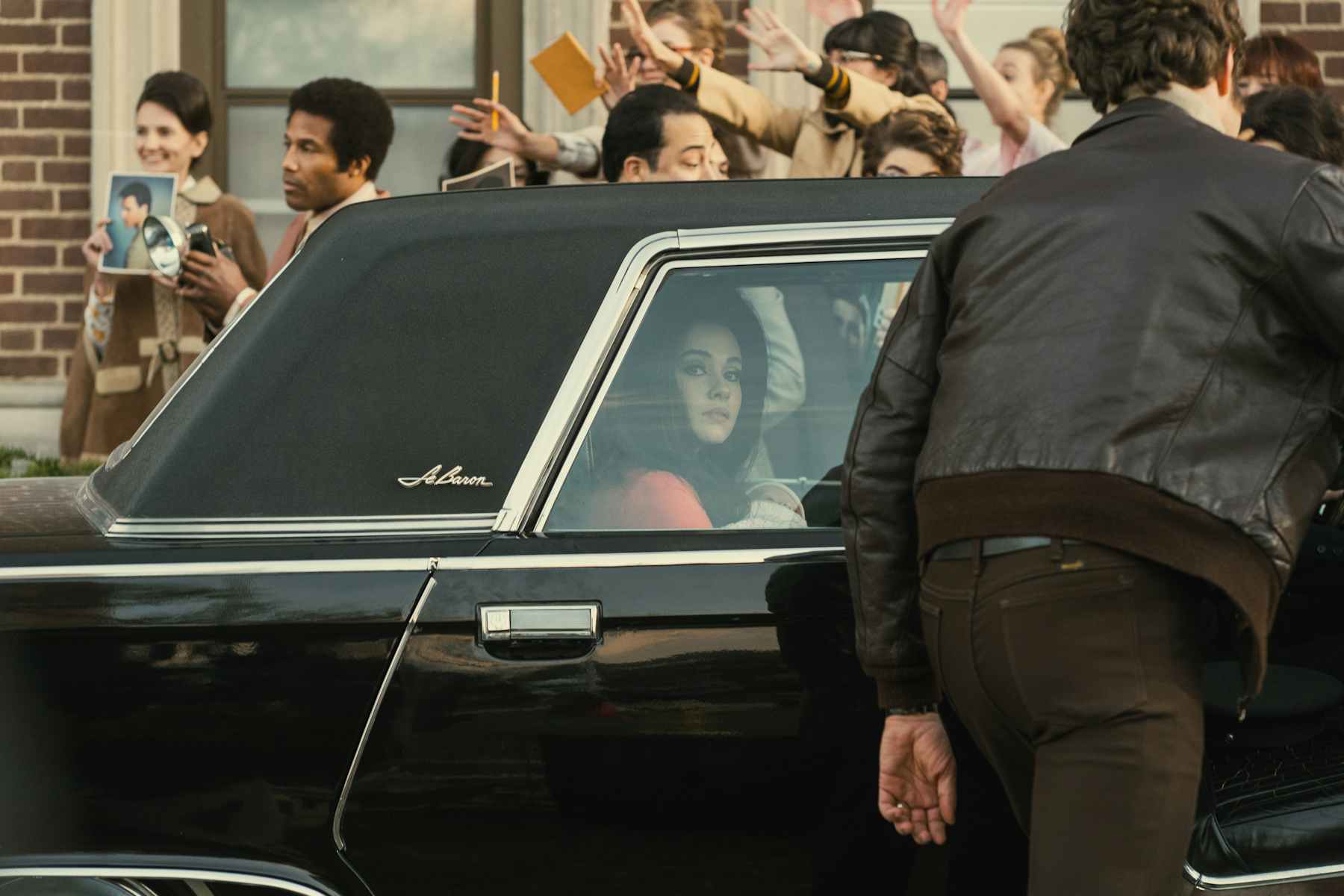 And Priscilla always made sure that her eyeliner was on.

"Once she lived at Graceland with Elvis in the early 60s, she never had no makeup on," says Furey. ​"She went to bed with full makeup and he never saw her without makeup, basically. So for the hair, I may have toned things down for scenes where she might be just getting up in the morning, yet her eyes were fully made up by Jo-Ann."

So, while a bit of creative licence was taken with the costumes and hair, the makeup had to be on point.

"Sofia and Cailee knew a lot of the looks were so iconic and well-known, and we did our best to match them as close as we could – the wedding, the birth of Lisa-Marie, the wave goodbye in Germany and the family portrait, to name a few," says MacNeil. ​"It was also very important to Sofia that Cailee always had a fresh face, that we could see her skin and freckles through the makeup."

The key to recreating those iconic make-up looks? ​"We used a lot of Chanel eye palettes and lipsticks, and Tom Ford liquid eyeliner was used for the crisp eyeliner look."

As for the hair, Furey didn't get through as much hairspray as you might think to get Priscilla's biggest hair looks. ​"Good old fashioned, old-school backcombing is the trick," she says. ​"For larger bouffant scenes, like the hospital scene where she comes out with the baby, I used a vintage ​'50s hair topper add-on, which is almost like having on an additional wig."

Did all that hair weigh heavy on Spaeny's shoulders? ​"She didn't complain, but I thought it was heavy, personally."

In any case, all the rails of clothes, the wig changes and the lunch breaks skipped to get Speany from ​"baby glam" to ​"Memphis glam" were worth it. ​"The costumes were so fun in Priscilla," Coppola has said. ​"I loved all the colours, and the formality of how they would dress."

For her part, MacNeill says that ​"I feel really fortunate to be a part of telling such an important story". And certainly everyone on Coppola's tight crew on the Toronto shoot relished the opportunity to recreate the look of such an impactful, stylish, totemic figure – and, equally, realised the importance of nailing one of the defining female looks of mid-20th century culture, one with resonances way beyond the decade, and beyond rock'n'roll.

"I think there's a little bit of the Kate Moss thing with Priscilla – she was so quiet and mysterious, and she became very self-possessed," says Battat. ​"Maybe that's what made her style so iconic."

Priscilla screens at LFF on 9th and 10th October, and is in cinemas on 26th December

More like this