In conversation with Zomby

We caught up with the artist to talk aerosol paint, adidas Superstars and the canon-defining book, Subway Art.

To talk of London graffiti without mentioning Zomby would be sacrilege. Joining the nascent scene around 1986, the artist – or writer in graffiti parlance – has splashed his moniker across every wall, Tube train and bus to cross the Big Smoke. Decades on, he remains royalty in the subculture, brightening the view for commuters, and visitors of the Beyond The Streets London exhibition at Saatchi Gallery.
Usually averse to the limelight, the legend shows his work alongside more than one hundred hallowed names in street culture, from Fab Five Freddy, Futura and the Clash to Lady Pink, 10Foot and Goldie. Dropping tags and his indelible cartoon character – complete with a speaker box Afro – Zomby throws his work into a labyrinthine web of Covent Garden B‑boys, punk iconoclasts and the halcyon days of acid house and jungle.

Charting the entrance of New York graffiti culture into the UK and its cross-pollination among ravers, football casuals, skaters and authority-defying youths alike, the 13-room showcase homes in on the sounds, looks and, of course, art, that quickly defined our streets. Here, we caught up with Zomby to paint a picture of this wonderful world of aerosol paint, adidas Superstars and the canon-defining book, Subway Art.

The Saatchi show features major American names like Dondi, Keith Haring and the Beastie Boys alongside London heroes like 10Foot, Tox, Jamie Reid and Malcolm McLaren. Is this London getting its dues?
Yeah, it showcases that London is an important city when it comes to graffiti and street art. It runs back to the ​'80s. All the old names – Rocksteady Crew and the UK stuff like Malcolm McLaren, Goldie – that's when I got into the culture.
How did you get into it originally?
Through breakdancing, rap music, Subway Art and documentaries like Style Wars and Beat Street. Subway Art changed me a bit. I looked at it and thought: this is what I want to do with my life.
When you got into UK graffiti, the scene's poster boys were people like the Chrome Angels and Goldie. What was the typical look?
We had paint on our clothes and just wore what we had. That's from my perspective because I didn't have much money when I was young. The graff I saw on clothing back then was on the back of denim jackets. Some people had the [name] belt buckles and the [adidas] shell-toe trainers – the B‑boy look.
Who was doing the B‑boy look?
The older generation – I must have been about 14 or 15 then. The ones that were 17 or 18 that used to go to Covent Garden in the belt buckles, Kangol hats and trainers. Some of them had Ghetto Blasters [boomboxes]. You would get on the Tube, and they'd be playing music on the train. Everyone wore a bit of adidas – the trainers, the tracksuits. It was one of the brands related to hip-hop.
Has adidas been a part of how you dress as a graffiti writer?
Yeah, I've always worn a bit. Even from the late 80s, I had the ZX 8000 Torsions. I try to mix it up. It's usually trainers or T‑shirts or tracksuit bottoms. Now, you see someone wearing a red adidas tracksuit walking down the street with big adidas trainers – it's a hip-hop statement that says you know about the culture.
What does the exhibition say about London graffiti?
It shows the graffiti scene is growing. Back in the ​'80s and ​'90s, people thought: ​"This is just a fad, and it will just die out. They're just vandals." But it's shown the world it's more than that.
You have played a pivotal role in London's graffiti crew, DDS [Diabolical Dubstars]. When did it begin?
Around ​'93, ​'94.
Did they have a look? Was adidas part of this?
It was a bit of a strange one because there was a lot of members from different parts of London – north, south, east and west. Different colours, different shapes, different backgrounds. Everyone was quite individual. We looked like a strange bunch. Yeah, adidas has always been part of people's wear, even if it's a jacket or trainers – someone will always be wearing adidas.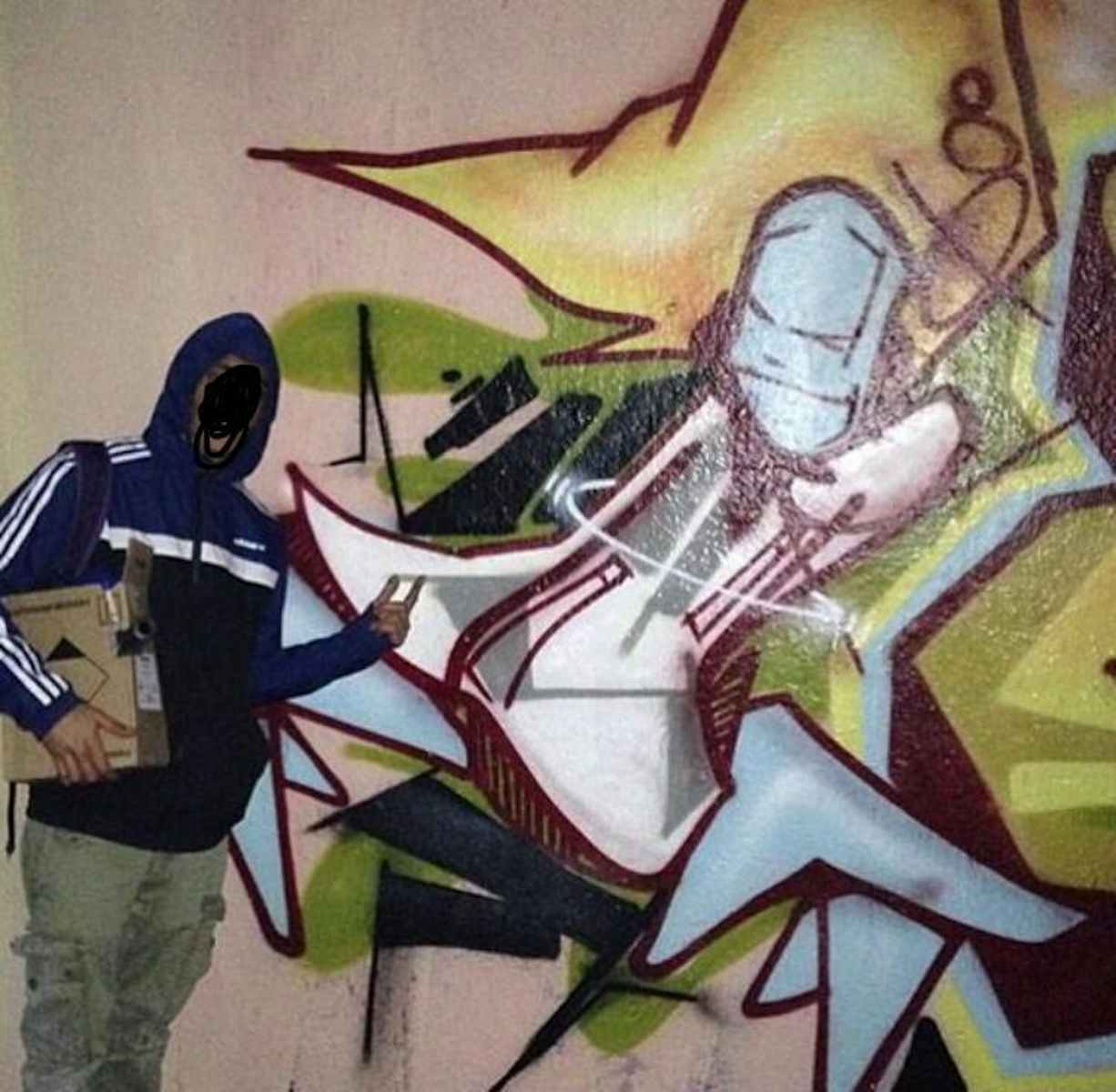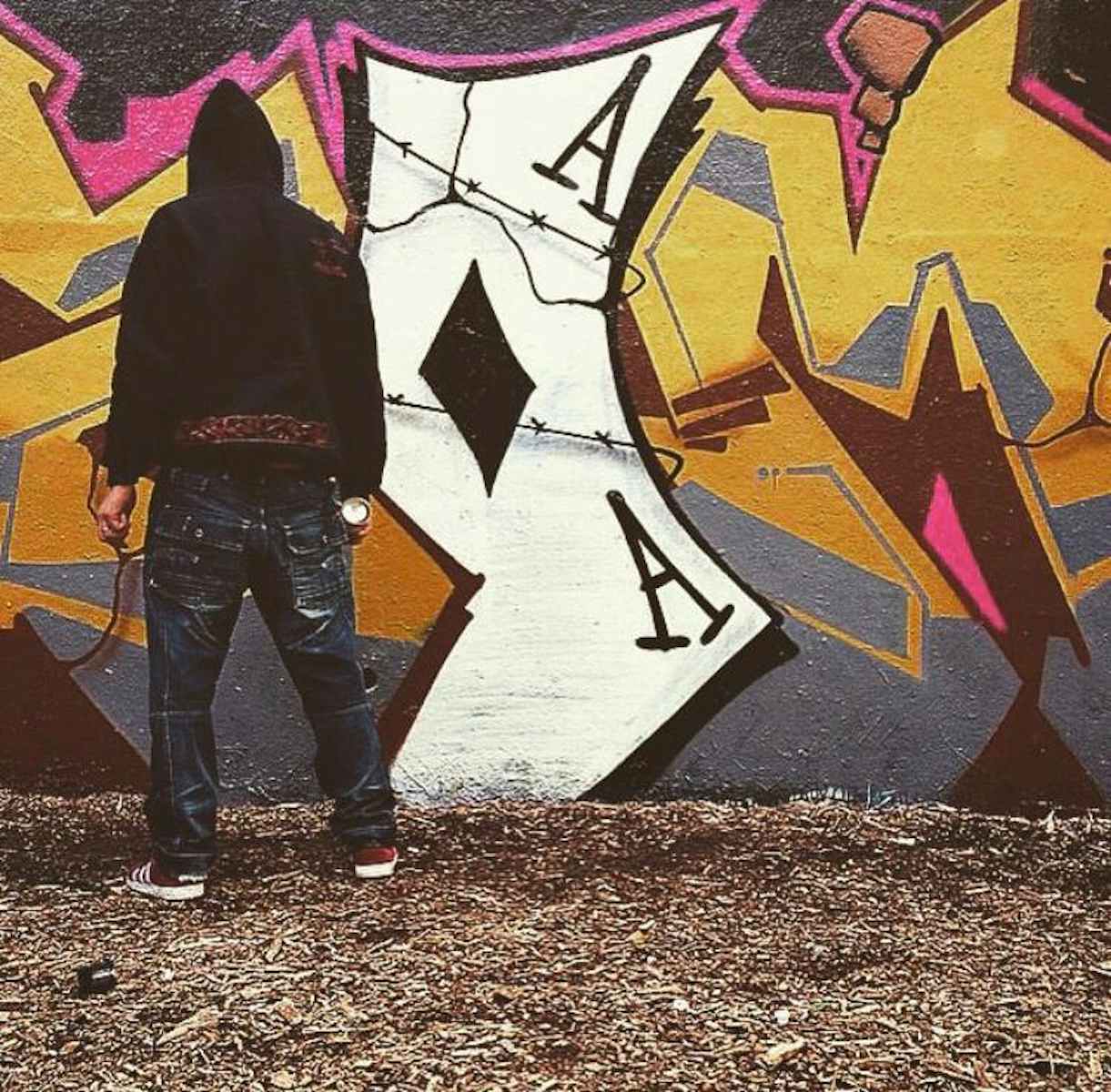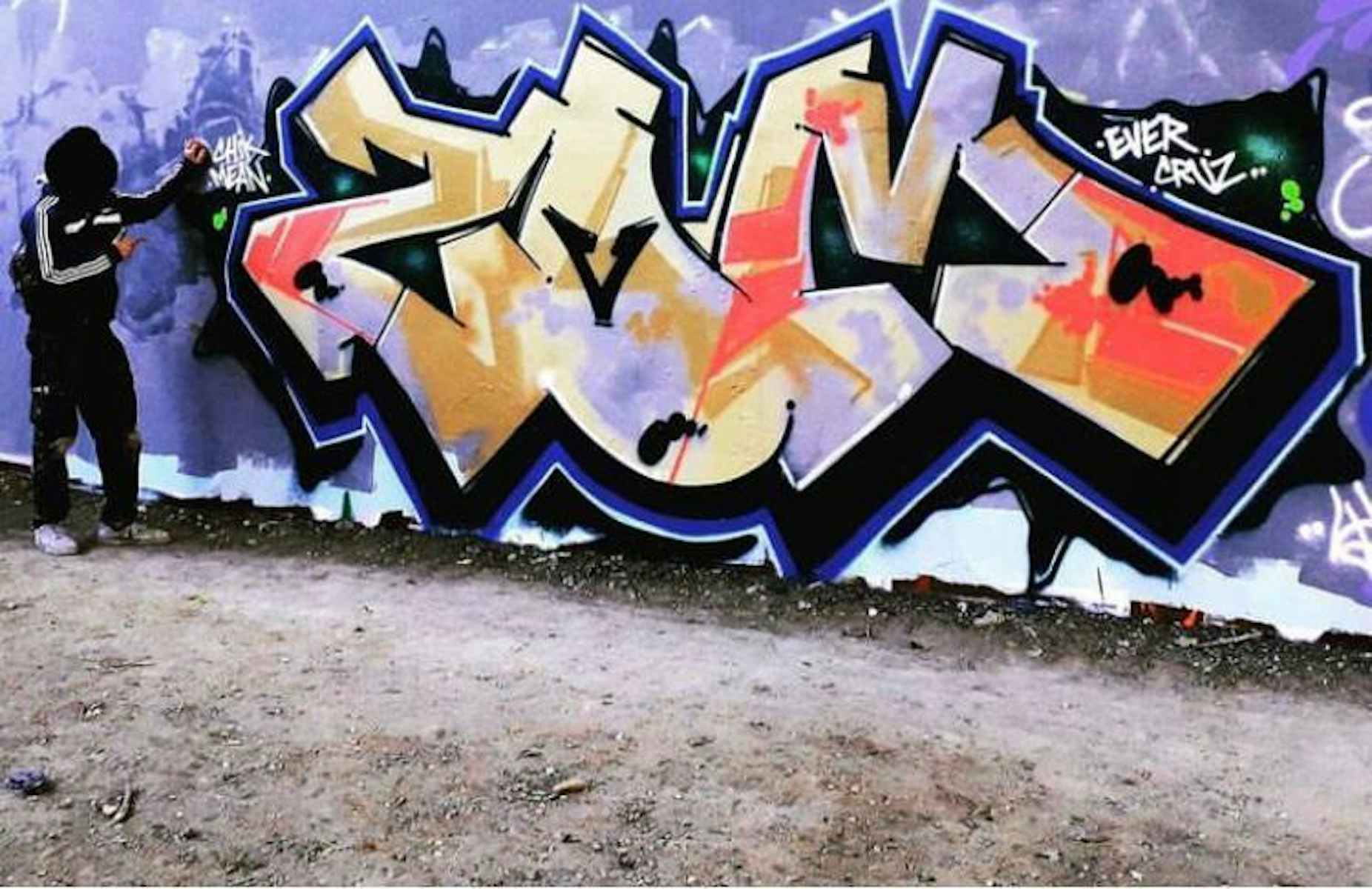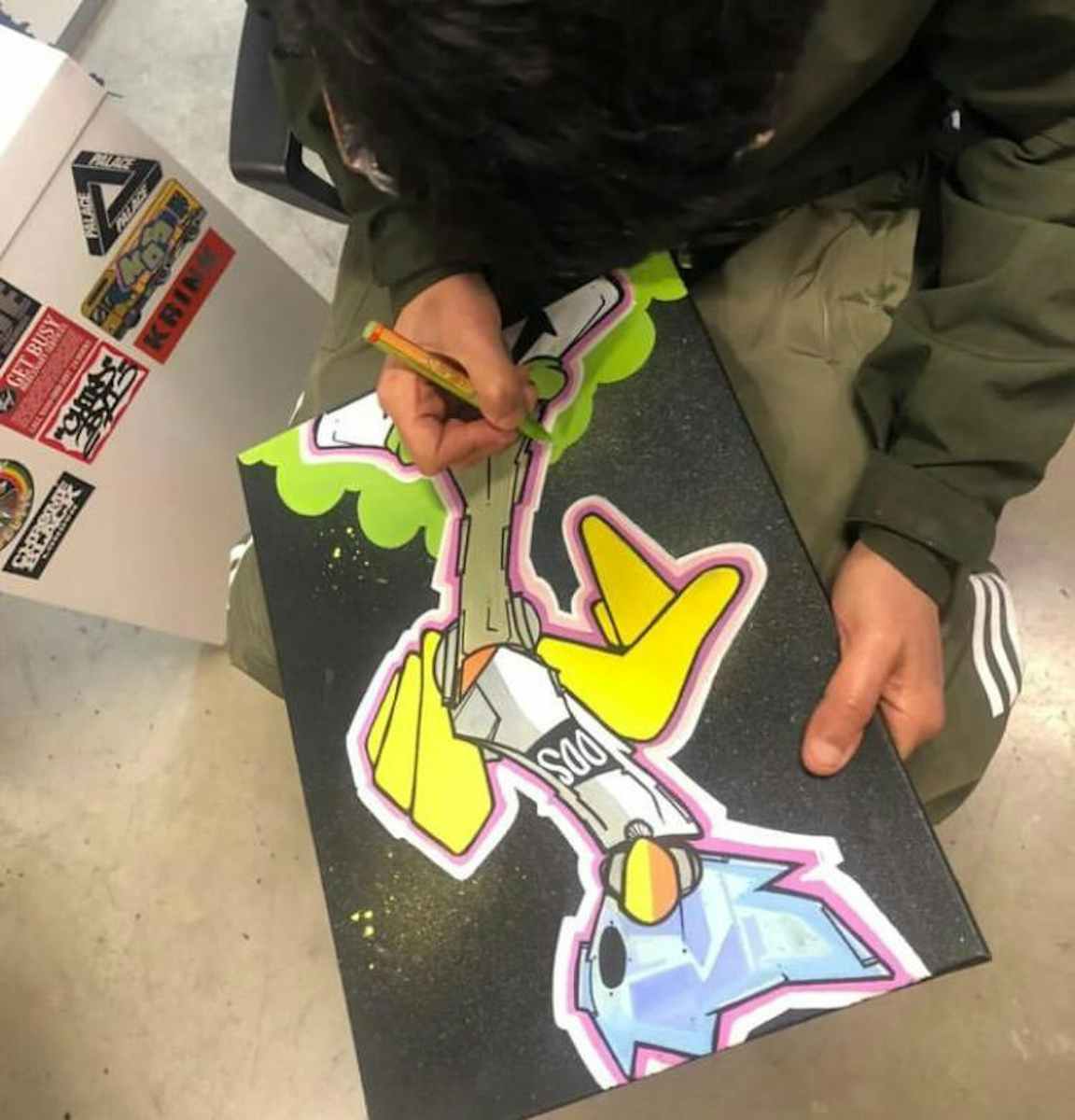 These days, there's a lot of streetwear collaborations happening in London with graffiti writers. Teach and Maharishi, and yourself with Palace, for example. Why is this?
Graffiti writers and the culture are getting recognition. The up [prolific] writers are like heroes. It gives the clothing brands a little boost, and it gives us money and gets our work out there. A win-win for both parties.
With Palace, you designed a Zomby character for jeans, T‑shirts and the hip-hop-slash-grime staple, an Avirex jacket. What's it like seeing your character worn by today's youth?
Surreal. I didn't really start graffiti to be on clothing or make money. I was just doing it for the love. Even when it came to taking photos, I didn't really have a camera. I feel privileged that I'm still relevant 35 years later, and people would wear something with my designs on. It makes me kind of proud. It's been a long journey for me. I've always been loyal to graffiti –through thick and thin – even though I've been in trouble with it in the past. Yeah, Palace are really good guys. Straightforward. No messing around!
Do you find there's a crossover between graffiti writers and skateboarders?
For sure. Even from the ​'80s up to now, there were always skateboarders who, sooner or later, would get into graff. It's one of those rebellious acts. We're getting chased in train yards; they're getting chased by security; we're both on the street.
Go to any rave or club in London, and there's bound to be some graffiti writers in the crowd. In fact, UK graffiti films like London Tonight are filled with rave bangers. How did these subcultures come together?
The music was a sign of the times. When you look back at the old stuff [films], you hear the drum and bass and jungle, it was just dem times. There have always been writers into raving, hip-hop, drum and bass…it's a creative thing.
What do you hope that people get from the exhibition?
A bit of knowledge. See where it's come from. If you've got a passion for something, keep at it. The younger generation will look in the cabinets in Beyond the Streets London and see all the old Tube pictures, the writers and what they wore. Now, they're exhibited in a famous gallery. Even people that don't know about graffiti or street art would enjoy it because it's a story, a journey.
This interview is part of THE FACE's partnership and event series with adidas, celebrating major street art and graffiti exhibition BEYOND THE STREETS London at Saatchi Gallery.