The impact of footballer Jake Daniels coming out as gay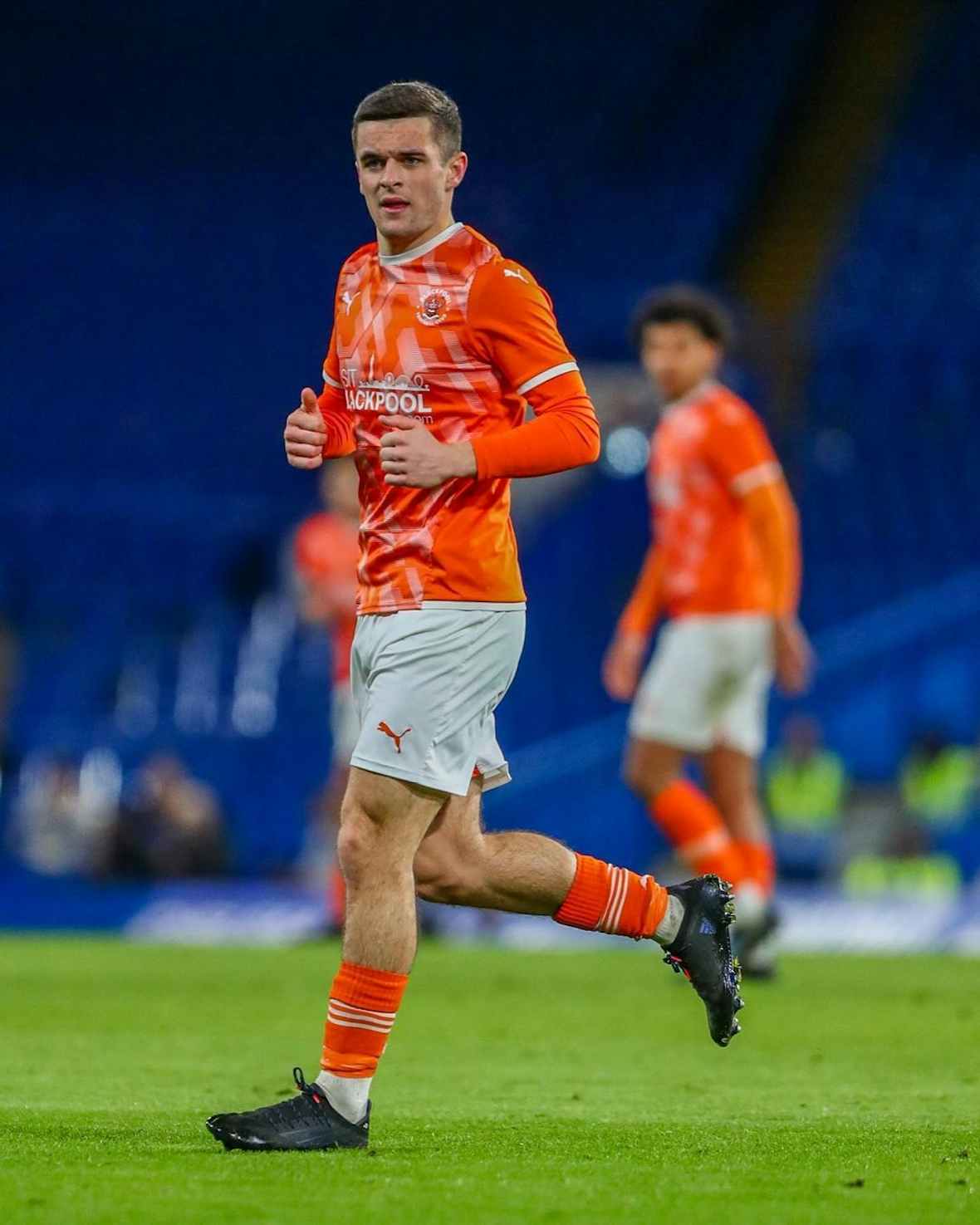 Yesterday, the Blackpool player publicly came out – the first professional player to do so since Justin Fashanu in 1990. While there's loads more work left to do to tackle homophobia in sport, this is a huge win for the future of football.

Unless you're one of the few lucky sods, coming out is no easy feat.

Sure, it makes for fun dinner party fodder later in life, and decent drunken chat in the pub smoking area. But for the most part, keeping a Big Gay Secret for most of your teenage life is nothing like hiding a superpower. It feels like a heavy, pounding flesh of meat stuck on your chest.

So when Jake Daniels, Blackpool's 17-year-old forward, officially came out to the public last night, I'd never felt prouder to be a gay man myself.

"For a long time I've thought I would have to hide my truth because I wanted to be, and now I am, a professional footballer," he told Sky Sports. ​"I asked myself if I should wait until I've retired to come out. […] However, I knew that would lead to a long time of lying and not being able to be myself or lead the life that I want to."

It's a monumental win for every gay boy in school pretending to fancy a girl in the same year to keep the rumours schtum, and for closeted kids thinking a career in sports is a no-go based on their sexuality.

Not since Justin Fashanu in 1990 – whose story is eloquently told in Musa Okwonga's essay for Calum Jacobs' new book A New Formation – has a professional football player come out as gay. He was a footballing legend, the first Black player to command a £1 million transfer fee when he moved from Norwich City to Nottingham Forest in 1981. Fashanu scored what is still considered one of the best ever goals at Norwich's Carrow Road stadium: a near-perfect left-foot volley which won him the BBC Goal of the Season in 1980.

At the time of his coming out, homophobia in the UK was part and parcel of daily life for gay men – and it would, ultimately, contribute to his suicide, aged 37.

During the 1980s, when Fashanu was in his 20s, still closeted and in his footballing prime, gay men were plagued by advertising images of the Grim Reaper or morbid tombstones popping up on their TV sets: the first known case of AIDS was reported in 1981 in the UK. With gay men initially being the primary group afflicted, AIDS became known as the ​"gay disease" – a common misconception worming its way onto playgrounds and street corners throughout the US and UK, and still reverberating today.

British tabloids lapped it up. The Mail called it the ​"gay virus plague", The Sun published a story with the headline ​"I'd shoot my son if he had AIDS", while the News of the World went for ​"gay plague agony" splashed across the front pages.

This was only intensified by Tory Prime Minister Margaret Thatcher's crusade against the LGBTQ+ community. In 1988, Thatcher introduced Section 28, banning any ​"promotion" of homosexuality by local authorities or schools.

All the while, Fashanu was a closeted gay man in an otherwise ​"heterosexual" sport.

Much like racism, homophobia has long plagued football, and it's difficult to imagine how Fashanu felt at the time. Reportedly, some of his teammates knew about his sexuality, but there was friction with his manager at Nottingham Forest, Brian Clough, who disapproved. His brother, John Fashanu, who played for England in 1989, later admitted to paying Justin £75,000 to keep his sexuality to himself.

Back then, with anti-gay rhetoric rife, protective laws few and far between and, for Fashanu, a global stage as one of England's top-flight footballers, the slab of meat would have felt as though it was decaying into his veins.

Coming out, as I did, as a kid from a town just outside of London, with decent mates and a supportive school, was brutal in itself. See, the thing about coming out is facing the unknown: the fear of your peers suddenly treating you differently, or outcasting you altogether. That within spilling two words – ​"I'm gay" – life might not ever be the same again. It's a weird one, like dealing with loss.

But faced with culture, career, the media and the mass, braying public – as Fashanu was – the sheer anxiety of ruining it all must have been unimaginable. He had the loss of family, a shining career, influence and thousands of fans hanging on his shoulders. Justin Fashanu was on his own.

Gay acceptance in the UK has come a long way since Thatcher's days. We've got a way to go, yes. But any gay man living through the ​'80s would scoff and tut at any of us lot complaining about our rights now, let's be honest here. That's not to say homophobia has booted its ugly head for good, though. In football? It's staring us dead in the face, still.

Homophobic chants have long been used to denigrate opposing teams, notably the ​"Chelsea rent boy" chant originating some time in the 1980s, supposedly when newspapers reported that a Chelsea-supporting hooligan was caught in bed with a male prostitute. From then on, it's become common practice for Chelsea players to hear it from the stands, like midfielder Conor Gallagher in January by opposing Millwall fans.

In 2019, the Premier League came together with LGBTQ+ charity Stonewall to introduce the Rainbow Laces campaign on-pitch. It's a major initiative involving players like Manchester City's Jack Grealish and Liverpool captain Jordan Henderson promoting inclusion in football, with Arsenal joining in by issuing a statement of support for the movement. Tackling anti-LGBTQ+ hate can't rest on our shoulders alone. It's others – well-known individuals, teams, organisations – using their platforms that make the real difference.

Now, Rainbow Laces didn't please everyone in football. Mohamed Aboutrika, considered one of Egypt's greatest players, called LGBTQ+ rights a ​"dangerous ideology that is becoming nasty". According to a poll taken by Stonewall, 20 per cent of sport fans think anti-LGBTQ+ language is ​"harmless if it's just meant as banter". In 2019, a YouGov survey found that 20 per cent of the 1010 heterosexual football fans spoken to were ​"comfortable with homophobia in the game", and 30 per cent said seeing two men kissing at a match would make them feel ​"uncomfortable".

All of which makes Jake Daniels' coming out all the more powerful. In a straight male-dominated sport like football, his courage will make a difference: he's only the second professional player in the British game to come out in 32 years.

The encouragement from the world of football has already been immense. He's received ​"amazing support" from his teammates, Gary Neville has praised the teenager's ​"incredible courage", and the FA released a statement saying: ​"Football is a game for all, with diversity at its heart, and this is a hugely positive step as we strive to build an inclusive game that we can all be proud of."

For the kids shying away from joining in on the pitch at school, the older gays uncomfortable to watch the beautiful game at their local pub, or those longing to see just a bit of representation during Match of the Day, this is the first step in what could become a triumphant future for football.


More like this