Jaren Lewison plays Never Have I Ever for the last time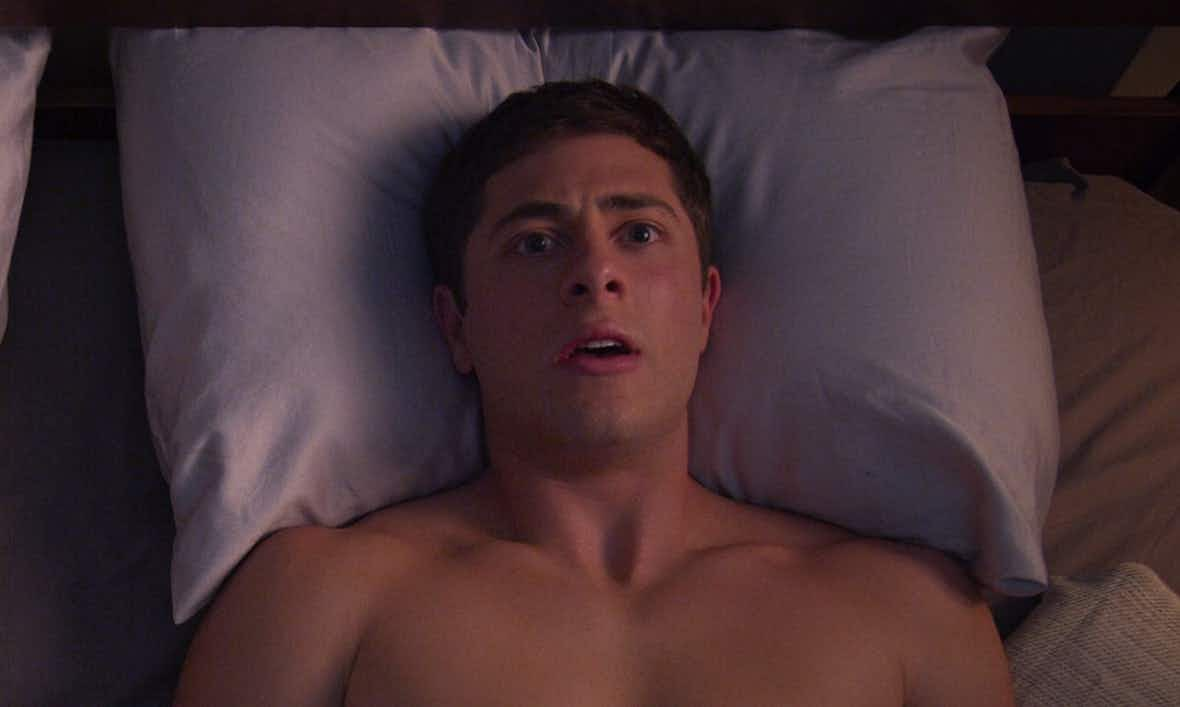 As Mindy Kaling's Netflix series comes to a close, we turn the tables and challenge the actor to a round of the show's titular drinking game (sans booze, sadly).

There's multitasking, and then there's completing a degree in psychology while filming four seasons of one of Netflix's most popular shows. But Jaren Lewison, much like his character Ben in Never Have I Ever, is clearly an overachiever – the type of person who was a sports star at secondary school, loves being busy and is always striving to do more. So much so, in fact, that when the 22-year-old finished both university and filming Never Have I Ever within a few months of each other last summer, he found himself at a bit of a loose end.
"It was a really big adjustment period, because for the first time in my life, I didn't have every single second of my day structured," says Lewison, a little bewildered at the thought as he Zooms in from his bedroom in LA. ​"I'm always running around maximising my entire day, and now I have so much free time."
Is Lewison using his newfound freedom to relax and live it up in the City of Angels? Er, kind of. ​"It's really allowed me to dive into the craft," he says, passionately. ​"Like I started reading some acting books by Stella Adler and [Sanford] Meisner. I think it's upped my game a lot. "
For the actor, the fourth and final series of Mindy Kaling's groundbreaking coming-of-age comedy about a grieving (and horny) Indian-American teen, Devi, marks the end of a formative chapter in his life. ​"At the end of season three, I was talking to Maitreyi [Ramakrishnan], who plays Devi, and she said that she felt like the show found us when we really, really needed it," he says.
"We'd both just graduated high school and weren't quite sure what we were going to do with our lives. Now, we've established ourselves a little bit and the show is sort of leaving us when it knows that we're ready to face the outside world."

The transformation he and his castmates underwent throughout the show's three-year run only became more apparent on the very last day of filming, when a blooper reel accumulating their greatest BTS blunders was played at the wrap party. ​"It went all the way back to season one when we all looked like little babies," says Lewison, smiling. ​"You got to see everybody grow up in about 10 minutes."
If you dig hard enough, you can find footage of Lewison as an actual baby online. He scored his first ever acting gig at five years old on Barney & Friends, following in the footsteps of previous cast members Selena Gomez and Demi Lovato. Turns out, that's not really a coincidence. ​"They're both from an area near me," he explains of his connection to the two Barney besties turned Disney stars turned supermassive celebrities. ​"I'm from Dallas and that's where Barney was shot, in the middle of a suburb called Carrollton – weird, I don't know why they chose that."
It's certainly not a bad trajectory to be on. Lewison's already ticked Barney off his list and starred in a hit teen TV series. What's next on his path to stardom? A debut album? ​"I can't sing," he admits. ​"When my school would put on musicals, I'd be in the ensemble and lip-sync the entire thing."
Ah, well – you can't be good at everything. For now, Lewison's embracing the unknown, honing his acting skills as he gears up for whatever comes next. ​"I've been really proud of the tapes and auditions that I've been doing recently," he says. ​"I know it's only a matter of time before the next project says yes."
But we're not letting Jaren Lewison leave Never Have I Ever behind just yet. We think it's about time he plays the show's titular drinking game for himself. Unfortunately, there was no booze involved during this round – it's 9am in LA and his voice is still groggy from waking up. The compromise? He's still got to dish the dirt.

Never have I ever been starstruck…
Absolutely. The first time that I met Mindy – oh my God, that was a big one. She was someone that I've always thought was super funny and creative, and I've always wanted to meet her. I met her on my screen test and she was so nice. It put me at ease really quickly. I had to snap into getting ready to do the scene, but for a very quick second I was like, ​"Whoa!"
Never have I ever had a plan B…
Well, I have got a degree in psychology. But it's not because I don't think that I'll be successful in this business, even though it is one of the most challenging and competitive businesses out there. It's more just in case I ever decide I want to do something else. I like to think of myself as someone who's not just an actor, so in another life, maybe in 20 or 30 years, if I decide that acting is no longer for me, clinical psychology would probably be the other route. Unless something else happens. Maybe I'll own a bakery or an ice cream shop.
Never have I ever practised my red carpet pose in front of the mirror…
Of course. You've got to! I'm not someone who grew up modelling like a lot of child actors did. I was really short as a kid, so they were like… no. But I definitely looked up some strapping, dapper young men that are in the industry right now, like Austin Butler or Timothée Chalamet, to learn how to pose because I don't know how to do that. There were definitely times where I Googled before the red carpet and then was like, ​"OK, hold your hands out in the front, do this…" I don't really wear rings, but I wear watches a lot, so you know, showing off the watch… You figure it out.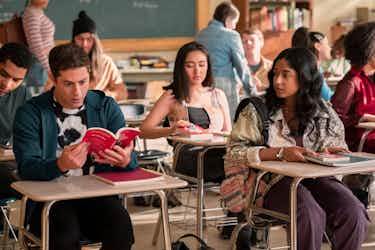 Never have I ever forgotten my lines on stage…
Not really – in fact, sort of the opposite. The only time that I've ever had a speaking role [on stage] was in high school. I didn't go to a performing arts school, but our theatre department was incredible, like nationally recognised. During my senior year, Disney came to my school and they asked our director if we would do the pilot premiere of the Shakespeare in Love TV series. I was cast as Shakespeare and I was so prepared that, during one show, a character came in five minutes late and I wound up making a tonne of stuff up. They started saying lines from the second act and I somehow manoeuvred around that and brought it back. So I've never forgotten. I think I'm way too prepared – for the most part.
Never have I ever Googled myself…
Yeah, sometimes. I try not to read reviews, but I think sometimes you just type in your name and see what's on that Wikipedia page. That was something that I did when the show first came out because my Wikipedia page was, like, super wrong – my age was wrong, I'd grown up somewhere else random. It was like a bunch of made up stuff. I have two younger cousins and, for whatever reason, someone thought that they were my brothers. So I got a text from my uncle that was like, ​"Dude, I had no idea that my kids were your brothers." I was like ​"Yeah. Hey, Dad!" That was pretty funny.


More like this