Jessie Buckley's time is now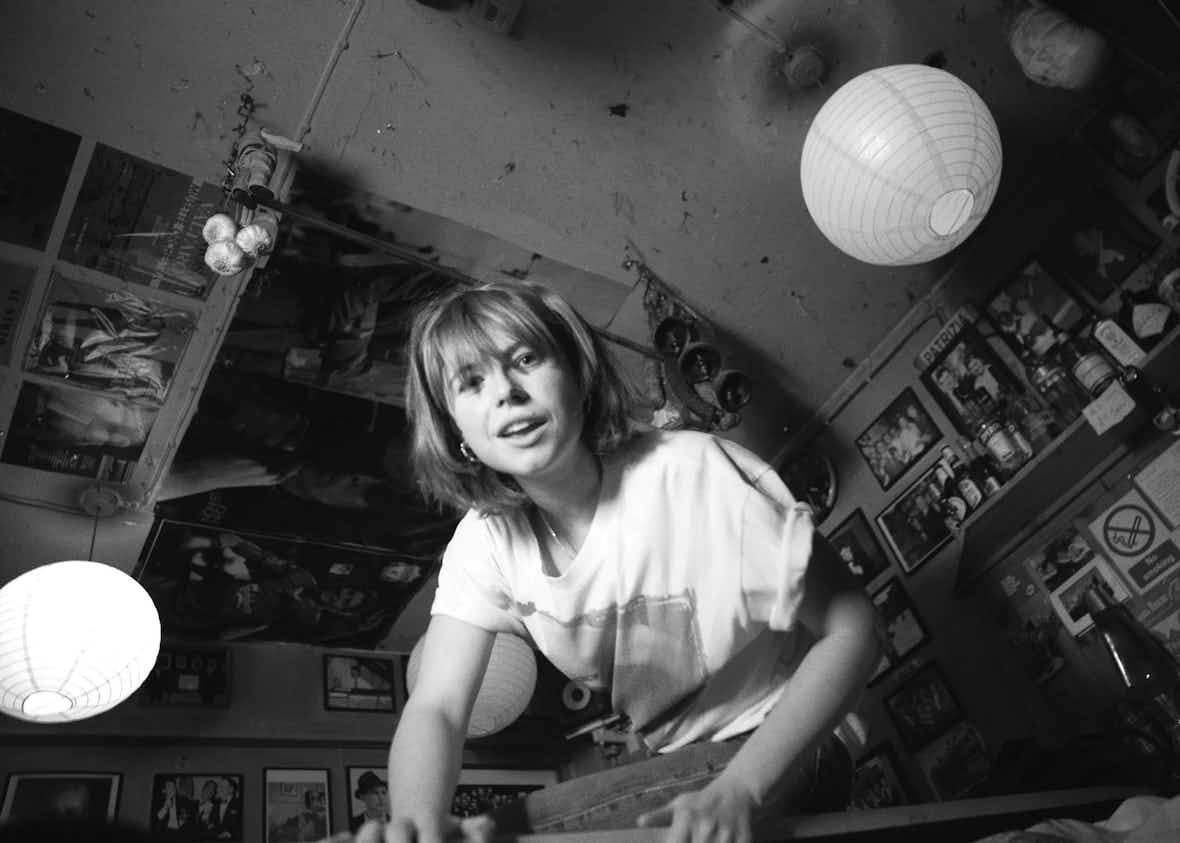 The Irish actress on her "totally fockin' exciting" forthcoming role.
"I'M NOT THE FEMALE KRIS KRISTOFFERSON…"
… but she is Judy Garland's assistant in October's Judy (Renée Zellweger is the ill-fated screen legend)… and a ​"women's libber" disrupting the 1970 Miss World in the upcoming Misbehaviour… and a firefighter's wife in Sky's imminent disaster-series Chernobyl… and a single-mum jailbird country singer in the in-cinemas-now Wild Rose.
Playing Rose-Lynn in the uplifting and reassuringly un-soppy music drama, she sings, swears, rocks, cries and acts her fake tattoos off. Find out for yourself at some of the IRL Wild Rose-inspired gigs she's playing this summer. She is, as you can imagine, the best runner-up in a musical theatre TV talent show ever (I'd Do Anything, BBC, 2008, with Andrew Lloyd Webber playing Simon Cowell), as brilliant on stage in Shakespeare, as she is in corsets on telly, as she is in punchy indie films (last year's astonishing Beast with Johnny Flynn).
She's also standing on a windy hill in upstate New York, calling in – eventually and with some difficulty – from the set of the latest directorial phantasmagoria from Oscar-winning script writer Charlie Kaufman (Being John Malkovich, Eternal Sunshine of the Spotless Mind).
I'm Thinking Of Ending Things is a Netflix adaptation of the bestselling horror thriller by Canadian author Iain Reid. She plays a woman who, while on a road trip to see his parents on their remote farm, tells her boyfriend (Jesse Plemons) that she's, well, thinking of ending things. With him, not with life. He promptly dumps her out of the car. Wilderness-based trauma follows.

She is Jessie Buckley, 29, of Killarney, County Kerry, Ireland, and in 2019 she is SMASHING IT. She is, also, as her WhatsApp has it, Messy Jessie, and this is what she has to say (breathless punctuation and strong Irish accent, actresses' own):
"I fockin' hate technology! I should have been around in old times, when pigeons were writing, or something! How are you? I'm good! Sorry for the delay – I was renting a car, and whenever I rent a car and have to drive on the other side of the road, it takes me a moment to figure out where I am. I'm upstate in New York, in Newburgh. I've just started on I'm Thinking Of Ending Things. A comedy! It's been fockin' awesome, like. It's one of those surreal situations where you're like, ​'Am I actually doing it? Is this actually happening?' Because Charlie Kaufman is a total ledge. He doesn't even belong in this world, he's that much of a ledge! And Jesse Plemons is just the loveliest. It's just totally fockin' exciting!"

"I play Jesse's characters' girlfriend in it. We've just finished the second week. What kind of accent do I have in it? Aaaaah… I'm not gonna tell you. It's its own living, breathing thing, and Charlie's got his world, so I'm gonna keep my cards close to my chest. But, yeah, my Glasgow accent in Wild Rose – you think it's great? Coming from a Scot, that's lovely to hear, thanks very much. It was probably the thing I was most terrified about because I just knew the Scots would chase me out with a pitchfork if I didn't get it right! And it's crucial to her. It's her rhythm, it's her attitude, it's Glasgow is the nub of what that means with Rose-Lynn. And if I didn't get that right, I would have done her and the city a disservice."
The role of Rose-Lynn – and the humanity in the stories of country music – has changed her life. ​"Country music was a gift. I really fell in love with the music, and fell in love with the stories in it. It's told me lots about lots of things – about acting, about the pure honesty within stories. And doing the gigs! Oh, that's mad! We played SXSW in Austin, Texas – amazing, I never thought I'd get to do that. I shirk from having my photograph taken, but to be able to sit down and jam with the musicians has just been so fun. I'd kind of, not lost my love for music, but I hadn't sung for quite a while before I done Wild Rose. So to be able to come back and reconnect with music has just been awesome."
There are some festivals planned this summer too, but don't worry. ​"I'm not gonna become a pop star or anything like that. I'll stick with the acting. I'm not gonna do both, like a female Kris Kristofferson. ​"A load of diverse projects? Oh, I love that! That's what it's all about. I don't want to ever feel like I know what I'm doing. I'm incredibly lucky to get the chance get to work with all these brilliant people, and meet all these incredibly different kinds of women who've told me a lot about the world and how to look at it. I like feeling the fear of not knowing, and I like being completely out of my depth. And I usually am! It makes me dig deeper. It makes me dig harder. And it changes how you look at the world. Every single character and every single woman that's come my way has changed me. People say: ​'Oh, how do you shake off a character like that?' And I don't want to! I like them. They've all affected me. They've all changed me.
"I love working, and I love filming, and I love being on a set, and being part of a crew. For me, this is my family, ​'cause I moved away from Ireland when I was so young. But it's important to step away and switch back. My life outside of work is very normal. It's important to click back into real life. I like cooking – I live in a flat in east London with people who aren't actors and we all sit around and have big dinners and drink wine and have fun times. I cycle around London. I like swimming in the local lido. I like walking along the canal. I like going to my caravan down by the sea in Ireland and seeing my family. I like going to the cinema. And I like drinking wine. Oh, I mentioned that…
"After I'm Thinking Of Ending Of Things, I'm doing nothing. I don't want to do anything for a while. I want to hide and submerge my head in the sea and go on holidays. And have lots of glasses of wine. That's my plan."
Wild Rose is in cinemas now, the soundtrack is available via Island Records/​your preferred streaming service, Chernobyl is on SKY/​HBO from 6th May, and Jessie is probably considering an after-work rosé

More like this