Readers, we need to talk about Kelvin Harrison Jr
He's starred alongside A$AP Rocky, been directed by Steve McQueen and will soon be joining season two of TV's most modish, explosive show, Euphoria.
Arti­cle tak­en from The Face Vol­ume 4 Issue 004. Order your copy here.
Kelvin Harrison Jr is sitting on a couch in the living room of his West Hollywood apartment. It's where he's spent the last three months waiting out the pandemic: painting, cooking and, by his own admission, going a bit stir crazy. ​"I moved out here from New York for a show, but that's obviously on pause because of coronavirus," says the 26-year-old actor over Zoom. He suddenly leans forward and whispers into the webcam: ​"Yo, don't move here."
What doesn't he like about Los Angeles?
"It's just I really like the bodegas in New York," answers Harrison diplomatically. ​"But, saying that, the people in LA are kind of weird…"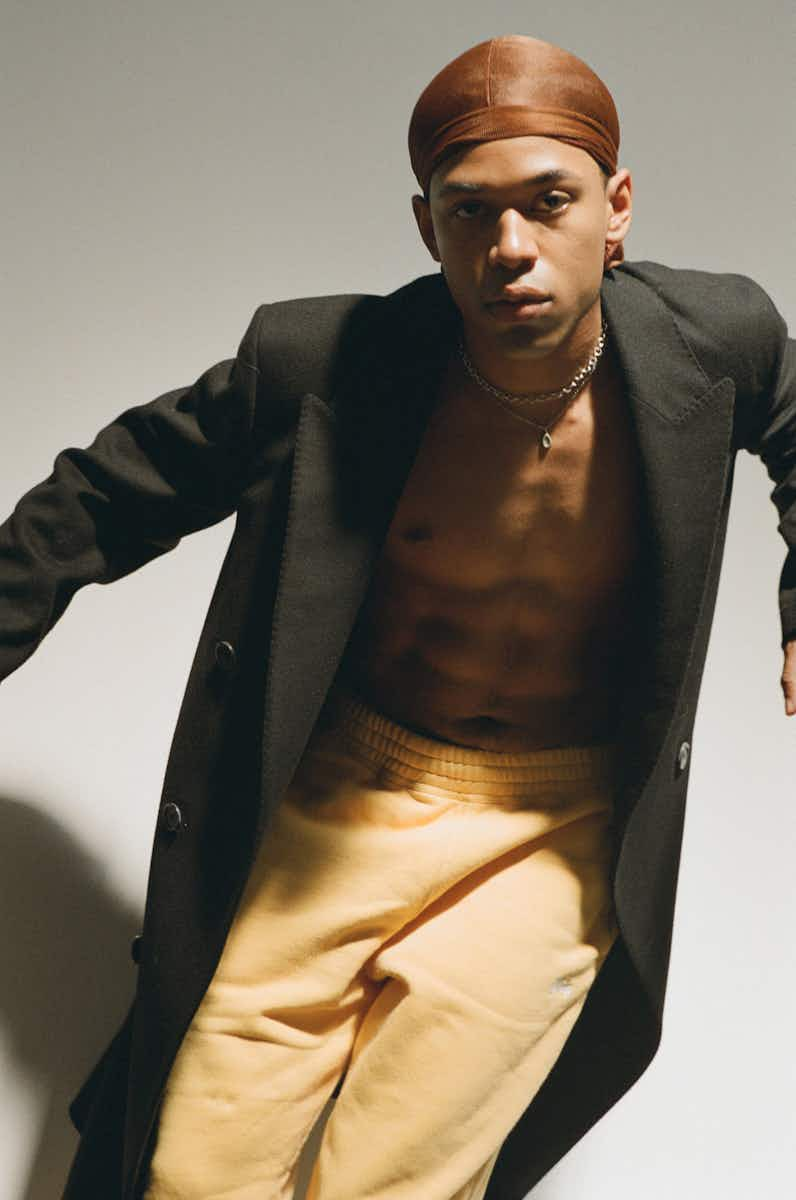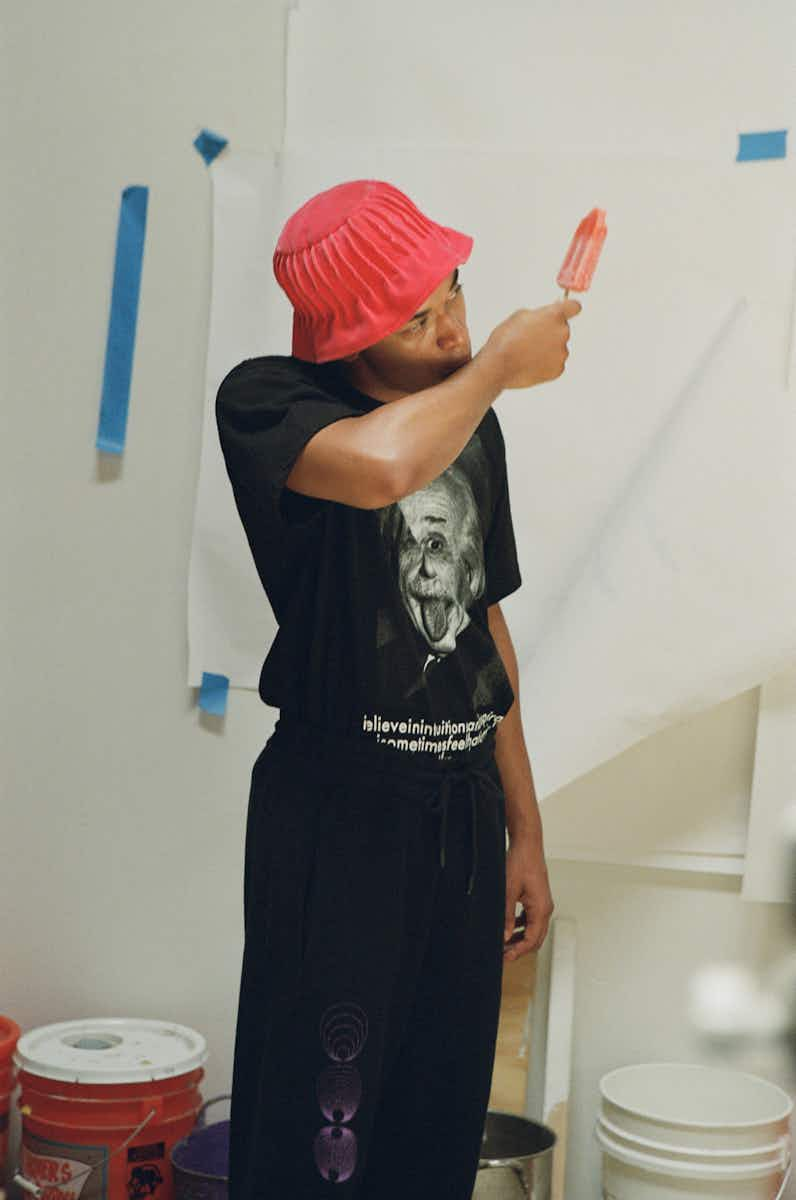 The show responsible for Harrison's reluctant up-sticks to La La Land is hit HBO drama Euphoria: the Gen‑Z controversy magnet which pill-pops through teen angst, navigating salacious sexual awakenings against a social media-fuelled backdrop. It completely flipped Zendaya's acting reputation, birthed the breakout of The Face cover star Alexa Demie (who played the show's confident, combustible Maddy Perez) and was widely praised as television's most accurate depiction of what it's like growing up in the late 2010s. It's now set to welcome Harrison to its Insta-friendly cast in an as-yet-undisclosed role.
"I'm so stoked to be on the show," says the actor. ​"I wanted to be in season one but scheduling didn't work out, which I was really gutted about." Luckily, Euphoria creator Sam Levinson was also pretty bummed, writing a new lead role for Harrison in the now delayed second season (production ground to a halt in March). ​"Sam's still figuring it out, but from the table-reads I know this character is unlike anything I've ever seen on the screen," he adds, teasingly.
The pair previously worked together on model-laden black comedy Assassination Nation in 2018, but Harrison's impressive run of films since then will also have encouraged Levinson to cast him. After debuting with minor roles in sci-fi blockbuster Ender's Game and Steve McQueen's Academy Award-winning 12 Years a Slave (both 2013), Harrison stepped out last year with a double whammy of knockout lead performances, first as an adopted teenager in poignant race drama Luce, then as tragic high school athlete Tyler in Trey Edward Shults's heart-stomping Waves. Travis Scott called the latter ​"fucking crazy as fuck" on Twitter, before telling his 8.3 million followers to hit him up for screening parties at his mansion ​"anytime".
That's two big breakouts in a year for an actor who had already proved himself an emotionally intelligent one-to-watch with roles in indie horror It Comes at Night and Netflix drama Mudbound (both 2017). ​"We all have so many pieces of ourselves that we don't always access," Harrison says when asked why directors tap him to play such unrelenting characters. ​"I guess I have a gift of going to those places and helping people understand it."
Harrison grew up in New Orleans as the child of two jazz musician parents (he plays the piano and trumpet himself). ​"The South is intimate: you know everyone and everyone knows you and your family. There's a closeness there that makes my experience feel private and special, in a way." While he concedes he had a sheltered upbringing, swerving alcohol, drugs and sex until he was a respectable 22, he credits his father for instilling a mindset that put him in good stead for such psychologically pressing roles.
"When I was growing up my dad was constantly teaching me how to survive in a world that may or may not recognise you as human," he says. ​"It forced me to have self-awareness, a fighter's instinct, a hustler's instinct, and a patience with humans in general."
It's this flair that Harrison channels in his latest movie, Monster, an adaptation of Walter Dean Myers's 1999 young adult novel of the same name, about the wrongful charging of 16-year-old Black honours student Steve Harmon for murder. The film is anchored in what for many is the quintessential young Black male experience: having your growth checked by a world that sees you by the colour of your skin before anything else.
Directed by music video director Anthony Mandler, Harrison plays the lead, acting alongside rapper A$AP Rocky, legendary MC Nas and Grammy award- winning singer Jennifer Hudson. ​"To work with Jennifer Hudson – you know, like, I voted for her on American Idol – that shit's crazy," says Harrison excitedly. ​"And having A$AP in the trailer next to me and him just knock on my door to hang out was mental."
Although Monster premiered in 2018 at the Sundance Film Festival, streaming giant Netflix recently bought the rights to the movie, with a global release planned for later this year. For Harrison, who filmed the part more than four year ago, giving Monster potential exposure to Netflix's 193 million users – especially in the midst of the Black Lives Matter protests – presents an interesting moment to pause and reflect. Add to that his role as Black Panther Party member Fred Hampton in The Trial of the Chicago 7, which drops in October, and you begin to see time and talent overlapping in a way that happens to few actors.
The film, written and directed by Oscar-winning Aaron Sorkin (The Social Network, Molly's Game), follows the prosecution of seven anti-Vietnam War protesters accused of criminal conspiracy during the riots at the 1968 Chicago Democratic National Convention. The ensuing six-month trial united countercultural groups against the brutality of President Nixon's hardline law-and-order stance. It's subject matter that, once again, mirrors 2020's most pressing issues.
"I think looking at my past from that point to now, it's still the same trajectory. It's about always looking to see growth and authenticity," Harrison says. ​"The roles I play are a form of protest. I act as a vessel to tell the stories that need to be heard and that will invoke the conversations that need to be had. We exist in a world that is very dark right now. We don't know where it's going, so we have to constantly challenge each other, ask questions, be open and be vulnerable."
As for life post-pandemic, he is understandably keen to get back to it. But only so he can hurry up and get on with his real goals: ​"I'm a romantic. I want a family. I want kids, I want a dog, I want a house. I'm trying to get married," Harrison admits. ​"This whole acting thing is cool or whatever, but I'm trying to get cuddled up."

More like this