Bring back Love Island's ​

"

I've got a text!"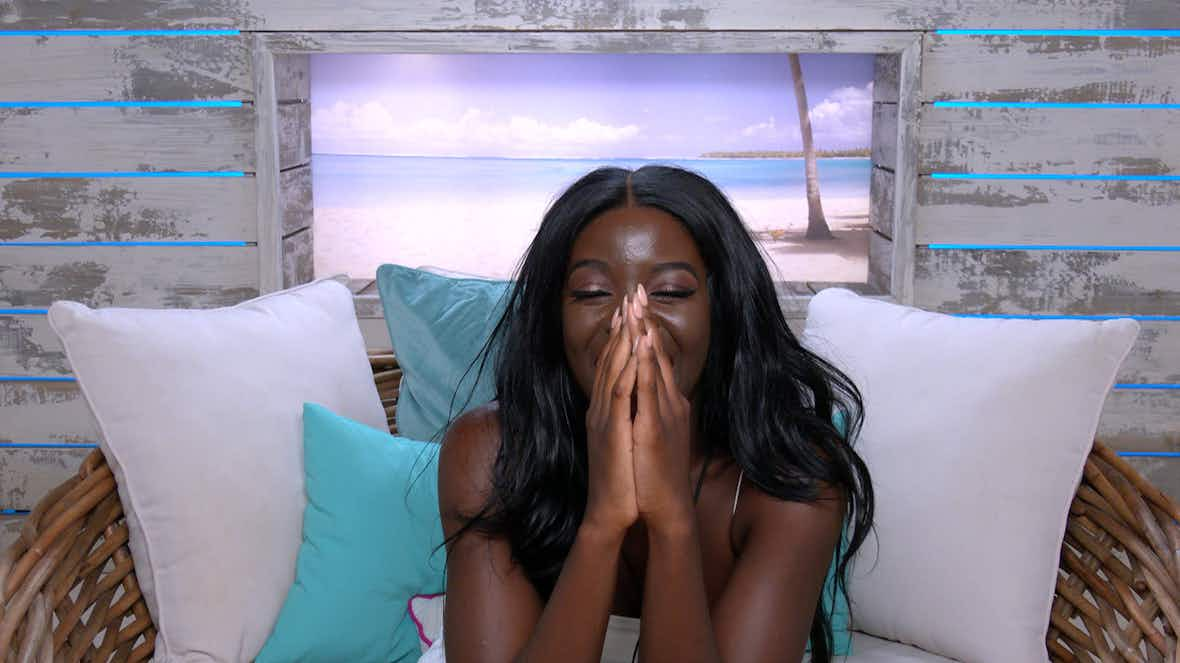 The nation's favourite show is back with a bang, but viewers had a lot to say when the iconic line was replaced by: "I've got a voice note!" Is nothing sacred these days?

Last night, the UK welcomed the return of one its most popular reality shows to the airwaves: Love Island. After a lukewarm winter edition that ended on the cusp of the pandemic last February, fans were hungry for the show's singular brand of chaos to spice up an achingly long and boring year.
So far, so good. The first episode went down pretty well judging by Twitter's ongoing commentary, as each islander settled into the villa and into their respective character tropes. (Shannon? The hot girl. Kaz? The bad bitch. Liberty? The girl's girl.) That being said, one of Love Island 2021's newly minted features didn't best please viewers, as our beloved ​"I've got a text!" was replaced by the now-infamous ​"I've got a voice note!"
Since the show's relaunch in 2015, the latter has become one of its most quotable cornerstones, synonymous with the arrival of a shocking bombshell (Casa Amor! Recoupling!) or an actual bombshell (see: Megan, Arabella, Maura). But yesterday, as Love Island​'s extended inaugural episode was nearing its end, toe-sucker Toby received a voice note letting the boys know that Chloe would be entering the villa, putting the newly-formed couples at risk of destruction.
By now, it's pretty common knowledge that voice notes are used far and wide to communicate. So why is something so ubiquitous considered to be cringe when our favourite show picks it up?

Using voice notes in the context of ranting to your friend about a one night stand is wildly different to using them in the context of, say, dating. As a medium, they were hailed as ​"postmodern micro-podcasts" by the Evening Standard in 2018 and, at best, they can help convey the subtleties of conversations in a much funnier, more effective and intimate way than texting. At worst, if you're still in the throes of the all important Talking Stage, they can press fast forward on the dreaded ick.
Nevertheless, you can gauge someone's vibe in a much more meaningful way by listening to their voice, rather than reading words hastily jotted down via text. But when popular words, phrases or moments are commandeered by shows or corporations, be it Love Island, Netflix, or McDonald's, it inherently becomes cringe.
One could argue that this a key component of the Love Island viewing experience, though. Isn't the whole point to incessantly cringe whilst watching it? We'll admit, ​"I've got a voice note!" doesn't quite have the same ring to ​"I've got a text!". But if we didn't pick apart every single detail of the show, let's be honest, it wouldn't make for quality viewing.


More like this