The rise and rise of Mikey Alfred, North Hollywood's favourite skate mogul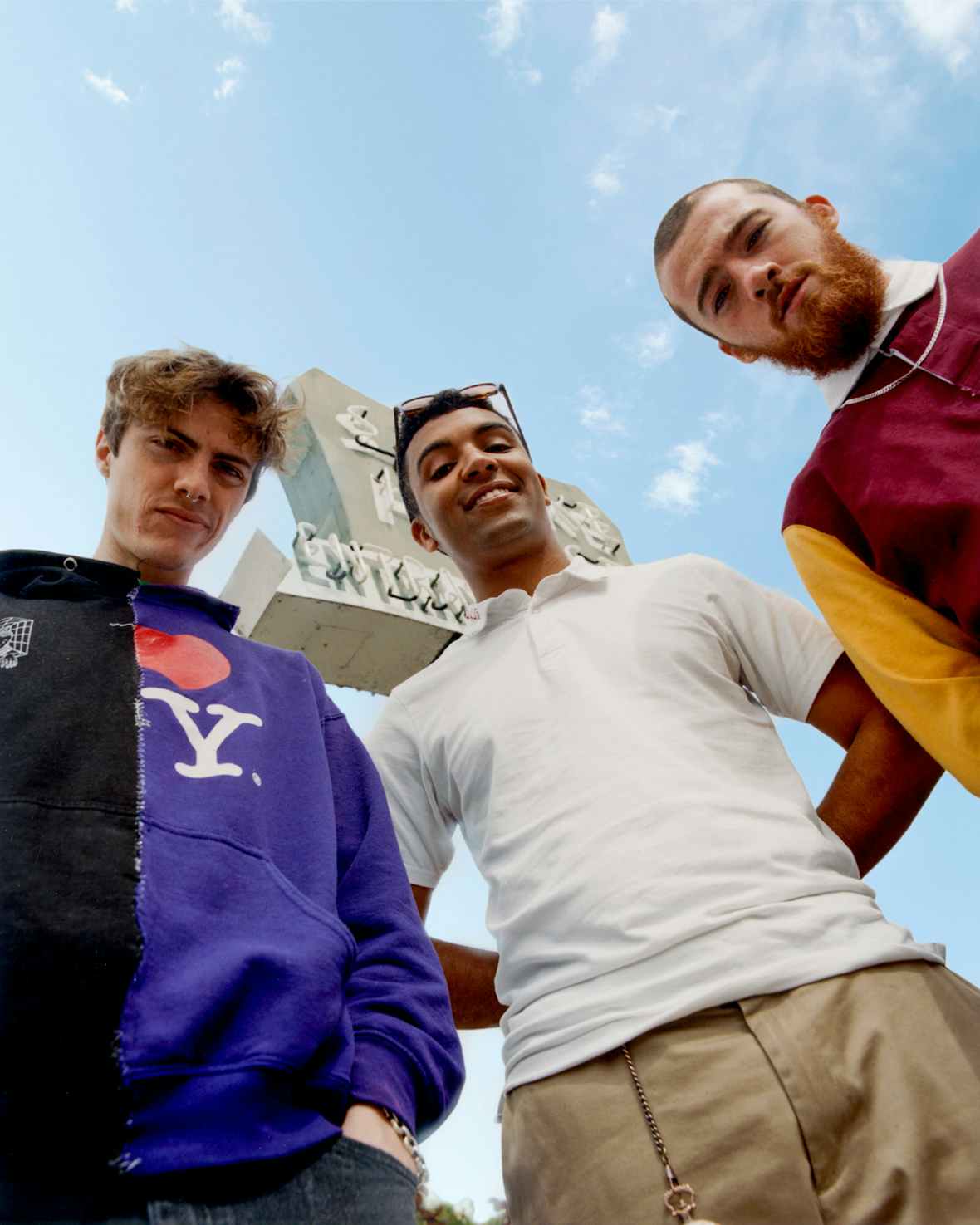 He's got his own skate brand, once toured with Tyler, The Creator and co-produced Jonah Hill's Mid90s. Today marks the release of North Hollywood, the Illegal Civilization boss' directorial debut – and the first film about being a pro skater.

It's barely 9am and Mikey Alfred is driving back to Los Angeles from a staycation in Newport, California. He's dialled into Zoom via his phone, which is precariously balanced in the cockpit of the car. He's wearing a crisp, white Illegal Civ Polo, with a grey marl sweater shrugged over his shoulders. From this angle, the view from Alfred's window looks eerily white, more akin to the grey skies of London than Cali's perpetual sunshine and blue heavens.
"It's like I'm driving in the clouds!" laughs the 26-year-old skater-turned-entrepreneur. Suddenly, the connection cuts out. Within minutes, he's pulled up to the parking lot of a casino ​"in the middle of nowhere", a much calmer spot to discuss the release of his electrifying directorial debut, North Hollywood, which he also wrote and produced.
"I feel a lot of emotions right now, a whole plethora," Alfred says, one week away from the film's arrival on Apple TV, Amazon, iTunes and Google Play. ​"Number one is feeling thankful. Most people can't even get to this part, where they have a movie that they can put out. I'm really excited to see how the world feels about it."
Though Alfred describes North Hollywood as ​"the first film about becoming a pro skater", it's just as much about friendship, self-discovery and the decisions thrust upon you after graduating high school. Its main protagonist, the lanky, awkwardly charming Michael, is played by Ryder McLaughlin of Mid90s fame (more on that later). He's pissed off, loved-up, and obsessed with following his dream of turning pro, much to his hard-headed dad's dismay. He'd rather Michael focused on college. But at what cost?
This is a familiar coming-of-age story for Alfred, not least because it's loosely based on his own. Like Michael, Alfred was born and bred in Los Angeles. He grew up in North Hollywood with his mother, an assistant to a director, and his father, who worked in construction. During weekdays, he attended Loyola High School, an all-boys catholic educational institution, before completing his senior year at Beverly Hills High. Once class was dismissed, he played water polo and skated around North Hollywood, a hobby which, incidentally, his father didn't want him to pursue.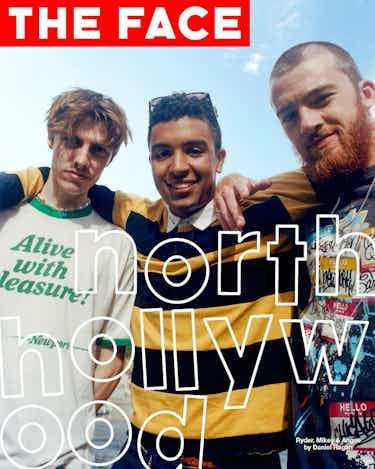 "I wouldn't say [the film] is fully autobiographical, but it does include pieces of my life and experiences," he continues in a SoCal drawl. Alfred started skating at just 10-years-old, before realising a knack for filming his friends landing tricks. Aged 12, he made the inaugural Spark of Life, a skate film that premiered in Burbank, California, three years later.
Circa 2008, Alfred started the legendary clothing brand, skate crew and community Illegal Civilization out of his bedroom. Renowned for its cursive logo, vibrant merch and DIY Angelino spirit, Illegal Civ did more than give Alfred an excuse to make skate videos. It helped him carve out a name for himself as a skilled, ambitious videographer, a mastermind of all things underground and cool, with a vision to conquer far more than the skate world.
Filming videos and handing out T‑shirts in North Hollywood's skate spots soon made Illegal Civ a lucrative enterprise for Alfred. He turned his attention to making high quality garments and giving his friends – like big time skaters Davonte Jolly and Zach Saraceno – a leg up into the scene. His various short films and mini-series Summer of ​'17 received a rapturous response, cementing Illegal Civ as the real deal. Alfred hasn't taken his foot off the pedal since.
Soon enough, Alfred's reputation earned him a gig as Tyler, The Creator​'s on tour videographer, and he later shot backstage with Frank Ocean, Kendrick Lamar and Mac Miller, to name a few. In 2016, he met Jonah Hill at the premiere of comedy-crime film War Dogs. The pair hit it off, which led to Alfred cutting his teeth as a co-producer on Hill's own directorial debut, 2018's cult coming-of-age movie Mid90s, which revolved around LA's skateboarding scene. That kind of dizzying come-up is the antithesis to North Hollywood​'s Michael, who at first hesitantly pursues his passion at the expense of his friends.
So how did filming ​"NoHo", as Alfred affectionately calls it, compare to the incredibly varied nature of his previous creative projects?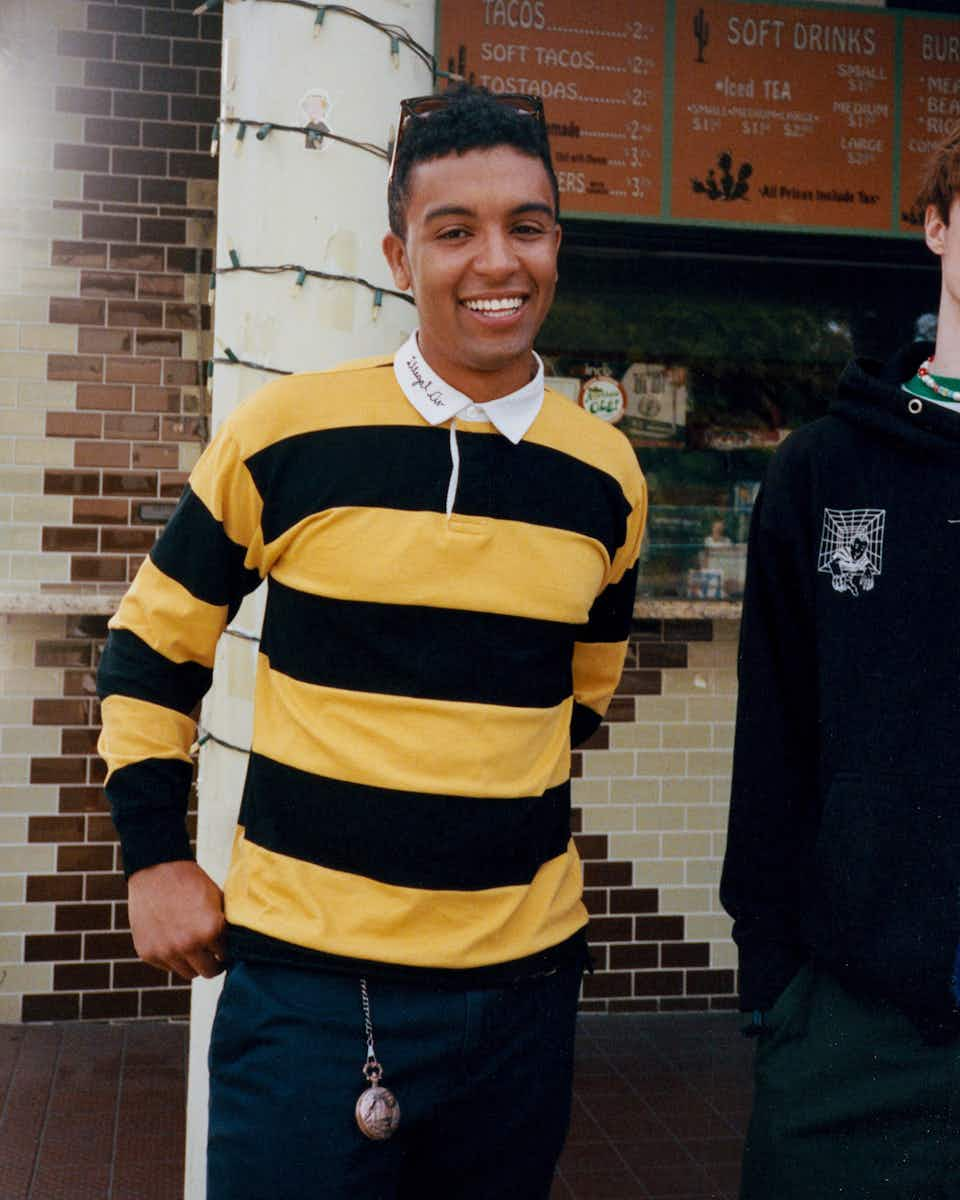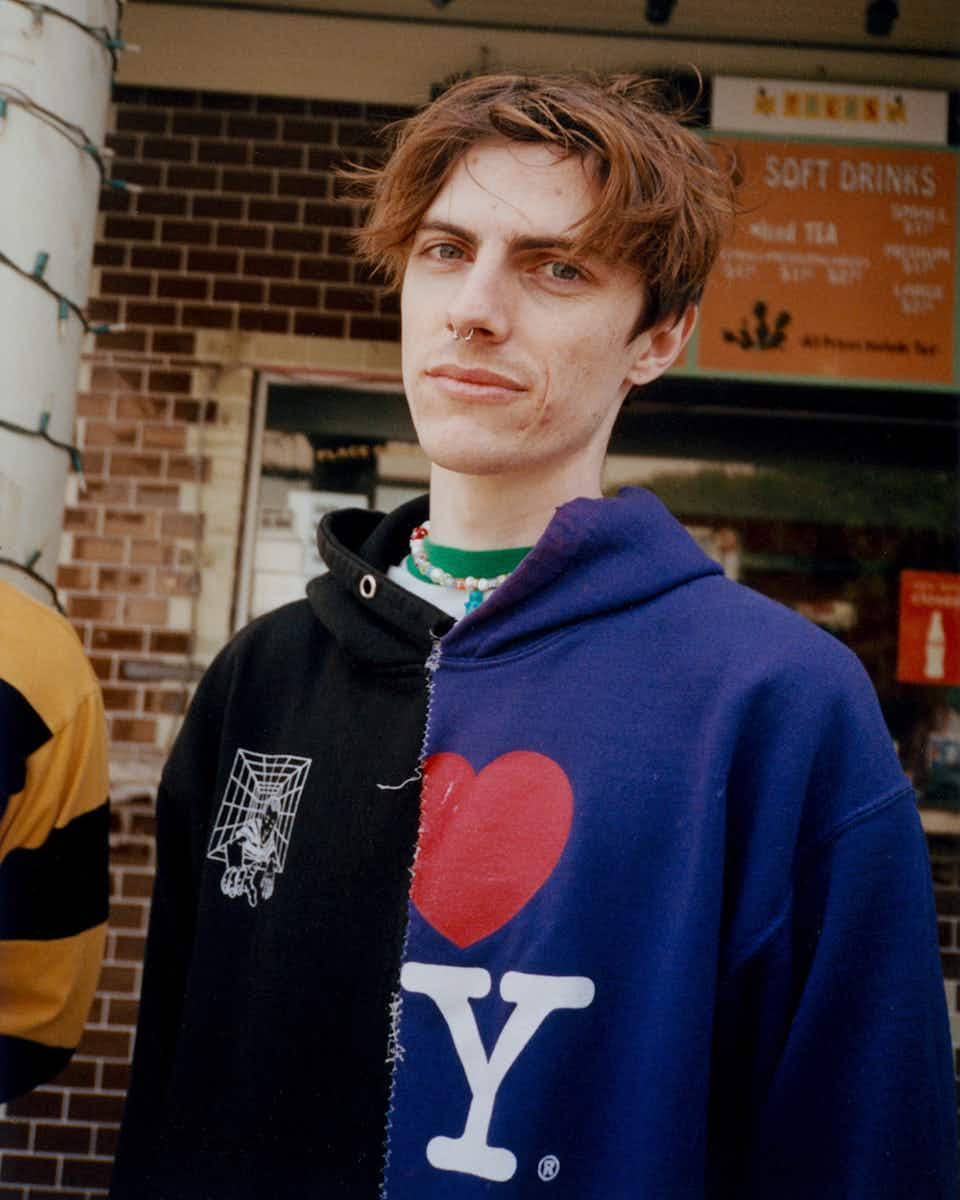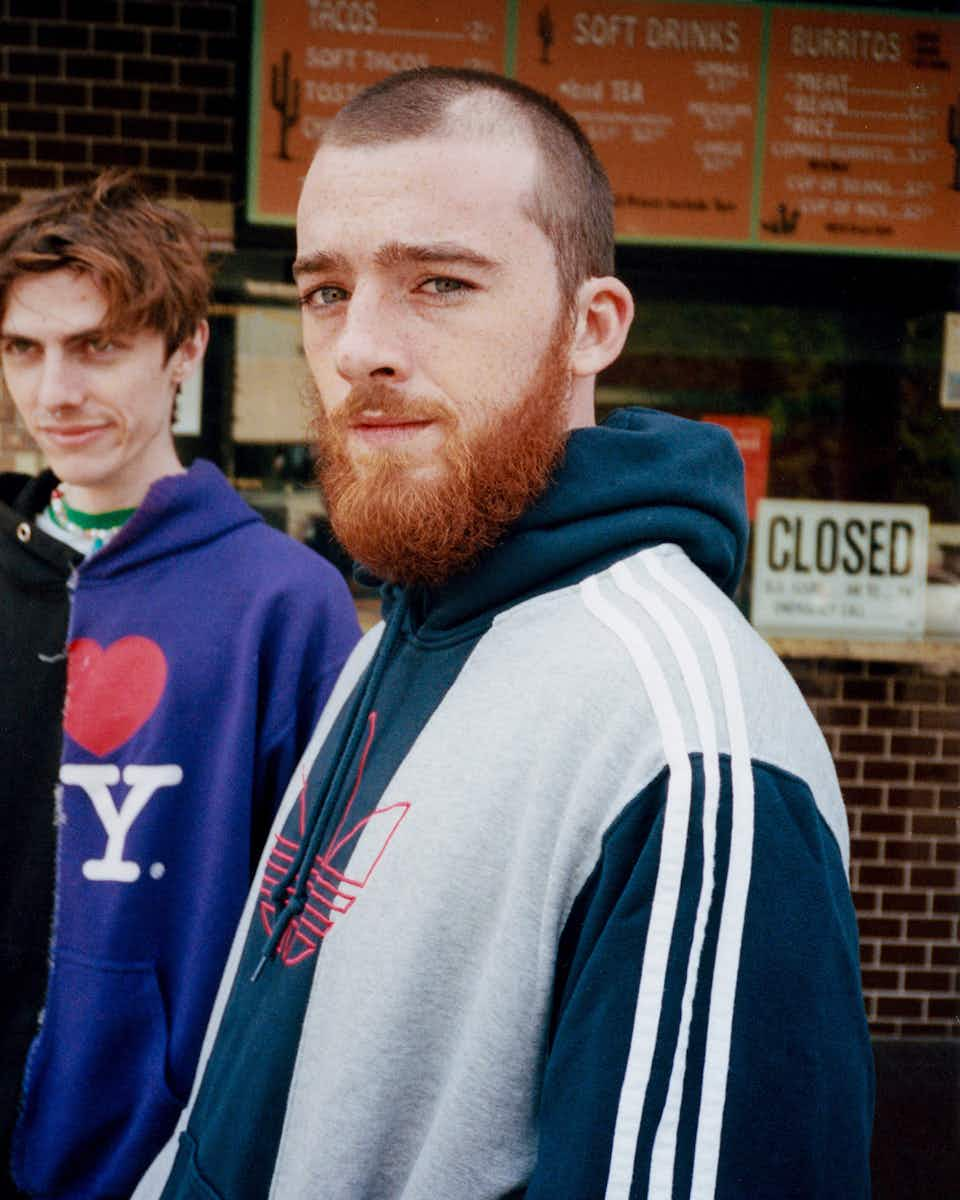 "Obviously, I was the director, so there was a lot more on my shoulders," Alfred says, reliving the intensity of the process. ​"Which is all good, that's what you sign up for. But I don't look at [any of that] as being different. It's just on a bigger scale." It's a sentiment that speaks to Alfred's own drive and determination to make a film that was authentic to Los Angeles' skate community, sure, but also to himself.
True to form, Alfred aimed high when it came to casting North Hollywood. Illegal Civ family members Aramis Hudson and Nico Hiraga (who also appeared in Olivia Wilde's Booksmart) play Michael's best friends, Jay and Adolf, while Vince Vaughn takes on the role of his no-nonsense dad. Euphoria's Angus Cloud is the local bum, Walker, and Supreme-sponsored Tyshawn Jones plays pro skater Isiah Jordan. Michael's love interest, a milkshake-sipping, clean cut LA girl named Rachel, is played by none other than iCarly's Miranda Cosgrove, once the world's highest paid child actress.
"I had actually wanted Matthew McConaughey as the dad before [NoHo] was a real thing," Alfred says. ​"When my casting director suggested Vince Vaughn, it just clicked. We reached out to him, he set up a meeting and then cancelled six times. I sent him a letter like, ​'Hey, it's all love, doesn't seem like you're interested. Maybe we'll work together on another movie.' He replied saying it wasn't that at all. He was just busy. We went to a Starbucks, and after he met Ryder, it was go time."
As for Cosgrove, she connected with Alfred through a mutual friend. ​"Obviously, I've loved her since I was a kid," he smiles, ​"then we met and vibed immediately." Not only did she like the script, but Cosgrove also put her own spin on some of the lines – a bonus for Alfred, who thrives off collaboration and encouraged all the actors to put their personal take on things.


The film also includes co-production credits from the Pharrell Williams and actor Noah Centineo, features cameos from Fucking Awesome founder Jason Dill as a priest (!) and Mid 90s star Sunny Suljic. Sounds like North Hollywood had all the key ingredients to make it a bona-fide commercial hit, right?
Think again. Sundance rejected the movie and none of the major streaming services wanted to pick it up for distribution. Undeterred, Alfred raised the $1.8 million budget for North Hollywood on his own, largely by selling tickets to limited screenings via Illegal Civ's website. In the end, Alfred couldn't even afford to credit himself as the film's script-writer – it turns out the Writers Guild of America charge a fee for that. Instead, the credit went to a mysterious Rusty Johnson.
Alfred bursts into infectious laughter when I ask him to explain this alter-ego. ​"That is not a real person! We didn't have the money to pay [the guild], so we made [a name] up," he says. ​"I wrote the script with my producer Malcolm and a writer named Will. We worked really hard on it, I really respect the craft of writing…" Alfred says, stopping mid-sentence.
"Wait, security is kicking me out," he explains, before glancing over at the unexpected guest. ​"What's up, man? I just need to pull over to use the phone!"
Alfred turns his camera onto a disgruntled, masked-up security guard who's having none of it. ​"OK, no sweat bro." No dice. Time to pull into a gas station. ​"Let's see how long it takes for me to get kicked out of here," he says, segueing back into our conversation. ​"It's funny, though, filmmaking is the most capitalist art form."
Still, that didn't stop Alfred from making a spectacular movie of North Hollywood. The film's dynamic visual energy, warm tones and rolling, mob-movie style rotating shots lend themselves to his 360 approach, drawing clear parallels between skate videos and slick cinematic references. It's Americana with an edge, fun and full of heart, overlaid with a doo-wop soundtrack to match the cast's smart uniform of preppy button-up polos, knitted cardigans and beaten up Chuck Taylors.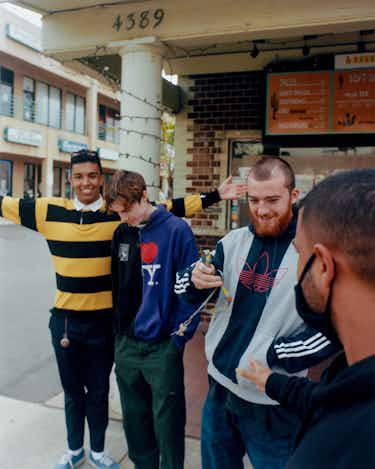 "For all of the scenes that had skating in them, the cinematographer [Ayinde Anderson] let me get behind the camera and I was able to operate," Alfred says. ​"It felt good to be able to put that skate video style onto the silver screen and to mix it with acting."
He even references old school steadicam shots and blocking, a technique which involves choreographing a scene so that all its components move in harmony with the camera. "[The actors] could just be talking in a room, but that makes it feel like a painting," he adds, citing history-making Hollywood directors Billy Wilder (Some Like it Hot) and Elia Kazan (A Streetcar Named Desire) as major inspirations.
Alfred owes his rigorous understanding of cinema to the late, great Robert Evans, an acclaimed film producer and former head of Paramount Studios, best known for his work on Rosemary's Baby and The Godfather. The pair met through Alfred's mother, who was Evans' assistant for 36 years. It's fitting, then, that North Hollywood is dedicated to him.
"He's like family to me," Alfred says, with a warm grin on his face. ​"He taught me about the purpose of cinema, about how being a director and making movies is a blessing. It's the art form that involves all art forms: music, acting, fashion, even action. It's not just skateboarding, it's art, physicality, it's everything. A lot of the locations on North Hollywood are designed by the same architect, Wayne McCallister, for example. Evans taught me that kind of thing."
In 2018, a year before his passing, Evans waxed lyrical about Alfred to the Los Angeles Times: ​"Mikey is the first kid I knew who reminded me of me. I had Darryl Zanuck [the co-founder of 20th Century Fox], he made me his protégé. And I want to be Darryl Zanuck to Mikey. Very exciting future."

Alfred might have learned much of his directing chops via Evans, but his appreciation for art also comes from his parents, who put it on him ​"the way that some parents put sports on their kids". His dad once rubbed shoulders with Jean-Michel Basquiat – there are even never-seen-before pictures of the artist in Alfred's family home. As a child, this made success feel tangible to him.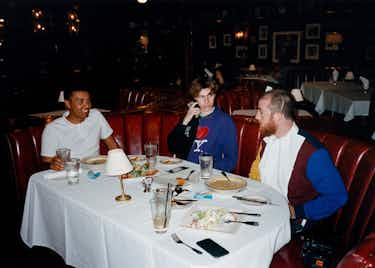 "It changed my mindset," he says. ​"Nobody was untouchable. I didn't look at anyone as though they weren't human. Everyone's real and their creativity is real. It made me feel good, like I could do it too. Art has always been a second reflex to me."

North Hollywood​'s highbrow reference points stand in contrast to the film's storyline, which ultimately revolves around a bunch of teenagers hanging out at Bob's Big Boy, a diner in Burbank, and the North Hollywood Skate Plaza. But it's Alfred's compelling visual style and old-meets-new aesthetic that elevates the low stakes drama surrounding Michael's life: his internal tug of war between pursuing a relationship with Rachel, kicking it with the pros and maintaining a good relationship with his father, all of which almost irreparably damage his childhood friendships.
The web of lies that Michael gets tangled up in with the sole purpose of impressing others hits close to home for Alfred, who now places the utmost value on honesty.

"I feel that young men, myself included, often feel that they need to lie to make themselves feel worthy," he says. ​"I wanted to show that, because a lot of people don't ever break out of it. They become elderly citizens, and they're still lying and shit, bragging when they're sitting around with their other old men friends. At the end of the movie, I wanted to make sure to show, like, just how to keep it real and how much of a weight that lifts.
"I've had to struggle with that for sure, in my own way. Hopefully a guy can see [the film] and catch himself," Alfred says, snapping his fingers in front of his face. ​"You know? I'm not gonna be like that guy Mikey from the movie."
While North Hollywood​'s Michael was busy learning valuable lessons about integrity, Mikey Alfred was grappling with the challenge of directing a movie for the first time.
"The main thing I learned during this whole thing is just to be relaxed," he says. ​"If you're able to do that, you can achieve so much and deal with so much." It seems remarkable that Alfred's demeanour is so chilled, when his entire trajectory up to this point has been breathless and adrenaline-fuelled. And if North Hollywood turns over a profit, Alfred plans on donating funds to Uganda's skateboarding community, so they can build one of the country's first ramps.
With connections made in all the right places and foundations built for a future as a serious entertainment mogul (with a heart, that is), there's no doubt Alfred is a force to be reckoned with. This is just the beginning. For now, it's time to go, before he gets another slap on the wrist for parking in the wrong spot.


More like this