TikToks at dawn: Millie B on how her Blackpool grime duel went viral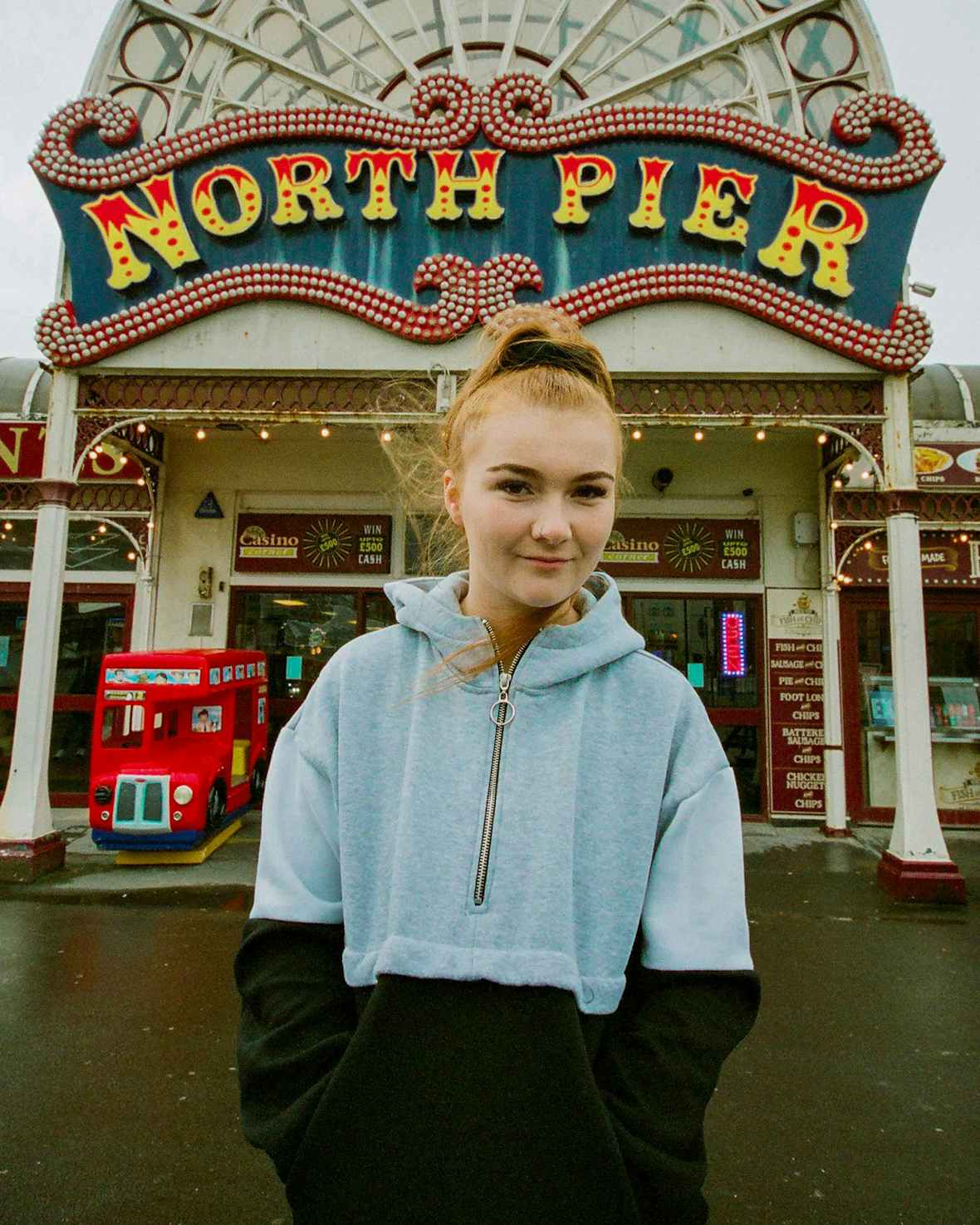 The 16-year-old's diss track to a Lancashire rival is an improbable mega-hit with TikTok's American superstars. But does Madison Beer really understand "a manky Scouse brow"?
How to describe the Blackpool grime scene of the mid-2010s to an outsider?
Rude is a good start. Scandalous, even. Cherubic 12-year-olds rapped about raping their enemies' little sisters. Their enemies responded by pointing out that they were only in Year 8, so how young did that make their sisters? Absolutely everyone rapped about each other's mums.
Wild. Really wild.
If you spent any time on YouTube in 2016, you probably saw local heroes BGMedia crew. There was aspiring MC Little T (the aforementioned pre-teen who wanted to violate your sibling) and Afghan Dan, the elder of the scene. VICE made two documentaries about BGMedia. Ed Sheeran and Stormzy knew who they were. They sold out shows. It was a rambunctious, freewheeling scene that was frequently misunderstood by po-faced adults unable to understand that these were kids having a laugh, and most of them weren't taking it seriously.
But the centre of all this chaos was a pair of teenage girls sending for each other in diss track after diss track. Sophie Aspin and Millie B: the Mary Queen of Scots and Elizabeth Tudor of the Blackpool grime scene.
It was a rivalry forged in the fires of mid-2010s YouTube, and immortalised in music videos filmed in KFC and Lidl. Then, like the puff of smoke after a cartoon mushroom cloud explosion, the Blackpool Grime scene just… died. Millie B got a job selling Avon Cosmetics and had a daughter. Afghan Dan went to jail, for burglary. We moved on. No-one was having a pop at anyone's nan anymore.
And then, in August this year, TikTok star Bella Poarch uploaded a 13-second clip of herself miming the words to Millie B's biggest track, M to the B, which the Blackpool lass dropped in December 2016.
Poarch's video has since been watched half a billion times, and spawned seven million imitators. TikTok mega-stars Madison Beer and Chase Hudson – who, between them, have 37.7 million followers, more than the population of Canada – released their own versions. Overnight, M to the B was one of the biggest tracks on TikTok.
Blackpool grime was back.
"It's a bit overwhelming," Millie B, 20, real name Millie Bracewell, tells us in her first proper interview. ​"It's like a dream. It's crazy." Equally, she has mixed feelings. ​"Obviously, it wasn't my favourite song I made. That song out of all of them was probably my least favourite. Yet it's the biggest."

M to the B is a swinging diss track, in which Bracewell took aim at Aspin, then the better known of the pair. To be clear, though, ​"it's not like Soph and I had beef in the first place. I didn't know the girl."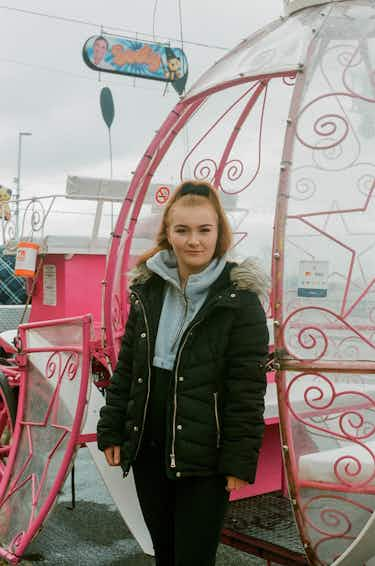 This is how the Blackpool grime scene worked back then: to make a name for yourself, an aspiring MC would send for someone, they'd respond in kind, and you'd keep escalating it until you ran out of insults to hurl at each other – or each other's mums. (When Little T came for Aspin's mum for being deaf in one diss track, it was widely condemned in the scene as a low blow.)
The more outré the diss track, the better. Which is as much as to say that the lyrics in M to the B do not cover Millie B in glory: ​"You shagged bare lads, you're a little sket … Sophie, yeah, you're a little whore."
"I sort of look back at it now and think: what was I doing?" Bracewell admits. ​"I don't know why I sent for her. I used to watch a lot of BGMedia back in the day. It was just a quick thing for me." She wrote her magnum opus in a day.
It's obvious that young mum Bracewell regrets some of the stuff she said. She was only 16 when she wrote M to the B, emulating her idol, Lady Leshurr.
"That isn't me as a person," she explains. ​"It's a front. That's sort of how you have to be in the grime world."
She and Aspin are cool now – they appeared in a music video in 2017, another diss track, Little T Reply, in which they trained their joint lyrical firepower on the BGMedia youngster. ​"Some people take offence to it," she says, ​"but I never said anything personal about Sophie's family, or anything like that. People don't understand the sending scene. It's purely about dissing that person, whether it's true or not. That's just the way of the game."
Whatever you think of the song's content, there's no denying that M to the B is an earworm. Plus, it's funny: ​"Looking at your face, what the fuck's your contour? /​Do you want me to lend you a blender?"
The trick to writing an iconic diss track, Bracewell explains, is to keep it lighthearted: ​"Make it catchy and funny, instead of being serious all the time." Her third send for Sophie – they sent for each other four times, before they both got tired of it and ran out of insults – was called Get a New Jacket.
Why?
"All the songs she made about me she had the same coat on."
Speaking to Bracewell now, it's clear that she's feeling overwhelmed by the sudden fame (a new version of the video, featuring edited-in cameos of some of her army of TikTok fans, has had 1.75 million YouTube views in two weeks at time of writing).
"People get excited to meet me and start crying. They're like: ​'OMG, I can't believe it!' I sort of shut off. I don't think about it much. I am a mum, you know what I mean? I'm just Millie. I don't want to think about that all the time."
Still, she joined TikTok a month ago, and now has 1.1 million followers. ​"There is that pressure to create content," she says, ​"although I've noticed that the less I post, the more engagement I have."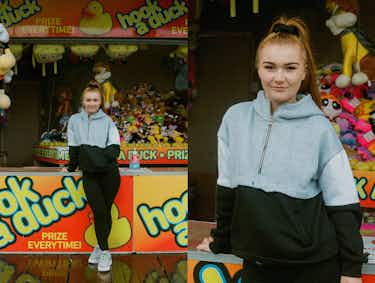 Before Poarch pulled her tune from obscurity into the TikTok stratosphere, Millie ​"Millie B" Bracewell was leading an ordinary life in Blackpool with her young daughter.
"Everyone knows me around here," she sighs, sounding bored. ​"If I go to Manchester or London, it's a big thing, they aren't used to seeing me around. I went to London a couple of weeks back and there were loads of school kids screaming and taking pictures and stuff."
One upside: Sony just licensed her track, meaning that Bracewell will start receiving royalties from all those plays, views, streams and TikToks.
All things considered, it's clear the artist formerly known as Millie B doesn't really know what to make of her sudden, contextless internet fame. But she is certain of one thing: she has no desire to return to writing diss tracks.
"I wouldn't want to go back to sending," she shrugs. Because, really, Millie B was only ever having a laugh.

More like this