My Media Diet: Limbo's Vikash Bhai
The star of the stirring, Scotland-set refugee drama reveals what he's been reading, watching, memeing and more.
Farhad is a refugee from Afghanistan, who chose the UK as his new home thanks to his love of Freddie Mercury. But the largely deserted Scottish island he now finds himself on is a far cry from Mercury's world. It's bleak and bitterly cold, the setting of Ben Sharrock's latest film Limbo, in which Farhad is just one of many refugees waiting, indefinitely, to start their new lives while their asylum claims are processed.

Played by Vikash Bhai, who you might recognise from Netflix's lockdown hit The Stranger or Amazon Prime's Hanna, Farhad is as optimistic as anyone could be in his situation. As he says in the film's trailer, ​"I cannot be myself back home." An isolated Scottish island, then, is as good as it gets. A strikingly poignant film packed full of heart, Limbo is a story about asylum seekers that reminds us that these are people with hopes, dreams and identities beyond the villainising anti-immigration narratives forced by tabloid media.
Ahead of Limbo​'s release today, THE FACE caught up with Bhai to find out what he gets up to when he's off the clock.
The last article I found myself thinking about was…

A podcast, if that counts. An atheist in the realm of myth is Stephen Fry talking to Jordan B Peterson, an hour and a half long ​"article" spanning many topics I have a keen interest in, such as atheism, religion, rationalism.

The last new artist I discovered on Spotify was…

An artist called Blackway and his song called Heavyweight. It came up on a workout playlist and I found myself listening to it on repeat. I now use it to start every workout.

This one is my favourite by a long shot. Everything these guys create is incredibly slick, clever and pure class! Maybe one day I'll give it a go myself. It's no wonder they've amassed about two million followers each.
The last TikTok I sent to a friend was…
Ah man, I missed the whole TikTok train altogether. I've just about managed to keep up with Twitter and Insta. I'm not sure that I've got the capacity to consume any more media than I already am.
The last series I binged (or watched a lot of) was…

Oof! There's a lot here… I couldn't possibly pick just one, but to list a few: The Kominsky Method, Parks and Recreation, Brooklyn Nine-Nine, Rick and Morty, Fear the Walking Dead, Ozark, Star Trek: Discovery, Lost in Space, Barry and Succession.
But the ​"one" I watch the most and have been watching for at least seven years now is a show called Critical Role, where a bunch of nerdy-ass voice actors play Dungeons and Dragons, which is streamed weekly on Twitch. It's storytelling, adventure and improv with some dice rolling, all played out by some of the best in voice acting.
The last book I stayed awake reading was…

The Hatmakers by Tamzin Merchant. Set in 18th century London, we follow the journey of Cordelia Hatmaker, an 11-year-old girl who is trying to find her father, Prospero. This leads to all sorts of adventures, full of magic and intrigue – a must read for all! I'm now reading The Lies of Locke Lamora by Scott Lynch. So far so good!
The last new word I learned was…
Salinity, which refers to the amount of dissolved salts that are present in water. I probably knew this from school, but had since forgotten. During the SmarterEveryDay (a channel I follow on Youtube) Submarine series, the term came up a few times. Knowing how much salt is in the water around you at any time, it turns out, can be the difference between life and death on a sub!

The last meme that made me laugh aloud was…
Hands down the Mona Lisa four stages of quarantine.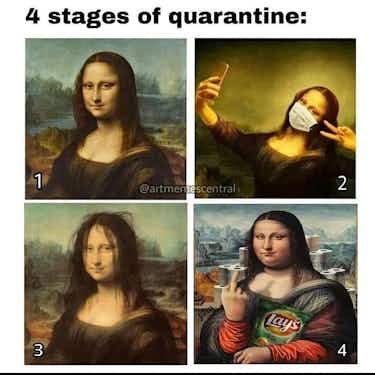 More like this