Deep Sniff: poppers and the pursuit of pulsating pleasure
Adam Zmith's new book explores the history of poppers, from its medicinal properties to its hedonistic centre stage in queer culture. Aaaaand inhale...

After the pursuit of pleasure ground to a halt over the past 18 months, it feels all the more pertinent that British author Adam Zmith​'s non-fiction debut, Deep Sniff, should arrive in the current moment.
Written over lockdown, the book is a rich deep-dive into the history of amyl nitrate AKA poppers. Once a medication used by Victorian doctors to relieve the painful symptoms of angina, these days it's known as the ubiquitous hole-opener sniffed in queer parties and bedrooms alike, bought from sex shops, market stalls and, on occasion, the odd corner shop. But what emerges on the pages of Deep Sniff is more than a dry historical survey. It's a riotous, unflinching defence of hedonism.
Queer history aficionados might know Zmith from his work on The Log Books, a podcast that explores tales of queer London from the pages of the LGBT+ Switchboard​'s call records. The stories are fascinating in themselves, but what makes the show so compelling is its focus on storytelling, an ethos Zmith has brought into Deep Sniff.
"I initially got into investigating the history of poppers just to find out some historical facts, like where they came from and what they were," he says. ​"But I'm also interested in using stories to tell those histories, which open up other possibilities in the mind of whoever's reading or listening to or watching my work."
This is no straightforward chronology, though – something Zmith is keen to point out in both Deep Sniff and The Log Books. ​"But I'd hope that you'd be half won over by the fact of people sharing their memories and their stories," Zmith adds.

The second chapter opens with amyl nitrate's original story, namely recounting its medicinal properties. In 1867, after some years of experimentation with the whiffy liquid, physician Thomas Lauder Brunton published a paper outlining the use of ​"nitrate of amyl" to relieve the effects of angina. ​"There was nothing gay about amyl nitrate in 1867," Zmith explains, before drawing the story back to the history of queer liberation. ​"Brunton's paper came out in 1867, the same year as the most important moment in the history of sexual freedom." He's talking about the fearless lawyer Karl Heinrich Ulrichs, who that year stood up to Prussia's ban on sodomy.
"What links these remarkable, triple-named men is that they both saw the potential for our bodies to be eased from suffering and to live fuller lives," Zmith says. "[They] were innovators who have especially helped queer souls to enjoy their bodies, individually and with others." The connecting tissues between poppers and queer lives, desires and bodies, become more obvious as we come closer to the present.
Little here is unmoving. The text wafts around, enveloping different focal points. Greater events are sometimes expounded on, like in the eighth chapter, which recalls two infamous mid-'80s raids on The Royal Vauxhall Tavern, South London's oldest surviving gay venue. While the history of poppers is the book's throughline, the ampules and bottles themselves aren't always in the foreground. ​"That's always more interesting to me than writing a pure history," Zmith says. ​"I think that the subject matter lends itself to that anyway: poppers is this vapour that moves and shifts and dances around our bodies."

He also points out that queer subcultures are unconventional, a sort of ​"tradition", but Zmith is unsure of whether that's even the right word to describe them. ​"The way we define things is often in opposition to how things have been defined or written about previously. So that became the project, to think about these things in a broader way. I like fiction, I like performance and I like music. Those were all suffusing the ideas in the book."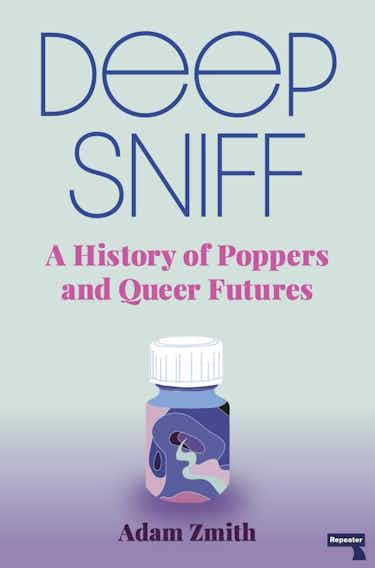 What the history of poppers does allow Zmith is to explore queer labels and categories, including his own, and asses just how helpful, or sometimes inadvertently reductive, they might be. ​"I ended up writing a bit about this idea of identity, because I think we're all obsessed with identity nowadays. It's really contested ground, where the labels and categories are quite heavily policed," he says. ​"I didn't get into the policing of labels, but I did get into the utility of them. They seem on the one hand to be very useful to us in gaining respect and rights, but on the other, inhumane in forcing us into certain categories."

What lingers with you from Deep Sniff, aside from the historical research, is this manifesto for pleasure that filters through the text. Quite possibly, this is inevitable. Can one write a queer history of poppers and not end up backing pleasure to the hilt? And just how much will the pandemic have impacted pleasure-seeking?
"I really do think that Covid and the lockdowns we've had are affecting how we think about and approach sex," he says. ​"It has made us all more reluctant to connect to each other. It's given us all anxiety, which in some cases is really well placed and, in other cases, spills over into paranoia."
Last year saw a moral panic around intimacy, especially around sex, Zmith reckons. ​"I think that's going to stick with us and it's always going to be there". It serves to suggest, then, that Deep Sniff is something of a contemporary polemic. Perhaps it can remind us all that pleasure, the often demonised pursuit, is worth it.


More like this