Poppers: reviewed from best to worst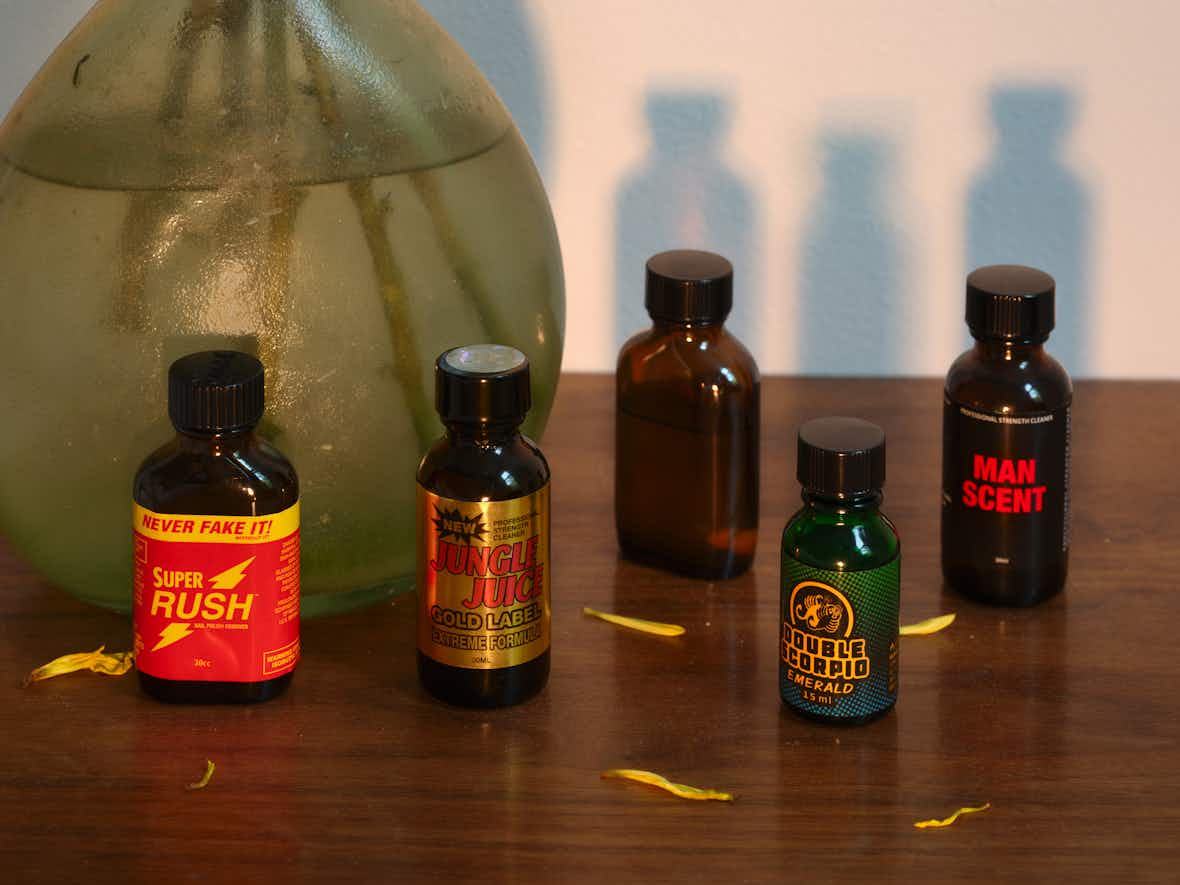 From the dancefloor to a dick date, poppers give you an extra lift that lasts all of 10 seconds. But which different brands should you avoid? And which should you take back to the bedroom? We get to the bottom of it.
From how to huff to the Coke method, read your go-to guide for boshing the little bottles here.

Recently, as I waited to pay for a bacon-egg-and-cheese and an overpriced juice at my corner Bodega, a couple approached the counter with excitement. The girl giggled uneasily, leaned into the counter, and whispered: ​"Do you have… poppers?".
"You mean nail polish remover!" retorted the cashier, opening a cabinet to reveal dozen differently packaged small brown bottles. ​"Which one do you want?".
Even as a gay man, I could not assist her in the fraught task of selecting the best alkyl nitrite vintage. Choosing which brand to buy can be almost as hard as getting the cap screwed back on while dancing or having sex. The label tells us: ​"use this product only for its intended use", yet the variety of false ​"intended uses" advertised on poppers bottles is in turn far surpassed by the sheer number of brands to choose from.

As a chemical class, alkyl nitrites (AKA poppers) are vasodilators. Inhale, and they smooth muscles surrounding the body's blood vessels, relaxing minds and sphincters. First used in the 19th century to treat chest pain, they are now a common accoutrement of a wild night at the club, or in the bedroom. A fairly innocuous ​"drug", poppers remain mired in a semi-legal grey zone, with new recipes devised to evade creeping regulation. There are even ​"European" – isopropyl nitrite – and ​"American" – isobutyl nitrite – versions (though for once, arguably, the American product is better).
To hear from a true expert, I spoke with Javier who works at a sex shop in Brooklyn. ​"All the types of poppers are basically the same bullshit," he tells me. Popular labels – like Jungle Juice, Man Scent, and Amsterdam – are even produced in the same factory. Like much in late capitalism, branding is nearly everything. Buy ​"Man Scent" to unleash your piggy fantasies, or maybe stick with classic ​"Rush" to accentuate the peak of your dance-floor abandon.
So how should I choose which poppers to buy? There are a thousand and one labels to ​"get you feeling like the Holland tunnel". ​"It's like fucking the same dude," Javier tells me, ​"people have different opinions". Here, I give you mine:
That Real Leather Shop Stuff
Rating: 5
Sold in intriguing unmarked bottles (pictured above) from a certain New York sex shop, this batch offers vasodilator-seekers – the OG experience. Brewed with the original Amyl Nitrite formula (shh!), they offer a minute-long glimpse of what early disco dancefloors must have felt and smelt like. Think the heat of a fireball shot dropping down your chest, except it keeps going until you sink deeper into your hips and knees, happily melting into the dancefloor.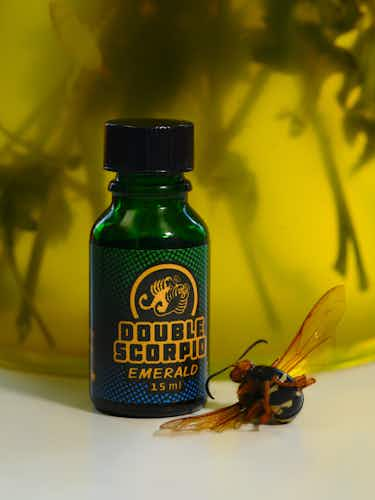 Rating: 4
Produced by a bespoke poppers manufacturer in Austin, Texas, Double Scorpio are poppers for the millennial wellness set. Pure isobutyl nitrite, the unique line of farm-to-disco poppers are actually pleasant to huff, coming in cute coloured bottles with a range of scents like eucalyptus, peppermint, amber, and honey. While ​"trendy" (if you can call a poppers brand that), my friend warns that ​"you can't take them while out dancing – they're too heavy and slow and just make me want to lie in bed and get fucked". Ditto. Enjoy them in tender moments, with tender lovers.
Read this next: Everything you need to know about poppers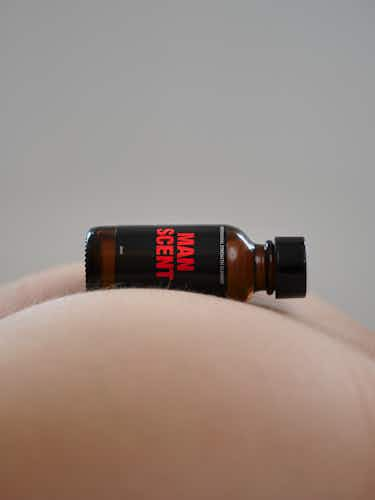 Rating: 3
Despite its black label and macho target-market, Man Scent induces blissful dizziness rather than a pang of heat. Elation washes over you slowly for the extended romp. The so-so formula originates from the same manufacturer as Jungle Juice, only this time chasing the darkroom crowd.
Read this next: PrEP and the gay sex revolution How the HIV-prevention drug is taking the fear out of fucking and freeing up future generations.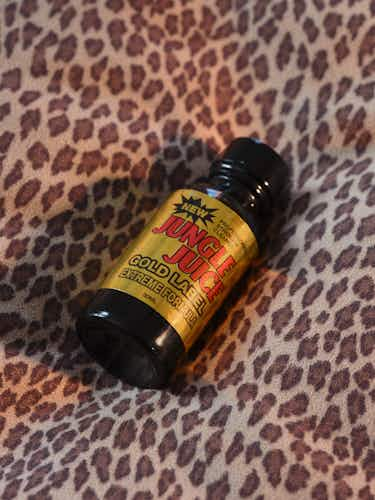 Rating: 3
For once, it's good to heed the label and ​"always test in an inconspicuous area first" so to avoid poppers whiplash. This label hits you fiery on the insides before abandoning you on the sober beach, no heat, wanting more. Despite the ​"NEW!" plastered across its label, the graphic design would suggest otherwise for this altogether mediocre high based on a derivative formula. Best left on your hookup's nightstand.
Read this next: Trip Epiphanies: help, mushrooms made me bisexual! How one bad trip sent a gay man into a sexual kerfuffle.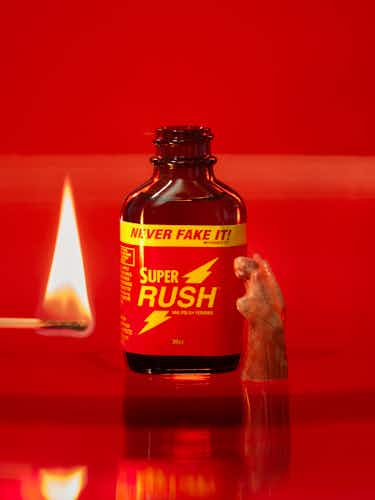 Rating: 2
The Budweiser of poppers. Found at your corner store and in a 19-year-old's purse. As the name indicates, the cheap chemical hits you fast and heady like a bump of cocaine. Little duration, and little relaxation.
Read this next: LSD, ketamine, psilocybin, CBD: from recreation to self-medication We explore how a generation is turning to conscious drug taking.

More like this