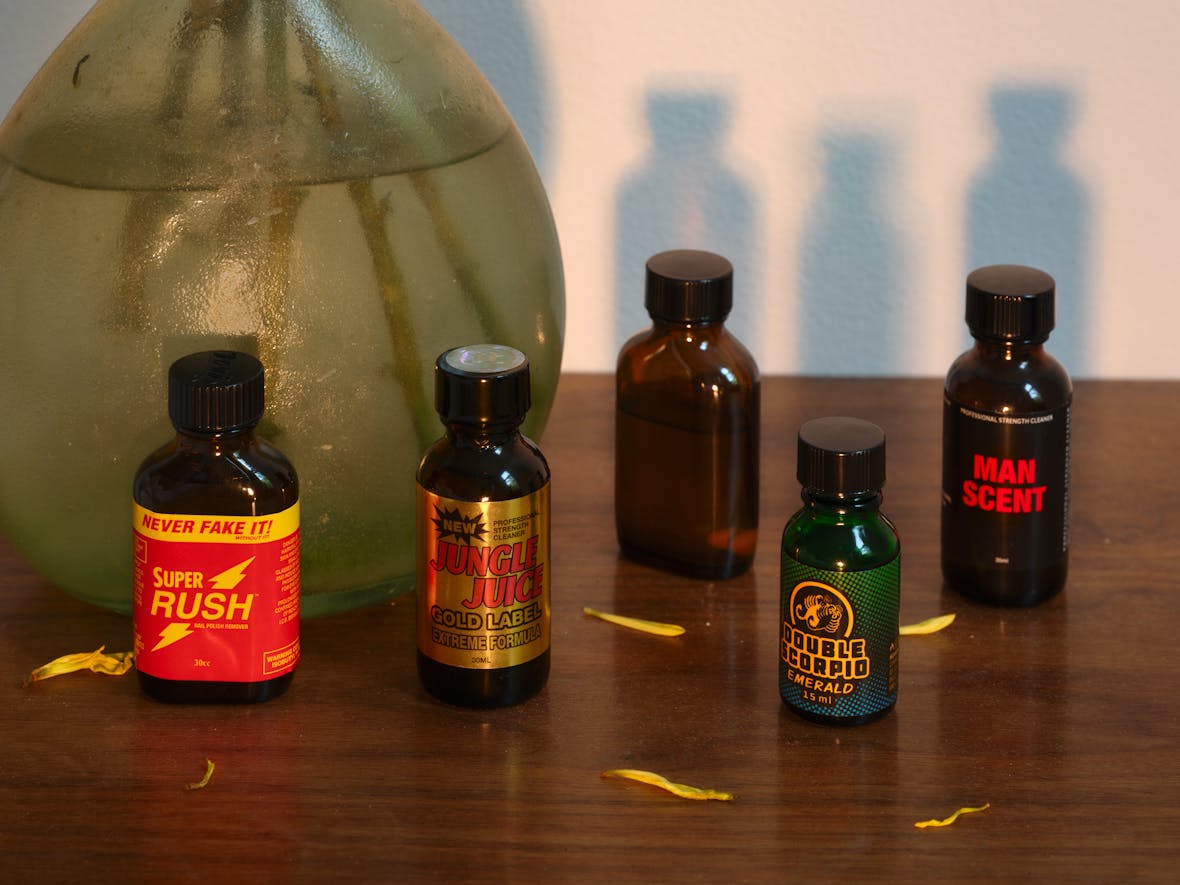 Pop­pers: reviewed from best to worst
Recent­ly, as I wait­ed to pay for a bacon-egg-and-cheese and an over­priced juice at my cor­ner Bode­ga, a cou­ple approached the counter with excite­ment. The girl gig­gled uneasi­ly, leaned into the counter, and whis­pered: ​"Do you have… pop­pers?".
"You mean nail pol­ish remover!" retort­ed the cashier, open­ing a cab­i­net to reveal dozen dif­fer­ent­ly pack­aged small brown bot­tles. ​"Which one do you want?".
Even as a gay man, I could not assist her in the fraught task of select­ing the best alkyl nitrite vin­tage. Choos­ing which brand to buy can be almost as hard as get­ting the cap screwed back on while danc­ing or hav­ing sex. The label tells us: ​"use this prod­uct only for its intend­ed use", yet the vari­ety of false ​"intend­ed uses" adver­tised on pop­pers bot­tles is in turn far sur­passed by the sheer num­ber of brands to choose from.
As a chem­i­cal class, alkyl nitrites (AKA pop­pers) are vasodila­tors. Inhale, and they smooth mus­cles sur­round­ing the body's blood ves­sels, relax­ing minds and sphinc­ters. First used in the 19th cen­tu­ry to treat chest pain, they are now a com­mon accou­trement of a wild night at the club, or in the bed­room. A fair­ly innocu­ous ​"drug", pop­pers remain mired in a semi-legal grey zone, with new recipes devised to evade creep­ing reg­u­la­tion. There are even ​"Euro­pean" – iso­propyl nitrite – and ​"Amer­i­can" – isobutyl nitrite – ver­sions (though for once, arguably, the Amer­i­can prod­uct is better).
To hear from a true expert, I spoke with Javier who works at a sex shop in Brook­lyn. ​"All the types of pop­pers are basi­cal­ly the same bull­shit," he tells me. Pop­u­lar labels – like Jun­gle Juice, Man Scent, and Ams­ter­dam – are even pro­duced in the same fac­to­ry. Like much in late cap­i­tal­ism, brand­ing is near­ly every­thing. Buy ​"Man Scent" to unleash your pig­gy fan­tasies, or maybe stick with clas­sic ​"Rush" to accen­tu­ate the peak of your dance-floor abandon.
So how should I choose which pop­pers to buy? There are a thou­sand and one labels to ​"get you feel­ing like the Hol­land tun­nel". ​"It's like fuck­ing the same dude," Javier tells me, ​"peo­ple have dif­fer­ent opin­ions". Here, I give you mine:
That Real Leather Shop Stuff
Rat­ing: 5
Sold in intrigu­ing unmarked bot­tles (pic­tured above) from a cer­tain New York sex shop, this batch offers vasodila­tor-seek­ers – the OG expe­ri­ence. Brewed with the orig­i­nal Amyl Nitrite for­mu­la (shh!), they offer a minute-long glimpse of what ear­ly dis­co dance­floors must have felt and smelt like. Think the heat of a fire­ball shot drop­ping down your chest, except it keeps going until you sink deep­er into your hips and knees, hap­pi­ly melt­ing into the dancefloor.

Rat­ing: 4
Pro­duced by a bespoke pop­pers man­u­fac­tur­er in Austin, Texas, Dou­ble Scor­pio are pop­pers for the mil­len­ni­al well­ness set. Pure isobutyl nitrite, the unique line of farm-to-dis­co pop­pers are actu­al­ly pleas­ant to huff, com­ing in cute coloured bot­tles with a range of scents like euca­lyp­tus, pep­per­mint, amber, and hon­ey. While ​"trendy" (if you can call a pop­pers brand that), my friend warns that ​"you can't take them while out danc­ing – they're too heavy and slow and just make me want to lie in bed and get fucked". Dit­to. Enjoy them in ten­der moments, with ten­der lovers.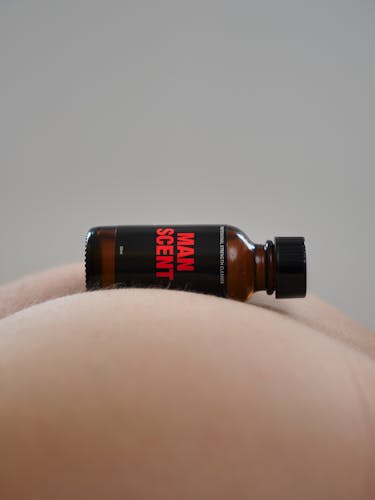 Rat­ing: 3
Despite its black label and macho tar­get-mar­ket, Man Scent induces bliss­ful dizzi­ness rather than a pang of heat. Ela­tion wash­es over you slow­ly for the extend­ed romp. The so-so for­mu­la orig­i­nates from the same man­u­fac­tur­er as Jun­gle Juice, only this time chas­ing the dark­room crowd.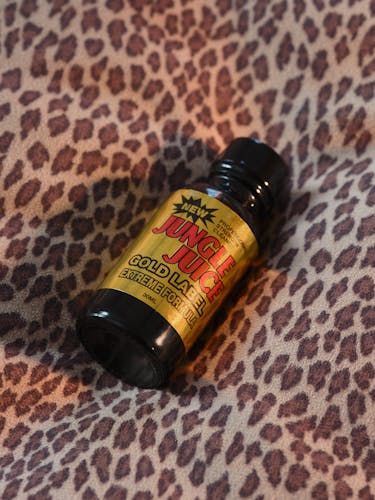 Rat­ing: 3
For once, it's good to heed the label and ​"always test in an incon­spic­u­ous area first" so to avoid pop­pers whiplash. This label hits you fiery on the insides before aban­don­ing you on the sober beach, no heat, want­i­ng more. Despite the ​"NEW!" plas­tered across its label, the graph­ic design would sug­gest oth­er­wise for this alto­geth­er mediocre high based on a deriv­a­tive for­mu­la. Best left on your hookup's nightstand.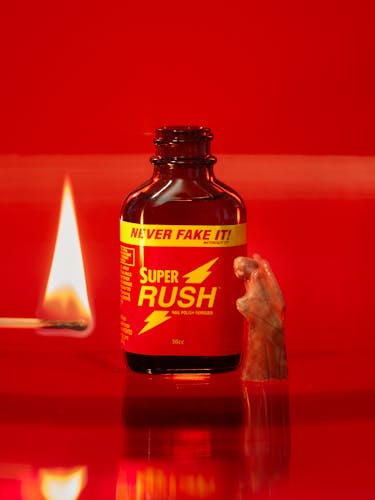 Rat­ing: 2
The Bud­weis­er of pop­pers. Found at your cor­ner store and in a 19-year-old's purse. As the name indi­cates, the cheap chem­i­cal hits you fast and heady like a bump of cocaine. Lit­tle dura­tion, and lit­tle relaxation.
---