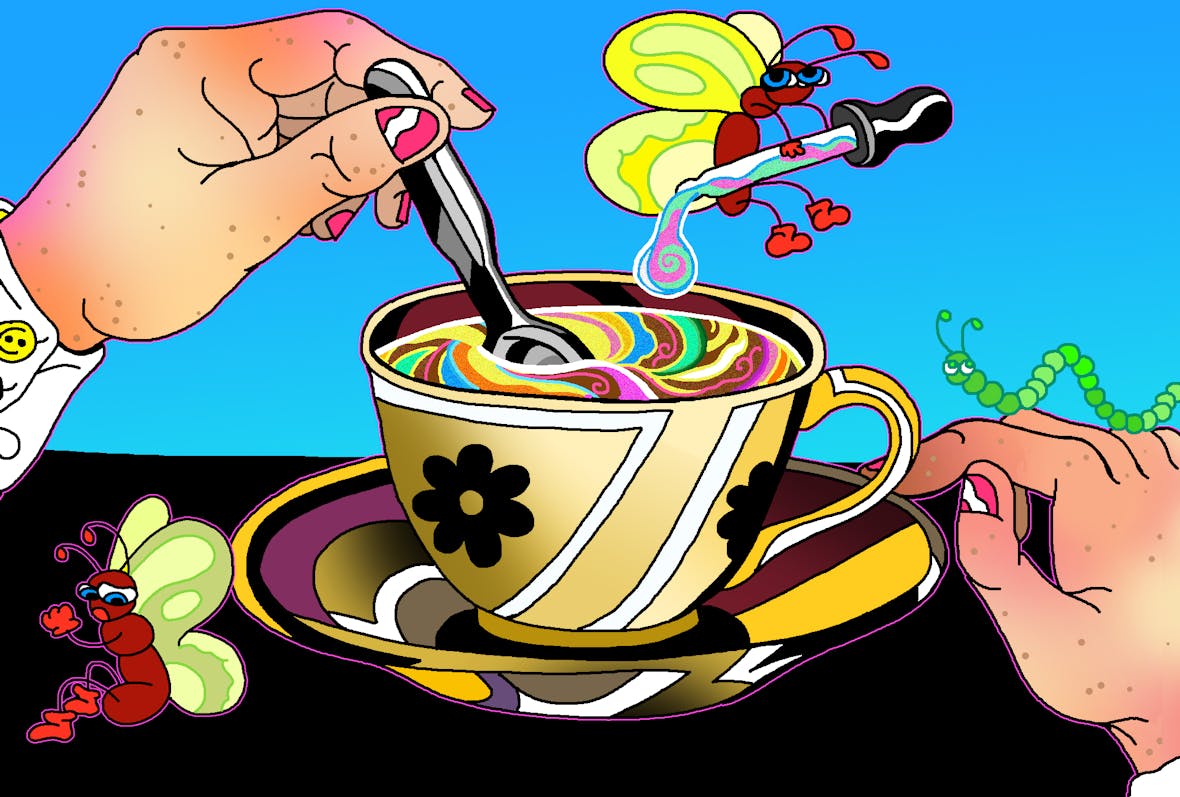 LSD

, ket­a­mine, psilo­cy­bin,

CBD

: from recre­ation to self-medication
"For me, main­ly it's a tool to prac­tice mindfulness."
Fred, 25, a radio pro­duc­er from Lon­don, is telling me how mag­ic mush­rooms have made their way into his dai­ly rou­tine. When he pre­empts a bad day, a small amount of the psy­che­del­ic drug is his fix.
"It's coaxed me into let­ting go of a lot of ten­sion and bag­gage," he says, describ­ing how psy­che­delics have helped him unpick ongo­ing fears and anx­i­eties, some of which stemmed from his grandmother's death aged 13. ​"But it's also made me more self-aware. I do more of the things I know will improve my men­tal health, like breath­ing exer­cis­es, yoga, cut­ting down on weed… I lis­ten to my body more. "
It's not the typ­i­cal atti­tude towards drugs you'd expect from a young guy in the city, but Fred is far from alone in his sen­ti­ments. As our gen­er­a­tion ploughs through an era defined by unhap­pi­ness, uncer­tain­ty, work stress and burnout, con­ver­sa­tions about the best pills or after hours are being replaced by earnest dis­cus­sions about which drugs can help us feel bet­ter, not only for a night out but every sin­gle day.
Inter­twined with a bur­geon­ing well­ness indus­try, a height­ened aware­ness of our psy­cho­log­i­cal well­be­ing and resur­gence of inter­est in the non-tox­ic, cog­ni­tive enhanc­ing poten­tial of psy­che­delics, Fred is part of a grow­ing num­ber of peo­ple engag­ing in what you could describe as ​"con­scious drug tak­ing" – dab­bling and exper­i­ment­ing with sub­stances for ther­a­peu­tic, rather than recre­ation­al pur­pos­es. At the shal­low end, this has mil­lions drop­ping CBD into their cof­fee every morn­ing. At the deep end, it has peo­ple self-med­icat­ing with ket­a­mine, LSD and psilo­cy­bin in order to sup­port their men­tal health or man­age a men­tal illness.
But for many, there's a blurred line between ther­a­peu­tic and recre­ation­al use. As well as tak­ing psy­che­delics specif­i­cal­ly for men­tal health, Fred con­sid­ers his expe­ri­ences tak­ing LSD in clubs as ther­a­peu­tic in its own right: ​"like move­ment ther­a­py, if you will."
Anoth­er per­son tells me they reg­u­lar­ly take 2CB while club­bing in order to bring on an emo­tion­al release: ​"Some­thing about the com­bi­na­tion of the sub­stance and the repet­i­tive music means I even­tu­al­ly break through the shell hold­ing in the emo­tion and I keep cry­ing and cry­ing," they say. ​"It might or might not hap­pen… but I'm part­ly aim­ing for that to happen."
Many more describe their grad­ual shift towards the occa­sion­al use of psy­che­delics in place of more tra­di­tion­al par­ty drugs like ecsta­sy or cocaine, dri­ven by an aware­ness of well­ness and the mind.
"I guess I'm using more hal­lu­cino­gens recre­ation­al­ly, but I'd pre­fer to use them for my men­tal health over pre­scrip­tion drugs too," said one per­son who has also used psilo­cy­bin to get through a peri­od of depres­sion. ​"Mush­rooms feel like they open a small door to my sub­con­scious and give me a stream of thoughts and feel­ings that are heal­ing and help­ful. It's like self-therapy."
While it's a move­ment that's hard to quan­ti­fy – its ille­gal­i­ty means it pri­mar­i­ly exists in con­ver­sa­tions with­in social groups or online com­mu­ni­ties – it hasn't gone unno­ticed by aca­d­e­mics like Dr Toby Lea, a social sci­ences lec­tur­er at UNSW Syd­ney and a Hum­boldt Foun­da­tion research fel­low, who has just com­plet­ed a sur­vey of 2200 peo­ple doing exact­ly this.
"It's real­ly hard to say how com­mon these prac­tices are," he tells me. ​"But I sus­pect it is becom­ing more pop­u­lar. In the past decade, there has been an increase in clin­i­cal research on psy­che­delics and the find­ings have been real­ly impres­sive. Peo­ple read about it and think they'd like to try it."
This ongo­ing clin­i­cal research includes tri­als in the US for ecsta­sy as a treat­ment for PTSD; stud­ies by John Hop­kins Uni­ver­si­ty show­ing how psilo­cy­bin could reduce depres­sion; the devel­op­ment of a treat­ment for depres­sion using ket­a­mine; and, in the past year, the launch of the first place­bo-con­trolled study into the effects of micro­dos­ing with LSD by the Beck­ley Foundation.
It paints an opti­mistic vision of future treat­ments for men­tal ill­ness, but researchers encour­age cau­tion. ​"I wouldn't want mem­bers of the pub­lic think­ing they can treat their own depres­sions by pick­ing their own mag­ic mush­rooms," Dr Carhaart Har­ris, from Impe­r­i­al Col­lege Lon­don, who has con­duct­ed UK stud­ies into psilo­cy­bin, told the Guardian. ​"That kind of approach could be risky."
Still, as Lea has found, it's a risk many peo­ple are will­ing to take. Of 2200 peo­ple sur­veyed, half had micro­dosed – tak­ing small dos­es of psy­che­delics on a reg­u­lar basis – and half had tak­en a stan­dard dose. Lea is yet to con­duct a detailed analy­sis but he says the results were sim­i­lar across the board; 65 – 69% of those tak­ing psy­che­delics for depres­sion said they found it very help­ful com­pared to stan­dard treat­ments for men­tal health, while only 25% found coun­selling very help­ful, with just 6 – 7% feel­ing the same about antidepressants.
"Some­one is less like­ly to go down this route if they haven't tak­en psy­che­delics before," says Lea. ​"But these are peo­ple who are at the end of their teth­er with reg­u­lar treatments."
In Sep­tem­ber 2017, Char­lie, a PHD stu­dent from Lon­don, was in the midst of a severe episode of depres­sion, endur­ing sui­ci­dal thoughts most days. Real­is­ing he need­ed help, he booked an appoint­ment with his GP and was prompt­ly pre­scribed 20mg of the SSRI anti­de­pres­sant Citalo­pram. It stopped the sui­ci­dal thoughts, but the impact on his dai­ly life was punishing.
"I was fatigued most of the time," he says. ​"I also felt emo­tion­al­ly neu­tral and that would lead to destruc­tive behav­iours – I'd go out and get real­ly drunk just to feel some­thing dif­fer­ent to that base­line. It also real­ly effects your sex dri­ve – I couldn't ejac­u­late on it."
Char­lie went online and began research­ing alter­na­tive treat­ments for depres­sion. He hadn't tak­en LSD before (though had tried 2CB) and, after speak­ing to a friend who had been in a sim­i­lar sit­u­a­tion and found it effec­tive, he decid­ed to try microdosing.
"When you're so des­per­ate for help," says Char­lie. ​"And some­one offers you an alter­na­tive, it's very dif­fi­cult to dis­tin­guish between that and a doc­tor say­ing: ​'Hey why not try this oth­er type of anti­de­pres­sant? I don't know if it will work but you might as well give it a go'."
While Char­lie wasn't con­cerned about the short term risks – LSD is among the safest, least tox­ic drugs you can take in a phys­i­cal sense – he was wary of the poten­tial risks of tak­ing it in the long term, which remain large­ly unknown. And while high dos­es of psy­che­delics present a risk of pan­ic attacks, para­noia and even tem­po­rary psy­chosis, small dos­es can also result in anx­i­ety. The Third Wave, an online resource with detailed researched backed guid­ance on respon­si­ble psy­che­del­ic use, does not rec­om­mend micro­dos­ing for those with schiz­o­phre­nia, psy­chosis or anx­i­ety disorders.
Char­lie approached his self-treat­ment method­i­cal­ly, in keep­ing with estab­lished guide­lines. This means buy­ing LSD from a trust­ed source – and then test­ing it with a Reagent kit – dis­solv­ing 100 micro­gram tabs into water and then using a mea­sured drop­per to dose, start­ing with 2 – 5 micro­grams and steadi­ly work­ing up until a dose is found that feels effec­tive with­out bring­ing on the psy­che­del­ic effects of the drug.
"Once I was on a 12 – 15mcg dose," says Char­lie. ​"Which I was tak­ing every three days, I noticed my inter­est in life return­ing. I could ratio­nalise things more, found joy in my friends, wasn't seek­ing self-destruc­tive behav­iour, enjoyed my work and was becom­ing more cre­ative. It wasn't a cure-all moment, but these feel­ings began creep­ing back into my life again."
Besides one sem­i­nar spent in fits of gig­gles after believ­ing a cake some­one had brought in resem­bled the tutor ("I was in a rush that day and I think I acci­den­tal­ly dou­ble dosed…"), there were no notice­able side effects.
Char­lie was able to taper him­self of the Citalo­pram and by sum­mer 2018 he felt able to stop micro­dos­ing too. A year on he remains in a ​"pre-depres­sion lev­el of mood".
But is it real­ly so sim­ple to fix a men­tal ill­ness on your own? For Dr Ben Ses­sa, who is at the fore­front of research into how psy­che­delics could be inte­grat­ed into psy­chi­a­try and is cur­rent­ly lead­ing the UK's first clin­i­cal tri­al for MDMA ther­a­py, it's not.
"Men­tal well­be­ing is not just some state, a but­ton you press," he tells me. ​"It's a life­long process. It's about every­thing. Your friend­ships, part­ner, chil­dren, child­hood, com­mu­ni­ty, the food you eat, your hopes, dreams… it's mad­ness to think you can just read some­thing on a blog, buy some LSD and cure your depres­sion. But the ques­tion is: how do psy­che­delics com­pare to exist­ing treat­ments and do they have a place in mod­ern medicine?"
For Ses­sa, psy­che­del­ic ther­a­py is not sim­ply about tak­ing a drug. It should be facil­i­tat­ed under expert super­vi­sion. His MDMA tri­al, which is for peo­ple with alco­hol addic­tion, involves an eight-ses­sion course, only two of which are under the influ­ence of the drug. Though he recog­nis­es the pow­er­ful anec­do­tal evi­dence for micro­dos­ing, Ses­sa points out there have been no ran­domised place­bo-con­trolled tri­als to back it up. He can, how­ev­er, empathise with the sen­ti­ment dri­ving many to reach for alternatives.
"Peo­ple are sick of exist­ing psy­chi­a­try", he says. ​"I like psy­che­delics because I don't like psy­chi­atric drugs. I don't think it's healthy to take anti­de­pres­sants for years. If it's pos­si­ble to take LSD or a psy­che­del­ic once or twice in a ther­a­py ses­sion and not need it again that's a much smarter, more focused way to use med­i­cine to get better."
For now, how­ev­er, few will be able to gain access to this kind of treat­ment legal­ly. Ses­sa hopes to have a licence for the UK's first psy­che­del­ic treat­ment cen­tre with­in two years, but while this kind of ther­a­py remains unli­censed, the only option for some­one who has decid­ed to go down this path is to seek out an under­ground ther­a­pist, reg­is­ter for a research study, or go it alone.
Around the same time Char­lie was emerg­ing from his peri­od of depres­sion, Frankie, 27, also from Lon­don, was reach­ing a cri­sis point of their own, deal­ing with a men­tal health break­down in the mid­dle of last year.
They were pre­scribed SSRIs but strug­gled to get through the 2 – 3 month adjust­ment peri­od, which led to Frankie expe­ri­enc­ing sui­ci­dal thoughts. While Char­lie used LSD to sup­port him, Frankie turned to a drug they'd used recre­ation­al­ly for a decade; ketamine.
"I would go into these spi­rals of sui­ci­dal thought, hav­ing real­ly visu­al images of my own death," they say. ​"I'd take some K and it would zoom me out. I'd be look­ing down, telling myself: ​'you are in loads of pain right now but you won't be in the future'. It helped me see things in perspective."
Com­pared to oth­er psy­che­delics, ket­a­mine (a dis­so­cia­tive anaes­thet­ic) is less of a house­hold name when it comes to the realms of men­tal well­be­ing. Yet while it is like­ly to be some years before LSD or psilo­cy­bin are avail­able on the NHS, ket­a­mine is already being used legal­ly in the UK as an off-pre­scrip­tion drug for the most severe, treat­ment-resis­tant cas­es of depres­sion. In the US the FDA has just licensed a ket­a­mine-relat­ed drug – the first nov­el non-reg­u­la­to­ry drug to be approved for depres­sion in three decades. One of the drug's key fea­tures is that it's fast act­ing. It was a need for some­thing that could have an imme­di­ate effect that led Frankie to turn to it along­side their pre­scribed treat­ments and therapy.
"When you have a real­ly awful spi­ral you just want to take some­thing, any­thing," they say. ​"Non-pre­scrip­tion drugs are often the ones you can take as and when, get the effect imme­di­ate­ly and feel bet­ter. For me, they meet very dif­fer­ent requirements."
How­ev­er, ket­a­mine is a drug that can cause seri­ous side effects when used chron­i­cal­ly, from mem­o­ry loss to blad­der and kid­ney dam­age. Though they haven't expe­ri­enced phys­i­cal side effects, after tak­ing it reg­u­lar­ly for many months, Frankie is psy­cho­log­i­cal­ly depen­dent and has to take it in small amounts regard­less of their state of mind.
"It's a small price to pay," they say, adding that they are now try­ing to wean them­selves off it. ​"I don't think there's some­thing inher­ent­ly wrong in being depen­dent on a drug because I'm depen­dent on anti­de­pres­sants too. There were times when it stopped me harm­ing myself and I wouldn't have been able to do that with what was pre­scribed to me. The ben­e­fits out­weigh the costs."
Frankie also paints a big­ger pic­ture of the preva­lence of this behav­iour; most peo­ple they know that are deal­ing with men­tal ill­ness are also self-med­icat­ing, some­thing they attribute to a com­fort with tak­ing recre­ation­al drugs, a dis­sat­is­fac­tion with the help avail­able on the NHS and the dif­fi­cul­ties in get­ting an appoint­ment with a spe­cial­ist psy­chi­a­trist. ​"A lot of peo­ple I know do it because they feel they know their men­tal health bet­ter than their GP will," they say.
The fact that so many are tak­ing mat­ters into their own hands sug­gests a need for more open­ness around this sub­ject between patients and clin­i­cians. While Frankie (and oth­ers I've spo­ken to) have felt able to tell their ther­a­pist about self-med­icat­ing and found them sup­port­ive, oth­ers have not. None felt com­fort­able speak­ing to their GP about it. ​"If you are known to be using ille­gal drugs it can make it hard­er to be pre­scribed drugs in the future or access care," says Frankie. ​"Which is dan­ger­ous – not telling them could put you at risk of an interaction."
It's anoth­er instance in which pro­hi­bi­tion is lead­ing to poten­tial­ly risky out­comes, one rea­son which led to Lea to con­duct his research.
"It's real­ly impor­tant to find out what peo­ple are doing because it can take many years for a drug to go from clin­i­cal tri­als to a mar­ket," he says, adding that most peo­ple he sur­veyed hadn't dis­cussed psy­che­delics with a health pro­fes­sion­al. ​"And peo­ple are still going to be using these sub­stances to man­age their men­tal health prob­lems in the meantime."
The dif­fer­ent expe­ri­ences of peo­ple using drugs in this way rep­re­sent a broad church. For some, psy­che­delics are a replace­ment for con­ven­tion­al treat­ments, for oth­ers a sup­ple­ment to it. In these cas­es it high­lights a des­per­ate need for bet­ter access to spe­cial­ist men­tal health care and, as many pro­fes­sion­als in the field would agree, a new set of treatments.
How­ev­er for many more, who may not be suf­fer­ing from a seri­ous men­tal ill­ness but are seek­ing new ways to reflect on their life, behav­iour and self, it's some­thing in between – evi­dence of the far-reach­ing impact of the psy­che­del­ic renais­sance and a return to an age of spir­i­tu­al explo­ration in the face of chal­leng­ing times. Whether this is hope­ful behav­iour – or escapist – is up for debate. Psy­che­delics may be mind-open­ing drugs, but this gen­er­a­tion is hard­ly chas­ing Nir­vana – it sim­ply wants to get through the day.
*Some names have been changed.
---