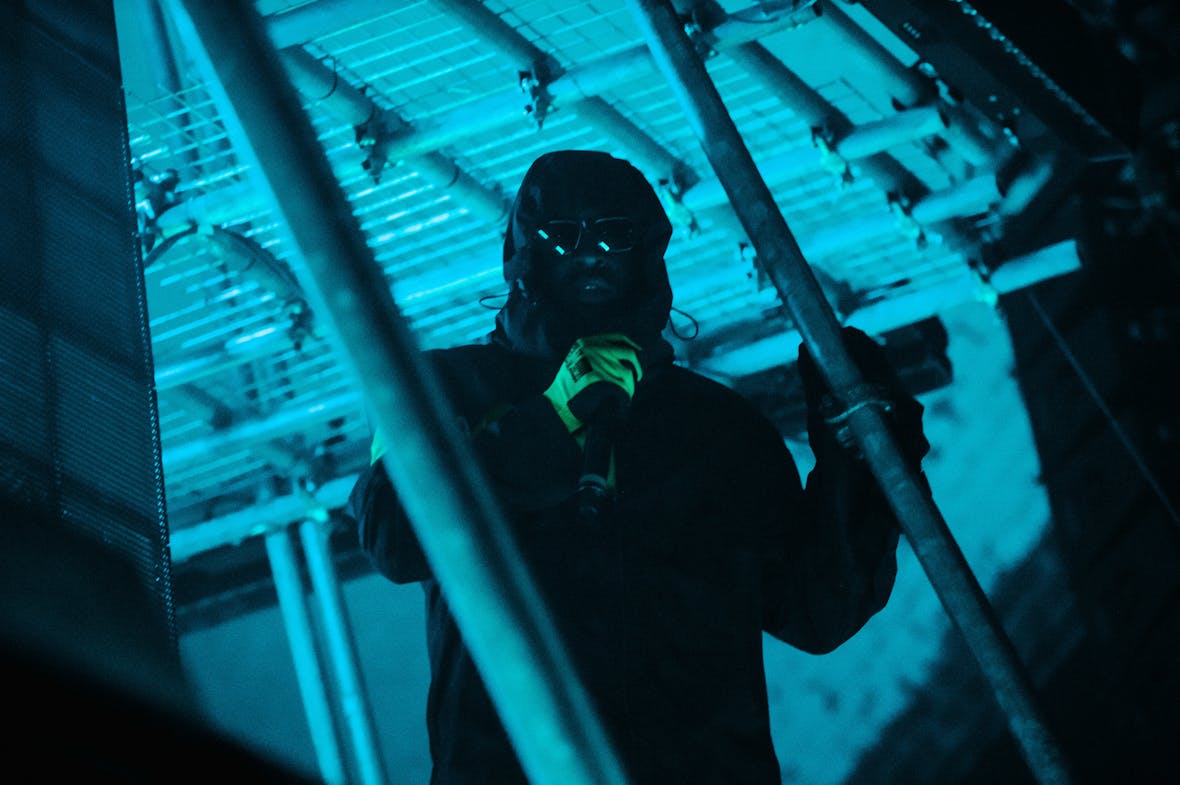 How Skepta's vision of a loved-up future rave came to life
Any­one buy­ing a tick­et for Skepta's three-night run at Man­ches­ter Inter­na­tion­al Fes­ti­val will have expect­ed lit­tle more than a stan­dard gig, curi­ous­ly named Dystopia987. In fact, come Wednes­day, Thurs­day or Fri­day of this week, they found them­selves wait­ing at the edge of a dis­used scrap­yard to be escort­ed to a fic­ti­tious under­ground rave inside huge tun­nels and set forty years in the future; phones dis­abled, plunged into a Punch­drunk-esque world of actors and role play and at the mer­cy of talk­ing AI rave soft­ware called Dambrin.
The project was a four months in-the-mak­ing bevy of tech­no­log­i­cal and live music firsts, dreamt up by a team that TEM Studio's Christo­pher Pear­son describes as a ​"tril­o­gy – Dawn King, a dystopi­an writer who's deliv­er­ing the core nar­ra­tive and back­sto­ry; Skep­ta, who's per­form­ing; and then our cre­ative stu­dio who are shap­ing the space."




So how did it all come about? Man­ches­ter Inter­na­tion­al Fes­ti­val pride them­selves on think­ing dynam­i­cal­ly about how live music will evolve in the future. So when they bagged Skep­ta as a head­lin­er, a stan­dard gig was nev­er on the agen­da. They cher­ry-picked their tri­umvi­rate – TEM have pre­vi­ous­ly worked with every­one from Bey­once to Guc­ci, King's the dar­ling of both BAF­TA and the Nation­al The­atre – and tasked them with doing some­thing new. ​"We're actu­al­ly kind of work­ing for MIF with Skep­ta," Pear­son explains.
What emerged from talks between the par­ties was a nar­ra­tive fleshed out and put into poet­ry by Dawn King.

It begins:
Hel­lo. My name is Dambrin.
Intel­li­gent Rave Software.
I see you.
I see you
You
Are
Welcome.
Please… proceed.
And con­tin­ues:
Ravers,
Please fol­low these basic instructions
Be kind
No shov­ing, no pushing
If you need to pass anoth­er human say ​'excuse me please'
If you would like to touch anoth­er human, ask their per­mis­sion first.
Do you agree?
If you agree, nod, so that I can see.
Thank you.

They pic­tured a not-too-dis­tant future in which IRL expe­ri­ence was all but replaced by iso­la­tion. ​"Skep­ta talked about human con­nec­tion, cel­e­brat­ing love and find­ing a utopia inside a dystopia," King explains. And where have peo­ple been rail­ing against the sta­tus quo and recon­nect­ing with human­i­ty since the days of Dion­y­sis? At the rave, of course. ​"We imag­ined this gang of young and rebel­lious pro­gram­mers that love rav­ing and love tech. They come togeth­er with Skep­ta to design this pro­gramme to help peo­ple to connect."
And so as ravers arrived at the venue they were ush­ered in in groups of twen­ty; scanned, future-Berghain style to ensure they were ​'wor­thy of entry' (an actor in each group was refused entry to ensure peak anx­i­ety); and told to place their phones in dis­abling plas­tic sacks pre­vi­ous­ly used by Child­ish Gam­bi­no at his shows. ​"One of our ear­ly ambi­tions was to take away everyone's phones," Pear­son explains. ​"Remove this rogue soft­ware that can pol­lute the atmosphere."



The night's nar­ra­tor-cum-tour guide was a gen­der­less voice who could be heard over tan­noys and through head­phones. ​"We called the pro­gramme Dambrin after this guy who wrote the Fruity Loops pro­gramme," King explains. ​"It's a mas­sive part of the grime scene. We like to think of it as the great-great-grandad­dy of our pro­gramme in some way."
Across three tun­nels the one thou­sand ravers found a ​'Mar­ket­place of Human Inter­ac­tion and Con­nec­tiv­i­ty' – ​"kind of like a Blade Run­ner scene" says Pear­son. Cyber­dog style stalls offered futur­is­tic make-overs; aug­ment­ed head­sets cre­at­ed place­bo drug effects; and audio from Dambrin advised on how to nav­i­gate a par­ty, eye con­tact includ­ed. There was also a 30-metre track sus­pend­ed from the roof and run­ning a mas­sive piece of kit just two metres above people's heads, send­ing laser pro­jec­tions through­out the space.
"A lot of this is about dis­ori­en­ta­tion," Pear­son explains. ​"In the same way that when you take drugs, you end up just sort of rolling with what's hap­pen­ing." So, after 90 min­utes of rav­ing to tech­no, there was what he describes as a ​"med­i­ta­tive calm­ing moment where we flood the room with light, very sim­i­lar to the Antho­ny Gorm­ley White Light instal­la­tion." A giant plas­tic sheet then dropped to reveal a secret fourth tun­nel – Skepta's per­for­mance space and the show's piece de resistance.
"Skep­ta was very into being con­nect­ed with the audi­ence. So we thought about this idea of a demo­c­ra­t­ic stage," says Pear­son. The results were some­thing unprece­dent­ed in terms of live shows. The TEM team mas­ter­mind­ed a trans­par­ent and float­ing two-storey stage where Skep­ta could be viewed in the round and from below, result­ing in a front-row spot for all. ​"The only oth­er per­son who's done any­thing like it is Kanye," says Pear­son. ​"But he cre­at­ed a stage that sep­a­rat­ed him from the audi­ence – a wall of light under­neath him that excelled him to being like a god. Skep­ta want­ed to be as close to the audi­ence as possible."
So the dis­parate team of experts came togeth­er to gift their col­lec­tive nos­tal­gia of the uni­fy­ing joy of rave cul­ture to a gen­er­a­tion who've only ever known par­ty­ing with the ​'Gram. ​"I want­ed peo­ple to leave remind­ed of the joy of spend­ing time togeth­er with oth­er humans," says King. 40 years from now, sweet har­mo­ny 2.0 could prove more nec­es­sary than ever before.

---