The show always goes on at Sylvia Young

The Face went backstage to meet the rising stars at the institution renowned for its ability to churn out A* A-listers on repeat.
Sylvia Young: the stage school that's almost as famous as its alumni. Amy Winehouse, Nicholas Hoult and Dua Lipa have all graced its hallowed corridors, while West End theatre programmes are stacked with Sylvia Young grads.
Promising top-notch training for a career in the arts, the academy automatically signs each pupil to its agency. In turn, Sylvia Young aims to land pretty much every student a professional job during their time at the school (justifying the £4760-a-term fee for pocket-emptying parents – although there are also students there on bursaries).
So what actually goes on behind the stage curtains?
Well, Monday, Tuesday and Wednesday sees teens in full school uniform, blazers and ties working through their ABCs and 2+2s. Come Thursday and Friday, it's ​"tracksuits, leotards, unitards and just dance, drama and singing," says Sylvia, who established the school back in 1981.
It was ten years earlier that Sylvia put on a performance with the local primary school. As expected, it was a huge success. Upon seeing how much the kids showed talent, Sylvia and a friend decided to hire a hall in Drury Lane that allowed them to take in their first batch of pupils. The duo soon found their feet. What started as 29 eager performers in waiting (aged 8 – 16) soon multiplied. By 1983 the school moved to Rossmore Road in Marylebone – expanding heavily in the process. Thanks to a string of stellar GCSE results and impressive IMDB credits, the school grew tenfold and took over a converted church in Nutford Place in 2010, which is where it remains today.
A real matriarchal figure, headmistress Sylvia keeps in touch with many of her ex students and always makes sure to catch the productions and shows that they're in. One glance around the school and this quickly becomes apparent. Signed album placards sending their love to Sylvia from Rita Ora and Emma Bunton line the hallways, and a photo from McFly's Tom Fletcher and his wife Giovanna's wedding hangs next to the school's announcement board with ​"Thanks for bringing us together!" scribbled across the bottom.
Sylvia says it's ​"impossible to tell" whether a student will be a star. ​"You can see those that should succeed but stardom is accessible to only a few. You need not only the training, talent and dedication but you must be in the right place at the right time for that specific role which puts you in the public eye."
But if the school's track record is anything to go by, these hungry young'uns will soon be stepping into the spotlight. May the odds be ever in their favour.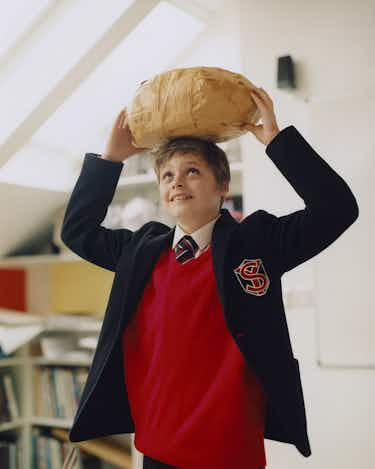 BILLY, 12
What do you want to be when you grow up?
I would like to be an actor but also do music on the side.
When did you decide that's what you wanted to do?

Quite recently. I started acting when I was seven and that was always something I wanted to do from a young age. Music has been quite recent. There's another boy that goes here and he plays guitar and we're going to start a band and we write our own music.
What drew you to acting?
It's always different. It's not like a normal day in the office where you go in and see the same faces. You're always doing different things and seeing different people.
Who are your idols?
Will Smith and Joaquin Phoenix.
What are you most proud of?
I got my first BBC major lead this year – that was pretty cool!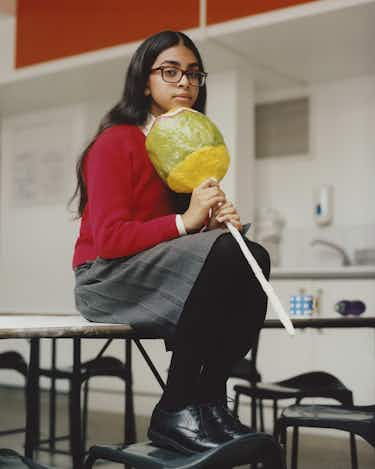 TWINKLE, 13
What do you want to be when you grow up?
I want to be a singer when I'm older and also do acting and dancing on the side. I want to be an inspiration for younger kids who want to be successful in life.
When did you decide that's what you wanted to do?
It started when I was quite young. My dad was always into dancing and singing so he would put me in small stage schools near me house. From then I grew up and grew into those kind of things and realised this is what I want to do.
What kind of singer do you want to be?
A pop singer.
Who are your idols?
Little Mix, the way they come together as a group is really empowering. And Ariana Grande, obviously.
Why did you decide to come to Sylvia Young?
They give importance to the academics just as much as they do to the performing arts part of it. I think this is really important because obviously when you go out working, school is really important. You have to keep up with all the work that you do because GCSEs are coming up.
What's your favourite lesson?
Media studies or art.
How does the school help you with your dreams?

All the teachers here really accommodate to what you want to do. Say for example singing, they really look to my voice and the style of singing I do. The individual work they do on you is incredible.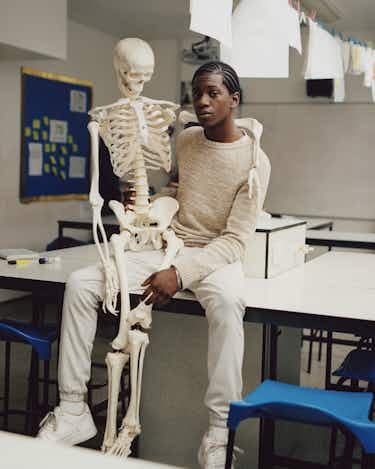 JAYDEN, 18
What do you want to be when you grow up?

I'd like to be a manager in the music business, but for now an artist. Doing afro-beats, RnB and some trap.
When did you decide that's what you wanted to do?
I've known that's what I've wanted to do for quite a long time. I've always loved music. But I feel like for the past three, almost four years, I've been making those changes and steps to actually pushing towards getting my music out – soon to be released.
What made you want to be a musician?
I was probably about 15 or 16. And I've always liked to write lyrics and music. I know I'm an actor but now that I've got a bit more time on my hands I can perfect my craft. That's what gave me the boost to say yes, I'm going to sit down and do this.
What draws you to the music world?
It's not the fame, it's the creativity. When making music I just enjoy it. I love making the beats, writing the lyrics, vocalising myself on the track. When it comes to live performances, I've done a few but not big ones, and I've enjoyed the ones that I've done. I've seen people turn up crowds and I want to do that myself. I'd like to bring my vibe to a bunch of people.
Who's your idol?
Elon Musk. I like people who are entrepreneurial and can make businesses out of anything.
How do you think Sylvia's helped you achieved your dream?
From the background and with the agency as a whole, with teachers, they all individually push you to do well. Whenever you speak to them, they know something positive to say. They push you in the right direction.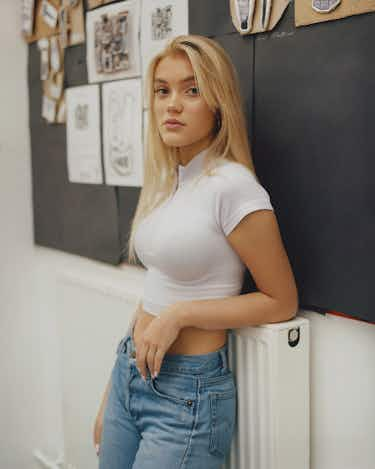 MIMI, 16
What do you want to be when you grow up?
I'd love to carry on acting. I'd love to write music and sing. I wouldn't mind producing or writing for film, too.
When did you decide this is what you wanted to do?
I've always sung. I was really into musical theatre when I was younger, so that's how I got into acting. Then I came to the school, got put up for auditions for films, and that's when I got my passion for pure acting, and singing on the side.
What is it about the acting world that you like?
It's the escapism – playing someone else. It's the research about someone else and just becoming someone else. That's what I love.
Who's your idol?
Matt Damon. When I was younger I watched a behind-the-scenes clip from one of his films and loved just how passionate he was about making sure everything was perfect.
Why did you decide to come to Sylvia Young?
I just knew this was what I wanted to do. I had a passion for it when I was younger and knew that this is what I wanted to do, and I wanted to train for it.
How do you think Sylvia Young has helped you?

Obviously, it's given me a really good training. It's good being surrounded by people who have the same interests. It helps you compare yourself and to learn new things. Obviously the agency is attached to the school which helps with auditions.
What are you most proud of?
That I'm still, if anything more so, still passionate about this. I'm proud that I haven't given up on anything. Even academics – I'm still doing A levels!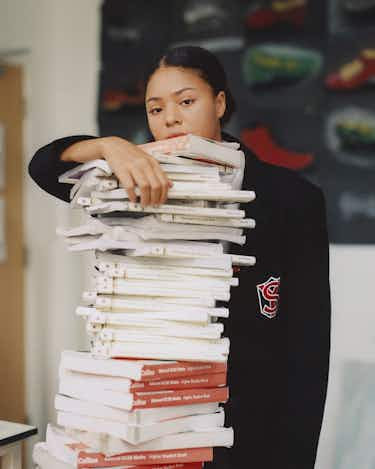 LENI, 15
What do you want to be when you grow up?
I always wanted to be a singer and actress while growing up. It is just something I have loved doing since I was little. Hopefully I will be able to pursue a career in acting too.
When did you decide that's what you wanted to do ?
When I was little, I always watched my mum and grandma from Africa sing around the house. My dad took me to first concerts and then immediately I realised that this is what I wanted to do. While watching films with my family, I found it really amazing how convincing one could play someone else and make people feel different emotions. I wanted to be able to do that.
Who is your idol?
My idol is definitely Whitney Houston. Everything about her is just amazing, her songs, the ways she sings and the way she performs .
What are you most proud of?
I am most proud of what I have achieved so far. Performing on stage in a big musical, appearing on a tv series and singing in shows.
How has Sylvia Young helped you achieve your dreams ?
Sylvia Young has helped me so much in achieving my dreams. The school is so supportive and has given me great advice and opportunities that you never thought were possible. Without Sylvia Young I would not be the person I am today.

More like this