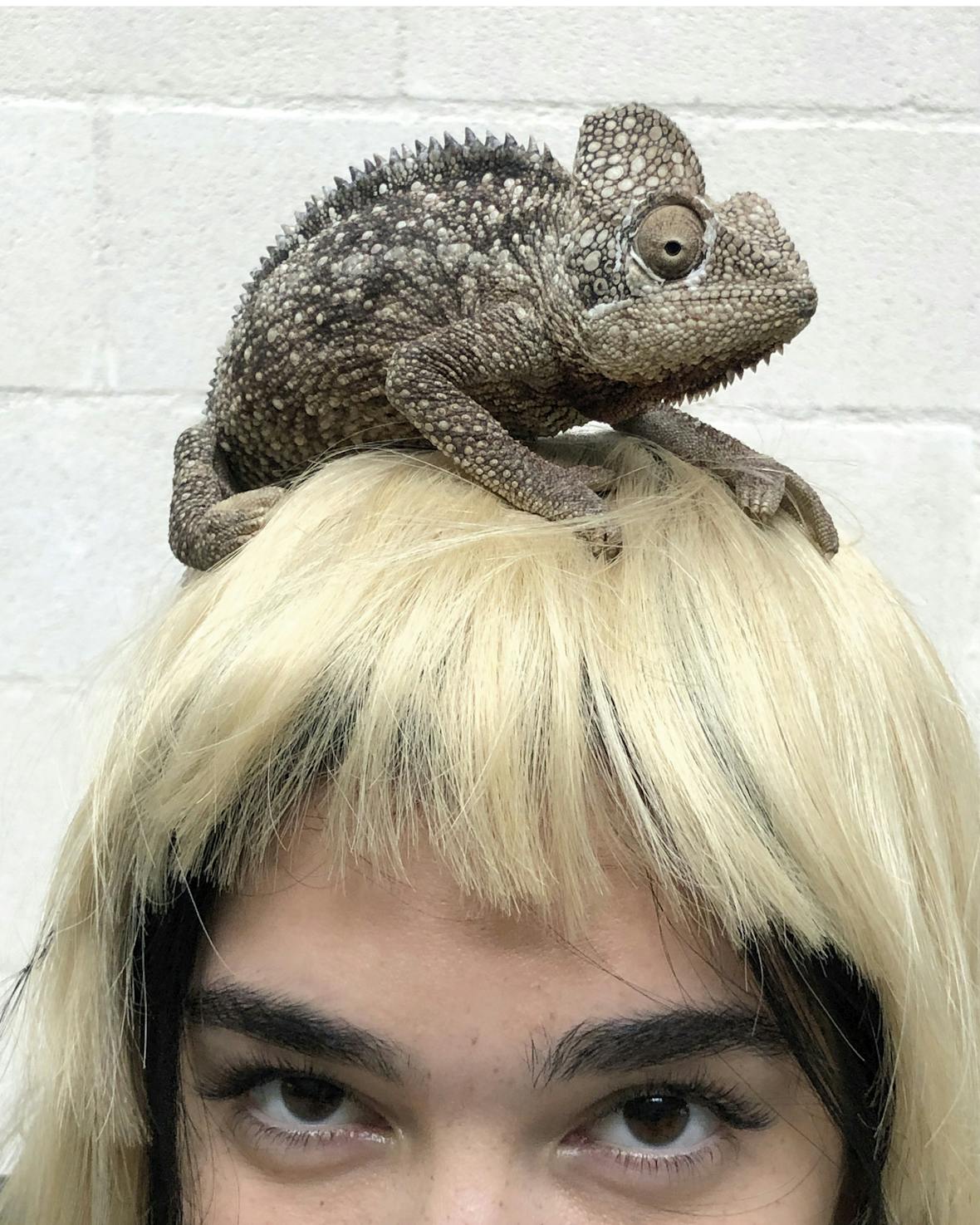 It's a Dua party
Arti­cle tak­en from from The Face Vol­ume 4 Issue 001. Order your copy here.

"In my head, on my 23rd birth­day, I was like: ​'Am I turn­ing 30 yet?'" Dua Lipa laughs with her dis­tinc­tive husk.
Right now, make-up free, sleepy-voiced and bare­foot next to the pool in her Bev­er­ly Hills Airbnb (even stars are skip­ping hotels these days), she looks her young age, com­plete with a sprin­kling of del­i­cate tat­toos and lethal lime-green acrylic nails.
But you can under­stand how she might feel old­er, giv­en all she's packed into the last two years: a plat­inum-sell­ing debut album, con­stant tour­ing, col­lab­o­ra­tions with Calvin Har­ris, Mark Ron­son and Dip­lo, three BRITs, two Gram­mys, and stream­ing fig­ures so mas­sive they sim­ply don't sound like real numbers.
Back in 2015, she released the breezy and blog-friend­ly debut track New Love, but it wasn't until 2017's instruc­tive anti-fuck­boy sin­gle New Rules and its pas­tel-hued video that Lipa tru­ly blew up. It was a per­fect storm of self-empow­er­ing affir­ma­tion, meme and pop cho­rus, and it gave her a first UK num­ber one and US top ten that sum­mer. Then with One Kiss and the MNEK-co-writ­ten IDGAF climb­ing the Bill­board charts in its wake, Lipa was sud­den­ly inescapable.
With the crazi­ness that ensued, spend­ing two weeks in one place is con­sid­ered ​"down time" for Lipa (even if she's tech­ni­cal­ly still work­ing out here in Los Ange­les, writ­ing and record­ing her sec­ond album). ​"I was writ­ing so much on the road for the first one," she remem­bers. ​"I got thrown into this crazy pro­mo sched­ule, and then I end­ed up tour­ing for three years." Does she ever get burnt out? ​"It's very hard for me to get tired doing things that I love," she insists. ​"I'm the kind of per­son that, if I love some­thing, I'll say yes, even when I have no time, and the dark­est eye bags!" She's tried med­i­tat­ing, she says, but when­ev­er she attempts to clear her mind, she just ends up falling asleep.
It's hard to imag­ine most peo­ple being able to cope with her sched­ule, but Lipa gives off an almost preter­nat­u­ral­ly calm vibe. She's just bought a house in Lon­don, but has bare­ly spent any time there yet. Instead, she's been in New York, and before that, Glas­ton­bury, where she donned wigs and an enor­mous black PVC hat to allow her to roll through the Rab­bit Hole, Block 9 and South East Cor­ner unhindered.
Her Insta­gram from the time was full of loved-up pho­tos of her skip­ping through the fes­ti­val fields, accom­pa­nied by semi-cryp­tic mes­sages like ​"away with the fairies", ​"sur­vived anoth­er year…" and talk of ​"glas­to ptsd". There are nods to hard par­ty­ing ("me point­ing at my san­i­ty that decid­ed to leave my side at approx­i­mate­ly yes­ter­day after­noon. If found…BIG REWARD!"), there are loved-up rain­bow, heart and but­ter­fly emo­jis and a know­ing, knit­ted ​"Ecsta­sy" jumper. There's even the appear­ance of a par­ty alter-ego, ​"Valenti­na Vicious" who ​"loves mum-danc­ing to elec­tric­i­ty wbu?" If Ins­ta is a win­dow into the soul (she has 32.7 mil­lion peo­ple peer­ing in), then Lipa's soul is in good shape. She's hav­ing the time of her life.
But isn't par­ty­ing with the fes­ti­val mass­es and doing every­day things tricky when you're famous? Lipa shrugs. ​"I just do it," she says, adding that she thinks it's impor­tant to ​"defeat the idea" that, as a celebri­ty, she can't go out and do nor­mal things. She con­sid­ers fame to be some­thing that she can sim­ply relax her way out of. ​"In the begin­ning, I did find it a bit weird [being recog­nised]. I wouldn't know how to act or what to say. Now I'm more chilled with it, it's easier."
Even though she's a main­stay of pop, only now does it feel like Lipa is unleash­ing the full force of her per­son­al­i­ty on the pub­lic. Beyond her engag­ing socials, com­pare her 2018 Bill­board Music Awards and 2019 Amer­i­can Music Awards per­for­mances on YouTube and they seem worlds apart. A stiffer, more self-con­scious per­former has trans­formed into a fist-pump­ing pow­er­house. More dra­mat­ic yet was her show-stop­ping, sap­ph­ic duet with St Vin­cent at this year's Gram­mys, described as ​"real­ly fucked up and sexy" by the Amer­i­can musician.
Since the release of her self-titled debut album in 2017, Lipa has set­tled into her groove, becom­ing the go-to voice for a new wave of house-dri­ven pop. How­ev­er, the ​"fifty or six­ty" songs she's already record­ed for the next album promise to take her in a new dis­co-heavy direc­tion. ​"It would prob­a­bly be risky if I wasn't risky with the next record," she says, sug­gest­ing a change of musi­cal direc­tion. ​"I don't think it would be as fun if I tried to recre­ate the first record. As an artist, you con­stant­ly want to grow and change your per­spec­tive and try some­thing new."
She plays me two 30-sec­ond snip­pets of demos for her sec­ond album, which per­fect­ly suit being blast­ed from a pool­side speak­er in the 29-degree Cal­i­forn­ian heat. Like some of the best Dua Lipa songs – New Rules, and even the orig­i­nal New Love – the vers­es build to the point of ecsta­sy, before pulling a 180 into a sim­ple, yet super mem­o­rable chorus.
Both are strut­ting anthems that show­case her vocals. One cap­tures the heady days of a new rela­tion­ship, but the best is a smoul­der­ing kiss-off inform­ing an ex to move the hell on already (in the vein of Mari­ah Carey's Obsessed). It comes com­plete with auda­cious piano stabs and funk bassline.
Back in April, she told her Ins­ta fol­low­ers that after a pre­dom­i­nant­ly elec­tron­ic first album, the fol­low-up is going to have a lot more live instrumentation.
"I feel like you could dance through the whole record," she says. ​"There's lots of nos­tal­gic ele­ments to it. There's a sam­ple in there from the 1930s. It's just a party."
While Dua Lipa was a patch­work process that came togeth­er as she dis­cov­ered who she was as an artist, this album had a def­i­nite shape from the out­set. ​"Before I start­ed, I knew my album title. I knew exact­ly what I was going to be mak­ing." When it comes to dis­cussing what the title is – which, she revealed to fans on Twit­ter, is also the record's theme – she's keep­ing her cards close to her chest. ​"There are some songs that are hap­py, some about heart­break, some about deal­ing with your life in public."
Lipa's career arc is indica­tive of what it takes to real­ly break through in the mod­ern pop world. Back in the ​'90s, labels could nur­ture stars like the Spice Girls in secret, before unleash­ing them on an unsus­pect­ing world, ful­ly-formed. Today, the mak­ing of a star requires more of a grad­ual intro­duc­tion and then a relent­less grind to stay rel­e­vant, drop­ping sin­gles and col­lab­o­ra­tions con­sis­tent­ly enough to keep your­self at the fore­front of playlists.
You have to be hyper-engaged on social media to boot: and Lipa, a dig­i­tal native pop star who got her start on YouTube, knows how to cul­ti­vate a non-stop Ins­ta pres­ence that makes you feel like you real­ly know her (though she keeps her fin­s­ta for those who real­ly do).
"I remem­ber when Katy Perry's I Kissed a Girl came out, it was like, where did this per­son even come from?" Lipa remem­bers. ​"All of a sud­den, it was just a mas­sive smash all over the world and every­body knew who Katy Per­ry was. Things were so dif­fer­ent back then, you just had to have one big song, and peo­ple would play it on the radio, and that's it. Where­as now, you real­ly have to nur­ture every lit­tle part of it." Today, Per­ry could be count­ed as one of Lipa's fans: she came to one of her shows in LA last year, and sent the British singer a long text full of health tips about how to pre­serve her voice.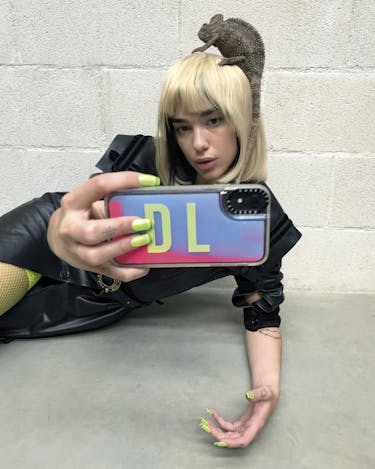 Lipa is some­thing of a rar­i­ty right now as a British woman mak­ing glob­al pop moves. She won a BRIT award ear­li­er this year with Calvin Har­ris, for their sum­mer banger One Kiss. Many singers in today's charts only get a fea­tur­ing on a producer's track, but on One Kiss (as well as on the piano house sin­gle Elec­tric­i­ty with Ron­son and Dip­lo), Lipa isn't a fea­tured artist: she shares top billing with the pro­duc­ers. ​"As a fea­tured artist, I'm there to add some­thing to some­one else's sound, where­as I pre­fer to be able to cre­ate some­thing with some­one," she says firmly.
Women in pop, unless they're lit­er­al­ly sit­ting at a piano – and often even then – are rarely giv­en the cred­it they deserve as song­writ­ers. ​"For so many years, peo­ple have claimed that pop is man­u­fac­tured," Lipa says, tak­ing on a fight­ing tone of voice that indi­cates this is an axe she's reg­u­lar­ly been grind­ing. ​"But there have also been so many incred­i­ble pop artists. Gwen Ste­fani, P!nk, Ali­cia Keys – all these artists that were the it-girls of pop in the ​'90s and ​'00s, but were very much writ­ing them­selves. I would have hoped that the whole stig­ma of man­u­fac­tured pop would have dis­ap­peared a long time ago, but it still exists. As women, I do feel like we always need to prove our­selves a lit­tle bit more, to earn our place."
Record­ing this sec­ond album, Lipa was deter­mined to be even more hands-on than she was the first time around, ​"espe­cial­ly because I didn't write New Rules". She says it's ​"a pride thing". (New Rules was orig­i­nal­ly writ­ten for Lit­tle Mix, and was one of only two songs on her debut that Lipa didn't co-write.) ​"It's very impor­tant for me to get out that these are my stories."
Reflect­ing on her ear­ly stu­dio ses­sions – as a 19 and 20-year-old woman work­ing with sea­soned indus­try pro­fes­sion­als like song­writ­ers Rick Now­els (Celine Dion, Lana Del Rey) and Sarah Hud­son (Katy Per­ry, Justin Bieber), she remem­bers hav­ing total impos­tor syndrome.
"I was sur­round­ed by peo­ple that had done this longer than me – I always felt like I wasn't good enough. I'd go into the stu­dio, the pro­duc­er would already have a beat or a track or some­thing we could write to, because I was still in the process of real­ly find­ing my sound. I would say [ideas], and when we didn't end up using those, I would kind of go back into my shell. It wasn't until I did Hot­ter than Hell and Last Dance that I start­ed fig­ur­ing it out, and things start­ed sound­ing a bit more cohe­sive. Now I'm not scared. As a writer, some­times you've got to be OK with say­ing some shit, you know? There's no wrong answer. Some­thing could be amaz­ing, it could sound ridicu­lous, it could real­ly work."
With a life increas­ing­ly led in the spot­light, and obses­sive dis­sec­tions of recent pho­tos of her with mod­el Anwar Hadid in gos­sip mag­a­zines (any­thing linked to LA's Kar­dashi­an-Jen­ner-Hadid dynasty will always make the head­lines), does the atten­tion nev­er piss her off?
"The most shock­ing part to me is the real­ly untrue things… but I've learned to make peace [with the fact] that every­one needs a job, and some peo­ple get paid to make shit up about oth­er peo­ple. That's sad, but that's for them, and it's for me to turn a blind eye."
She's had to learn how to draw bound­aries for her­self when it comes to look­ing at social media and often deletes the apps and takes a break.
"Some­times it is a bit too much. You just go into a hole of read­ing stuff that I don't have time [to read] and shouldn't be read­ing." When she does tweet, she's often hilar­i­ous­ly acer­bic and unfil­tered. Back in May, after Alaba­ma passed a bill mak­ing abor­tion ille­gal, she sent a string of tweets that cul­mi­nat­ed in ​"FUCK THE PATRI­ARCHY I AM DONE WITH THIS BULL­SHIT HAND­MAIDS TALE SHIT WHAT THE FUCK­ING FUCK".
She laughs when I bring it up now. ​"It's so fucked-up. I laugh about it because some­times it's eas­i­er than cry­ing over things. When I do tweet, it's only real­ly about things that I feel like I need to say some­thing about," she says. ​"For me, it's almost my duty to talk about those things. What's most impor­tant to me is Koso­vo, and my char­i­ty Sun­ny Hill and chil­dren, and women's rights, and being an ally, show­ing sup­port to the LGBT [com­mu­ni­ty]."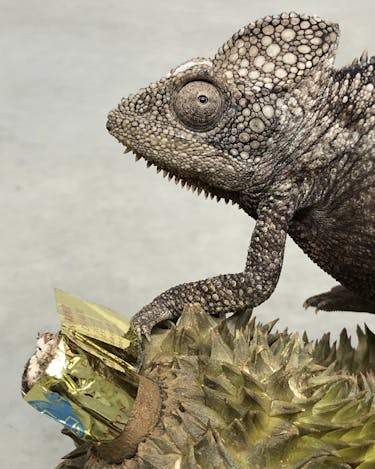 Since her par­ents are orig­i­nal­ly from Koso­vo, Lipa and her dad launched Sun­ny Hill to pro­vide oppor­tu­ni­ties for Koso­vans in the arts, host­ing an annu­al fes­ti­val in the cap­i­tal Prishti­na and pro­vid­ing schol­ar­ships to Amer­i­can music schools for aspir­ing musi­cians. This year, Lipa called on Miley Cyrus to head­line the fes­ti­val, prov­ing the A-list pulling pow­er she has. ​"If I didn't use my plat­form for things like that, what am I real­ly doing?"
When I meet Lipa again lat­er in the day in LA, she's in full pop star mode: ​"tart­ed up" for din­ner with friends in a boxy black shirt, black jeans, and bright red heels. She's drip­ping in gold jew­ellery and fear­some­ly tall, and in the sev­en hours or so between our first and sec­ond meet­ing, she's writ­ten anoth­er new song.
Before din­ner she wants to get a tat­too touched up by her reg­u­lar artist Sean from Texas who works from a pri­vate stu­dio in the Arts Dis­trict. While she's dressed like a celebri­ty, I'm sur­prised by how low-key it is to move through LA with her, no entourage in tow. We enter the tat­too stu­dio – a cosy, sparse space with tra­di­tion­al art­work and prints that announce ​"LIFE SUCKS THEN YOU DIE" on the walls – and with­in sec­onds she's on the floor, coo­ing and greet­ing the artist's two dogs with a loud, Lon­don-y ​"Alright, mate?".
The tat­too Lipa is hav­ing touched up is one of 13 most­ly small black linework designs on her arms and hands. She has them done impul­sive­ly on most of her trips to LA, and is obvi­ous­ly unfazed by the process. They seem to reflect dif­fer­ent aspects of her: there's the youth­ful, sweet word ​"ANGEL", the intim­i­dat­ing thorny rose, the chilled-out palm tree. Then, across her wrist, a sar­don­ic and self-aware warn­ing to any­one try­ing to read into her tat­toos: ​"THIS MEANS NOTHING".
Lipa seems to be in a tran­si­tion­al space right now: famous enough that trolls and celebri­ty gos­sip colum­nists are fac­tors in her life, but still anony­mous enough that she can stride into a tat­too par­lour in the States and hang out like any oth­er cus­tomer. On her debut LP Lipa sound­ed like a pop star breez­ing her way con­fi­dent­ly but chameleon­i­cal­ly through dif­fer­ent gen­res as though try­ing them on for size. Her sec­ond album – com­ing from a slight­ly old­er, wis­er and more con­fi­dent Lipa – will see her take an even more self-deter­mined path. She's got to make it work.
"Music is the only thing I can see myself doing," she says, bold and immov­able. ​"I nev­er real­ly gave myself a Plan B."
---