Tati Gabrielle on escaping death in You: ​

"

Black women aren't oblivious"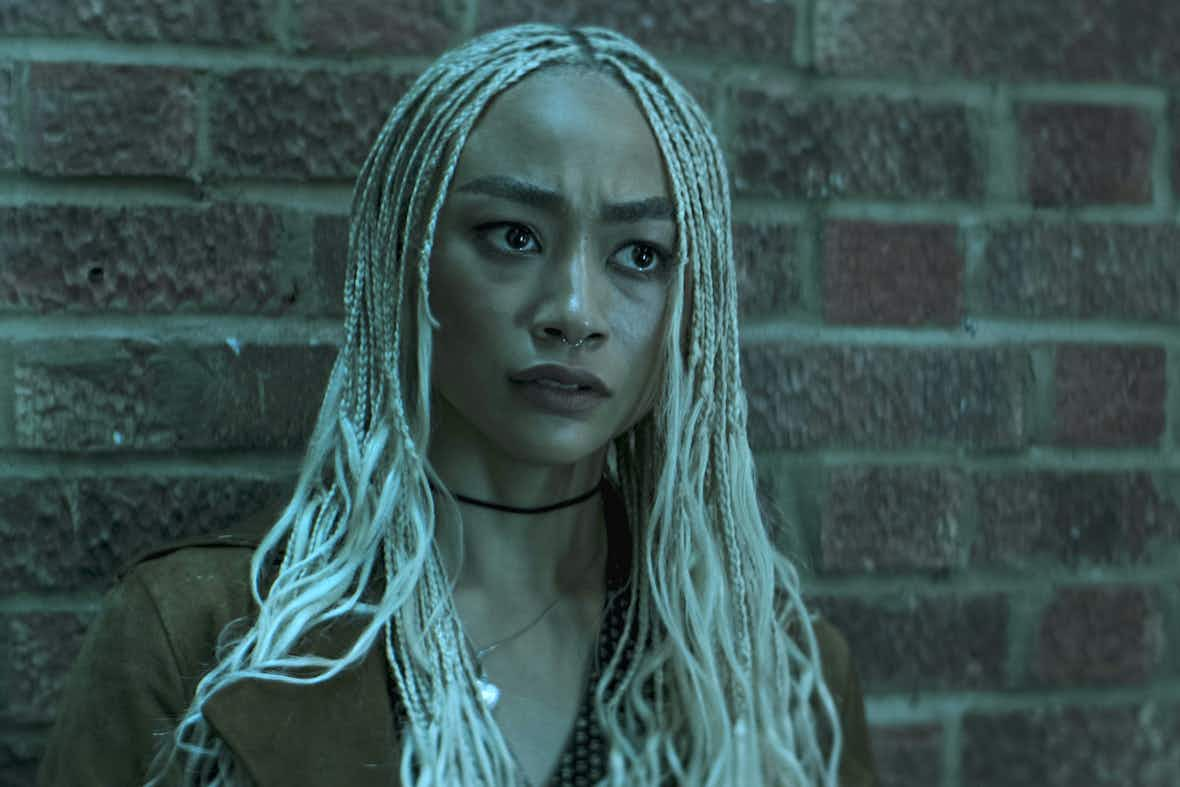 Call Sheet: The only woman (so far) to survive creepy Joe's obsession in You, the actor behind Marianne pulls back the curtain on her career.

Tati Gabrielle is fizzing with excitement. It's palpable even through the lens of Zoom, as she beams at the camera from her apartment in Los Angeles. Blonde hair cropped short, jewellery layered for maximum effect, she's the kind of person who animates every word with her eyebrows and hands – even house-hunting.
"I'm currently in the Valley, but I'm actually moving in about a month," she says, brows raised. ​"I want to be closer to the water, because it makes it easier to go surfing in the morning."
Looking for a flat isn't exactly the most thrilling job compared to everything else going on in Gabrielle's life. When we speak, the 27-year-old is sandwiched between two massive Netflix show launches: heist drama Kaleidoscope, which lets viewers choose the order of the episodes, and You, the hit show about charismatic serial killer stalker Joe Goldberg (Penn Badgley), which has moved the action to London for the new, fourth season.
Gabrielle is equally hyped about both. Playing double-agent Hannah Kim, Kaleidoscope gave her the chance to sink her teeth into a role with layers, while You was an opportunity to return to a character she'd already fleshed out, creepy Joe's last obsession, Marianne.
"Playing Marianne taught me a lot about what it meant to stand up for myself," she says of the clued-up librarian who made a run for it at the end of series three when she learned the truth about Joe. ​"One of my first questions to [series co-creator] Sera Gamble when I stepped onto the project was ​'are you going to portray Marianne as a Black woman should be?' Because Black women generally aren't oblivious. They have an awareness and a fighting, survival spirit that is generational."

Sure enough, Marianne is the only woman in You who has managed to escape a grisly death at the hands of Joe. But she had to fly across the Atlantic to pull it off and, even then, he still hopped on a flight to follow her. That's why the latest series is set in the UK, where Joe's masquerading as both a uni professor and a good person.
"This series is more of a whodunit," says Gabrielle, attempting to describe the spoiler-dense plot without giving too much away. What she can tell us is that the crowd in London isn't quite as gullible. Someone as equally murderous as Joe is onto him, attempting to frame the city's new American psycho while tormenting him with disappearing messages.
"It's a totally different perspective: what does it look like when the hunter becomes the prey? That's as much as I can say," she concludes with a playful smirk.
Gabrielle knows what it's like to be the bad guy. Fans of Chilling Adventures of Sabrina will recognise her as Prudence, the fierce queen bee of the witching world, who really only cracks a smile when dealing in devilry. And last year, she also took on a villainous role in the Tom Holland-fronted adventure flick Uncharted.
But speaking to Gabrielle, it's clear that those shady on-screen characters have little in common with the woman behind them. This is an actor who puts her whole heart into her craft, then washes off any leftover bad energy with crystals and a dip in the sea.
Here, Tati Gabrielle takes us on a trip down her Hollywood memory lane.
The first time I performed on stage was…
It was A Series of Unfortunate Events in third grade. I originally got cast as the lead, Violet, and I turned it down at eight years old. I wanted to be Lemony Snicket, because I really liked to read and he was the narrator for the story. Little did I know that there was going to be four Lemony Snickets, but I didn't care. I just wanted to be able to sit there and read in my little suit.
The actor that made me want to get into the industry is…
Somebody that really inspired me growing up was Eartha Kitt. I was actually first introduced to her by her music. I heard Santa Baby and C'est Si Bon when I was really young and I just remember being like: ​"Who is that? Who's that voice?" It was so mesmerising. Then my parents showed me the 1966 Batman, where she plays Catwoman. I just watched clips from it the other day and it still gives me chills. This Black woman, surrounded by a white cast, and she was the centre of attention. She commanded so much power, you can't take your eyes off her. I was like: ​"I wanna be like her when I grow up!"
The project that taught me the most about myself was…
Sabrina was huge for that. Prudence brought me out of my shell, because I'm so different to her. I'd previously made myself so small in the world, while, because Prudence was made to feel small, she made herself big. With playing her, I had to be able to bring myself out in order to give Prudence her full credence. She taught me to live for something bigger than myself.
One item that travels everywhere with me is…
I have a bunch of crystals that I always travel with. Sometimes I'll tailor my crystals to what I think I'm going to need while I'm there. But most of the time, I just bring a whole lot. I have a box and two little bags full. I'll set them up all over my space, wherever I am. They were all over the house [when we were filming] in London! I also always take a few pictures of family members and my best friends, and I always take my dog, Nas. She's been everywhere with me.
The coolest place my job has taken me to is…
Either Berlin, or the Spanish coast when we went to Barcelona for Uncharted. There was one scene where we come up in the boats onto the beach. We went out to this beautiful beach that was surrounded by a bit of jungle. My costume was technically half a swimsuit, so I was like: ​"Guys, when we finish can I just take my pants off and go sit in the water for a second?" I took my clothes off as soon as we were done and ran into the water. There's pictures of me just standing in the sea. I looked so peaceful.
When I'm not acting, I'm…
I like to surf and spend time at the beach in general. I'm a big water lover! I also like to paint and make art when I can. And I recently started to develop projects of my own, so I'll have little sessions with myself where I think of ideas for TV shows and movies.
My dream role is…
That's the hardest question! I want to tell as many stories as I can, in as many different lights as I can. And I want to tell the stories of people who may not be able to tell their story, or of people that we may not even know exist. I'm very spiritual in the way that I pick projects – I feel like they're souls in the ether that have sort of chosen me to be their vessel. So I couldn't say that I have a dream role. I'm open to whatever the universe and the artistic gods want to bring to me.
Part one of series four of You is available to stream now on Netflix. Part two will drop on 9th March


More like this