Taylour Paige on Zola, the mind-boggling Tweetstorm turned critically acclaimed film

The actress discusses ​"perfect preparation" and landing the titular role in Janicza Bravo and Jeremy O. Harris' stripper movie, Zola.

Arti­cle tak­en from The Face Vol­ume 4 Issue 003. Order your copy here.

There's an uncanny energy inside Los Angeles's famed French restaurant Taix this Wednesday afternoon – and not just because the 92-year-old establishment feels like a David Lynch-inspired hunting lodge. Over assorted cheeses I'm meeting red-hot actress Taylour Paige, the star of critically acclaimed stripper movie Zola, and she thinks she's been here before.
Twenty minutes into our chat beside a comically roaring fire, the realisation hits the 29-year-old. The reason this all feels so familiar? Last time she was here she bumped into the manager of Zola​'s director and he told her they loved her audition. A few weeks later she got the part; now she's back here talking about how she made it her own.
For those who don't know the backstory of Zola, the movie emerged from the 2015 Twitter-storm story of Hooters waitress Aziah ​"Zola" Wells, who posted about how she was convinced to embark on a two-day ­stripping trip from Detroit to Tampa by ​"this white bitch" named Jessica. Over 148 tweets, Zola recounted what felt like Homer's The Odyssey (if The Odyssey was about a stripper caught in a seedy underworld of sex-trafficking, hotel-room murder, unstable boyfriends and violent pimps). A follow-up, tell-all feature was published within weeks by Rolling Stone writer David Kushner and, inevitably (like any good yarn born on the internet in the past five years), a film adaptation was announced soon after.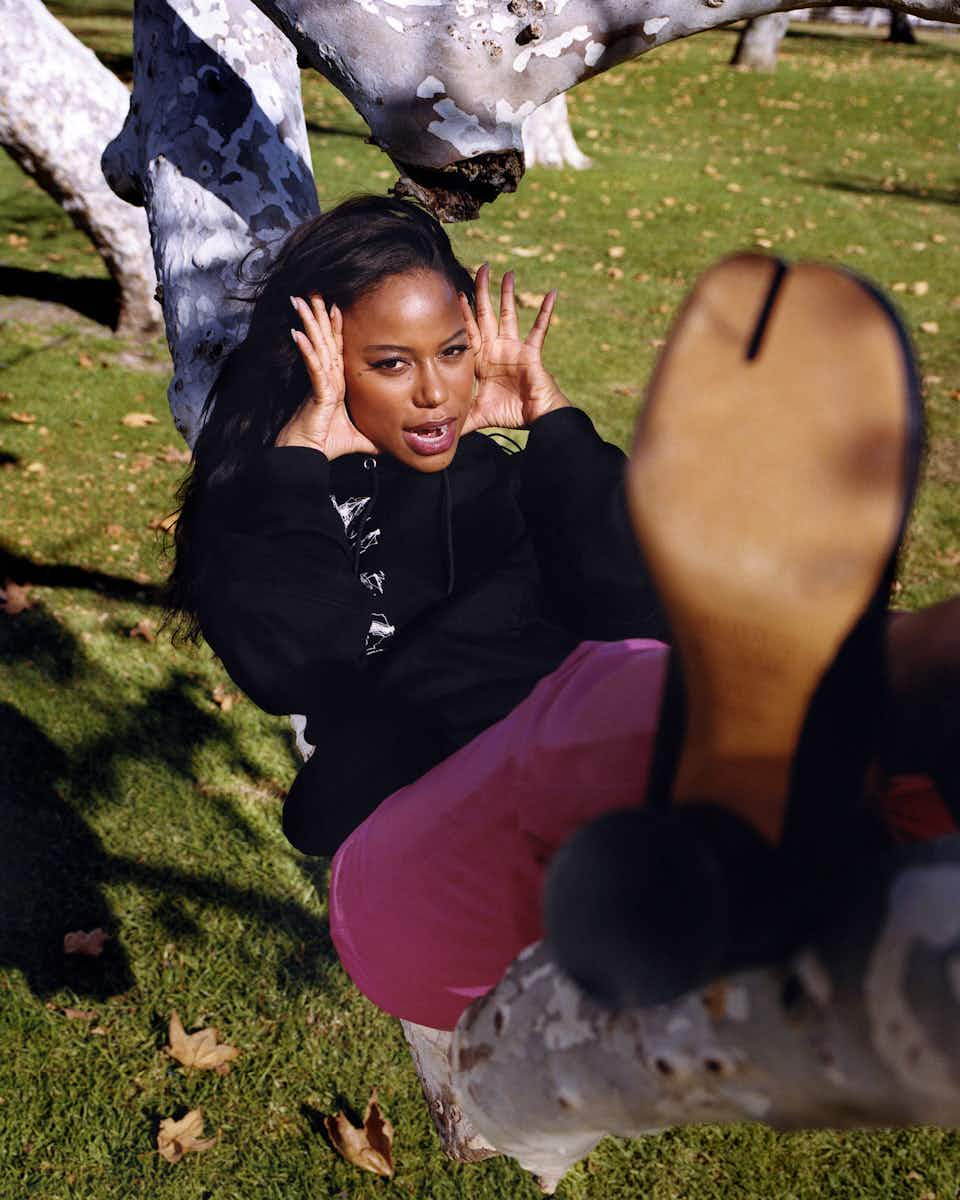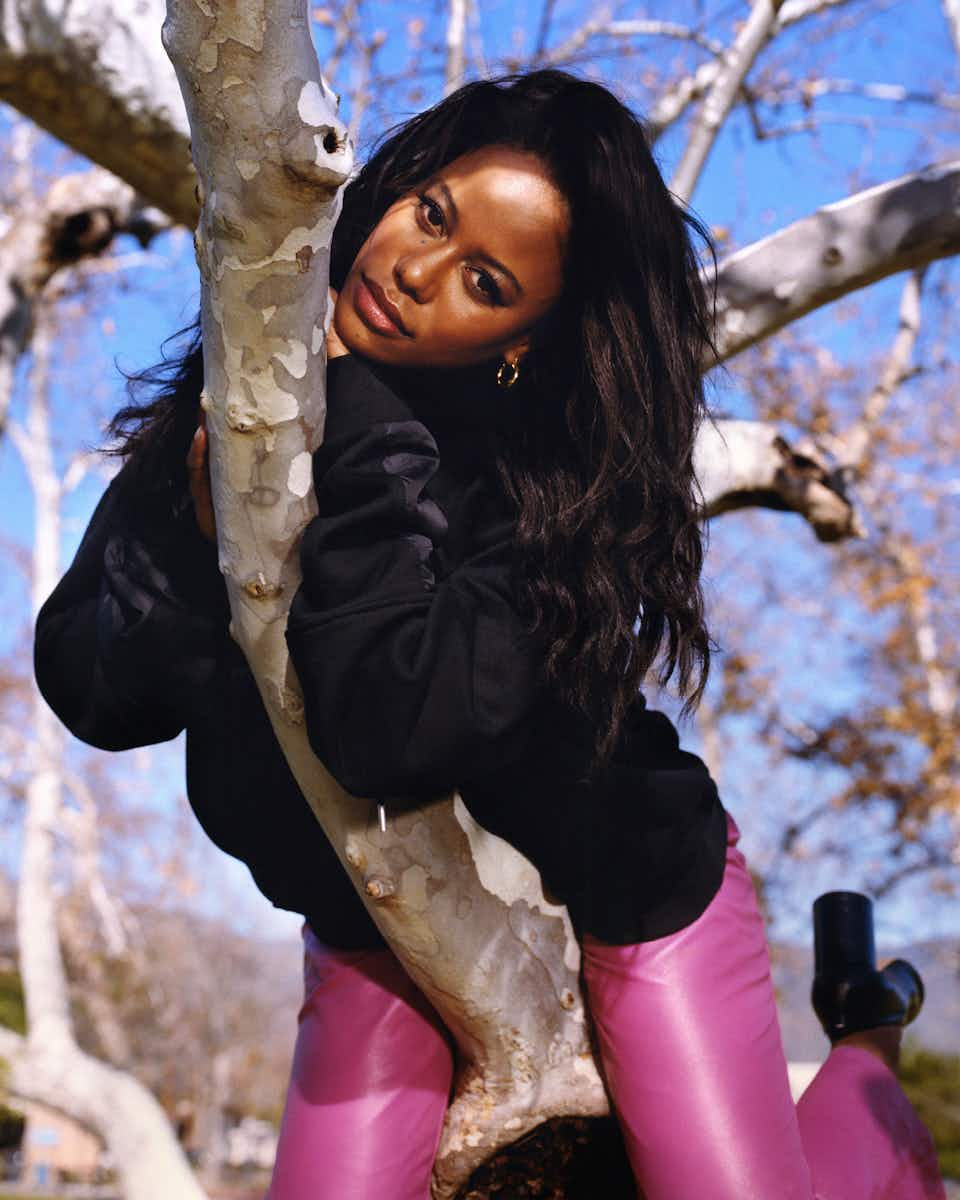 Zola was slated to be directed by James Franco but fell apart in the wake of sexual misconduct accusations against the star (accusations he denies). Then in 2018, Janicza Bravo was brought in as director and rewrote the script alongside Broadway's Slave Play author Jeremy O. Harris. Having auditioned for the lead role in the production's first incarnation, Paige was eager to revisit the film as reimagined by a woman of colour and a queer black man. Despite the team change, Paige still won the role and stars alongside American Honey's Riley Keough and Succession's Nicholas Braun. It was a smash when it was shown at Sundance and is set to be one of the cinematic hits of the year.
Born and raised in Inglewood, LA, Paige began dancing at the age of two, spending nearly a decade training under the guidance of star choreographer Debbie Allen (of Fame fame). She did a three-month stint as a professional cheerleader for the LA Lakers, then pivoted into a starring role in the first three seasons of VH1's Hit the Floor, where she played Ahsha Hayes, the newest member of the fictional Devil Girls cheerleading squad for the equally fictional LA Devils basketball team.

As rewarding as that role was, Paige soon found herself outgrowing a character whose life goals amounted to, um, wanting to be a cheerleader. ​"After a while, I thought, ​'I just can't fake this. Don't you want more for yourself, girl?'" She moved on from her VH1 show and, while house-hopping and sleeping on blow-up mattresses, auditioned across town. She dodged a bullet by not getting a role in a certain nightmare-inducing adaptation of a feline-focused Broadway musical, but struck gold when she landed the titular role in Zola and won the chance to play a complex character with a chaotic but powerful energy. It brought her a fresh focus. ​"Zola was a tipping point for me. I was like, if I'm going to play this wonderful human being, I can't be apologising for my space," she asserts.
Before landing the part, Paige had already won over the most important person: Zola herself. ​"She was like, ​'You're so me it hurts. I haven't seen anyone as good as you yet,'" Paige recalls of her early DMs with the star of the story. No wonder real Zola was impressed: Paige had done the legwork – and the floorwork. She stripped for a month at LA's Crazy Girls, using the aliases Lola and Zo. How was that? ​"I learned to stop apologising so much and to be more assertive. I also learned to really own my sexuality," she says – the perfect preparation for the part of a badass ​"stripper bitch".
Hair Ted Gibson at TMG, Makeup Eliven Quiros, Photography assistance Alexa Curran, Styling assistance Stephanie Drew.

More like this