The Normal Heart: an enduring, complex tale of the AIDS epidemic
Playwright and LGBT+ activist Larry Kramer's 1980s play has been rebooted for the modern stage. Its ambiguity remains, as does its existential point: time wasted is death. Here, THE FACE meets director Dominic Cooke and various cast members.
Before the lights go down at The National Theatre, and the performers of The Normal Heart arrange themselves across the Olivier's Stage frozen in the throes of dance, one of the cast members fishes their hand into a hat. Inside is a flurry of paper totems with names – old, young, celebrated, unknown – connected by many things, but not least pathological tragedy: all of them died from AIDS-related complications, sourced from the AIDS Memorial Instagram account.
Once on stage, a fire is lit in the middle of the round, a sort of funeral pyre. As it cracks and flickers breaking through the darkness, a minute of silence is held. The shadows on the stage are ghosts.
The AIDS pandemic is very much an ongoing public health crisis and continues to kill millions each year, the lion's share being in the Global South. Since 2018, three new major works across media have helped to reinvigorate interest in the west's historical epidemics, not least in New York City and London: Russell T. Davies' TV melodrama It's a Sin; Matthew Lopez's play, The Inheritance, which just swept the Tony Awards, and Robin Campillo's film 120BPM.
The impact of It's a Sin, particularly, has been hailed: Danny Beales from the National AIDS Trust went so far as to write ​"finally, HIV is on the agenda" in regards to the show, and myriad columnists celebrated its educational merits. The National's revival of The Normal Heart, then, benefits from a sort of serendipity: in the 35 years since its original writer Larry Kramer's play was last given a major London production, there has never been more mainstream interest.
Born out of the epidemic's tumultuous early years which drove Kramer – a mercurial figure variously cast as a puritan with a chip on his shoulder and a hero of gay politics – to fabricate it in a flurry of rage, The Normal Heart is a difficult artistic proposition. Set in New York City, then the epicentre of the crisis, it follows the story of Ned Weeks, the frenetic stand-in for Kramer (the play is largely factual but with fictionalised character names).

In his oft-aimless struggle to bring attention to this burgeoning plague, Weeks scraps with just about everyone: the cowardly bureaucrats at the New York mayor's office, commuters on the train, his fatally unheeding friends. Contemporary dramas dealing with terminal illnesses, be it AIDS or otherwise, have come to be defined by their cathartic qualities. Kramer's play is less interested in emotional impact so much as sledge-hammering home the existential point: time wasted is death.
Unlike Angels in America, considered the ​"other" seminal work of AIDS theatre, it is devoid of poetry or metaphor. Where Angels playwright Tony Kushner's dialogue boasts a snappy, lyrical cadence, the characters of The Normal Heart speak like real human beings, which is to say, without a discernible rhythm. The text percolates with the ferocity of its writer, and like its writer, is often misguided but always fiercely authoritative. It isn't the best theatre, but you'll be hard-pressed to find more effective agitprop. As The Inheritance playwright Matthew Lopez wrote in his Guardian obituary for Kramer, ​"one feels as though it must be read with oven mitts".

Director Dominic Cooke, best known for his acclaimed revival of Sondheim's Follies led by soon-to-be-queen Imelda Staunton, has wanted to direct The Normal Heart since he saw the landmark production at the Royal Court when he was a student – starring Martin Sheen, no less. ​"It had a profound effect on me," he says. ​"It is the rarest of things; a history play written by one of its key participants." Writing in 1985 about true events in the years prior, Kramer, of course, was not writing with any historical distance, imbuing his words with all the more urgency.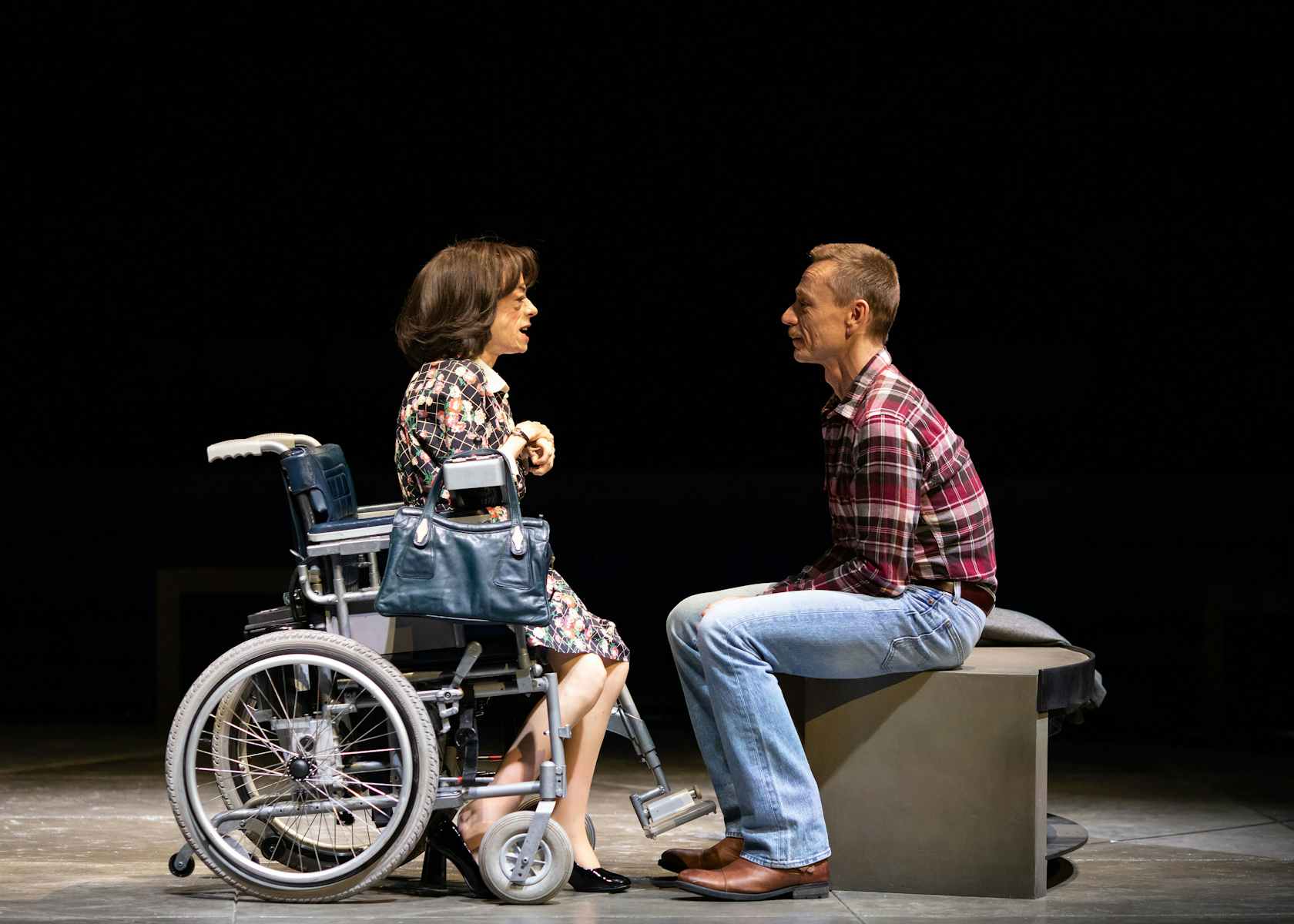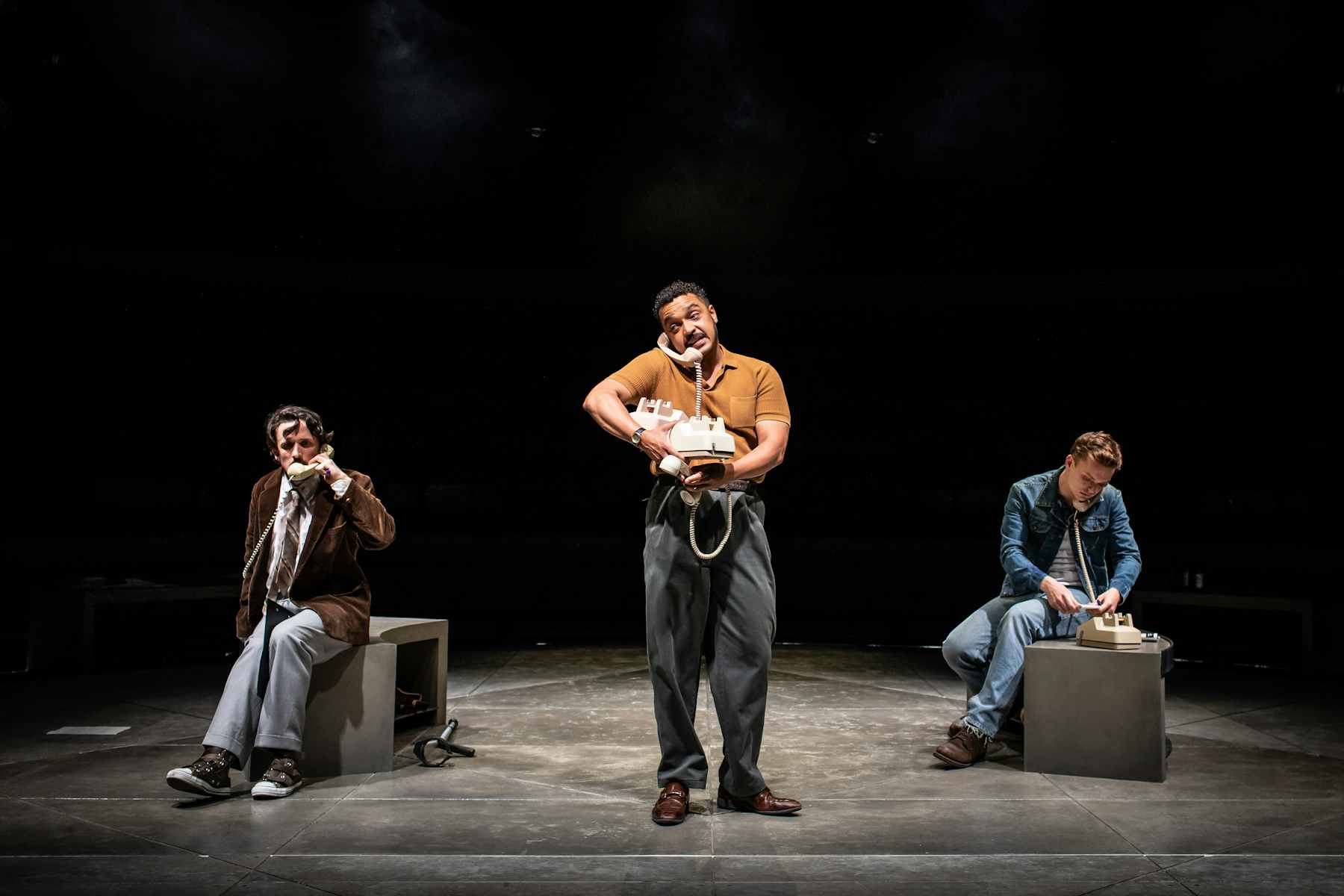 Audiences in the present might take it as a guttural cry from the frontline, echoing across the ether of time: these are men fighting a distant war that, as Weeks acknowledges in his climactic monologue – and so, Kramer – he wants to be remembered for. ​"Larry Kramer was a firebrand," Cooke continues. ​"And The Normal Heart is written with all of his characteristic ferocity, political insight and wit." Props are allowed to accumulate across the stage in Cooke's version, telephones, paper dossiers and milk evoking the mess of no-man's land. One suspects this is not a coincidence.
Elander Moore, who plays Craig Donner – the first character to die in the play; in this version his spirit lingers throughout, like an omnipresent guardian angel – first encountered the text just prior to auditioning. ​"It was one of those experiences where you get something through and you think, oh, this sounds cool," he says, chatting together at The National. ​"You read it, and it devastates you. I just closed the book and sobbed for a good period of time. I think not only because of the play and how amazing it is; I've been dealing so much with trying to find out where I belong, to find my queer identity. And this real-life story, from this real-life person from the past shouted out to me, like: you belong, this is who you are."
Beyond its fury with the criminal negligence defining those early years, The Normal Heart is a manifesto of belonging. In the same monologue in which Kramer states he wants to be remembered like a war hero, he revises a long lineage of historical figures, highlighting their ostensible gayness (or, at least, what we would categorise as ​"gay" today): Alan Turing, Proust and Walt Whitman are all name-dropped.

In the same breath, this is demonstrative of Kramer's fascinating political complexities, both personal and textual, ever present in The Normal Heart: he wants us to conceive of the gay world as based on more than just transactional sex, but with that comes a troubling moral judgement, one which risks alienating present audiences. Can we not, after all, exist as part of a profound cultural lineage and have the freedom to fuck who we want?

Kramer's contemporary detractors, of which there were many, certainly felt so. Bear in mind that the New York AIDS epidemic, and the play, came just a decade after the Stonewall riots and the subsequent wave of gay political organisation. On this particular night, the audience laughed at Ned's early quip that gay men have ​"made sex their primary political act," but the line isn't a joke; nor is the power of defying sexual hegemony, be it individual or collective. In the play, opposition is most loudly voiced by Mickey, played by Daniel Monks.
"A lot of Mickey's point of view aligns with mine," says Monks, sitting in a quiet café above the Olivier Theatre a few hours before a preview. ​"Especially in terms of being pro-sex, very against slut-shaming or whatever, he's quite progressive. It was relatively easy to connect with his argument." Monks, paralysed at 11 after the removal of a spinal cord tumour, relates Kramer's moral judgement to those against disabled people more broadly. ​"Any illness or sickness is so easily relegated to being deemed as some sort of moral failure," he says. ​"It's easier to blame the person than it is to reconcile the fact that shit happens, and anyone can become sick at any time."
To its credit, little is tweaked for the present moment in this version of The Normal Heart, save for a few lines given a modern sheen: Monks as Mickey, for example, refers to his lifelong oppression for being ​"disabled" as opposed, in the original text, to being short – a welcome update, at any rate.
All of its complexities and ambiguities are saved; it's that the play is so difficult to pin down, after all, which makes it so human. After the players bow and vacate, the fire remains, rippling above the stage, its passions somehow seeming tempered. But that's just an illusion of familiarity: it cracks and splutters, still, with solemn rage.


More like this