The Witcher's Anya Chalotra on playing TV's most sensational sorceress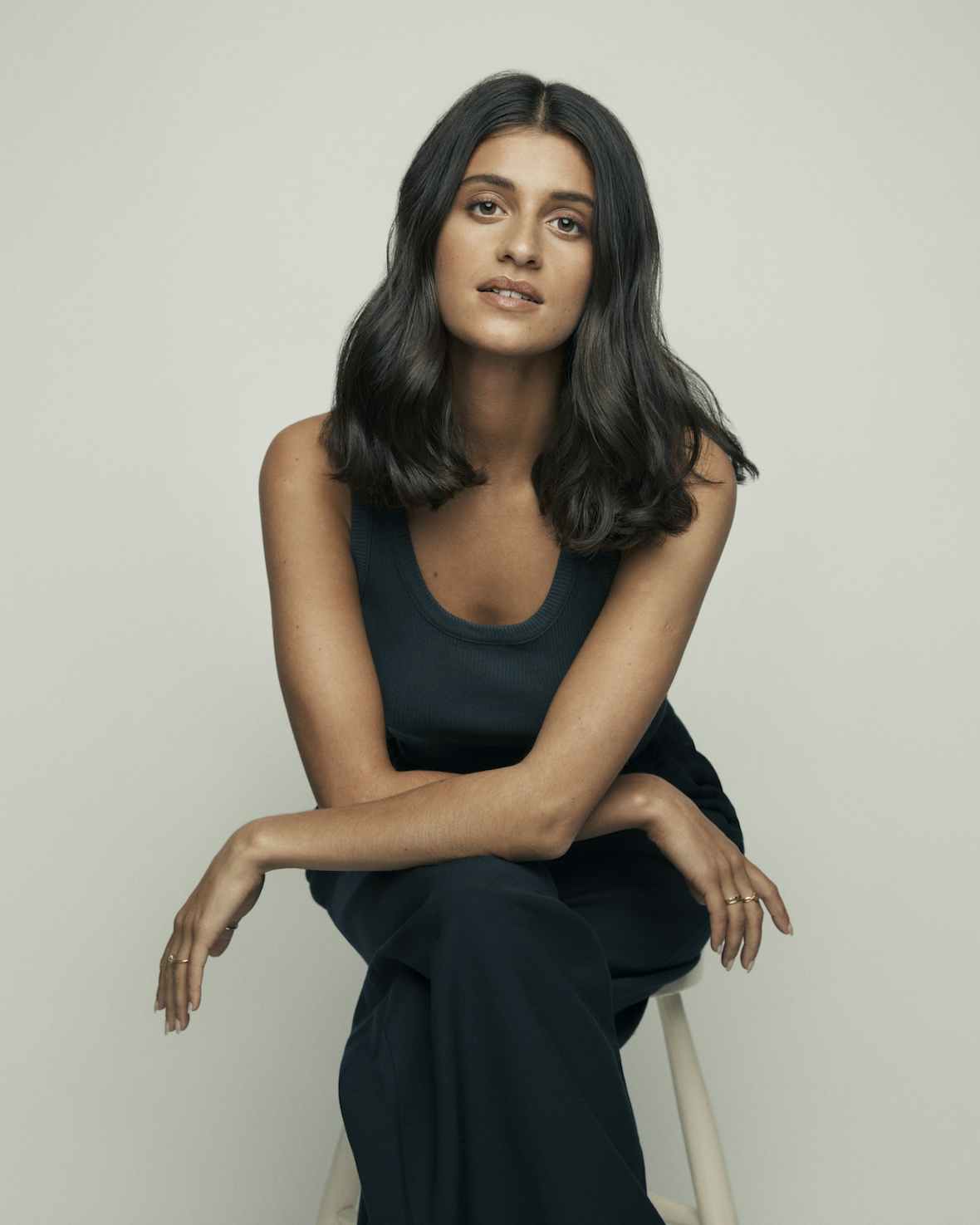 The first season of Netflix's hit series reached 76 million eyeballs. As the second instalment launches, the Wolverhampton-born actor gives us the lowdown on the emotional toll of playing Yennefer de Vengerberg and breaking fantasy stereotypes.

Christmas is closing in, the Omicron variant is ripping through the UK like wildfire and will-we, won't‑we anxiety around going home for the holidays is at an all time high. Far from ideal, to say the least.
So we're taking our thrills wherever we can find them. Enter, with a delicious sorceress swoosh, the second season of Netflix​'s epic fantasy series The Witcher, bringing much-needed, out-of-this-world escapism.
Based on Polish author Andrzej Sapkowski's bestselling books of the same name, The Witcher was repurposed into a popular video game in 2007, before being brought to life once more in 2019 as a TV show.
The Witcher​'s televisual universe has smartly expanded on the source material, bringing to vivid life a rich cast of characters vying to succeed in the face of evil: Geralt of Rivia (the protagonist monster-hunter, played by Henry Cavill), Ciri (Freya Allan​'s Princess of Cintra) and Yennefer de Vengerberg – only the world's most powerful sorceress, as played by Wolverhampton-born Anya Chalotra.
As many seasoned Witcher watchers would attest, in its first series, Yennefer stole the show. Accurately described as a ​"conduit of chaos" by her mentor Tissaia (MyAnna Buring), she's larger-than-life, her magnetism rivalled only by a quest for power and desire to be loved.
Yennefer defies the odds of a childhood plagued by cruelty and physical deformities, in order to become one of The Witcher's most compelling and layered characters: furious, vulnerable, tender, and later drawn into a romance with Geralt, whose intensity is only matched by Yennefer's need to conquer, well, everything.
In series two, as Geralt's duty to defeat evil kings, elves, humans and demons crystallises, so does Yennefer's relationship with his protégé, Ciri. Perhaps this is the true, unconditional love she always dreamed of experiencing, and a mother-daughter dynamic emerges, as Yennefer helps Ciri to better understand herself, her magic and her heritage, as she once had to do alone, at great cost.
"I think the show's writing [of Yennefer] has broken [fantasy] stereotypes," Chalotra says, her presence over Zoom just as commanding as her character's on screen. ​"Yennefer and Ciri are given an amazing amount of screen time, and an amazing story. You can see what's happening behind closed doors before they go in and face something huge. You can see the justification behind their decisions and what it takes for them to step out of themselves. They're such full, well-rounded characters."
At 26, it's surprising that The Witcher is Chalotra's first major TV role, given how masterfully she embodies Yennefer, but her acting career has been a whirlwind nonetheless.
She studied at LAMDA and Guildhall School of Music & Drama in London before, in 2017, landing her first job at the city's Globe Theatre, where she played Hero in Shakespeare's Much Ado about Nothing. The following year, Chalotra took on the role of Jennifer in playwright Nick Payne's BBC relationships drama Wanderlust, before finally being cast in The Witcher. And breathe.
Below, we caught up with Chalotra about what it takes to portray one of fantasy's most exciting female characters, what she's learned about herself along the way – and what a pint with Yennefer in Soho would look like.

Did drama school prepare you for the challenge of taking on a lead role in a massive Netflix series?
It didn't at all. I feel like being classically trained did teach me about the etiquette of theatre and how to work with a group of people for years of my life. I felt nurtured and supported by my tutors. It was a safe space and I got to know more about myself in an environment which really supports acting. But when it came to The Witcher, I learned on the job. It was a baptism of fire. I never could have understood [the challenge of it] – even my first job on TV was nothing like what The Witcher has been.
How did shooting the second series compare to the first?
I was more confident. I let go of this perfectionist attitude I had, this expectation. I'm still fighting that, because I have expectations of myself every day that I rarely live up to. But I definitely feel more confident. I exposed so much of myself and my emotional range in season one. It was all out there for the world to see. Now, I can be more present in the moment without letting a fear of fulfilling anything taint my understanding of Yennefer.
What strands do you pull from your own personality in order to embody Yennefer?
Everything! I don't take no for an answer and I'm incredibly stubborn. I've been good at putting on a front since I was a kid. I love being the centre of attention and making a fool of myself, I love being on stage. I think those are all things I bring to Yennefer. That being said, I'm very sensitive and my moods change everyday. I try to shove all of that into her character and meet her halfway – often by listening to Time by Hans Zimmer or Honey by 070 Shake.

As a character, she feels so raw and emotionally stripped back. How do you leave that behind so that you can become Anya again?
There's no separation, really. All the characters I play are channelled through me, first and foremost, but there are rituals I like to do. I'll have a shower when I get home, get into comfy clothes, watch something – things that aren't too cerebral!
What can you tell us about Yennefer's progression as a character?
I think she's becoming a lot more mature and selfless. We're all selfish in our own ways, and we have to be sometimes, but she makes some really considered decisions and choices this season. We see her, especially at the end, really grow and come into her own. I'm really looking forward to where that takes her.
Is she the kind of person you'd like to have a pint down the pub with?
Yeah, I would actually! I think she's pretty damn cool. She'd go into Soho, change her wardrobe up a bit. There'd definitely be some faux leather going on – she's vegan. Yennefer would adapt and survive.
What was the most fun you had on The Witcher set?
I had a whale of a time with Eamon [Farren, who plays Cahir], one of my closest friends on- and off-set. I just loved it. We care and look out for each other. We both come from theatre, which is really helpful – it's just so fun. We're always aiming to get the best possible scene out of one another, without taking ourselves too seriously. When you find that kind of bond with someone, you don't want to let it go. It's so exciting.
If you had to describe Yennefer in one sentence, what would it be?
Where there's a will, there's a way.
The Witcher is on Netflix now


More like this