Top to bottom: what makes a great gay film?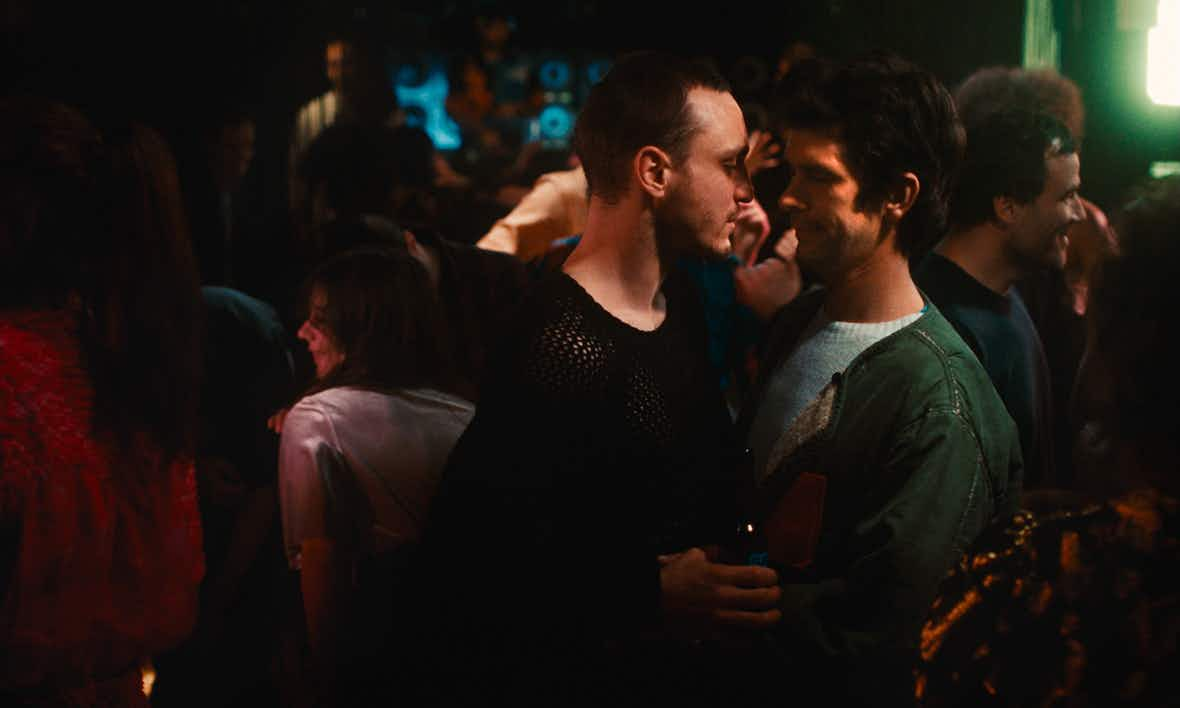 Passages has come to save queer cinema from a couple of years of so-so releases. Here, leading gay writers and critics including Charles Gant, Alex Needham and Alim Kheraj help explain those ups and downs.

Queer cinema has experienced a fair few blows recently. And not in a good way.
Last year's releases were marred by the sweet but shouty box-ticking of Bros; the gnawing, surface-level representation of Harry Styles' closeted copper role in My Policeman; and – how could we forget? – Kevin Bacon's abysmal queer conversion slasher-horror They/​Them.
But then in struts Passages, the pulsating new release by indie director Ira Sachs starring Ben Wishaw and Euro-acting icon Franz Rogowski. At last, the queer film we've been waiting hand, knee and foot for.
The Paris-set Passages is a sexy, tangled-up drama exposing the crumbling fatalities of modern relationships, with a throuple – and a good-looking one at that – as the film's centrepiece. Tomas (Rogowski) and Martin (Whishaw) are a gay couple into whose marriage the wickedly charming Agathe (Adèle Exarchopoulos) fills the developing cracks like Polyfilla after she becomes Tomas' love interest.
The brilliance in Passages lies in Sachs' honest depiction of arduous desire, and the vulnerability of its characters – particularly Tomas – that tests the pursuit of pleasure and the potential ramifications of having it all. There's sex appeal by the bucketload, with heavy breaths and explicit sex scenes drawing in a welcome dose of hedonism. But beneath the sheets lie the anguish of dishonesty, the lust of new love interests and the heartbreak of a failing romance.

Passages doesn't necessarily bring in political agendas as the early-'90s' New Queer Cinema cohort did, with directors such as Gregg Araki, Derek Jarman and Todd Haynes fearlessly depicting queer life as it was: the AIDS crisis, social stigma, death and moral panic.

Where the magic lies in Passages is more akin to that of 2011's Weekend. That film, directed by Andrew Haigh (whose Andrew Scott/​Paul Mescal fantasy-romance All of Us Strangers debuts at October's London Film Festival), was a sensitive, naturalistic tale of queer relationships that, in today's wild west of dating, manoeuvres itself like a frenzied Grindr hook-up or euphoric dancefloor date on a Saturday night. It indulges very human urges of sexuality and weakness, but peels back layers of male vulnerability with a fraught, modern depiction of queerness.
With all that said, what makes a great gay film? Is it the social commentary of Thatcher's Britain in 1985's My Beautiful Launderette, the euphoric soundtrack of 1990s ball-culture doc Paris is Burning, the subversive melancholy youth of Gregg Araki's 1993 masterpiece Totally F***ed Up, or the sun-drenched summertime tale of the Chalamet-making Call Me By Your Name (2017)? Or is it all of the above?
We handed the mic to journalists, writers and critics to offer their takes on how to nail a great gay film.

What makes a great gay film? Well, what makes a great film? For me, it's usually characters I care deeply about, engaged in a narrative that sustains and builds that empathy, in a world that offers something fresh and distinctive… and leaves you something to think about.

My favourite gay film, Ang Lee's Brokeback Mountain, is a love story that is turbo-charged in intensity by its setting in time and place, and we shouldn't be surprised if emotions become heightened when characters find their love butting up against social norms. But I don't recall such a social conflict being a powerful element in (then) contemporary love stories Happy Together (Wong Kar Wai, 1997) or Weekend (Andrew Haigh, 2011)… and those films are every bit as rich in emotion. Kudos to those filmmakers. First love is a story that never gets old, and the Jonathan Harvey-scripted Beautiful Thing (Hettie Macdonald, 1996) is a peerless example of the genre.

Charles Gant is a film critic, Box Office/​Awards Editor at Screen International, a member of BAFTA and has served on BAFTA Film Awards juries over the years. Trust us, he knows his stuff.

What makes a great gay film is often what isn't explicitly said or seen on screen. If I think about how much of gay life is coded, from the way that we communicate with each other, be that through a look or slang, to the connections we build among ourselves through a shared sense of experience, there's something in the white space that often makes these things feel more charged, emotional and erotic.
You see this in Moonlight, Brokeback Mountain, God's Own Country and even 120 BPM. Andrew Haigh's Weekend, which is perhaps my favourite gay film of all time, does this really well. There is so much that isn't said or acted out that can be inferred from what is happening on screen.

Alim Kheraj is a pop culture writer and the author of Queer London: A Guide to LGBTQ+ London Past, Present and Future.
My favourite gay film is Prick Up Your Ears, about the life of the ​'60s playwright Joe Orton, which follows his rise from working class Leicester to the toast of the London theatre world, before being bludgeoned to death by a hammer by his lover Kenneth Halliwell. Orton's relentless sex drive (there are some great cottaging scenes) and unapologetic enjoyment of his sexuality, at a time when homosexuality wasn't even legal, was very inspiring to me as a closeted teenager in the early ​'90s.
I also love the brutally frank German film Taxi Zum Klo, which is partly about the difficulty of conforming to other people's social expectations as a horny young gay guy, and which also features some incredible cruising scenes. I admired Great Freedom last year as well, about a guy who kept being thrown in prison for shagging men in toilets, and the strategies he used to cope with that.
I suppose all this shows that I respond to films that pit the fundamental need of same-sex-attracted people to find (and have sex with) each other against a society that tried – and in some countries still tries – to stop us doing that, and which focus on the rebels who did their best to overcome this oppression. As for what qualities I like a gay film to have: like every film I watch, I'd like a compelling narrative, amazing camera work, fantastic acting. And ideally someone I fancy getting their kit off.
Alex Needham is The Guardian​'s Arts and Culture Editor, and former Deputy Editor at NME and Features Editor at THE FACE in the ​'90s. He's written for publications including The New York Times, Fantastic Man, 032c and BUTT Magazine.
A great gay film can explore queer trauma, offer a heightened and comforting vision of same-sex love or delve into the fabulous, messy hedonism of LGBTQ+ nightlife. For me, the common thread is that they capture the otherness of being queer in a way that feels multi-faceted and authentic. Growing up gay can be isolating and, for some people, highly dangerous. But the flip side of this is that when you do find your tribe, it's enormously exciting and galvanising in a way that straight people will probably never understand. Whatever its subject matter may be, a great gay film will tap into that feeling on some level, I think.
Nick Levine is a writer who has appeared in THE FACE, thoroughly investigating the future of gay saunas, queer cruising and Mr Blobby as a queer icon. He's also written for NME, Time Out, The Independent and Dazed.
In the engine room of gay cinema – noisy, hot, usually dirty – filmmakers masterfully manufacture queer tension. That tension most often takes the form of unrequited love, because to be gay is to be frustrated by the idea that, oftentimes, we can't have what we want. It runs away from us – relationships where the other party does not, or cannot, love us back. And unrequited love runs rampant in all of the best gay films: Maurice, Passages, Moonlight, Call Me By Your Name, Brokeback Mountain, Blue Jean, Floating Skyscrapers. Perhaps it's the masochist in me, but I love watching devastating films where the main character doesn't get what he or she wants. Not because it's exceedingly heart-wrenching, but because it's reality.
Trey Taylor is a celeb-obsessed New York-based journalist and previous US Editor at THE FACE. He has written for GQ, Dazed, Vogue, Esquire and The New York Times.
Andrew Haigh's Weekend manages to do miraculous things in 97 minutes. The narrative framework means there's an immediate intensity to the central relationship between Russell (Tom Cullen) and Glen (Chris New), while their opposing views on long-term relationships gives it a really heady push-pull dynamic. It celebrates both the freedom and transient nature of gay relationships, while also touching on the universal need to feel rooted with someone you love.
There's hot sex, deep sadness – but also tender moments and a sense that both sides have come away from their one-night-stand-turned-something-more with a better understanding of themselves. It's only let down by Russell's penchant for a flat cap, which feels way too straight, sorry.
Michael Cragg is journalist and pop music aficionado, and author of Reach for the Stars: 1996 – 2006: Fame, Fallout and Pop's Final Party – the tell-all tale of Great British pop music.
Passages is in cinemas from 1st September in the UK and Ireland

More like this