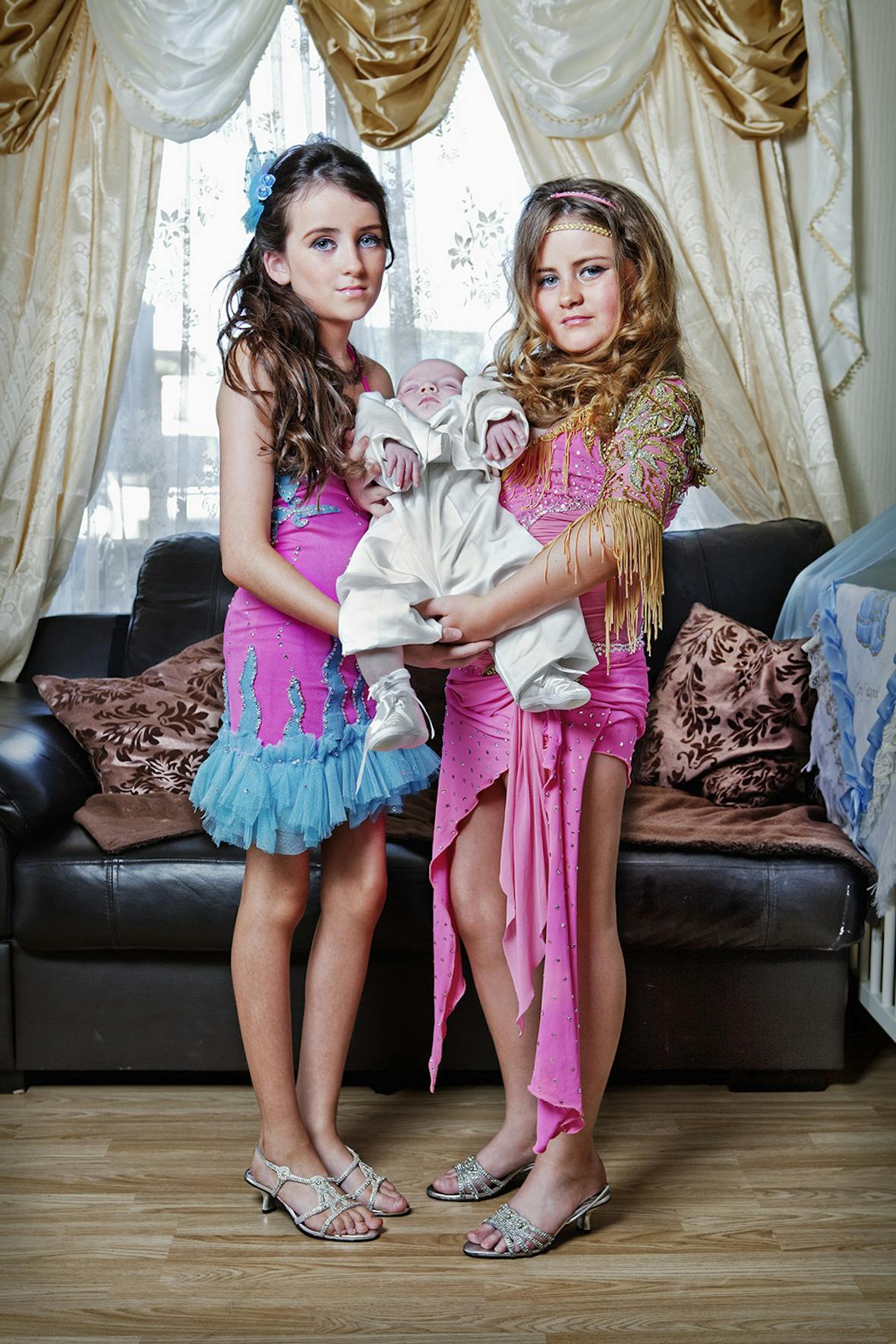 What's it like liv­ing under the West­way crossover?
Leave your mis­con­cep­tions at the door. Pho­tog­ra­ph­er Paul Wen­ham-Clarke spent a year doc­u­ment­ing trav­ellers, and his lat­est book, Urban Gyp­sies, offers a glimpse into their community.
The book is a step into the often secre­tive trav­eller com­mu­ni­ty which resides under one of London's busiest crossovers – West­way. It took him around a year to gain access and their trust.
Becom­ing an offi­cial site in 1975, Westway's trav­eller pop­u­la­tion has dou­bled since then, with around 45 car­a­vans and mobile homes cur­rent­ly occu­py­ing the space. But liv­ing in the Roy­al Bor­ough of Kens­ing­ton and Chelsea comes with its fair share of issues – the trav­ellers have dealt with intense pres­sures from the coun­cil, as well as hos­til­i­ties from the locals sur­round­ing the site. As Wen­ham-Clarke explains: ​"the coun­cil put mon­ey into mak­ing it an offi­cial site, then the night before they were due to move in a band of locals came down and smashed it all up with sledgehammers."
It could be argued that neg­a­tive atti­tudes have been encour­aged by cer­tain TV shows which are coin­ci­den­tal­ly very good at exploit­ing for our enter­tain­ment. It hap­pened with Ben­e­fits Street and sure enough, it hap­pened when episodes of My Big Fat Gyp­sy Wed­ding aired between 2010 – 2015.
Wen­ham-Clarke argues that shows like My Big Fat Gyp­sy Wed­ding ​"were only show­ing real­ly exag­ger­at­ed cas­es – the peo­ple were prob­a­bly paid by the TV com­pa­nies which fuelled those amaz­ing wed­dings [but] the West­way trav­ellers were like ​'We don't have that amount of mon­ey, we don't spend that kind of mon­ey on wed­dings'". So when the pho­tog­ra­ph­er stepped into the com­mu­ni­ty, he made it his mis­sion to change the public's per­cep­tions of con­tem­po­rary travellers.
In Urban Gyp­sies, images are accom­pa­nied by cap­tions and anec­dotes, while the book is tied togeth­er with a touch­ing trib­ute to the first trav­eller to live on West­way – Mar­ti Ward, who passed away a few years ago.
Read below to find out more on Wenham-Clarke's time spent with Westway's trav­el­ling community






How did you gain the trust of the noto­ri­ous­ly secre­tive travellers?
It was a long process as I knew I couldn't just walk in there and ask. I looked at who the trav­ellers were deal­ing with; the local pri­ma­ry school, the Chris­t­ian cen­tre, the local mechan­ics and realised I could go to those peo­ple to intro­duce me to the trav­ellers – that took a good six months. It's very dif­fi­cult to get in unless you've got a per­son­al con­tact. We kept an agree­ment that I'd pho­to­graph what the trav­ellers want­ed me to; wed­dings, first com­mu­nions, par­ties. The whole West­way project took about two years, but I was in con­tact with the trav­ellers for a year. I'm intend­ing to keep it going for as long as they're there – they've been put under huge amounts of pres­sure to leave, so it's quite like­ly they'll leave at some point.
What was the point of the book?
The whole point of the book is try­ing to get peo­ple to under­stand what it would be like to be a trav­eller. There's a hell of a lot of con­flict between trav­ellers, local com­mu­ni­ties and police in lots of places, but not in this place – it's very calm in the West­way. But across the trav­el­ling com­mu­ni­ty in Britain, there's a lot of aggra­va­tion. For a long time, they've been able to trav­el where they want to – that's been their cul­ture. Now the world has changed and they can't trav­el or park where they want – their world is evap­o­rat­ing, so they either rebel or accept it.
What were their ini­tial reac­tions to you?
Very sus­pi­cious to start with. Peo­ple want to gawp at them and laugh – I want­ed to show their real life. Peo­ple imme­di­ate­ly think of My Big Fat Gyp­sy Wed­ding, but those pro­grammes were only show­ing real­ly exag­ger­at­ed cas­es where the peo­ple were being paid by the TV com­pa­nies which fuelled those amaz­ing wed­dings and the West­way trav­ellers were like ​'We don't have that amount of mon­ey, we don't spend that kind of mon­ey on wed­dings' – that isn't nor­mal. They thought those pro­grammes were a bit crazy. As time went on, they saw that I was on their side and not doing it in any judg­men­tal way.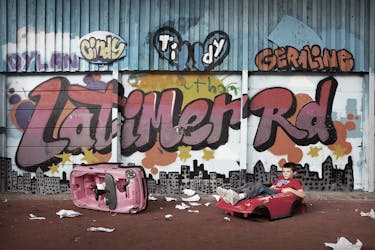 Were there any sur­pris­ing moments dur­ing your time spent with the travellers?
When I got close to pho­to­graph them peo­ple said they'll be like this, they don't pay tax, they live there for free, they have tons of mon­ey. So I had all these ideas buzzing around my head and actu­al­ly, none of them were true. They do pay tax and they do pay rent for where they're liv­ing, as well – they are con­form­ing to all the same things we con­form to. I felt quite sad – there were moments where I thought who would be hap­py to live under­neath a motor­way? It's sim­ply unac­cept­able liv­ing con­di­tions for the UK. How is this hap­pen­ing in the UK and peo­ple are con­sid­er­ing it to be okay while charg­ing rent for it?
How should peo­ple take action?
We need to prop­er­ly accept that they are a cul­tur­al group in their own right and they need as much pro­tec­tion and respect as any oth­er cul­tur­al group we have in Britain. Peo­ple need to under­stand how their cul­tur­al iden­ti­ty is being wiped out. Soon enough, they will just be absorbed into the rest of the pop­u­la­tion. There ought to be more pro­vi­sion for them to trav­el and places around the coun­try where they can trav­el freely. Their cul­ture is to stay togeth­er, so offer them options that allow them to main­tain their cul­tur­al iden­ti­ty – oth­er­wise, you're delib­er­ate­ly wip­ing it out and try­ing to make them fit in with every­one else and why should they? They've always been labelled as a prob­lem, rather than us com­ing up with a solu­tion so we can all live in harmony.
What can the world learn from travellers?
They've got a very old fash­ioned way of doing things – they like to stay close togeth­er, so you have new­born babies and great-grand­dads all liv­ing close togeth­er. They've got this fan­tas­tic sense of fam­i­ly, you real­ly notice it at their birth­day par­ties, when everybody's there. We do that sort of thing once in a blue moon, don't we? They do it every two or three weeks. There's this tremen­dous sense of togeth­er­ness – that was real­ly pow­er­ful. How did we get to be so dis­joint­ed and dis­parate? We're all so bro­ken apart.
Urban Gyp­sies by Paul Wen­ham-Clarke is pub­lished by Hox­ton Mini Press. It is avail­able to pur­chase from 6 June here.
---