Waste! Store: welcome to London's coolest shop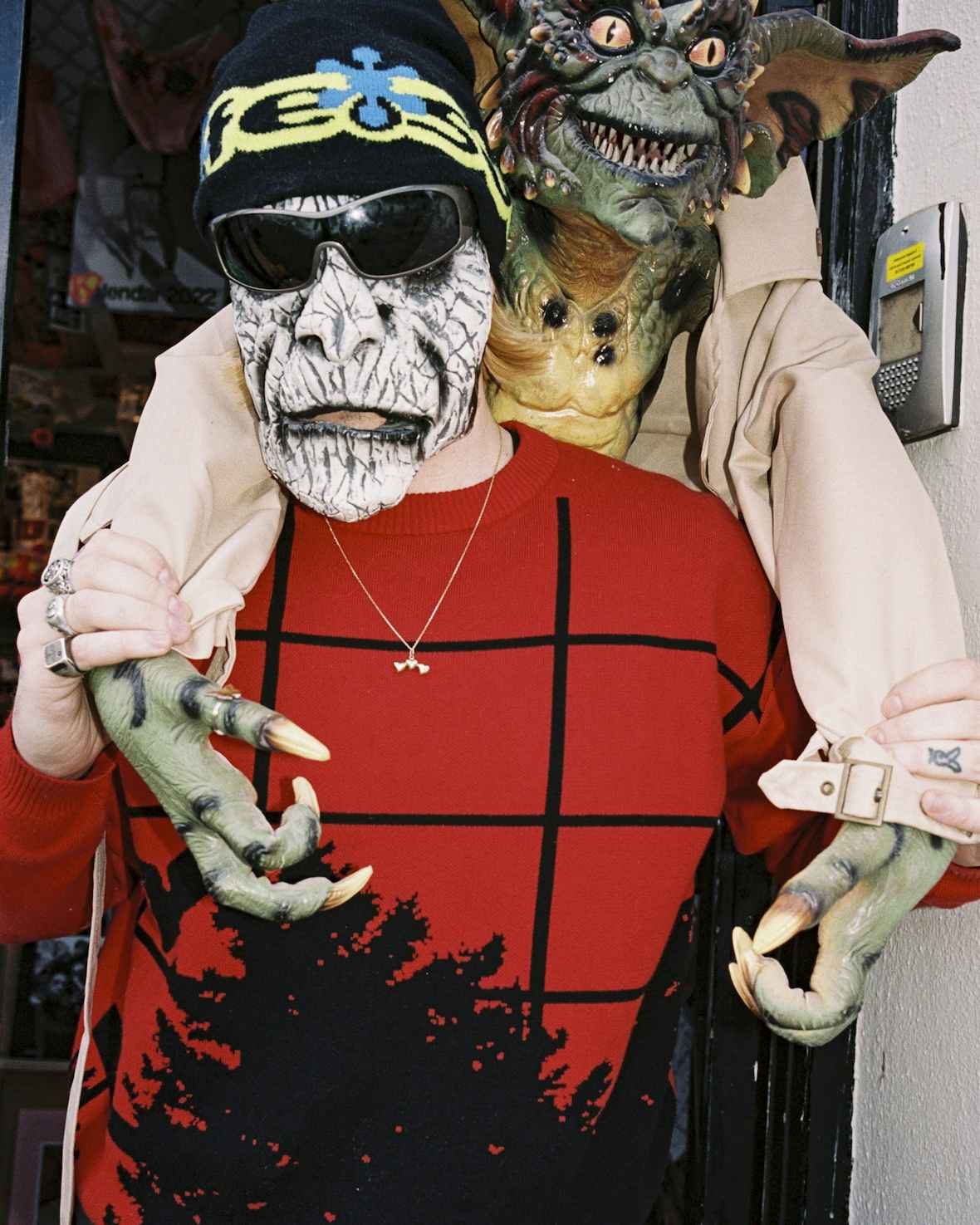 Hackney's wackiest community shopping destination is a Santa's grotto of cult memorabilia and homemade weirdness. Jack Mitchell and Roydon Misseldine stock everything from Baby-Gs and troll dolls to DIY zines and fantastic fashion, only available IRL.

Taken from the new print issue of THE FACE. Get your copy here.

Waste! Store may only have opened last December, but it's already established itself as the most exciting thing to happen to London's retail scene in, well, God knows how long (retail scenes are generally quite boring, let's be honest).
On a nondescript stretch of Hackney Road, East London, its interior rejects the clean and clinical to embrace a culture of clutter: counters covered with finger monsters, mood rings, mannequin heads and temporary tattoos. A vintage TV plays The Godfather on a loop in the corner. There are zines galore, fantastic fashion, wacky DIY cushions, troll doll keychains and a life-size creature from 1984 horror-comedy classic Gremlins.
Dreamt up by great mates Jack Mitchell, 29, and Roydon Misseldine, 26, to be a clash of their respective visual styles (they're graphic designers, would you believe), Waste! is a community shop which pours love – and cash – back into the artists whose wares are up for grabs. Most products in the shop are made by Mitchell and Misseldine, their friends or friends of friends. Each one comes infused with a healthy dose of nostalgia and an even healthier dose of singularity – in turn fostering relationships with punters that go beyond the purely transactional.
Enticed in by a friendly-looking E.T. model stationed outside, we pushed through the crowd of excited curio shoppers to ask the Wastemen about putting ​"faith in chaos", their bright idea of ​"modelling a shop after our childhood bedrooms" and catering to those who have an insatiable appetite for weirdness.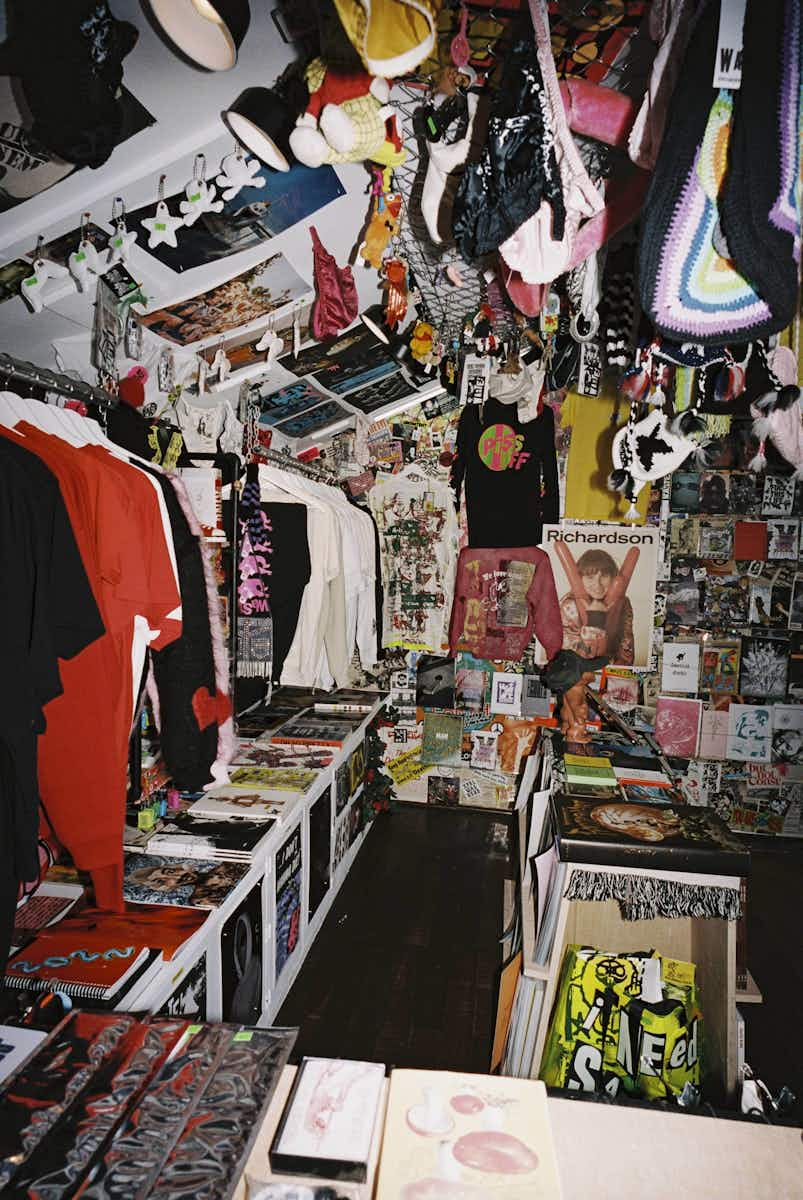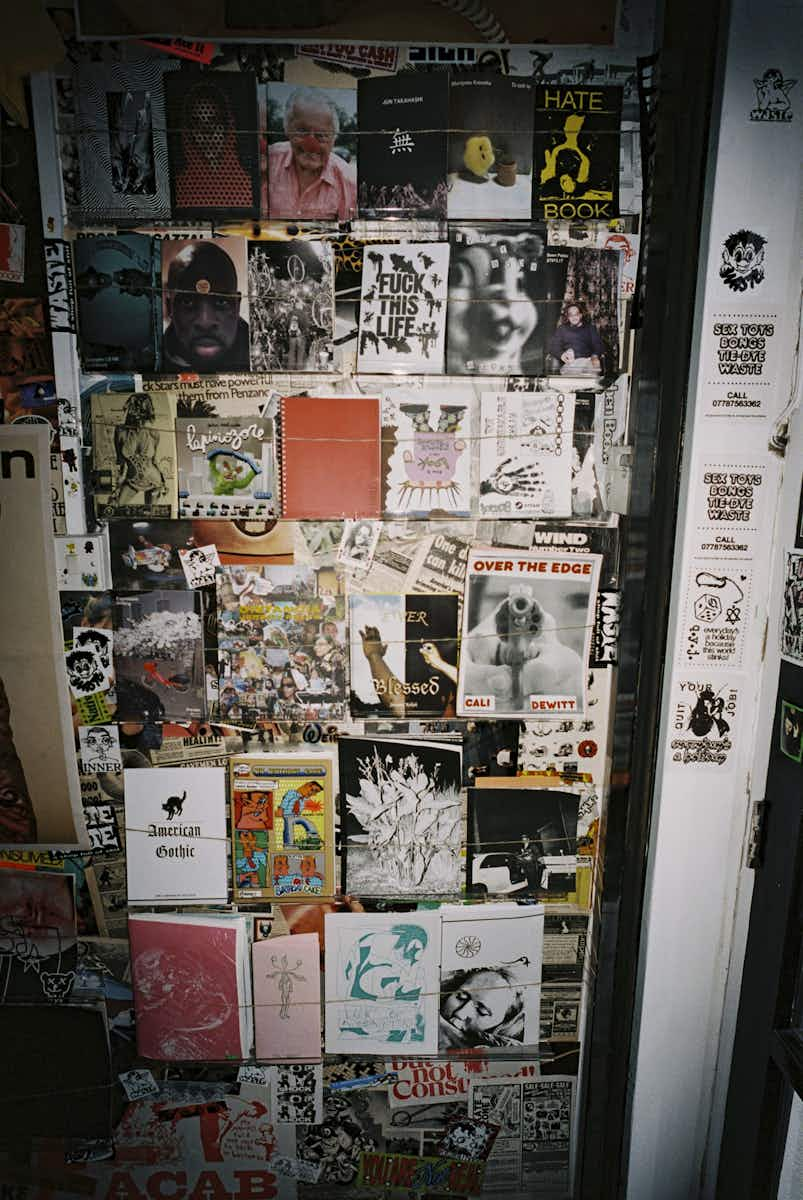 What led you to open the shop, you two?
Roydon: Jack and I had been making a bunch of stuff. We were just talking down at his studio on Brick Lane and started screen-printing. It was so fun to be doing that again, especially after Covid, slowly getting back into the normal routine of London.

Jack: I think anyone who makes stuff wants to have a shop. It feels like a natural progression. If you skate, you want a skate shop. If you make clothes, you want a clothes shop. But maybe that doesn't seem achievable. I'd looked for spaces before, but never found one that was quite right. Then we randomly viewed this one in September, after Roydon and I had been talking about how cool it would be to have our own space.

R: After being inside for so long, lots of our friends were making cool stuff themselves. It became clear that DIY was really re-emerging.
How do you feel the pandemic affected our relationships to work?
J: I think Covid made everyone try something new. A lot of people were taking it back to more simple times, making zines, knitting and print-making. Then I viewed this spot and had a vision of what it could be.
R: He sent me a photo of it and said: ​"Shop?" I was like: ​"Yeah!" I always grab coffee next door [at The Bright Store], so that was a good pre-existing connection to the area. At that point, I hadn't thought about it as much as Jack and it wasn't totally on my radar, but I left the viewing with that excitement inside.

J: And things evolved from there. To start with, we had zero things to put in the shop.
How long did it take for you to gather a healthy amount of clothes, books and ephemera for shoppers to browse through?
J: About six weeks. Our friend Leomi [Sadler] makes art T‑shirts and that was the first thing in here. I remember having a single tee on the rail and thinking: OK, this is something.
R: The DIY part was so fun. We didn't care so much about the opening itself, it was more about the project and getting there, doing it every day.
J: And we didn't have the money to spend on a fancy shop fit.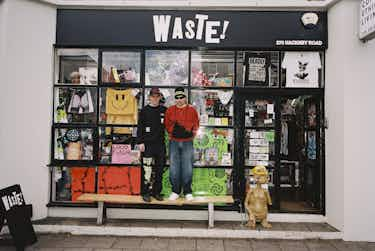 Just as well. Fancy doesn't really fit the bill of what Waste! is all about. It looks like a really cool bedroom.
J: It's basically modelled after our childhood bedrooms. We plan to keep going until we have no more space to fill. It's all about putting faith in the chaos.

R: It's gotten to that point where blank space feels odd. Some guy came in, a screen printer from Walthamstow. He had these sick old band patches – Poison, Kiss, Testament – and asked if we wanted them. We had a bunch of cash, so I said yeah. I took one home!
J: We're not very good, business-wise. If we see cool stuff, we buy it without really thinking about how much we can sell it for.
What inspired the look of Waste! Store?
J: The really loud screen-printed stuff we both make. There are stores in Japan that are very similar in terms of putting loads of shit in a small space, like toys and books. There's not really a hierarchy like [there is] in fashion, where certain things are high-end. It's just a big mix.

R: I like the idea that, in a toy shop or at a zine fair, anyone can find something that they're into. It's not so clean and simple, where you're being told what to look at. There's a sense of discovery where you can come here and find something, but you've really got to look for it.
Are you happy for people to come in, rummage around, touch stuff?
R: Yeah. And just have a conversation. That's the best part. We're not paying ourselves – we do freelance work on the side to pay our rents. Everything we make from the shop goes back into buying more stock. The most valuable thing is having people come and hang out, especially given how isolated we've been in the last couple of years. It's hugely inspiring to meet people in person and find out what they're up to.

J: You just can't get that online. People have come in and told us about something they or their friend made that only exists in their room. That creates an old-school word-of-mouth thing, whereas established stores have buyers and there are lots of business‑y layers to it. It's nice to see something in real life rather than over email.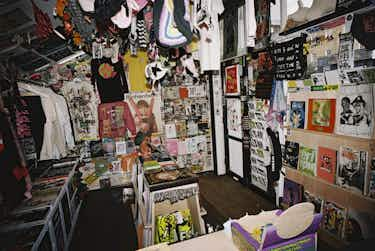 What's the best thing about stocking so many items made by your mates?
R: I love it when someone comes in and doesn't know about any of this stuff, but they'll pick something up that a friend has made, like a zine or a hat, and buy it without even knowing where it's come from. All this stuff has so much meaning. It makes me proud.

J: Seeing our friends' stuff out in the world, making people happy… It's a better feeling than someone buying things you made yourself.
How would you describe the kind of spirit that Waste! embodies? What emotions are you trying to stir up in people?
R: I remember hanging out at skate shops when I was younger, and that was the place [where] you'd find out about a new video, a skate brand or a skater that you didn't know and couldn't find on the internet. In a way, that's kind of what's happening here. People come in and find cool stuff they couldn't find anywhere else.

J: It's like the old retail values of why shops began in the first place. People trusted shops to tell them what was cool or interesting. Now, with the internet, they're the ones who decide what's cool via likes and follows. We don't really care about that – a lot of the stuff we stock isn't made by anyone famous, but it's a hundred times better than anything else, to us at least. It's made by people in their bedrooms. An item's way more special if you Google it and nothing comes up.

R: Before, it used to be that I'd just have a pile of T‑shirts I'd made in my room and if a friend came round, I'd give one to them for free.

J: It's nice to give these things a place to live, to make people feel like the stuff they make has a home. Roydon and I both hated the fact that what we made ended up in a cupboard or some webstore. That feels very cold and counterintuitive to the reason we like making things.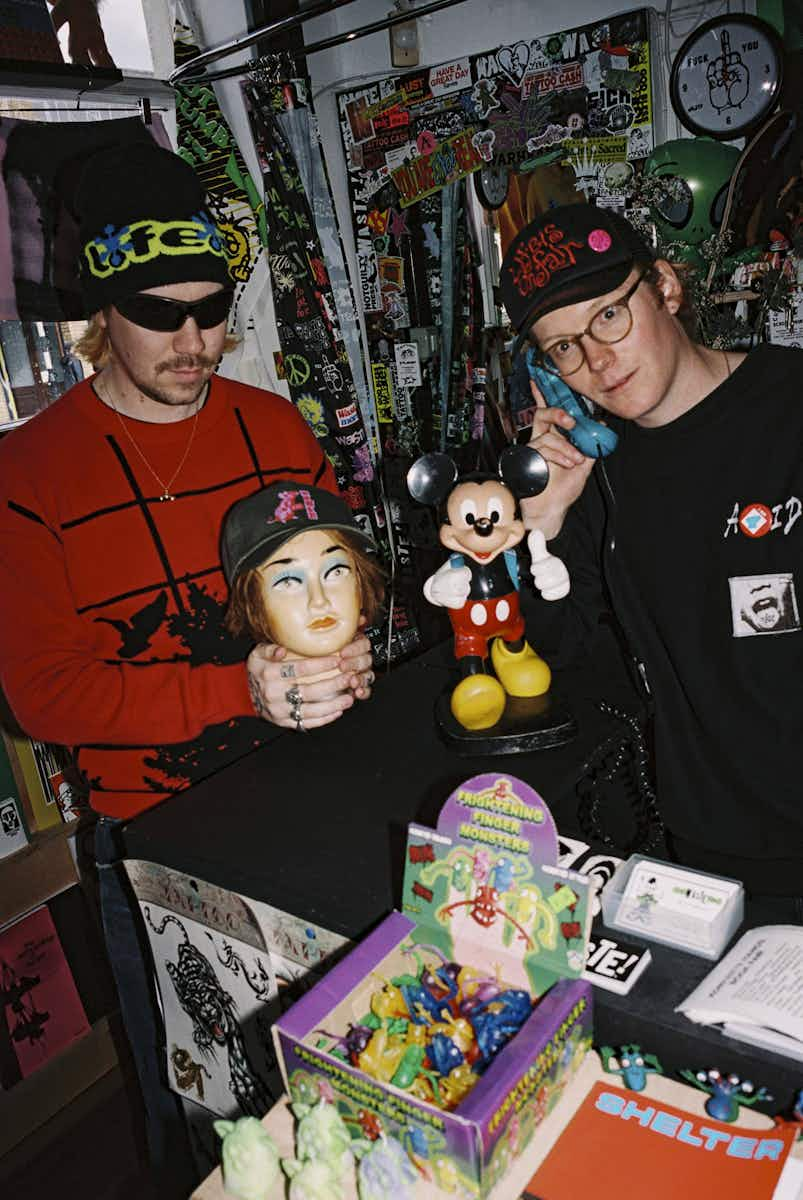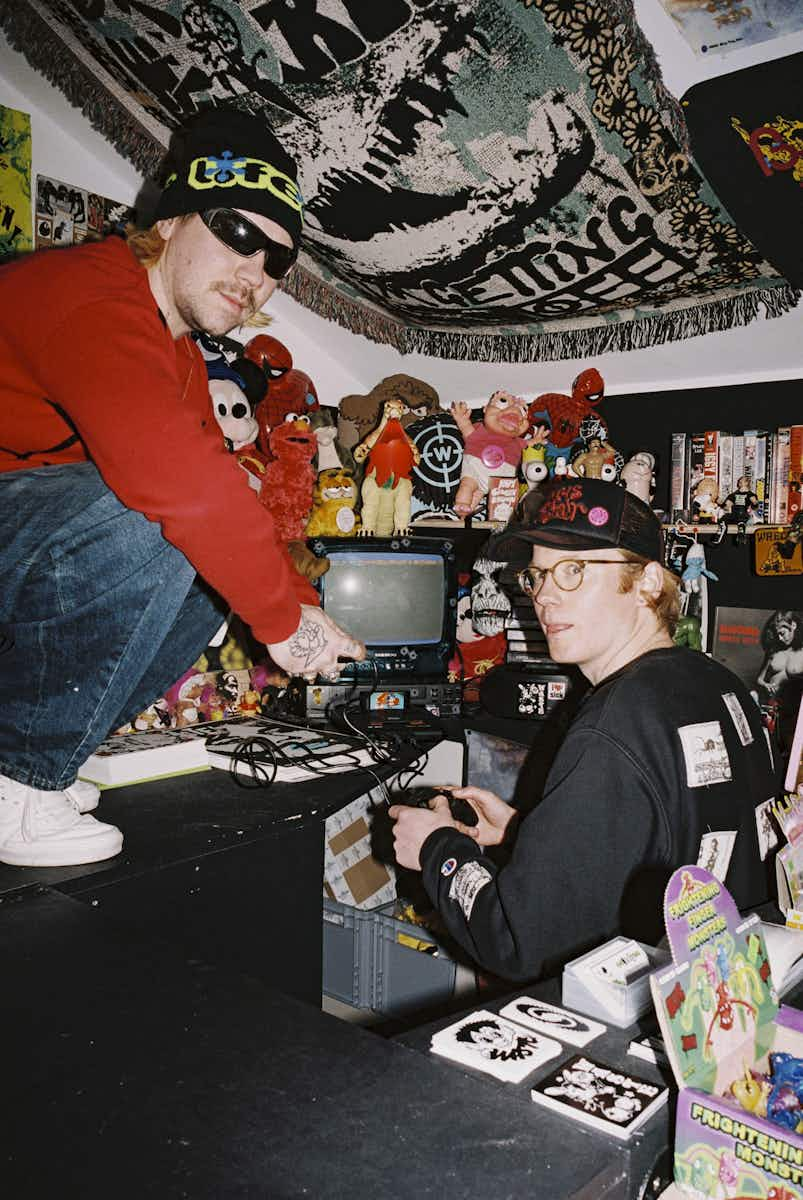 What's the most special thing to have made it into the shop so far?
J: We love it all!

R: There are these Furby candles by our friend Hope [Roalfe]. She hand-makes them in South London. Some of them have neon green feet.
J: They were made in the spirit of not overthinking.
What appeals to you about maximalism and loud, bright colours?

J: I've been making this kind of stuff since I was a kid. My nan got me fabric paints when I was 10 and I started making T‑shirts. I've never really been into conceptual art – I was obsessed with Andy Warhol and big, loud, simple things that you don't necessarily need to understand. You can just appreciate the craziness of it. Then my dad was super into punk, so I was listening to that. When I was in college, I loved zines, ​'60s counterculture, ​'80s DIY. Those fit into one another: cutting, sticking, powerful images, neon colours. Loving those things has never really changed for me. But Roydon's an actual trained graphic designer…

R: I dropped physics to study graphic design. I loved zines, too, plugging my USB into the printer, overspending on the school's budget. I've always gone to zine fairs and had some sort of brand going in the background. Sharing these things with people is the best thing ever and Waste! is kind of like that on steroids.

J: Everything comes back to zines. There's a community aspect to them where anyone can do it. They're cheap and historically not technically well made, but simply an expression of art or how you feel. There are no rules.
R: This place wouldn't exist without zines, for sure.
What are you excited about right now?
R: The hunt for more stuff, which will forever continue.
Does going so deep into the rabbit hole of finding new things ever overwhelm you?
R: That's the best thing about it!
J: It's one thing to get paid and treat yourself to something you've been watching on eBay for six months…
R: … now we'd buy that for the shop! It's the best job in the world.
You're fulfilling your own teenage fantasies.

R: Totally.
J: We're really good at shopping. Our personal spend has decreased significantly. We like to think that most of the stuff in here, other shops are too snobby to carry.
You have an in-store only policy. Is taking things online the ultimate no-no for you guys?
J: Yeah. Now we have the shop, we don't really have to convince anyone of what we're about. We don't like online trading but do enjoy Instagram.

It's like a digital shopfront.

J: Exactly, and we try to use it as a way to create a digital version of the experience you get when you walk into Waste! Store. That being said, we have special artist editions we're working on with Peter Sutherland, Cali DeWitt and Josh Gordon that we're going to sell online. Growing up, a lot of my favourite artists were overseas, so I couldn't get any of their work delivered without paying a billion pounds. So we do want special stuff to be accessible to people, but a website's our worst nightmare.

Have you met any particularly memorable people since opening up the shop?
J: A guy came in with his wife. We were selling a Public Image Limited concert photo, which was taken the night they met.
R: One group of friends came down and they were in a magazine we had laying around. I gave it to them for free – it's way cooler for them to have it.
J: Then there was this kid from the States who came in, he was super nerdy. He wanted to buy a gift for a girl he was in love with, to woo her. He only had about £15 but I ended up giving him a bunch of shit. He said she was really into heavy metal and we have some zines and artworks on that, so it was perfect. I also gave him a Furby candle and T‑shirt we made.

R: There's another kid who comes in with his dad. He's been here about six times and I give him a Smurf figurine every time. I hold them up and he points at the one he wants. He loves the finger monsters and I made a Waste! badge for him to put on his beanie. He was so stoked!
J: We have stuff here for people aged from four to 100. We love boxed stuff like those finger monsters or mood rings, the kind of things you'd see on the counter as a kid, when you're as high as the counter and you want all the weird bits on there.

Waste! definitely replicates that wide-eyed kid in a candy shop feeling.
J: That's what retail should be about! We don't really see ourselves as changing the industry, but if we can help people feel like it can be more accessible… Having said that, it's easy when everything's so boring. People make a shop by looking at other shops and copying that. Although we don't necessarily plan, we always ask ourselves how we can make things fun and put a lot of thought into getting our personalities across, to make things Waste! Style.
R: And we just like designing things. When we aren't here there's a sign out front that says: ​"Please deliver next door." I spent way more time than I should have designing that little moment that no one else would care about!
You don't do anything just for the sake of it…
J: In 2022, people have seen enough clothes against white backgrounds. They need something more. There's so much connection to be made behind products and I think you take something different from an item you've bought physically at a place like Waste!, compared to if it was mass-produced. We're lucky in the sense that it's a timeless way of working. When your stuff is based on independent thought, it tends to turn out well.

R: If we stock something, that means we believe in it.

Find out more about Waste! Store here

More like this