White Lines: clubbed to death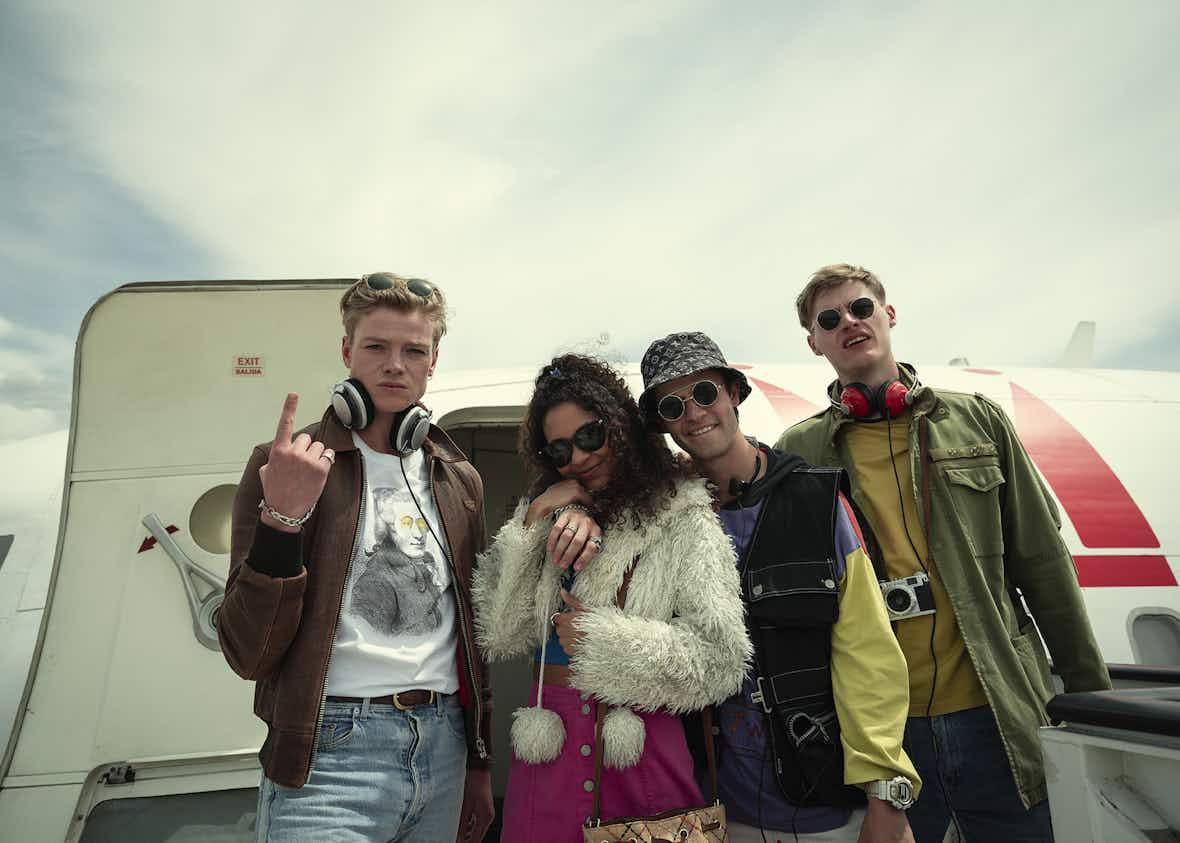 From the man who brought us Money Heist and the people who made The Crown comes an Ibiza-set thriller – a Netflix series involving a party snake, a white peacock, a dead DJ, big tunes and, of course, drugs. Hoover up White Lines for the Med-for-it holiday you won't be getting this year.
On the Spanish set of White Lines, cast and crew and clubbers are on a major comedown. No wonder: the team behind the Ibiza-set thriller have been hitting it hard for months.
"White Lines accentuates Ibiza as an island of extremities, which in my experience it is," says Tom Rhys Harries. He plays Axel, the Mancunian DJ whose disappearance 20 years ago is the central mystery of a show that plays out in two different timelines. ​"You either go off to a yoga retreat and just eat lemons for a month, or you party for a week straight and you can't see."
Amen and to that, close those curtains and please stop shouting.
So episode one, which is already completed on the day I visit the set, features ​"a little dog getting off its tits on cocaine", one of the producers tells me. ​"In episode two, a big dog gets off its tits on cocaine. Then the little dog tries to mount the big dog. And for one scene we had a big white peacock, which shat all over one of our lead actors."
Only in Ibiza, etc. Just yesterday, day 112 of the 136-day shoot – long for a major film shoot, far less a TV series, even if it is a well-budgeted Netflix blockbuster running to ten episodes and ten hours – the sprawling team of Anglo-Spanish filmmakers shot scenes set at Axel's all-day-and-all-night 24th birthday party.
This is a crucial scene. It's after the party that Axel goes missing. When, in the present day, his mummified skeleton is discovered in the desert, his sister Zoe (Laura Haddock) flies out to Ibiza to dig up the old friends of her brother who've clung on to the island ever since – aging raver Marcus (Danny Mays, in a parade of Hawaiian shirts), sex party organiser Anna (Angela Griffin, in floaty bohemian wear) and violent caner-turned-spiritual guru (Lawrence Fox, in all-white clobber and man-bun).
One of them – or one of their Ibizan associates – or all of them together – must know something about her brother's death. The plot thickens, then gets a bit mental.
Equally, the party has to feel Ibiza-real. That is: through White Lines' giddy, gaudy lens, it has to feel epic.
For inspiration for the 24-hour-party-people rave, ​"we were looking at Freddie Mercury's infamous 41st birthday party at Pike's hotel," explains costume designer Bart Cariss, referencing a 1987 celebration still renowned for its Bacchanalian excess, even by Ibiza standards. ​"We wanted to have a feeling of exuberance."
And by ​"exuberance" Cariss – who also referenced ​"a big stack of Face magazines from ​'97" for the flashback fashion – means writhing naked people, dwarfs with trays of cocaine strapped to their heads (perfect height for snorting) (apparently), snakes and peacocks.
Or, as the script notes frame it, ​"the flora and fauna of Ibiza".
Within the multiple, gripping, often crazed narrative strands of the boldly bilingual White Lines, some of that wildlife is, as it were, native. A local family, the Calafats, own and operate the island's biggest nightclubs – and also, by extension, control the drugs that are dealt in those clubs, shipped to the island by a pair of Romanian coke dealers who are central to most of White Lines' scenes of savage violence.
On this day onset, in September 2019, White Lines is filming at one of the Calafat clan's homes. In real life it's a lavish villa on a sprawling hillside estate, located 15 kilometres from Palma in Majorca, which is standing in for Ibiza (shooting in Ibiza in late summer being impossible because of, well, all those real-life clubbers getting in the way).
The owners of this seemingly unused mansion are so wealthy that they own 200 other properties on the island. In the garage, beneath a tight-fitting tarpaulin, going nowhere and doing nothing, is one of their cars. It's hard to tell for sure beneath the tarp, but seemingly it's a Ford Model T T1 Roadster, over 100 years old and worth €2.5 million. Like the car, in its attention to detail White Lines – made by the experienced production teams behind The Crown and La Casa de Papel (aka Money Heist) – isn't cutting any corners.
Some of White Lines' other flora and fauna are what we might call more invasive species: a group of Mancunian DJs and club-runners who came to the White Isle in their early twenties two decades ago.
"We're a core group of friends who are hanging on the coat-tails of Axel," explains Mays, whose younger incarnation is played by actor and Radio 1 DJ Cel Spellman. ​"He's on the cusp of becoming this David Guetta-like character, a superstar DJ. I'm his best friend and I have delusions of grandeur in the sense that I'm part of the clique. I'm a DJ too, and I hope I'm as good and talented and charismatic as Axel. But I'm not.
"Axel is the drug that we were all feeding off," continues the perennially-busy actor, whose character – a bog-standard DJ and inept coke dealer – brings light relief in a show that gleefully dwells on the shadows behind the sunshine. ​"We all gravitate to him. He [gets to the island] and starts setting up nightclubs. At the birth of Ibiza and everything he meant, he was the heart and soul of that. He's like an Ecstasy tablet in human form."

Normally the phrase ​"clubland-set show" is enough to chill the blood. As we all know, things that look and feel and sound great at two in the morning feel a lot more sketchy and shonky in the cold light of day.
Likewise the heightened aspect of clubbing – it's drama in itself, as experienced through sweat-drenched bodies and saucer-wide eyes. Attempts to capture that, or set action within it, always get off on the wrong foot. The lights are too bright, the music's too quiet, the club's too empty – ​"and there's always someone in shot doing some weird two-step holding a drink," laughs Spellman, who had to film multiple flashback scenes in illegal Manc raves and more OTT Ibizan clubs.
All told, it's hard to capture the dance scene and do it justice, naming no names, Idris Elba's Turn Up Charlie.
What assurances, then, did an actor of Mays' cred (star of multiple heavyweight dramas including Mrs Biggs, Line of Duty and Guerilla) receive that this wouldn't be another wacky – or just wack – club drama?
"There are some nightclub scenes, but it isn't saturated in that," he replies when we talk by the Calafats' onset pool. ​"There's loads more in the characters and character relations. It's the stuff away from the clubs that's more interesting. But I'm in complete agreement – there's been so many failures. But for me there was enough going on with the characters to make it interesting.
"Look, without question it is the absolutely most bonkers thing I've ever shot," Mays adds with a grin, acknowledging the cheesy elephant in the room (an aspect that is distractingly – not to mention daftly – overplayed in White Lines' trailer). ​"The things I've had to film: dragging a yellow inflatable banana full of coke over a manicured green lawn, which leaks, then using the line to mark a football pitch… resuscitating dogs! I went to do mouth-to-mouth and the director went, ​'actually, I think that's a bit much.' I was like, ​'really? For this show?'"
His 20-years-younger self echoes that view.
"A lot of the circumstances and decisions and choices that Marcus makes really tread that line of, ​'phwoah, that's a bit far-fetched,'" agrees Spellman. But over the run of the ten episodes, the combined weight of the scripts convinced him.
"You see the final outcome and it's somehow all thrown together. It does pay off."
Or, as Haddock giddily describes White Lines' crazy-paving construction when we talk over evening drinks on a Palma hotel's rooftop bar: ​"It's like a Hockney painting on acid! Meets Jimmy McGovern's The Street! Meet's Johnny Depp's Blow! Meets Sexy Beast! It's just mad. Every day is different on this job. It's colourful and it's lively. They have such a massive vision for this."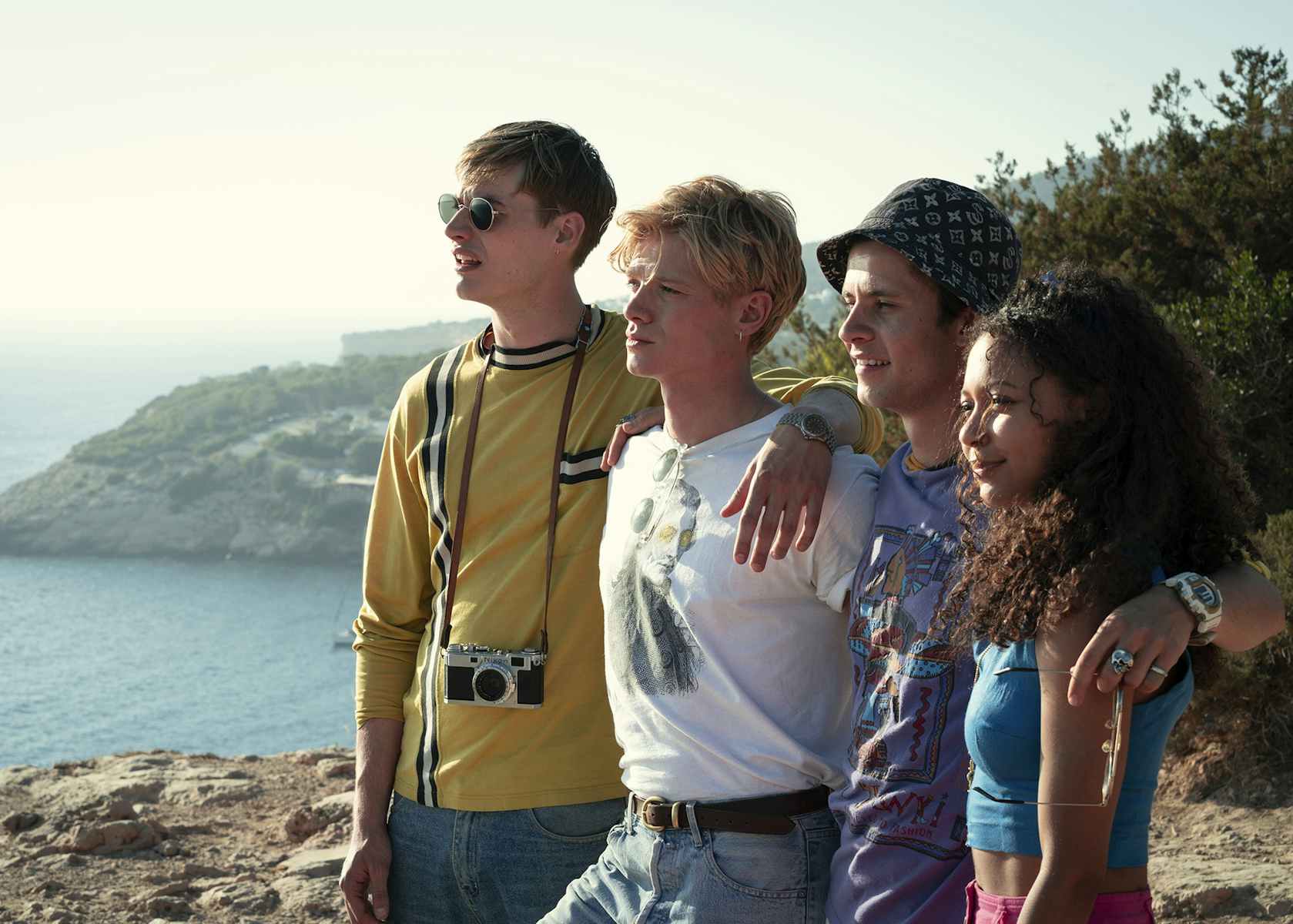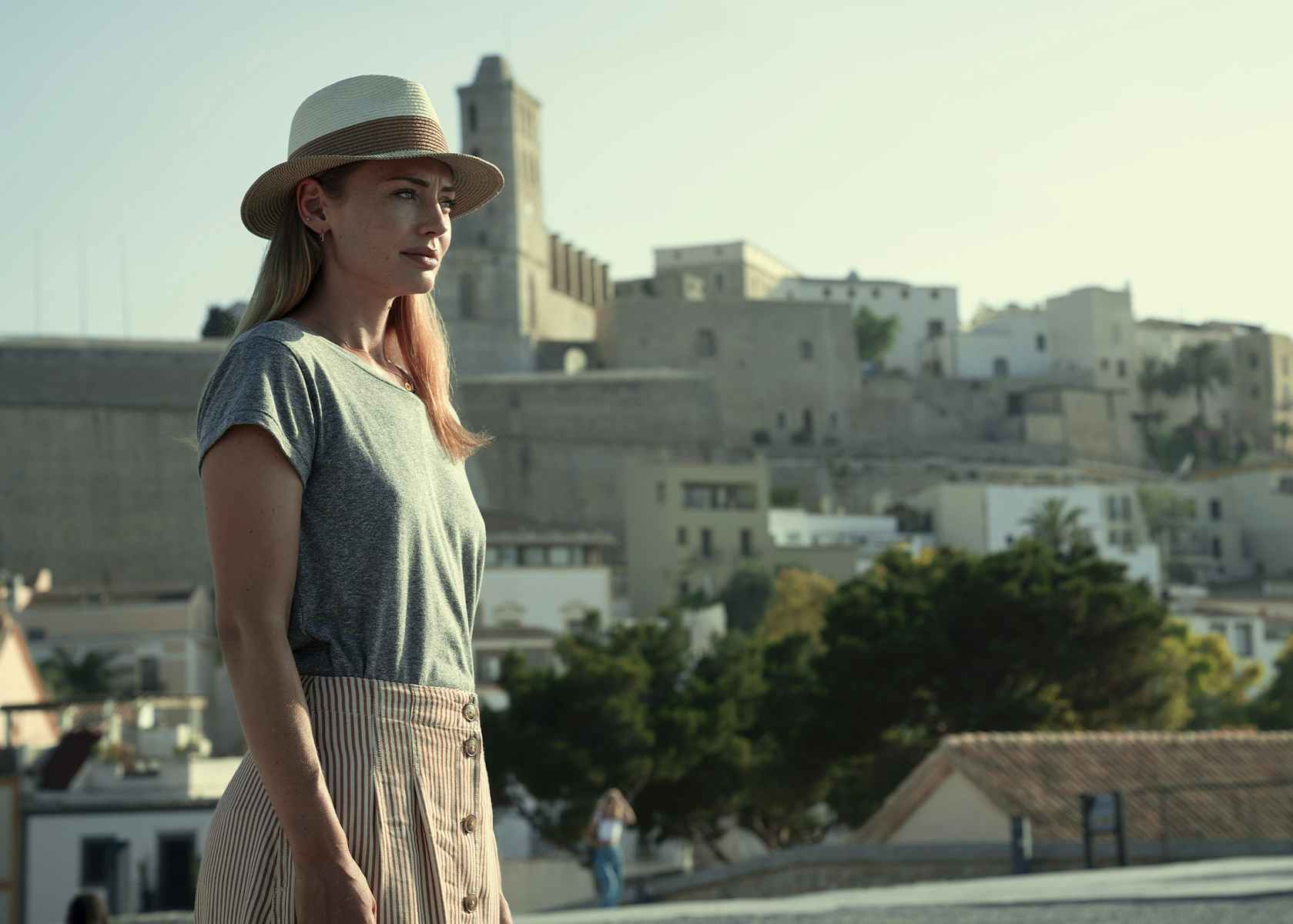 The creator of those scripts and this world is Álex Pina. He's the Madrid-based dramatist responsible for Vis a Vis (Locked Up), El Embarcadero (The Pier) and Money Heist. All are international hits, with the fourth series of Money Heist recently outed, early in lockdown, as Netflix's best-performing show internationally, outrunning even Tiger King.
White Lines is his next trick. And it is just that: a twisty, turny, tricksy thriller that echoes the dynamics of Money Heist. That is, lots of cliffhangers, lots of melodrama, lots of flash. Certainly it's corny in places, yet firmly plotted and purposefully bingey. You feel compelled to bogart episodes of White Lines – which, in that regard, makes it very club culture-adjacent. One more tune, one more line, one more toke…
"It is really heightened in parts," agrees Rhys Harries. ​"And you're right: there are elements of it that do feel a bit like telenovela. But the characters all have real wants and needs, and also faults. They're multi-faceted, which is not what you'd get in a lot of those soaps."
This is the global hit-making Pina way. Talking through a translator in one of the villa's many lounges, White Lines' creator points out the obvious: ​"North Americans obviously have complete colonisation of TV fiction."
But that dominance – of form, of style, of English – is changing in the streaming era, when shows cross borders and language barriers in an instant. Through Netflix, ​"Scandi noir" and Channel 4's Walter Presents… strand, Brits in particular have learnt to not fear the subtitle.
"There's definitely a rise in Mediterranean shows that are more emotional and that move away from the formula of North America that is starting to run dry a little," continues Pina. ​"Never before has there been such a huge audience wanting those new shows."
It's that market that Andy Harries, chief executive of London-based Left Bank Pictures, wanted to tap.
"In the [television] world today, the only two big languages that are important are English and Spanish, and if we could find a series that works in both, that's just fantastic."
He points to Netflix's Narcos ​"as an interesting development – it was maybe the first show in English and Spanish that had a worldwide popularity. That was part of the inspiration, because of the impact of Narcos as a powerful story that really worked [across the world]."
Equally, it was important to work with a writer ​"of Alex's calibre, so it's properly Spanish. We were never interested in getting an English writer. It had to be rooted in a Spanish sensibility."
And in terms of their global ambition: ​"Ibiza is very Spanish, of course, but it also has a very international feel to it," offers a Brit better placed than most to comment – he's owned a home on the island for years. ​"So it's the perfect place for a series like this."
Similarly, with great club scenes comes great responsibility. Even if White Lines does play fast and loose with Brit/​Balearic timelines – it crunches the late Eighties ​"Summer of Love" invasion into the late Nineties – it needed its soundtrack to feel culture-appropriate. So, while vintage bangers like Happy Mondays' Hallelujah (Oakenfold and Weatherall's Club Mix) blend with choice contemporary cuts like Aitch's Taste (Make It Shake), the DJ characters had to have their own music to play.
"One thing that felt really important if you're telling the story of a DJ in Ibiza who'd come from Manchester," begins producer Sharon Hughff, who's sitting next to Harries and Pina, ​"was getting an authentic person to do the music for us."
She and Harries duly met Junkie XL in Los Angeles in 2018. The 52-year-old DJ and producer – ​"Holland's finest!" laughs Harries – is best known for his 2002 smash hit Elvis Presley remix A Little Less Conversation, but is now a film composer, too, with experience of creating music for ​"massive feature films" like Mad Max: Fury Road and Deadpool.
To create tunes for Axel and co, notes Hughff, ​"he was perfect. He's the right era, the right age, and in fact could have been one of our characters."
The final touch of realness in a show that gleefully does chemically-enhanced surrealness, too, comes in the title. But part from the obvious cocaine reference, what's the resonance and relevance of ​"White Lines"?
"That's an interesting question," replies Harries. ​"It wasn't really about cocaine. I mean, it is partly, obviously – cocaine is a feature of the show. But it's not a show about drug smuggling or intake, although there's a certain amount of it.
"It was a temporary title initially. Then when Alex started to really think about our character and our story, and as we talked about our central protagonist, Zoe, what interested us was this journey she makes, from being a librarian in Manchester.
"She's married, has a daughter, has this very ordinary life in the north of England. And she suddenly finds herself in front of the skeleton of her older brother who had disappeared 20 years before.
"So it's about breaking out of her lines as much as anything."
For locked down telly watchers weathering an enforced, unexpected, all-a-bit-shit staycation, White Lines offers a break out, too. The show is launching in the week running up to what should have been the opening parties of Ibiza 2020 season.
In that regard, it offers bittersweet treats. Here's the summer you could have had. Here are the big nights out we're all missing. Here are ten hours of big, bold, full-on, occasionally daft, occasionally brutal escapist pleasures that, right now, are the closest most of us are going to get to a holiday this year.
He obviously didn't plan it that way, but Álex Pina has nailed it: the perfectly timed show for the cloudiest summer ever. As he put it onset: ​"This show has everything we enjoy: holidays, sea, sex, parties on boats – but obviously it brings a lot more, too."
With our passports – and dancing shoes and party shirts – gathering dust for the foreseeable, White Lines is the ​"lot more" for a lot less that will have to do us for now. Rave on.
White Lines launches on Netflix on 15th May

More like this