Yellowjackets' Ella Purnell on the secrets of the hit show

It's the brilliant word-of-mouth thriller about plane crash survivors, whose starving schoolgirl footballers give "eat out to help out" a whole new meaning. As the season finale drops, we speak to the English actor who plays Yellowjackets team captain Jackie.

Ella Purnell is FaceTiming from a busy Costa on Oxford Street in central London, shouting to make herself heard… while also trying to avoid the stares of four eye-popping customers who have just clocked that the fluffy-pink-jumpered woman in their midst is one of the stars of Yellowjackets, aka The Hit TV Drama of Early 2022 (that isn't Euphoria).
In between business meetings in Soho's film-land, the Londoner, 25, is graciously squeezing in a last-minute interview before flying back to Los Angeles, where she relocated in 2019.
"I moved and then Covid happened. And right when Covid started to loosen its grip, I was working for straight-up a year," says the star of Zack Snyder's rollicking 2021 zombie heist movie Army of the Dead. ​"So I've lived there for maybe three years but have only actually been there for three months. I've basically just set fire to all my money for shits and giggles!" she says, cheerfully.
The reason for the urgency to our interview: the dropping, today (20th January), of Yellowjackets' finale.
The Showtime drama, which screens in the UK on Sky and NOW, is the story of a New Jersey high school girls' football squad (the Yellowjackets) whose plane crashes in remote forest in the Canadian Rockies in 1996. Those who manage to crawl from the burning wreckage will be stuck in the wilderness for 19 months, only making it through by methods fair, foul and, it seems, cannibalistic.
In a parallel, contemporary storyline, four of the survivors are brought back together when a blackmail plot threatens to reveal the truth of what really happened in the woods 25 years ago.
Since premiering in the UK and US in November, over the 10 weekly drops of episodes, Yellowjackets has become a word-of-mouth phenomenon. The elements are varied and vital. The brutality of the girls' experiences in the woods. The bubbling cauldron of teenage sexuality (there are three male survivors, two lost virginities, a pregnancy and a lesbian relationship, with a savage mauling by a wolf complicating the latter). The foreshadowing of how exactly only a handful of them made it out alive. The era-evoking ​'90s soundtrack (from Hole to Montell Jordan to Portishead). The trauma being lived by the middle-aged survivors. The portrayal of two of those women by Genuine ​'90s Legends Juliette Lewis and Christina Ricci…
It all combines in this Lord of the Flies-meets-Lost drama for thrilling, old-fashioned storytelling at its giddy, gory, one-chapter-at-a-time best.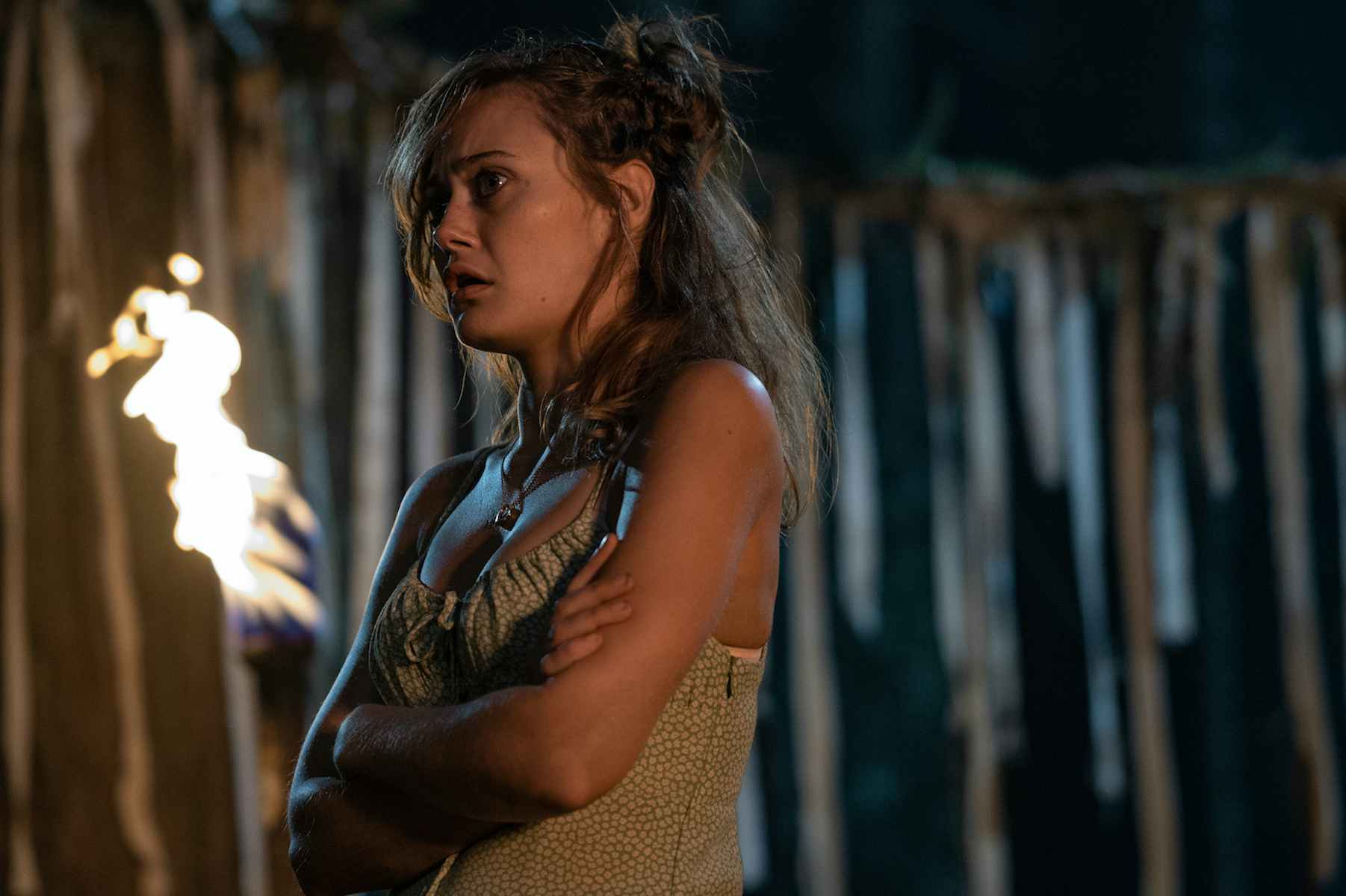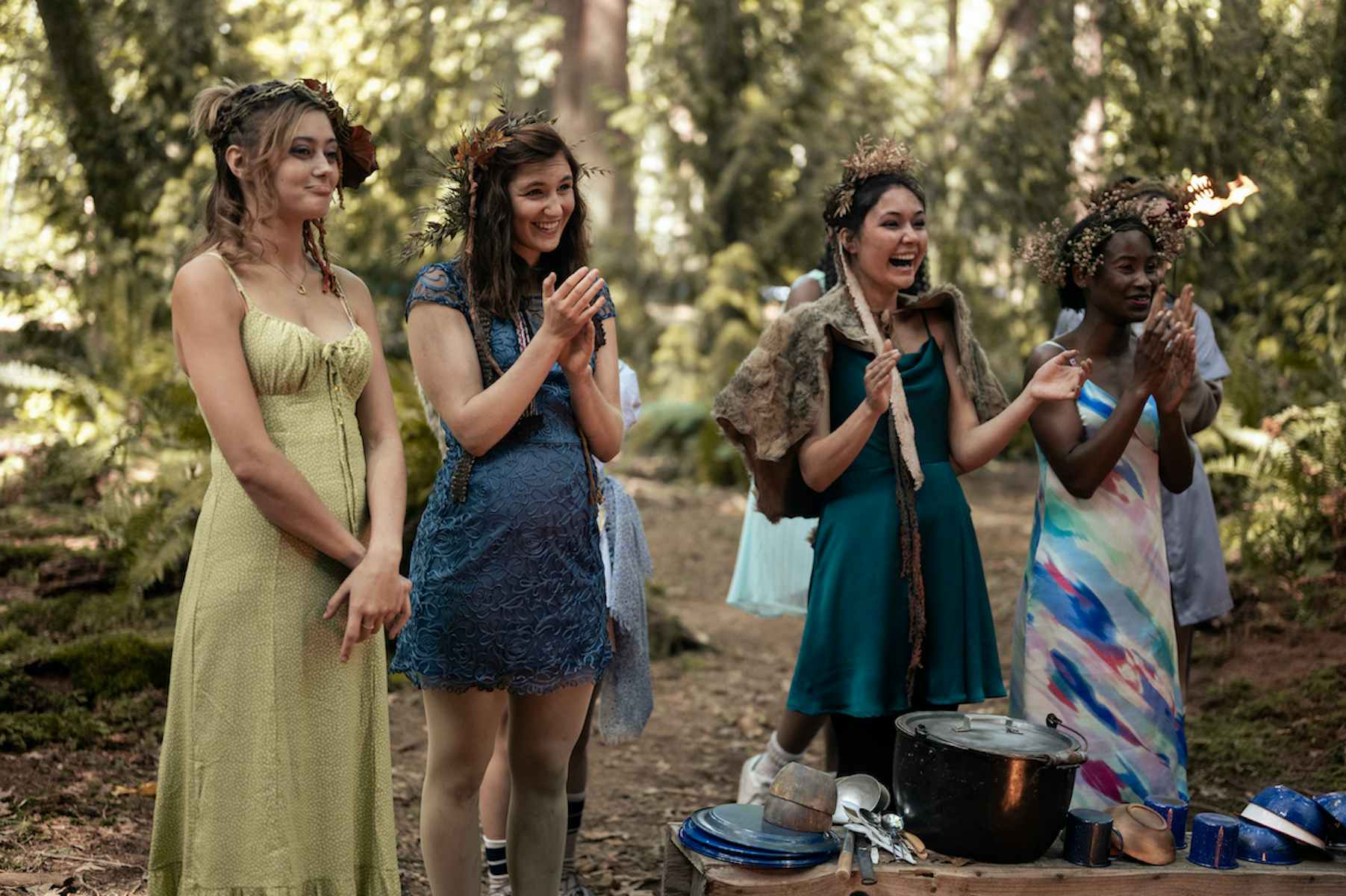 "I'd definitely say Yellowjackets is the most viral thing I've done, for lack of a better word," says Purnell, who's been acting since she was 12. ​"People are still discovering the show. Seth Rogen tweeted about it yesterday, which is the coolest thing in the world."
Indeed. "[A] fantastic show that reaffirms why I will only do shrooms with people I really, really like," is as good as endorsements come.
At the heart of the action in ​'96 is Purnell's Jackie. As we speak, 36 hours ahead of its broadcast, I've not seen the finale, so her fate is unknown to me. ​"You've seen more than I have!" the actor exclaims. ​"I'm only on episode three! I'm so terrible, I should have watched it all by now."
Jackie is the Yellowjackets' team captain, pretty, confident, rich, in a chaste(ish) relationship with the school hunk. So far, so obvious, and the disarmingly straight-talking Purnell – Army of the Dead aside, probably best known prior to now for 2016 film Miss Peregrine's Home for Peculiar Children – wouldn't disagree with you.
"I was very conscious of this potentially being a very two-dimensional, superficial role," she confesses. ​"In fact, when I first read the logline I wasn't interested, because I didn't read the email properly… I'm lazy. [All I saw was:] ​'Popular girl in school, quite vain and arrogant…' I thought, we've seen that a thousand times before. So I sent it back to my agent saying I didn't feel like doing it any more. And they said: ​'Did you read the plotline?' ​'Ah, noooo…'"
Then she read it properly: "'Bunch of girls get stranded in the wilderness…' And I was like: ​'Fuck yeah!'"
The older actors and the young cast – the latter mostly more unknown, although Jasmin Savoy Brown (Taissa) is in the new Scream, and Sophie Thatcher (the younger version of Lewis's character) just popped up in episode three of The Book of Boba Fett – shot the pilot as long ago as December 2019. It then took almost a year for the show to be greenlit.
"Then it went very quickly, and we did about six months in Vancouver just this past summer." Purnell, who started out in 2008 in Oliver! in London's West End, has never worked on a project with such a quick turnaround. As they were filming episode 10, the show's trailers were already being broadcast.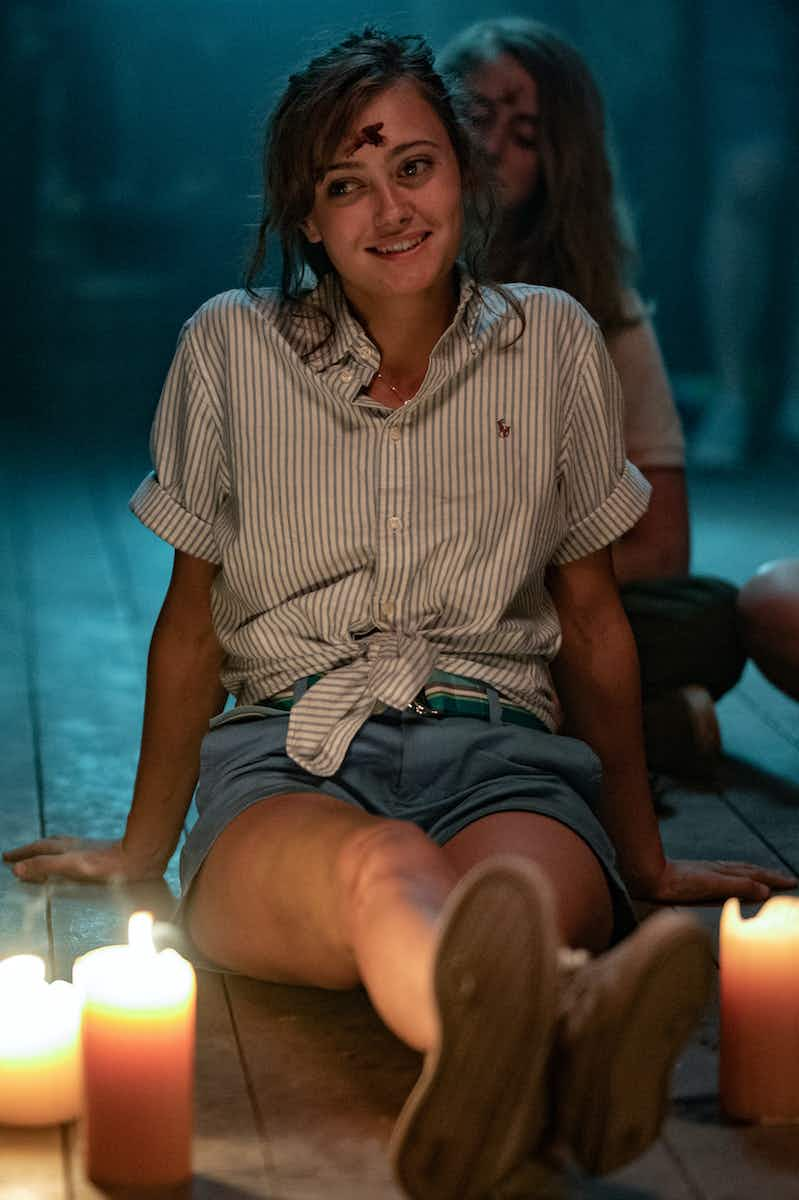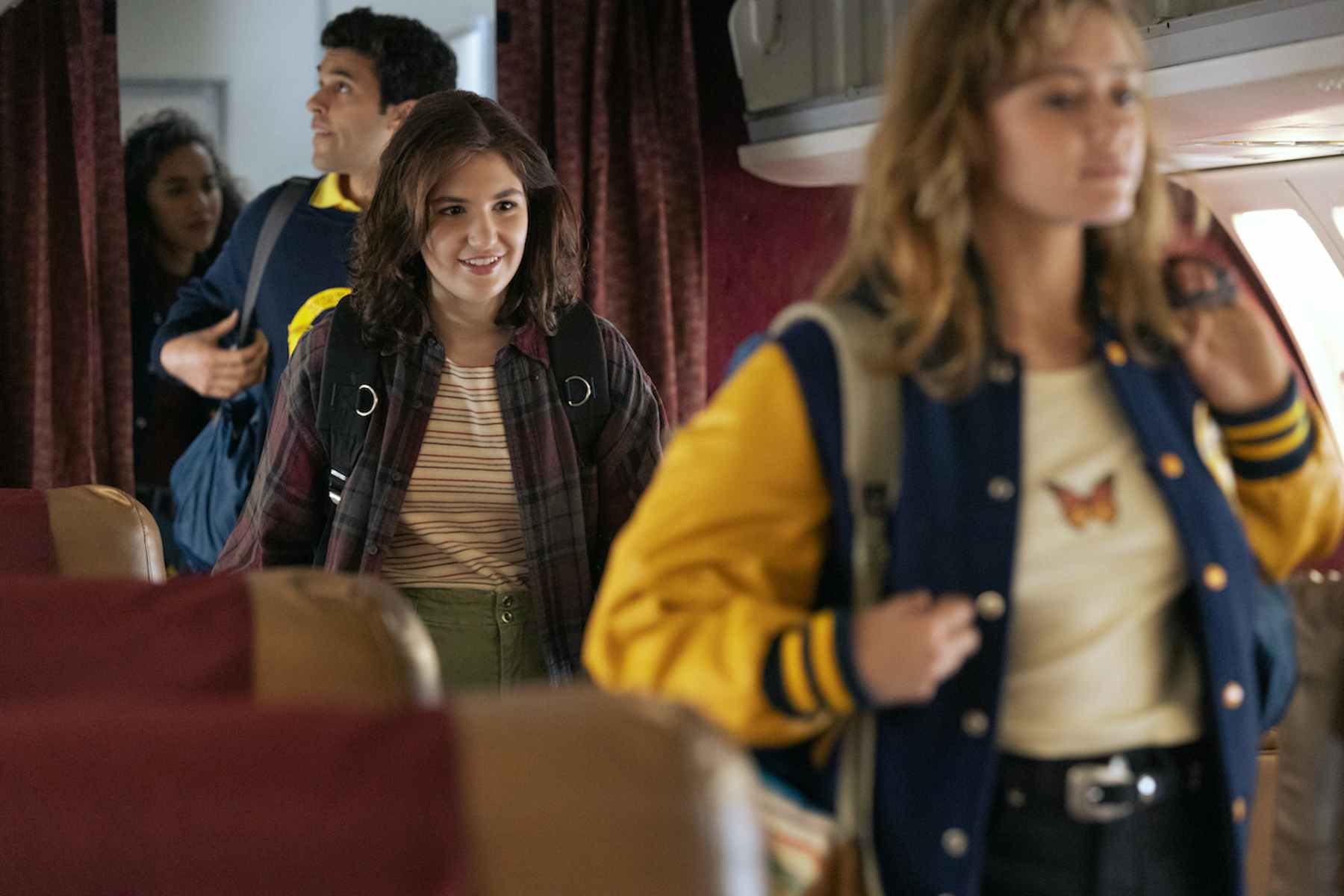 Filming in Canada's film production capital, ​"we were really there," and she means it geographically and figuratively. Yellowjackets shot on an abandoned paintball park, ​"which was gorgeous – acres and acres and acres and acres of land, and all kinds of weird stuff. The cabin actually was a part of the paintball park, I think," she says of the scary woodland shack in which the girls hole up.
"So we were in the dirt and the dust and the grime and the blood. Sometimes we would go home after filming and not even bother to get the dirt out of her fingernails, because we knew they were just going to put it back on the next day.
"But it was exhausting because essentially we were [playing crash survivors]. Every scene was drama, tears, crying… You have to access some quite dark parts of yourself in order to really sell the believability."
The first major challenge was the plane crash from episode two – a gruelling sequence of scenes to shoot, a fact not helped by the fact that that happened on the very first day of filming. Nor by the fact that the cast hadn't seen each other for a year.
"And I haven't acted in two years!" remembers Purnell with a wail. ​"I don't know if I can still do it! And suddenly you're screaming and hyperventilating and throwing yourself on the floor, and someone's literally on fire, someone else has got brain damage. So intense! Oh my God, welcome back, talk about throwing us into the deep end!
"So, for fear of sounding like one of these really wacky actors who gets tired all the time, it was actually quite tiring!" she laughs. ​"Just emotionally taxing and a little rough. But it could be worse, let's be honest!"
That plane crash established Yellowjackets' credentials. It's a full-on horror show – one teenage girl almost cooked alive (she makes it), another nearly guillotined, a flying shard of tray-table protruding from her neck (she doesn't make it). Viewers were put on notice: this drama wasn't going to be mucking around. There'd be no stinting on the gory grimness of the girls' experience.
Nonetheless, Purnell admits she didn't fully get the show from the start. Yes, the pilot script contained the alarming, impressionistic, quickly-cut, static‑y scenes that open the series: ​"the cult, them hunting the girl, skinning her, eating her, all of that stuff. And you read it and it instantly comes across as gnarly.

"But it doesn't really register because there are scenes where they're also walking around school, dressed in their team blazers, playing football with their mates. It was only when we watched the pilot we thought, oh shit… Then, as soon as we went into episode two, as you said, they were really letting you know what kind of show this was. Stop watching now if you're squeamish, because it's only gonna get worse here."
On set in British Columbia last summer, it was fortunate that none of the young cast were themselves squeamish.
"When there's that scene with the Coach's body in the tree and his blood is dripping down on [devout Christian schoolgirl] Laura Lee's face, obviously – spoiler alert! – it was a dummy. At first it was gross, but when it fell out of the tree, we were going over and taking selfies with it and poking our fingers in the puncture holes in his stomach! The props department were, like, ​'oh my God, stop!'
"And then at another point, they brought out a bunch of maggots for the scene where they cut the deer open."
They loved that, too. Lucky.
"It's not like they skimped on the budgeting for the props. They didn't do any of this in post [-production]. This was all real. So we had to be made of really strong stuff when we were acting. For the scene where we were eating the [first] deer, they used old squishy tofu slathered in hot sauce. They told us: ​'Eat like you're starving.' So we were all ripping it with our teeth and nails, licking our fingers, really animalistic stuff.
"Then they'd call ​'cut' and about four people would throw up every single time. Because it was so disgusting. But you've just gotta do it."
As for Jackie's status as the girl most hated on by the rest of the Yellowjackets (so much so that in episode nine they [PLOT DETAIL REDACTED]): Purnell is all in for that, thank you very much.
"It doesn't matter to me if the character is likeable or not likeable. What matters to me is compelling storytelling. And if you lose the audience at episode three or four because your character is annoying, they're not going to give a shit if you [PLOT DETAIL REDACTED] in episode 10."

But as she's learned in her month back home in the UK to see her family for the holidays, people are wholly invested in these teenage girls and middle-aged women, and in their respective fates. And so are Showtime – in December they renewed Yellowjackets for a second series.
"We had no idea people were going to respond this way," Purnell says, eyes widening. ​"When you're making it, you're only really living 50 per cent of the show. But when you add the music and the adult counterparts' storylines, it works brilliantly. Still, it really was a surprise to all of us. None of us saw this coming!"
Why does she think it has struck such a chord?
"I talk about this with some of the cast often: what is it about this show? But definitely, this being a female-centric show has a lot to do with that. What makes me love it is the fact that you get to see these women be completely feral. I just love that! I love the scenes where they turn on each other, where they're messy and scary and violent – all the things that we just don't see that often.
Generally, she continues, in society and culture ​"we talk about that. We see glimpses of that. But we've never had an entire show written about it – one that really pushes the very depths of it. I don't know if by the time this show whether you're going to like all of the characters – or any of them.
"But as we've seen with Succession, that's not going to stop people liking Yellowjackets."
Her coffee is cooling and the Costa crowds are murmuring ever louder, so it's time to let Ella Purnell get home to her folks and get prepared for her trip back to LA. Those pre-flight lateral flows won't test themselves. But before she goes, any clues or hints about series two?
"I don't know anything! None of us know anything. But the producers have always been tight with information. So I know as much as you do, I'm afraid."
Hmm. Is a sequel to Army of the Dead (already a franchise-spawning hit for Netflix) more of a sure thing?
"I don't know the answer to that, either!" insists Purnell with an apologetic smile. ​"But I really hope so. That would be so much fun. I wouldn't have any of the old team, though, would I, because they're all dead or zombies. But maybe we can cast some Yellowjackets and do a crossover."
Love it. You read it here first.
Postscript: have now watched the series finale. Oh. My. God.
Yellowjackets is on Sky and NOW TV

More like this