Asylum seekers aren't connected to drugs, but Tory politicians are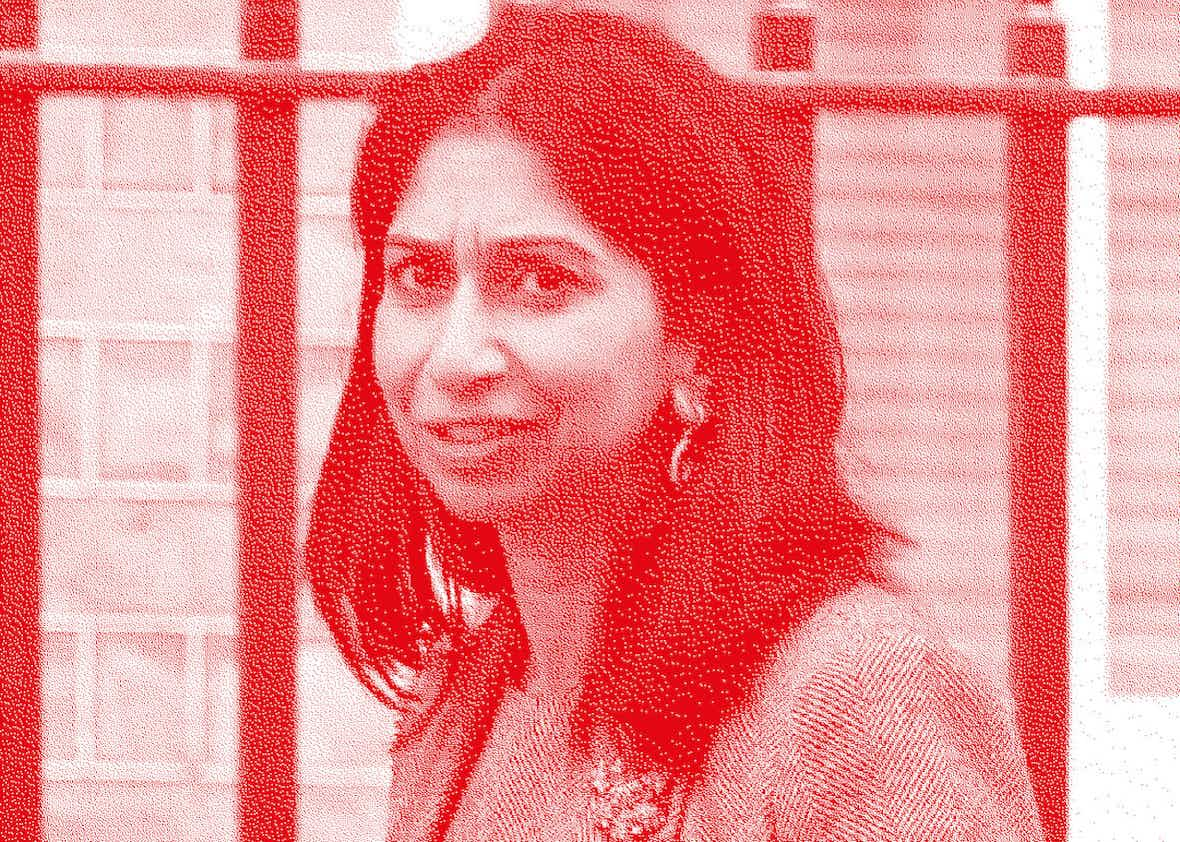 Suella Braverman's latest tirade wrongfully blames asylum seekers for "drug supply and usage". Time to look inside the Tory party, we reckon.

Last week, Home Secretary Suella Braverman announced that ​"drug supply and usage is now connected to people who come here on small boats." Three days later she tweeted ​"drug dealing is a scourge on our communities…" along with the mug shots of 24 freshly-convicted dealers. But they all appeared to be ​"Northern European"… and white.
Keen to learn more, I contacted the Home Office, who asked me for evidence that Braverman had said that. I sent the evidence and asked if they could substantiate the claims, but that was the last I heard from them. I then spoke to the Met Police, who told me via email: ​"We (and I think all police forces) very rarely note immigration matters in relation to crime recording and reporting. The two categories are separate." There doesn't appear to be any solid evidence to back up Braverman's claims.
According to the Refugee Council, Suella Braverman's ​"stop the boats" plan (which would see asylum seekers fleeing persecution being rerouted to Rwanda) would mean that as many as 45,000 children could have their asylum claims automatically deemed inadmissible. How many of these will be the victims of modern-day slavery? It's impossible to tell.

It's a policy the Tories desperately need to win votes, so it seems to be easier to paint these people as criminals rather than confront that inconvenient truth. Crucially, there is no safe or legal route to claim asylum if you are outside the UK. You can only claim once you're here, but you won't be allowed to come here unless through legal means, which the Tories don't want you to do. In other words, those risking their lives to make hazardous boat trips, who are likely to be heavily in debt to traffickers, have no way of claiming asylum even if they survive the journey.
Written into the proposed bill – which passed its second reading in Parliament last week but is facing fresh challenges from the European Court of Human Rights – was a message: ​"Secretary Suella Braverman has made the following statement under section 19(1)(b) of the Human Rights Act 1998: I am unable to make a statement that, in my view, the provisions of the Illegal Migration Bill are compatible with the Convention rights, but the Government nevertheless wishes the House to proceed with the Bill." Ripping up the Human Rights Act to score political points? Nice.

But that, or the fact that it's already cost the taxpayer £140 million, didn't stop her trooping over to Rwanda last week, flanked by her brigade of right-wing press. Swerving criticism like Keanu Reeves dodging bullets, only nowhere near as stylish, she only invited the journalists on her side of the culture wars. But this is not her personal Instagram grid to curate how she wishes – it was a taxpayer-funded trip. A vanity-based photo op to promote the government's incendiary and cruel agenda. One can only hope that photos of Braverman grinning like an idiot at the prospect of sending people to Rwanda is what her tenure will be remembered for, and used as evidence of that cruelty when the election comes around.
Last year, Home Office contractors were found to be trying to sell asylum seekers weed at a processing centre in Kent. But rather than get involved in drugs, the asylum seekers complained to the Home Office. I found only one instance of recent asylum seekers being linked to drugs. But I can tell you who does have a long and storied history of drug use: Tory politicians, specifically the male ones.
Boris Johnson has admitted that he has been a user of coke and weed, describing the latter as ​"jolly nice". Michael Gove, Secretary of State for Levelling Up, Housing and Communities, admits he used to be a cocaine user, too. Dominic Raab, Deputy Prime Minister (currently being investigated for bullying staff) smoked weed at uni. Jeremy Hunt, Chancellor of the Exchequer, used to get high while travelling around India. Meanwhile, former Tory MP and International Development Secretary Rory Stewart told the Telegraph he smoked opium in Iran.

In 2021, the Sunday Times reported that ​"traces of cocaine had been found at numerous [11] sites in Parliament" including near Boris Johnson's office. Pretty wild, that, railing lines of coke at work when you're meant to be sorting out a pandemic.

"The accounts of drug misuse in Parliament given to the Sunday Times are deeply concerning," Commons Speaker Sir Lindsay Hoyle said. ​"I will be raising them as a priority with the Metropolitan Police." Then there was talk of sniffer dogs being brought in to ​"prowl the corridors of power… [as] fears grow that cannabis and cocaine is being used openly at Westminster." I'm not shaming the politicians for potentially using illegal drugs, but have a long hard look in the mirror before making drug users The Bogeyman.
Social problems associated with drug-related crime are linked to multiple factors, but none involve people getting on a dinghy and enduring a treacherous journey across the English Channel. Crime surrounding drugs is actually fuelled by things like illogical drug laws, a decade of austerity cuts to drug and alcohol rehab treatments, and the fact that large portions of the Met Police are seen as a gang of marauding sexual predators who do little to reduce the harms of drugs. In fact, six Met police officers were caught being high at work themselves last year (two on weed, two on coke, one on opiates and one on a benzo). The previous year it was 16. The next time an officer asks me, ​"Do you have anything on you you shouldn't have?" I'll ask them the same.

This is a strategy that Donald Trump would be proud of: pick a marginalised group who are unable to defend themselves, then blame every social ill on them. ​"They're bringing drugs. They're bringing crime," he falsely claimed about Mexican people in 2015. Remember? Perhaps the reason this approach gets much purchase in political circles is because it allows a party to blame the problems they themselves created on a societal subset, while appearing to be law and order candidates by cracking down on the perceived problem.
After all, blocking 45,000 children, including victims of modern-day slavery, from refugee status is just an incredibly bad vibe. Which is why Suella Braverman is so keen to paint them as drug traffickers without presenting even a shred of evidence to back up her dangerous claims.

What is she going to come up with next? The tomato shortage is down to people arriving on boats? The reason she was sacked from her last job was really down to migrants, and not her committing a serious breach of the ministerial rules? The energy bills? The public sector strikes? Who knows how far she'll go.


More like this