Climbing the walls with Shauna Coxsey MBE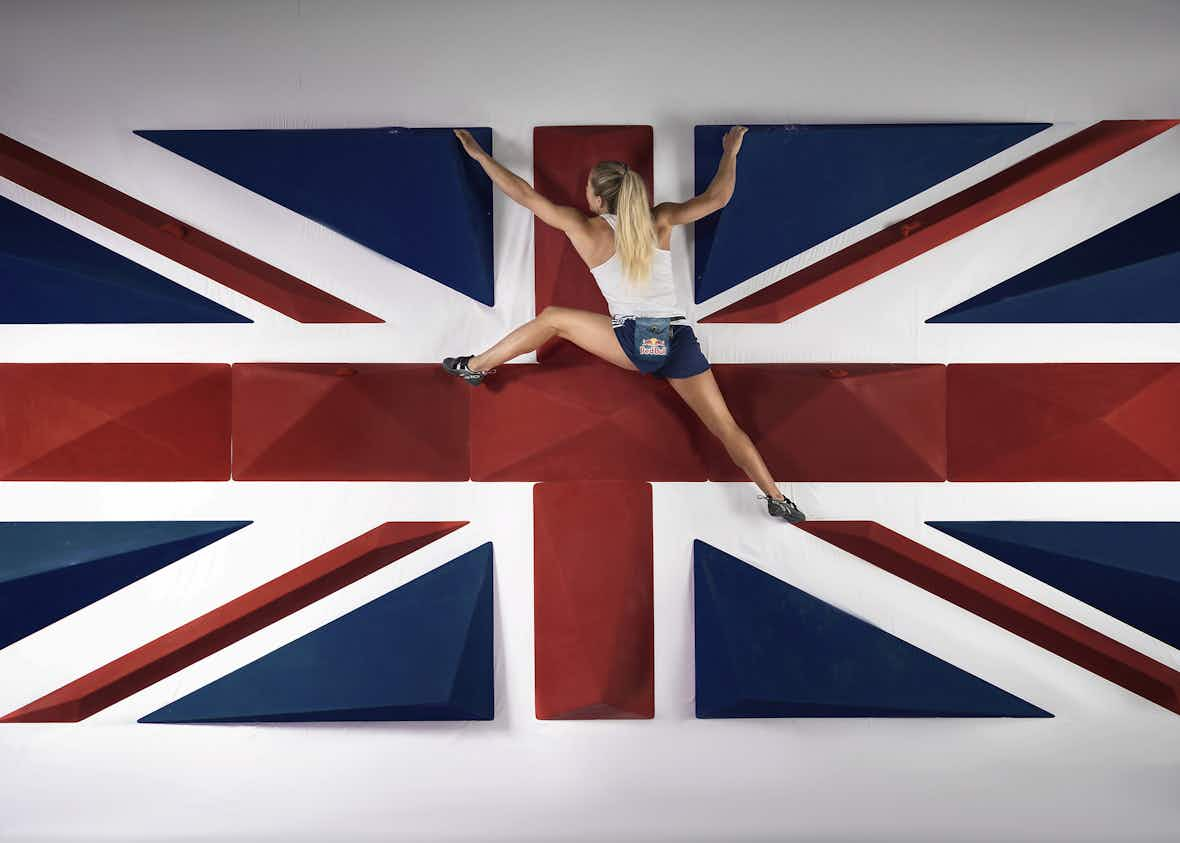 In light of the Japan Olympics being postponed until 2021, UK climbing athlete Coxsey shares her at-home routine for staying motivated.
Shauna Coxsey MBE rings me up from Sheffield, fresh from a brisk walk with Arthur, her border terrier. The British climbing champion is adjusting to life at home. ​"I'm just trying to get into a rhythm," she explains. ​"It's almost impossible to plan right now without knowing how long we're going to be in lockdown for."
Up until now, Coxsey has been training for The Olympic Games. The two-time bouldering World Cup winner and World Championship bronze medallist had recently been announced as Team GB's first Olympic climber, ahead of the sport's spectacular debut at the Games this summer. Then a global pandemic threw the Olympics (and everything else) off course until 2021.
"I've gone from being in quite an intense training phase to stepping out of that," she says. ​"Now it's almost like emerging from that space and being like, ​'OK, this is the new landscape, how does it look and what's the new plan?'"
Beginning at four years old, Coxsey is now Britain's most successful competitive climber. Inspired to follow in the footsteps of French female mountaineer Catherine Destivelle, the 27-year-old is now one of only four women ever to have climbed a boulder route graded 8B+ – the third-most difficult rating of all.
With the sport booming in popularity in recent years, it's recorded that 44.5 million people are now climbing regularly worldwide, with the share of female climbers estimated at 38 per cent. Its widened appeal is attributed to the sport's diverse ability to challenge the strength of both body and mind.
Coxsey is the one to beat. Though much of life has come to a standstill, she remains as proactive as ever. For now, the Red Bull athlete is making the best of her time doing what she loves. In her newly launched YouTube series, updated weekly, you can join the phenomenon and listen to tough training tips, tackle mobility warm up exercises and nail your new favourite lockdown baking recipes.
Morning Shauna. How are you adjusting to life at home?
It's strange in a way. I do quite a lot of training at home anyway. I mean, I'm travelling quite a lot… but when I'm [in the UK] I tend to spend a couple of days training at home. It is an adjustment for sure.
What's your current climbing set up like?
I'm really, really fortunate. We've got two climbing boards in the basement that are specific for training strength and power. They're not ideal for training [on their own], but it's better than not having anything.
Then I have Beastmakers, which are specific for training finger strength. I've got a good little space for training with dumbbells and weights in the basement as well and a SkiErg (rowing machine) in the shed. I've got my bike which I've been on quite a bit… it's been really nice to get out.
What is your current quarantine training routine?
I've been training according to what I feel like and taking things into my own hands. I've spoken to my coaches a lot about what I need to keep doing to make the right gains, so I've been listening to my body and taking it easy, but I'm starting to step it back up now.
How so?
I've been doing a lot of finger specific training because that's really the most important one for climbing – it's your contact with the wall and you don't want to risk injury when we are back to climbing after lockdown. I'm doing forearm specific endurance training as well and I am still recovering from knee surgery a few months back, so there's been a lot of rehab around that. I've actually been doing quite a lot when I say all of that out loud.
What do you listen to when you're training?
My music choice is eclectic for sure, it goes through so many genres. I definitely have my dad to thank for that; he's a big music fan and we've always had different music on in the car. We do something called shout-singing. It's something I'm well-versed in. I don't have a favourite track or artist; it really depends on the mood.
Our house is always full of music. My housemate is actually learning to play the ukulele at the minute. It's a little painful at times.
Ouch. How do you stay motivated at the moment?
I guess the honest answer is I don't always because it's healthy to take time to stop and reflect. I always have a big goal that I'm working towards and then I have little goals to tick off along the way, that's definitely the way I stay motivated and psyched to do training.
A lot of it comes down to the people I'm around as well. I'm really fortunate to be surrounded by some incredibly inspirational and motivated people. We all feed off each other quite a lot.
How have you stayed connected since the lockdown? Participated in any Zoom pub quizzes?
No, not yet! I've been in touch with my family quite a lot, I have quite a big family and for the first week, they were all working out way more than I was. I was like ​"Oh, I need to step it up!"
I live with my other half and he has been training loads with our housemates. There's four of us in the house and all of us climb and train so it's really great to be around people who are super motivated, although I've definitely not got up for the 7 a.m. yoga yet, that's yet to happen! I'm sleeping more than I was before.
How are you spending your downtime?
We've been doing a few quizzes at home, that's kind of the stuff we do anyway. Like we always sit down for dinner together every night. I'm really into cooking. In between eating, sleeping and training, there's not actually that much downtime left.
You say you're a good chef, what's the best thing you've made?
I'm currently trying to find some flour so I can continue baking, but that is proving very difficult. I baked a lot before lockdown, so it's not a new thing for me. At my house, we always usually have people coming round for dinner or a cup of tea. I'm having to dial cake-making back a little bit now given the circumstances, otherwise my household might look a little different after this.
Where has this sudden rise in climbing popularity come from?
I'm not sure why it's boomed all of a sudden. I think there are many different factors. It's not just climbing, it's the fitness movement in general. People were looking for something and climbing is such a different sport in the sense that you can always do something different – it's not monotonous. There's also so many different ways in which to enjoy it. It's really fascinating as a sport and, because it challenges you mentally and physically, it's incredible, so I think that's why a lot of people are looking to it.
How did you feel when you first heard the news about competing in the Olympics?
It was just so strange really because I never expected climbing to be part of the Olympic Games during my professional career.
As an athlete, a lot of people assumed that I would want to compete, but it was quite a hard decision to make. It was 2016 and I was competing for my second overall title after having shoulder surgery and there was just so much going on within the sport. I think it was around the time that I was awarded an MBE as well. It was so crazy to be thrust into this world where so many things are happening. Then I really went away and made the decision about the Games independently and took ownership of that before announcing that I wanted to try and train for this because it was a huge decision to go just from being a bouldering athlete to a combined athlete.
How are you feeling for Tokyo 2021?
It's so incredible to be part of it. I keep using the word surreal, but it really is. It's just all been this mad whirlwind.
Until the announcement of the postponement, I had my head down working really hard towards the event and was not really looking up much because there was so much training and preparation that needed to be done and I love being in that space of being really focused on training. So to pause and come up and say, ​"OK, where are we?" In a way it's been nice to stop and reflect on what's going on.
What's the first thing you're going to do when you're out of lockdown?
I haven't even thought about that. It's almost quite a scary thought. I feel like it should be something really profound, but it will probably be something really boring like going for a pint.

More like this