£3.60 with Charity Shop Sue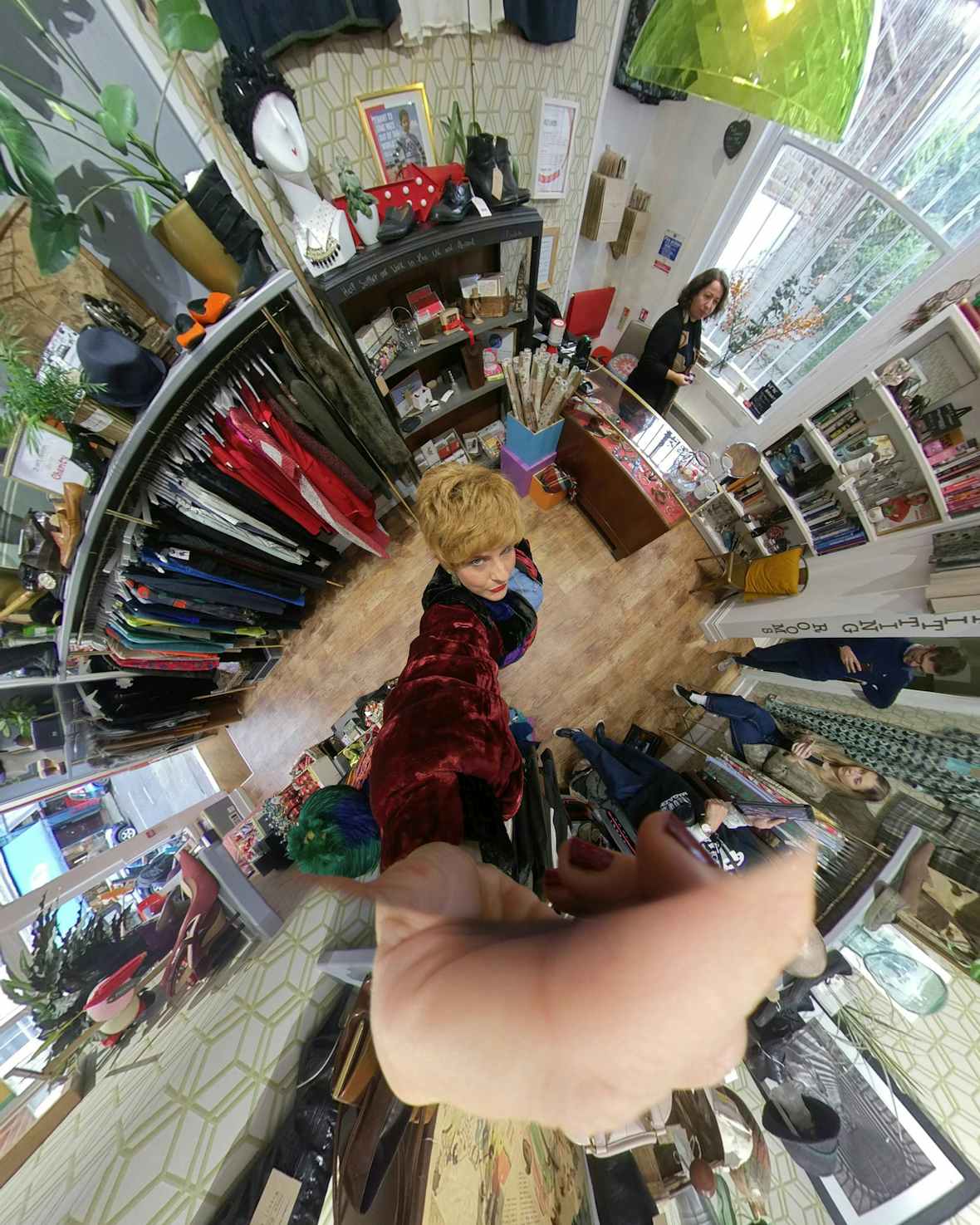 Local celeb and founder of Sec*Hand Chance in Nottingham chats community, haters and the future of retail on the high street.
Reaching charity shop superstardom has always been high on Sue Tuke's to-do list, but it's not for the faint of heart. ​"I've done quite a bit of this with the local paper in Nottingham. Heard of the Nottingham Post?" she asks, fresh off the train from Bulwell and clad in a gorgeous velour bomber jacket, suede stiletto boots and of course, giant faux diamond earrings (all second hand).
Charity Shop Sue is no stranger to the press. She rose to local fame off the back of hilarious clips showcasing the dysfunctional reality of running Sec*Hand Chance, Bulwell's answer to helping those less fortunate. ​"It's all about raising the profile. Let's get people in charity shops!" When Sue tells you to do something, you do it. This is an attitude that sells clothes and even landed her a spot modelling them, notably for Rottingdean Bazaar's AW18 collection. ​"I love being in front of the camera. I had a billboard in Bulwell, you know," she says with a glint in her eye. ​"They superimposed me into a bath full of baked beans."
But don't be fooled by Sue's red-lipped grin – she runs a tight ship and won't take no for an answer. Her new YouTube mini-series is an extension of the footage which took social media by storm and won the nation's hearts. It was filmed in 2014 and was swiftly shut down in fear it would discredit Sue and her team. Now it has emerged, Sue's made her peace with it: ​"That's the thing about charity, it's not about you. It's about how many people you can feed."
Selflessness and tenacity made Charity Shop Sue, and she looks for the same qualities in her volunteers. ​"I just want someone with a good heart, but I do like it if they've had some experience in a very hard sales position. They can have a heart, but I want them to sell a £5 item for 10 quid. Do you know what I mean?"
Below, Sue reveals her vision for the high street, her thoughts on Pat Butcher, and what it feels like to be charity's very own First Laydeh.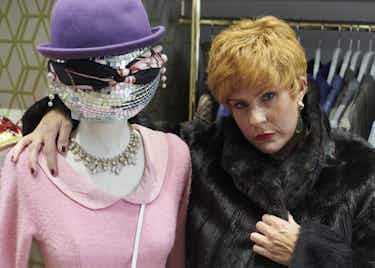 What is being Charity Shop Sue all about?

Well, the shop is called Sec*Hand chance which is what we're giving not only to the volunteers, but to the community. We're giving them a Sec*Hand chance. It's important. Let's get these people out of poverty!
Tell me about your YouTube series. How does it feel to have the inner workings of Sec*Hand out into the world?
Well to be honest, it got filmed quite a long time ago and I was like, ​"I don't want to see it, you're going to paint me in a bad light. I know what you guys are like, you work for the media." But I'm no fool. I thought they'd do that about my girls and I didn't like it, so I put a stop to it. But anyway it came out, I didn't have any control over it. I'm not happy about some of it.
What parts?
Some of it makes me look like a bit of a bully. You've got to remember I've had some of these volunteers working at the shop for five years. I've got to say ​"chop chop, come on!" at some point. I'm running a business and sometimes you've got to be firm with them. Worked there five years, they want to get on the till. You can't let them on the till because some of them pinch. They're naughty!
What do you think the future of the high street will be?
Charity, charity, charity!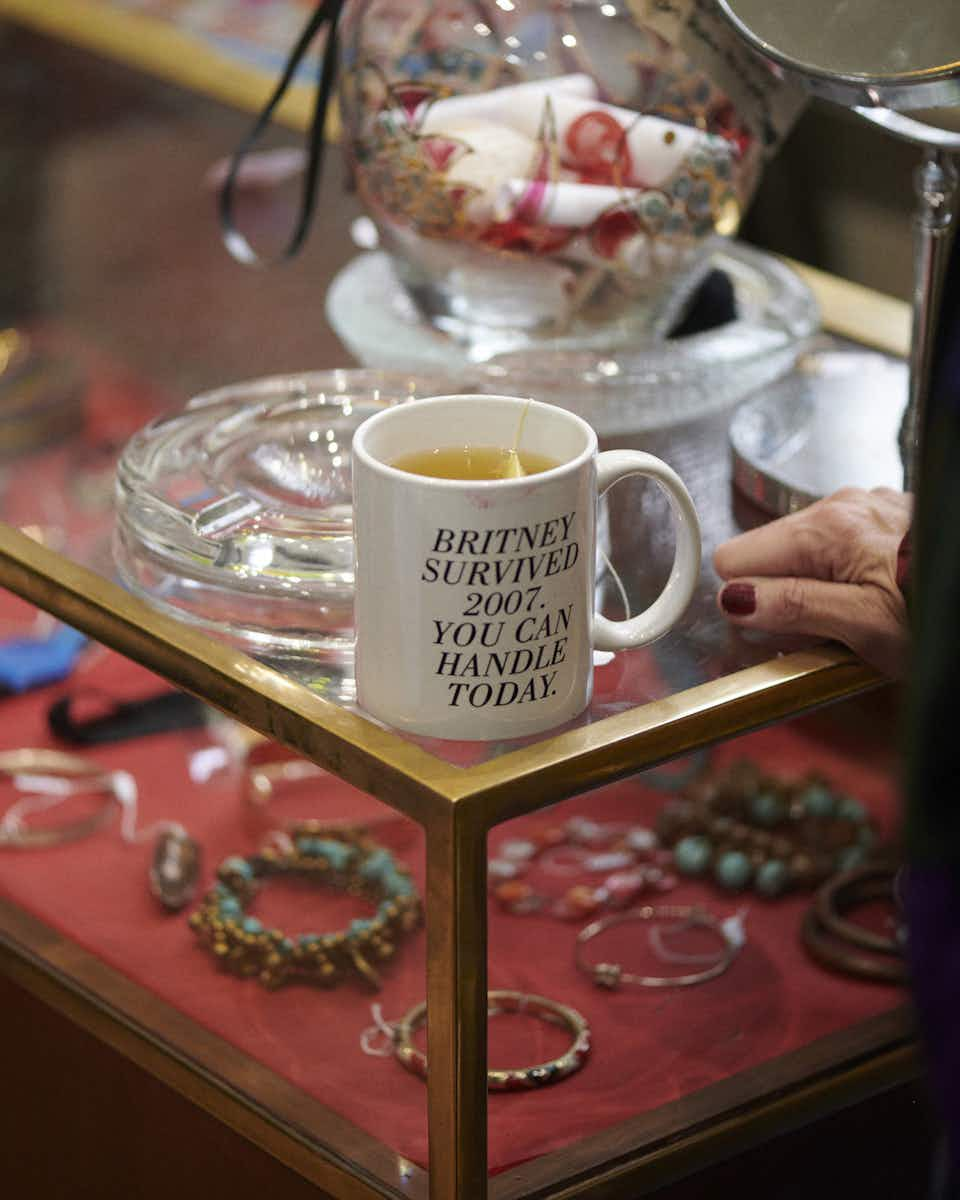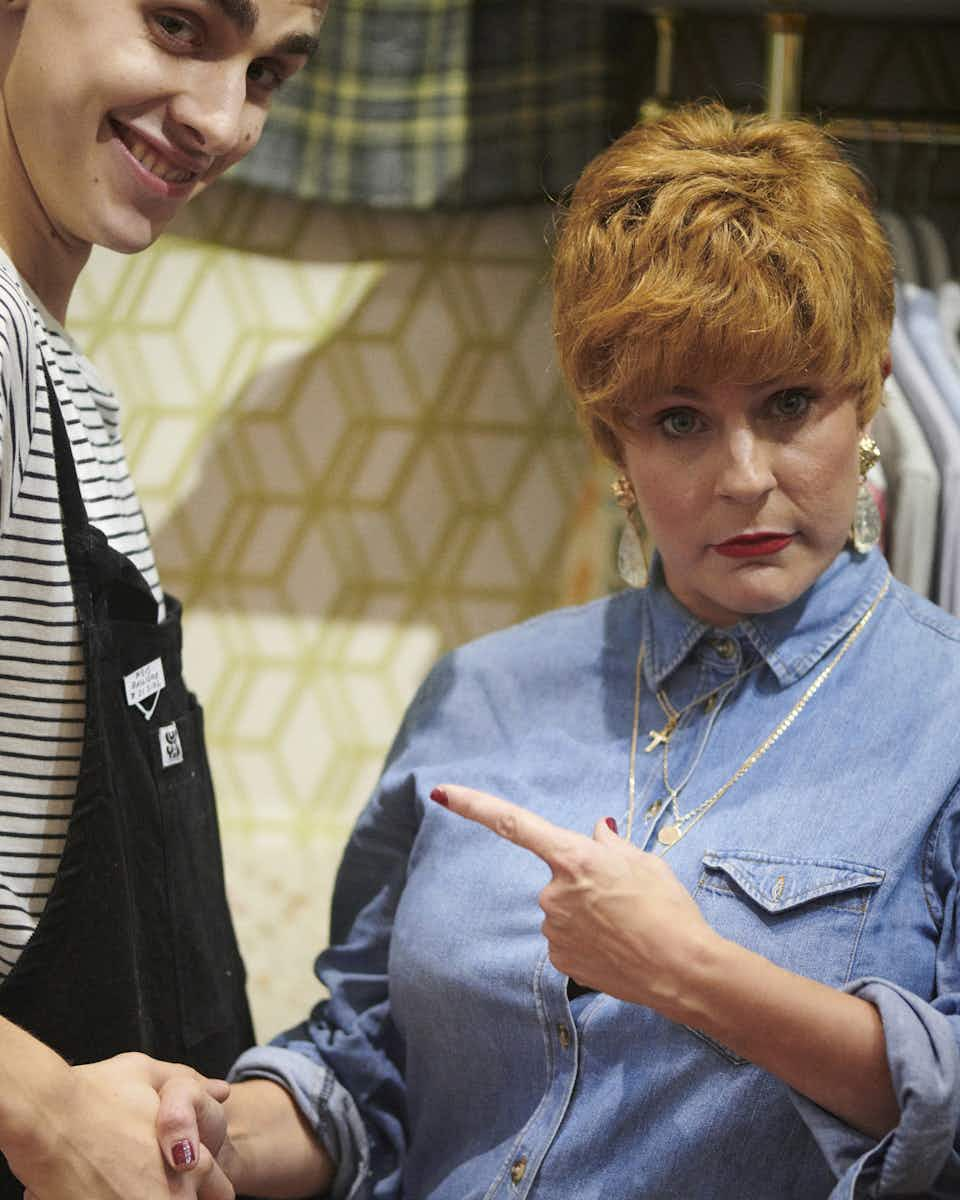 What's the most memorable thing you've found in a charity shop?
A girl once left soiled pants in the changing room. I think people do it because I've got a few haters. People do love me, if I'm out everyone will be like ​"Hi Sue!" but I've got haters.
What would you tell your teenage self?
Keep going, keep chasing your dreams and remember, ​"You're a seller at heart."
I'm just looking at your earrings and it had me wondering… is Pat Butcher your style icon?
You know what, a few people have said that. I don't know if they're trying to be sarcastic or not. I'm not going to say that Pat Butcher didn't have amazing bloody earrings, I love that gal. I don't sound anything like her though.
How does it feel to have Madonna's seal of approval?
She is my icon. I love her. That actually made me well up. I'm going to see her in February, I can't believe it – I'm so excited. Honestly, I was dancing around the shop and it doubled the amount I sold because I was so happy, people were drawn to my vibe. I love Madonna, but I love loads of people.
Lastly, have I got what it takes to work at your charity shop?
You're a little bit mild-mannered, but I've got a feeling that if I worked with you, I could whip you into shape my darling. I can see you've got a fire behind your eyes, and I like that – it's really good. Good on you gal.
You can watch the latest episode of Charity Shop Sue's YouTube show here

More like this