ESEA Sisters: the community banding together against Asian hate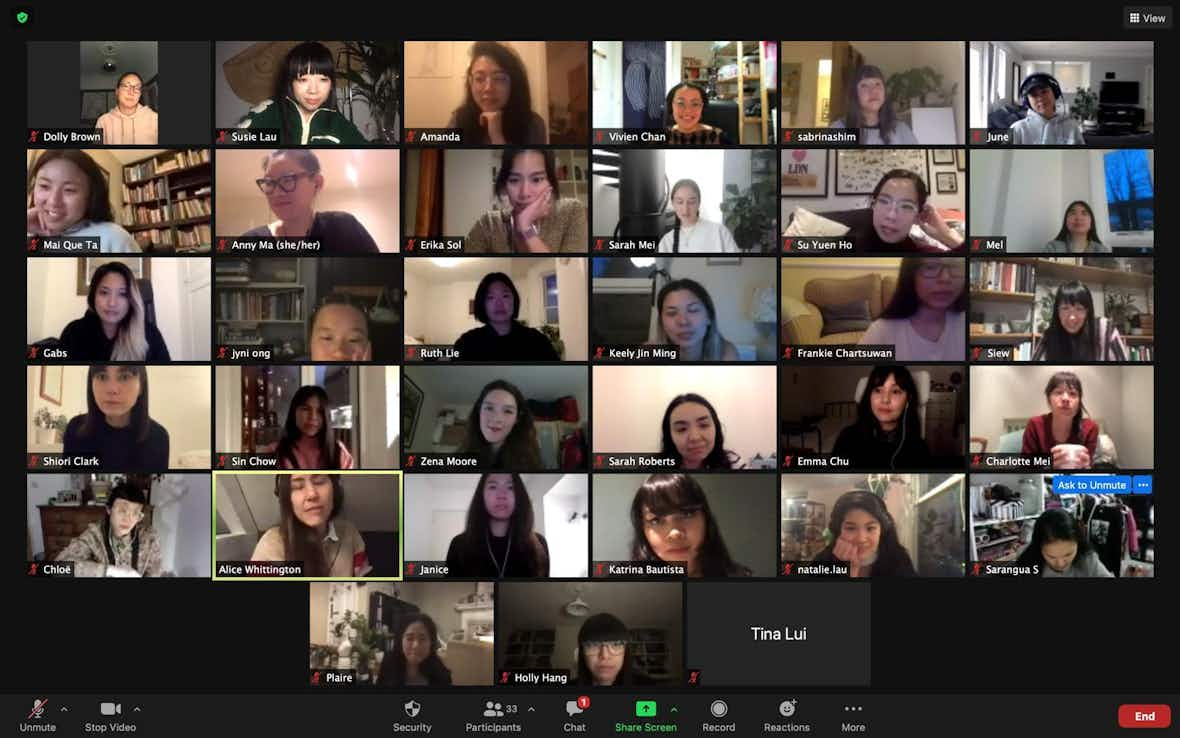 Growing from 60 to 600 members in a matter of weeks, this WhatsApp group turned activism platform is providing a safe space in the wake of increased anti-Asian racism.
Anti-asian racism and xenophobia has been on the rise since the beginning of the pandemic. According to a recent Aljazeera article, in the first quarter of 2020 alone, there was a 300 per cent rise in hate crimes in the UK towards Chinese, East and Southeast Asians. But it's an experience that's too often suppressed by victims. Now, ESEA Sisters is shifting the narrative, creating a safe space for people of East and Southeast Asian heritage in London, where members can share former microaggressions, heal trauma and celebrate one another. Group founder and owner of APOC store, Ying Suen, explains how she galvanised a community and ESEA Sisters' future ambitions for activism.
About a year before the pandemic, I started to experience more overt racism than ever before. I'd mention it to a couple of friends and my therapist, but they wouldn't really have anything to say in response. During the pandemic, it only increased.
One day, while walking in the park, a man kept staring at me. Eventually, he starting screaming, calling me a ​"fucking Chinese cunt". I was just walking to meet a friend. That incident was the last straw and I knew I needed to do something.
I needed to vent and I wanted to organise. I didn't know who to speak to, so I decided to share something on Instagram. I wrote about how I felt, what I could see happening in the US, and my fears for the UK, inviting others to DM me if they could relate.
Through that post, I was able to connect with people of ESEA heritage in London, some of whom I'd known and lost touch with, others I'd never met before. I set up a WhatsApp group that started with just 11 people. In a few weeks, it had grown to about 60 people. Eventually, it got a bit out of hand, so we decided to move to Discord, where we're now a group of over 600.
The common narrative between us is that we've all been so disconnected from each other and our culture. We've all integrated into Western society and the majority of our friends are all white. From childhood to adulthood, we've been experiencing microaggressions and more overt acts of racism from colleagues, friends and strangers, but with no one to speak to about it. We've also been holding onto a lot of shame and pain for who we were, for being ​"others".
The increase in racism we've been experiencing and seeing in the media has pushed us to reach out to each other. That's why the group is growing so quickly. It's reached a point where we can't keep quiet about it and continue being the ​"model minority" anymore.
We talk to each other every day. The love and support has been limitless and we've bonded incredibly quickly. When we first started the group, there was so much trauma to unpack, from off-key remarks with racist undertones to members being spat on and pushed into the road. These are the types of things we help each other work through.
But we also want to uplift each other. There are so many incredible individuals in the group and coming together has empowered us. We've found a collective voice, which has unexpectedly led us into activism work.
We currently have a petition calling out The Sunday Times' Christina Lamb, who recently wrote: ​"Prince Philip was the longest-serving royal consort in British history – an often crotchety figure, offending people with gaffes about slitty eyes, even if secretly we rather enjoyed them." The Times has issued an apology, but it's a non-apology. It deflects and puts the blame back onto us, and doesn't acknowledge or take accountability for the harm caused.
We will continue to galvanise, grow and speak out in a way we haven't been able to before. The ESEA community is really underrepresented in the media and politics, and we want to see that change.
We're taking every day as it comes, because the group isn't even two months old yet. We're still working out who we are, but primarily the space is for our community. The structure so far has meant we work collaboratively and without a hierarchy. We vote on how things move forward and different members step up different initiatives.
We represent as many people from the ESEA sphere as possible: female-identifying, non-binary and trans folk. This is the first time we've been able to talk freely about the issues we face, without being gaslit or questioned. We're understood and supported by each other in a way we haven't experienced before. That's the most important thing, having a space where we feel safe.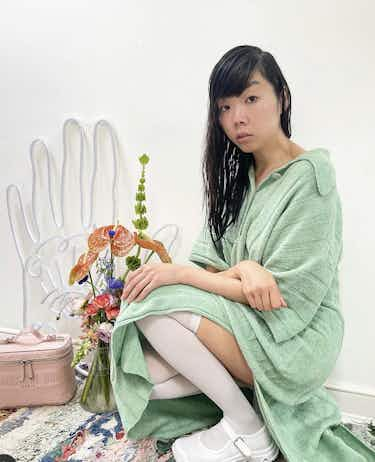 Journalist, fashion writer and co-founder of DotDot
"Joining ESEA Sisters has been a real journey. We have found common threads with one another and I could discuss things with them that I hadn't even discussed with non-ESEA friends and peers. Whether it's work, relationships, life or culture, talking at length has been a cathartic experience.
Moving forwards, we would like to uplift our cultures in a creative way. To that end, we are in the process of building a content platform that I think will really convey our different narratives and perspectives, and become a form of education. If we come together with other communities and minority groups, our voices can be heard."

Plaire Pimchanok Chaiphet (she/her)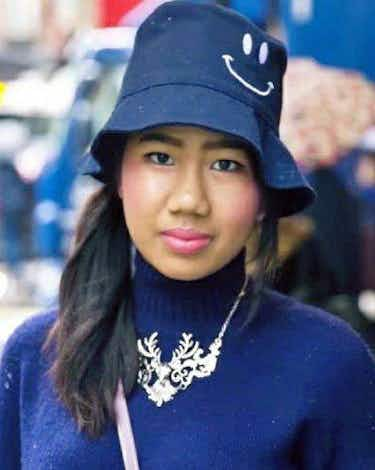 Studying MA Womenswear at London College of Fashion
"ESEA Sisters has allowed me to connect with beautiful people who understand my pain. We're one big, diverse and badass family, who share the experience of growing up being ​'othered' by Western society.
Since the Atlanta shootings, many memories of my own racial trauma have resurfaced. Seeing the way the media and people around me responded to the news has proven how normalised racism against our community is. I felt alone thinking nobody would understand what I was going through. It's hard to feel safe in the world, but now we at least have a safe space where we can be ourselves. Together, we're so much stronger and our voices are louder."

Rahel Stephanie (she/her)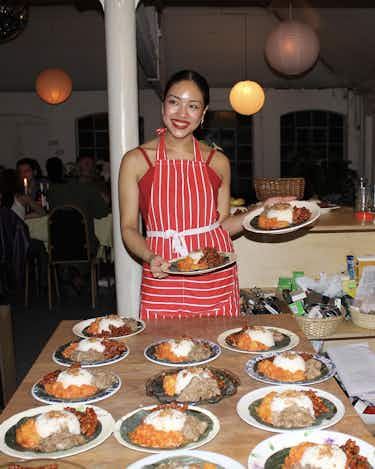 Founder of Vegan Indonesian Food Business @eatwithsp00ns
"In this safe space, I've been able to share my experiences and traumas as a Southeast Asian woman, from colourism to fetishisation, appropriation, and everything in between, without judgment. I've been understood and acknowledged by this community in many ways that my white friends cannot [relate to].
Not only is it supportive and healing, but our collective voice has also already proven so powerful. I'm very excited to see the work and magic we will accomplish in times to come."

Alice Whittington (she/her)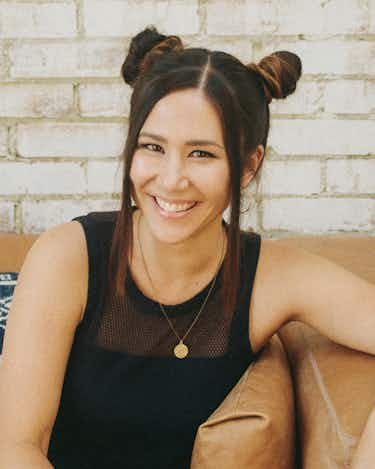 General Manager at Soundway Records
"ESEA Sisters provides me with healing, kinship, strength and a deeper understanding of my heritage. The disparate nature of our diaspora has made it harder for us to find each other. Connecting to others from similar backgrounds during such a painful time, as we watch or are ourselves subjected to heightened racial violence, has been really important to keep our heads above the water. I hope that by us sharing stories, resources and ideas, we can shed light on ESEA issues and create lasting, positive change."


Multi-disciplinary artist, actor, model, community organiser and co-director of trans organisation We Exist
"It was important for me to join ESEA Sisters to ensure that queer and trans voices were represented in the group, and to grant myself a space to be in community with other ESEA femmes of marginalised genders. As someone who has experienced gendered, racialised violence and fetishisation throughout my lifetime, as a result of being perceived as female and East Asian, it's valuable for me to have a trans inclusive space to be able to support and be in solidarity with other ESEA femmes, whether cis or trans."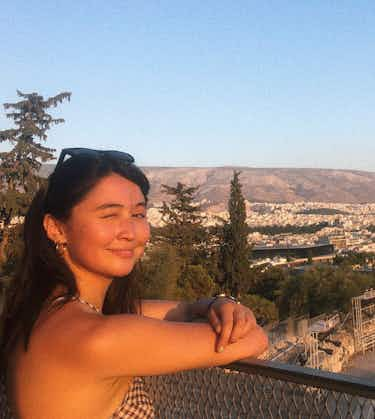 Freelance editorial consultant and copywriter
"To me, ESEA Sisters means validation and empowerment. Since joining I've been so affirmed and uplifted by the stories, vulnerability and support that the members share so generously every day. I don't need to explain myself or my identity, as I celebrate and unpack the complex relationship that I have with my mixed heritage.
The rise in anti-Asian hate this year left me feeling scared and powerless. Since joining, I don't feel that anymore. There's strength in numbers and this group is so powerful in its limitless love for all members, and its fierce determination to rally against racism. ESEA Sisters is calling for the end of anti-Asian hate and that's something I need to be a part of."

Lawyer, diversity and inclusion leader and co-founder of Sachiko & Shu
"When I saw that the network was a safe space for trans folk, women, femmes and non-binary people with ESEA heritage, I decided to join. I recently wrote an op-ed on the intersection of my trans and Asian identities and some of the challenges and prejudice I have encountered, sometimes even from within the ESEA community. I not only wanted to support and connect with ESEA Sisters with whom I had shared lived experiences, but also to learn from those whose experiences may be different from mine. Our collective liberation is intertwined, so when we show up for each other, we are really showing up for ourselves.
'ESEA Sisterhood' means recognising that while there is so much that unites us all, neither the ​'ESEA experience' nor the ​'Sisterhood experience' are monolithic, so a multitude of voices need to be amplified and celebrated. I am so grateful that, in this group, I've met some wonderful sisters who feel the same way."


More like this