Women in the UK are reporting spiking by injection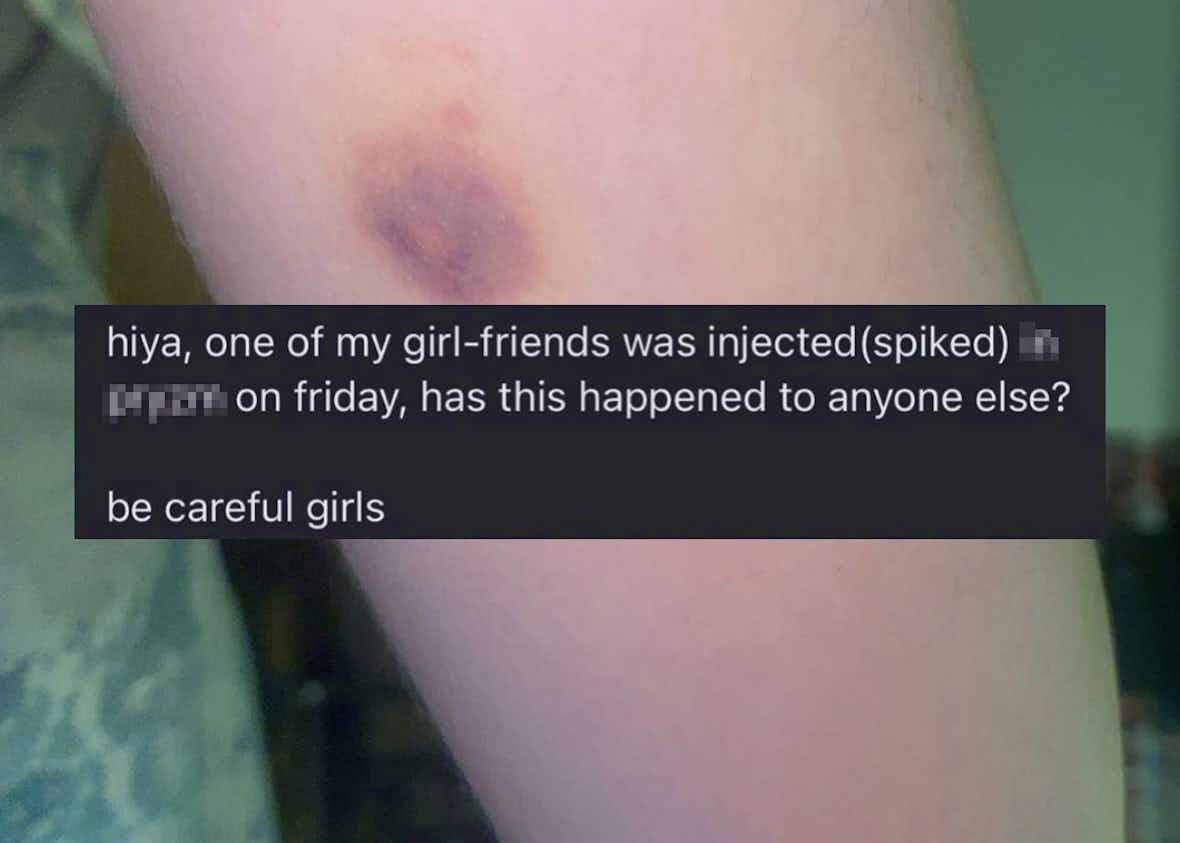 It comes after concerns have been raised for women's safety, in light of the murder of Sarah Everard and Sabina Nessa in London, and the rise of drink spiking across the country. However, scientists have urged caution.
On Saturday 16th October, 31-year-old Alexandra went out in Manchester to celebrate her friend's birthday. It started as an ordinary night: they went to a pub for dinner before ordering two cocktail jugs to share between the three of them. Then, they headed to a local bar for a spot of dancing.
"We have been there a few times in the past and love the music, but it was incredibly busy and we had to queue for 20 minutes just to buy a drink," Alexandra says, adding that when she joined her friend to try their luck at the bar, she struggled to get through the crowds and felt someone pulling her arm.

"My bag flew open and everything fell out so I was on the floor picking everything up," she says. ​"Then we sat at our table completely sober, waiting for our friend who went to pick up her flat shoes from her boyfriend."
But by 9pm, Alexandra felt intoxicated and she didn't know why. When her condition deteriorated, her friends ordered an Uber to take her home.
"It was only when I noticed the pain in my hand followed by bruising that I realised I must have been spiked," she says. ​"It was the same bruising and lump that I get from injections. I knew I had not fallen or hurt myself since Saturday and now there's a sore little lump where my tattoo line is on my hand."

Alexandra says she started searching for stories online to work out if someone could inject her – and was shocked to read that she wasn't the only one to allege the same experience.
In the weeks since universities and colleges reopened, young women across the country – predominantly students – have said they are ​"scared" to go out clubbing through fear of being spiked. But the recent cases of alleged spiking through injection – and we must be very clear that the evidence is purely anecdotal at this time – feel next-level awful.
Students from over 30 universities across the UK, including Nottingham, Essex, Nottingham Trent, Cardiff, Edinburgh, Gloucestershire and Liverpool, have joined online campaign Girls Night In to boycott popular nightclubs. A petition ​"to make it a legal requirement for nightclubs to thoroughly search guests on entry" has already garnered over 130,000 signatures.
Nottingham, in particular, has received the most reports of alleged spiking by injection so far, with one nightclub in the city, Stealth, receiving two reports from young women who suspected they had been spiked. On Wednesday, one Nottingham woman, Zara, was on breakfast news on Radio 1 and Radio 4 talking about her experience. The same day, Nadia Whittome, Labour MP for Nottingham East, called on the Home Office to address the concern.
Nottinghamshire Police is, at the time of writing, investigating 12 reports of spiking by injection and said victims reported effects that were ​"consistent with a substance being administered". There have also been 32 reports of people being spiked by having their drink contaminated since 4th September.

Superintendent Kathryn Craner, of Nottinghamshire Police, said in a statement: ​"We are working really closely with our partner agencies throughout Nottinghamshire and have met as recently as today.
"I would like to reassure people we are working incredibly hard to investigate these reports and are placing a lot of resources into these enquiries and also have a dedicated team of detectives working on any reports made to us," adding that she urges anyone who has believes they've been spiked should report it immediately.

The FACE has contacted representatives for drug advise agencies DrugWise and The Loop for comment, however, in a recent VICE World News interview, Guy Jones, senior scientist at The Loop warned against panic.

​"Injecting adds a big ​'what?' factor to the whole thing because few drugs would be able to be injected like this. Where drugs can be injected non-intravenously, there are specific injection sites that do not work well. The back is one of these unsuitable sites due to the low fat-muscle content and high concentration of pain receptors."
Jones added that date rape drug GHB, in particular, is a ​"poor candidate for injection due to the large amount of fluid needed, and therefore the thick, painful needle. This means that the substance involved would be something that would be highly detectable for several days in a toxicology screening such as a benzodiazepine."

While the allegations are still being investigated, the fact remains that many young women across the country have been affected by the story. It comes after concerns have been raised for women's safety, in light of the murder of Sarah Everard and Sabina Nessa in London, and the rise of drink spiking across the country.


A University of Nottingham spokesperson said: ​"We are extremely concerned by these reports – no one should feel unsafe on a night out. We are working closely with Nottinghamshire Police and the city's nightlife venues to monitor, review and learn from incidents and experiences in the city centre." They added that anyone who believes they have witnessed an incident should contact the police immediately.
A Nottingham Trent University spokesperson said: ​"While we understand that this is not targeted at the student community, we are working with the police and Nottingham Trent Students' Union to help ensure that our students can remain vigilant.
"Student safety is paramount to us and we encourage anyone who sees anything suspicious to report it to the police immediately."

If you or someone you know has been affected by this story, please head to Drinkaware for more information on drink spiking. You can call Victim Support on 08 08 16 89 111 or find help via their website.

More like this